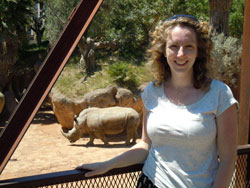 Anyone familiar with Valencia will know that the city has some amazing attractions. You could spend several days exploring the futuristic buildings of the City of Arts and Sciences, the beach is stunning with miles of golden sand and who wouldn't enjoy the simple pleasure of enjoying a coffee as you watch the world go by in the sunny Plaza de la Virgen.
What you may not be so familiar with is Valencia's amazing zoo.  This zoological wonder was opened in 2008, and is built in the gardens created from the bed of the old River Turia.
To simply call this attraction a zoo is really an unfair description, and in my opinion, doesn't do justice to the either the animal or visitor experience. The 'zoo' is in fact a state of the art 'bioparc', advertised as being the most advanced in Europe.