Learn German in Munich (Historic Centre), Germany
Munich is a fascinating city in which to learn German. A German language course in Munich offers students not only the opportunity of total immersion in Germany and German culture, but also the chance to see another side of Germany, to experience the way of life in Bavaria, so different from the north.
Munich has a large, monumental historic centre. Our German language school is located in the very centre of Munich. This makes it easy for our school to offer guided walks around Munich, as part of the cultural program, after the course has finished for the day.
Munich is a city of culture, festivals, concerts, café culture and biergartens, always with plenty to do and see, offering a vibrant student life to all those who wish to learn German on German language courses at our school.
Munich (Historic Centre) - Image Gallery
Our school in Munich (Historic Centre)
Our Munich school is located right in the historic centre of city, just 4 minutes' walk from the Marienplatz, Munich's main city square. Here you will find a major metro stop and the beautiful neo-gothic town hall, a favourite with photographers!
Our school is in a beautiful 17th century building, with 8 spacious classrooms, a student kitchen, free internet access and a garden, where you can relax and practise German with other students.
Courses
The school offers 'Standard' and 'Intensive' German language courses of 20 and 25 lessons/week. Each German language lesson is 45 minutes long.
Alternatively, you can attend a 'Combined' course of 20 German lessons, plus 5 or 10 private lessons/week. In each private German language lesson, you can concentrate on whichever German language skills you feel you need more practise at.
Our school in Munich also offers Examination Preparation courses, so you can take an internationally recognised German language exam as part of your course.
As well as German courses, our Munich institute organises Work Experience in local German companies, for students who wish to stay on in Munich after completing their German course at the school. Please contact us for further details.
Accommodation
You can stay in shared student apartments, private studio apartments, or with carefully selected German host families. Our school recommends that if you want to learn as much German as possible during your time in Munich, you should stay with a German host family, as the family will speak to you in German and thus help you practise the German that you learn on the course.
Activities
Our Munich school organises a cultural program, with a minimum of 3 activities/week, including guided tours of Munich, BMW factory visits, German films and parties at the school, beer garden trips, excursions to the Neuschwanstein Castle and the famous 'Oktoberfest'. This program helps students use outside the classroom the German that they learn on the course.
Lederhosen and dirndl – Oktoberfest I am coming!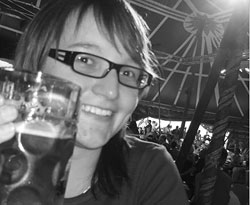 Last year I did a German language course in Munich - it was really amazing! In my second week on the course, me and a few people I met whilst sightseeing went to the Theresienwiese, to see the tapping of the first barrel at Oktoberfest. It was unbelievable, with so many crazy people from all over the world. Over 6 million people, dancing, laughing, eating and DRINKING! I love the German beer and it's so huge. They serve it in a jar ("Maß"), 1 litre per person.

Amongst the many attractions, the beer is probably the most important thing. The food is also great though. I ate different Oxen specialties, real German Bratwurst with "Kartoffelsalat" (potato salad), massive Bavarian Pretzels and the Oktoberfest special of "Händl" (grilled chicken).


Location of our school in Munich (Historic Centre)