Learn Spanish in Valencia, Spain
Only people who have been to Valencia know what everyone else has missed - spectacular sandy beaches, excellent nightlife, incredible food and a city still undiscovered and unspoilt by mass tourism, lying on the warm Mediterranean Sea. The city has an extensive historic centre, a wonderful range of shops, plus excellent sports facilities, including the world-class marina, recently built for the 2007 Americas Yacht race. With so much to offer, more and more international students are choosing Valencia as the location for their Spanish course, experiencing the very best of Spain in this very 'Spanish' of cities.
Valencia - Image Gallery
Our school in Valencia
Our Spanish school in Valencia is right in the historic centre of the city, with the cathedral and the central market just a few steps away. In addition to well-equipped classrooms, students have free wireless internet access, so you'll find it easy to keep in touch with friends and family during your Spanish course! You can also make the most of the sun on our school's roof-top terrace, where you can relax and chat with fellow students after class.
Courses
Choose from a wide range of Spanish language courses, including an Intensive Spanish course (20 lessons/week), an 'Intensive 25' Spanish course (20 lessons/week, plus 5 conversation lessons/week) and a 'Super-Intensive' Spanish course (25 lessons/week, plus private lessons).
If you would like to have an internationally recognized Spanish language qualification, take a DELE exam preparation course. You can also prepare for the Spanish Chamber of Commerce Exam at our school.
Accommodation
You can stay in a high standard residence with private bathrooms in all rooms, or in a carefully selected host family. For self-catering, stay in a shared apartment, private studio apartment or hotel. The residence is located 10 minutes from the school by bus or tram. All other accommodation is within walking distance of the school, or 15 minutes by public transport.
Activities
To help you enjoy your time in Valencia, our school organizes an extensive cultural program. If you want to familiarize yourself with the city as quickly as possible, join our school's guided tour of Valencia. You'll also get to know the surrounding area on our school's excursions, and enjoy paella parties and dance lessons!
How to get there
Our school also arranges transfers from Valencia Airport, for students who want to be met on arrival and taken to their accommodation.
Valencia's amazing zoo!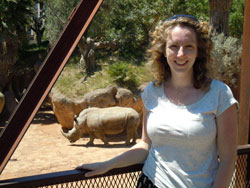 Anyone familiar with Valencia will know that the city has some amazing attractions. You could spend several days exploring the futuristic buildings of the City of Arts and Sciences, the beach is stunning with miles of golden sand and who wouldn't enjoy the simple pleasure of enjoying a coffee as you watch the world go by in the sunny Plaza de la Virgen.

What you may not be so familiar with is Valencia's amazing zoo. This zoological wonder was opened in 2008, and is built in the gardens created from the bed of the old River Turia.

To simply call this attraction a zoo is really an unfair description, and in my opinion, doesn't do justice to the either the animal or visitor experience. The 'zoo' is in fact a state of the art 'bioparc', advertised as being the most advanced in Europe.


More articles about Valencia
Location of our school in Valencia