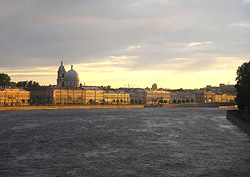 I think the first thing I really noticed about St. Petersburg was how beautiful it is.! I'd already spent some time studying in Moscow, which is a fantastic city, but I wanted to experience something a bit different, and friends had recommend that I continue my Russian studies in St. Petersburg.
The school was a perfect choice, since it's so centrally located in the old part of the city, and as expected had all the facilities I needed, internet, somewhere to relax and have a coffee when the Russian grammar got a bit too much!
They call it the 'Venice of the north' because of the many canals that go through the city centre, but for me the most impressive thing about St. Petersburg is the architecture.
The Hermitage, (picture the scene from the Bond film where Pierce Brosnan storms in to the square in a tank via a huge archway!) is perhaps the most amazing building I've ever been in. It has room upon room upon room of art, jewels, and sculptures etc. It's somewhere to really loose yourself.