Meet the Team
Our experienced sales team have visited many locations.
You can contact the Language Travel Advisor who has visited the location you are interested in by clicking on their profile below.
Phillippa Taylor
Locations Visited
Alghero, Augsburg, Barcelona, Bariloche, Beijing, Berlin, Bristol, Buenos Aires, Cambridge, Cordoba, Dublin, Edinburgh, Faro, Florence, Granada, Heidelberg, Krakow, Lanzarote, Lisbon, Liverpool, London, Los Angeles, Malaga, Malta, Marbella, Mexico City, Milan, Munich, New York, Nice, Playa del Carmen, Rome, Rouen, Seville, Shanghai, St. Petersburg, Tours, Vejer de la Frontera and Venice
Phillippa's full profile
Professional qualifications:
BA Tourism Management - Sheffield Hallam University
Languages spoken:
English
Favourite places:
Buenos Aires - A beautiful city which provides a great introduction to Latin America. Each area of the city has a completely individual character, so there is a great variety of activities both day and night. This is definitely the place to go if you have an interest in tango!
General interests:
Travelling, going to the gym, reading, spending time with family and friends.
Personal Statement:
I love visiting new places and feel a real sense of achievement when I'm able to order a meal or ask for directions in the local language. Travel doesn't get better than this.
Contact Phillippa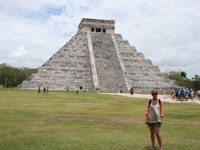 Amber Madden
Locations Visited
Barcelona, Flamingo Beach, Florence, Granada, Malaga, Marbella, Monteverde, Nerja, Rome, San Joaquin de Flores and Venice.
Amber's full profile
Professional qualifications:
BTEC National Diploma in Media
Languages spoken:
English, basic Spanish
Favourite places:
My favourite place where we have a school is Rome - you can spend a whole day wandering around and not have to spend any money! Favourite place to go on holiday is Greece - lovely people and fantastic food. Also like Norway for atmosphere and scenery.
General interests:
Food (buying it, cooking it and eating it (in and out), walking, going to the cinema, and spending time with friends and family.
Personal Statement:
As a student at the beginning stages of learning Spanish I fully appreciate how nerve-racking it can be to put your new language skills to use! However, the satisfaction you get from communicating in another language (whether it be asking for directions or shopping for shoes!) is amazing. A common problem faced by many new students when learning a language is a lack of confidence. Being able to practise every day in real situations soon helps you to overcome that.
Contact Amber
Monia Dini
Locations Visited
London, Bologna, Florence, Elba, Rome, Venice, Cusco, Malaga, Valencia and Lanzarote
Monia's full profile
Professional qualifications:
Languages and cultures for business, University in Urbino (Italy), 2008-2012
Languages spoken:
Italian, English, Spanish
Favourite places:
Florence, Elba and London. As Italian and a lover of our cultural and historical heritage, I think that Florence represents the best location where you can combine our greatest artistic attractions with nice food and wine. Another pearl of Italy is Elba, which offers a fantastic natural environment and the opportunity to practise Hiking. One of my favourite places is also London, as it offers a unique scenery and there is always something new to discover anytime I go to this beautiful city, even though I have lived in London for a few months.
General interests:
Travelling, watching documentaries, walking
Personal Statement:
I love going abroad, meeting new people, new cultures and habits. I believe that every journey enriches yourself, makes you aware of other ways of living and thinking and teaches about life. I think that taking a language course abroad will no just allow you to improve your language skills but will let you experience a new lifestyle and immerse yourself into the local culture, especially if you choose to stay in a host family.
Contact Monia
Stephanie Milsom
Locations Visited
Amsterdam, Annecy, Chamonix, Dublin, Edinburgh, Florence, Granada, Malaga, Malta, Pisa, San Francisco
Stephanie's full profile
Professional qualifications:
Language & Linguistic Science, University of York
Languages spoken:
English, Spanish
Favourite places:
Annecy is a lovely city, with its crystalline lake and teetering medieval buildings. It sits in the shadow of a huge, tree-covered hill and, in my view, truly lives up to its nickname, 'the pearl of the Alps'. Lounging on the grass in the park that looks out across the water was great - as was getting out on a pedalo and exploring some of the coves and crannies on the lake's edge. It can get busy in summer, but the street market is definitely worth a visit. It sprawls through the Old Town offering delicious, fresh produce and second-hand clothes, sometimes for just a few Euros a-piece. And, of course, a visit to Annecy wouldn't be complete without a picture on the Old Town's famous bridge!
General interests:
In my spare time I like to read - voraciously - and even do a bit of writing of my own here and there. I used to freelance as a ghost-writer, but since working for Apple Language Courses I've had the freedom to explore my own ideas. I'm involved in a UK drag-racing group called Gasser Circus, so every summer I help my dad race to win the championship! During the rest of the year, I enjoy cooking and baking, travelling to new places, walking in the countryside, seeing my friends, and eating great food.
Personal Statement:
I've always been interested in words and communication, whether it's in English or another language. I love walking down the street and hearing words and phrases of different tongues - actually being able to understand what people are saying, even if it's only a little bit, is the best feeling! Studying Linguistics at university taught me how different languages are structured and how the brain processes these structures, as well as the various ways that speakers use language, and what they use it for. It gave me a deeper appreciation for how language is a mirror for culture, and how learning a different language is not just about learning new words, but also about learning new customs and opinions that may have been totally unfamiliar before.
Contact Stephanie
Peter Carvell
Locations Visited
Amsterdam, Barcelona, Beijing, Bristol, Chamonix, Florence, Hamburg, Heidelberg, Liverpool, London, Los Angeles, Malaga, Naples, Newcastle, New York, Oxford, Paris, Pisa, Rome, Seville, Siena, Toronto and Venice.
Peter's full profile
Professional qualifications:
The University of Nottingham, BEng Manufacturing Engineering and Management
Languages spoken:
English, basic German
Favourite places:
Too many to list! I really enjoy visiting my sister in Barcelona and my mother's spectacular homeland of Norway. I've lived in both Toronto and Muscat and list them both very highly. I am looking forward to my next trip to North America, but also need to visit Latin America when I still can. A recent trip to Beijing opened my eyes to a fascinating and completely different culture, whilst every single meal I had was delicious. In Europe, I found Siena, Italy to be a completely magical place, Portugal offered so much more than I could have imagined and my two weeks learning German in Hamburg will stay with me forever! For those that want to learn English in the UK then you should never rule out Liverpool as it is one of the most fun and friendly cities we have. From my experience it is clear that studying abroad really does make you appreciate places, people and culture in a whole new way to simply being a tourist.
General interests:
I've represented both Loughborough and Nottingham at national league volleyball and enjoy playing five-a-side football, basketball and most racquet sports when possible. I enjoy good food, nights out, visiting new places, meeting new people and generally enjoying life!
Personal Statement:
After university I spent a year working in an English language school in Toronto and was fortunate enough to meet hundreds of fascinating people who came to the city to learn English. I also studied languages myself in Hamburg, which was an incredible experience that I cannot recommend enough. I don't think it's possible to not have fun on a language course abroad. Learning from other nationalities about their language, culture, traditions and life experiences is incredibly important in this globalised society, and life changing for anyone who has not had the privilege of doing so before. There is no better way to learn a language than immersing yourself amongst the natives and sharing your experiences with your new, fascinating friends from all around the world.
Contact Peter
Patrick White
Locations Visited
Cuba, Barcelona, Granada, Madrid, Malaga, Marbella, Seville, Valencia, Vejer de la Frontera, England, Edinburgh, Dublin, New York, Montpellier, Paris, Rouen, Zurich, and Venice
Patrick's full profile
Professional qualifications:
Marketing and Media studies at De Montfort University
Languages spoken:
English
Favourite places:
Granada in Spain is one of my favourite cities. Not only can you experience outstanding history, the vibrant atmosphere of the Albicin, along with its tea houses and hidden gardens, but you do so in the backdrop of the Sierra Nevada mountains. A top location if you want the great outdoors, a bit of culture or if you are like me, a bit of both. For you lovers of food I cannot reccommend Vejer de la Frontera highly enough.
General interests:
I love being outdoors; in the garden, on a mountain bike, on/off a surf board or on a good walk.
Personal Statement:
Having worked with people from all over the world I really see the benefits of knowing a second language. It's a skill I envy and after visiting many of our schools I see it is something that is both easy and enjoyable to do. It's time for me to dust off the school books I think and get learning.
Contact Patrick
Our schools are rated
(
4.58
/
5
) based on
3901
customer reviews!
Apple Language Courses
Unit 12, The Office Village
North Road
Loughborough
Leicestershire
LE11 1QJ
England
T: 01509 211 612
E:
info@applelanguages.com
Contact Numbers
| | |
| --- | --- |
| United Kingdom | 01509 211 612 |
| Ireland | 01 6950417 |
| Italy | 800 699 791 |
| Netherlands | 020 7036459 |
| Spain | 91 1140113 |
| United States | 646 652 0770 |
| International | +44 1509 211 612 |
Sign up for our newsletter
We accept
Company Number: 8311373 || VAT Number: 152 4085 30
© Apple Language Courses Ltd 2023