Family Courses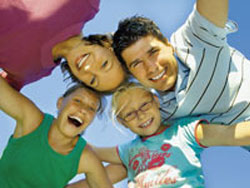 Here at Apple Languages, we understand the importance of language-learning for children and adults alike. That's why we offer Family Courses in many different locations around the world, giving the whole family the perfect opportunity to learn a new skill and share the experience of a language immersion programme.
Our Family Courses are ideal if you and your family wish to combine holidaying with intensive language-learning. They are designed so that you can take language lessons at the same time as your children, in nearby classrooms in the company of like-minded adult learners. Or, whilst your child is in class, you can enjoy some well-earnt time to yourself!
Our Family Courses are dynamic, interactive and imaginative, with an emphasis on spoken communication. Lessons aim to develop the main aspects of the target language, and improve general language skills in a fun and relaxed setting.
Many of our schools also organise additional cultural activities for children and teenagers to get involved in after class. Not only does this aid in language development and improve cultural awareness, but it also allows children to socialise with students of a similar age from all over the world! Parents are welcome to join their children on the activity programme, or spend the afternoon exploring independently.
We can also arrange accommodation for the whole family! With plenty of options to choose between, we are sure to find something that suits your family's requirements.
We offer Family Courses in some of our Spanish, French and English schools. Contact us now to arrange a course for all the family!