Safety Abroad
At Apple Language Courses we take the safety of all our adult and minor clients extremely seriously.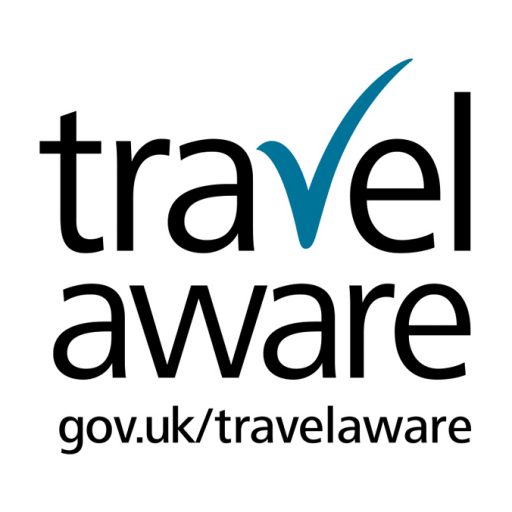 The British Foreign & Commonwealth Office produces a wide range of publications regarding safety whilst travelling abroad. Some information is specific to British nationals. However, travellers of all nationalities will find much of this information useful. We previously promoted the successful Know Before You Go campaign. This has now been updated to Travel Aware, with an incredible array of useful advice. We strongly recommend that all students read this information before they travel.
Please click on the following link for a full list of information available: travelaware.campaign.gov.uk
The Department of Foreign Affairs in Ireland also has some excellent travel advice which you can find here: www.dfa.ie/travel/know-before-you-go/
---
Our student safety policy for minors
Learning a language abroad provides invaluable life experience for young people. Immersive study packages not only improve their knowledge of the target language and local culture but also help them to develop decision-making skills, resilience, and independence.
Unquestionably, children and young people participating in a language course booked through us should expect to receive a high-quality language programme and feel completely safe and comfortable while doing so.
Student safety is naturally a very important issue. We'd like to take this opportunity to inform parents, guardians, and prospective students of the measures taken by us and our partner schools to keep children and young people safe.
It is usually the case that parents/guardians make a booking on behalf of their children, often after discussing the various options available with a member of the Apple Language Courses team. However, this isn't always the case; some teens can request to book the same course as a friend with little or no research. We would strongly urge all parents/guardians to pay attention to the programme that is chosen and ensure that it meets the needs of the student and the expectations of the parent/guardian.
Descriptions of all our language programmes - including exclusive courses for young students and adult courses suitable for teenagers - can be found on our website. In addition to this, the team at Apple Language Courses is dedicated to answering queries and providing information on the various options available and will be happy to assist by email or telephone.
When you are ready to make a booking, this can be done online or over the telephone. At the time of booking, we will ask you for general information about the student (name, date of birth, nationality etc), contact particulars (please ensure details are given for parents as well as students), and details of any allergies, dietary requirements, and medical conditions. This information will be sent to the school and will be taken into account when accommodation is selected. At this stage parents, guardians, or students are also welcome to express any preference they may have regarding accommodation location, host family members, etc. We try to meet such requests where possible, but parents, guardians, and students should note that this cannot be guaranteed.
At the time of booking, we will require a non-refundable deposit of £200 / €250 / $350 USD (depending on the currency that you would like to pay in). The balance payment will be due 6 weeks before the course begins.
It usually takes 1-2 working days to confirm a booking, and we ask that no special arrangements relating to the programme (for example, booking travel) are made before confirmation is received.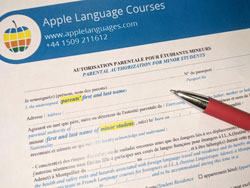 We send confirmation of the language programme by email once we have received confirmation from the chosen school that everything has been arranged for the student. This is sent in the form of a confirmation invoice, along with any parental permission forms that are required by the partner school.
We strongly recommend that a suitable travel insurance policy is purchased that will provide coverage in the case of unavoidable cancellation, as well as adequate care and protection while in the chosen study location.
Apple Language Courses usually receives full accommodation details from the school around 10 days before the scheduled departure date. We endeavour to send full information to students and parents as soon as available, providing the balance payment has been received.
There are two different types of programmes that students under the age of 18 can participate in:
Junior/teenage courses
These are aimed at a specific age group and combine language tuition with a full programme of activities, full-board accommodation, and a higher level of supervision. Often airport transfer services are also included, though this can vary according to location. Accommodation can be provided in the homes of local homestay hosts or in student residences that may be on- or off-site. Most teenage courses take place during the summer months, though there are a few which take place at other times of year.
Adult courses
These are available to students of all ages above the minimum and thus offer more independence and free time. The minimum age varies from school to school. Some adult schools accept students aged 14-17 while others will only accept students aged 18 and over.
There is no maximum age for these courses, so young people will study with students of any age. Most adult schools also offer activities in addition to language lessons, but usually only 3-4 times a week rather than daily. Some activities are included, while others cost a little extra. Transfer services can usually be added to the booking. In almost all locations, accommodation for minors is provided in the homes of local homestay hosts. Adult courses are available throughout the year.
Apple Language Courses works with a network of carefully selected partner schools worldwide and each has their own policies relating to students under the age of 18.
Some schools for young students - such as the one in Paris for students aged 12-17 years - don't allow students to leave the accommodation without a staff member. This is also usually the case where there are students under the age of 12 on a programme. Others - such as the one in Malaga for students aged 15-20 years - will only give 'curfew guidelines', which are suggested times to return home rather than an enforced curfew.
Similarly, the adult schools also have very different curfew options. For example, our adult French school in Nice (minimum age: 16) will allow parents to choose between no free time after dinner, a curfew of no later than 23:00, or no curfew at all. Conversely, the German school in Regensburg asks parents to sign a form to show they understand that there are no special rules applying to students under the age of 18 other than those set out by German law.
It is very important that parents/guardians make themselves aware of the rules in place for young students and ensure that they are comfortable with the level of supervision provided in the preferred study location before booking a programme.
Schools will set rules according to the usual behaviour and schedules of young people in the study location rather than those of the participant's home country. For example, in the south of Spain or the south of France, a 'Mediterranean timetable' operates. This means that people of all ages tend to go out much later at night than is normal in some other countries. Local teenagers will often take advantage of the warmer evenings and will happily sit with friends in popular spots, chatting or listening to music.
This doesn't mean that anti-social or illegal behaviour (such as drinking) is allowed. Our schools have zero tolerance in this regard and any students found to be behaving irresponsibly will be subject to the relevant school's disciplinary procedure. Serious offences can result in students being expelled from the programme.
For specific information on your chosen school's policies relating to children and young people, please do not hesitate to contact us.
Apple Language Courses does not arrange travel to the chosen destination - this is something that parents/guardians will need to arrange separately. As mentioned above, we ask that you do not book any flights or travel tickets until confirmation of the booking has been received.
A lot of junior/teenage courses include transfers free of charge from/to the closest airport and train station. Where transfers aren't included, it is possible to book them at extra cost.
Young students attending an adult course can usually book transfers at extra cost and, in some cases, transfers are provided by the host family free of charge. If transfers aren't offered by the chosen school, we will be happy to provide information about the best way to travel to the accommodation.
We recommend that all students under the age of 18 attending an adult course book an arrival transfer service if available. Doing so will ensure a smooth arrival at the accommodation and can provide comfort to young students who may be travelling alone for the first time, as well peace of mind for parents/guardians. Some young students also book a transfer service on departure, while others feel confident booking public transport once they have gotten familiar with the study location.
Details about the transfer arrangements from the airport/train station will be sent with the accommodation details (usually around 10 days before the course begins). A member of the school staff usually meets the student in the arrivals' hall or at a designated meeting point in accordance with the transport details provided by parents/guardians.
We will provide students with a telephone number to call should they have any difficulty locating the person charged with transporting them to the accommodation. This number can also be used to inform the driver of any delays or changes to the journey. It is imperative that the driver is made aware of any changes as early as possible to ensure a smooth transfer service. Parents/guardians shouldn't assume that the driver will check if there have been any changes to the arrival time.
If the child will be travelling as an unaccompanied minor (UM), it is usually necessary to pay a supplement for the transfer service. UM status is often dictated by the airline (or country of travel, if booking public transport); we encourage parents/guardians to check UM purviews with the transport provider. You should let us know as early as possible if your child will be travelling as a UM so we can ensure the relevant paperwork is completed in time for the student's journey.
In some cases, transfers are offered as a shared service. This means that students may need to wait at the airport for other students arrive before travelling together to the study location. If this is the case, staff will ensure that young students are adequately supervised.
Some parents/guardians choose to travel with their children to the study destination. In such cases, it shouldn't be assumed that any included transfer services will also be available to accompanying adults. Please contact us for more information regarding this if necessary.
We send high numbers of children and young students on courses worldwide throughout the year, and it is usually the case that the experience is nothing but positive. Occasionally, problems can occur, whether they be in the form of a simple misunderstanding between a host and a young person, or a medical emergency as a result of a student being involved in an accident or unwell.
If something like this happens, it is important that the child or young student knows who to contact and can obtain assistance without delay.
Most common issues - such as questions about accommodation, lesson times, or where to go to eat or buy particular items - can be dealt with during school hours by a member of the teaching staff, an activity supervisor, or the accommodation provider. The Apple Language Courses team is also on-hand to help over the phone or by email during office hours (09:30-17:30 Monday to Friday UK time).
We understand that children and young people can sometimes feel unsure when it comes to mentioning a problem, particularly in a foreign country, and will often make contact with their parents/guardians regarding an issue. This is absolutely fine and to be expected. Apple Language Courses will happily discuss any such situations with parents/guardians and assist in the most appropriate manner.
Students will also be provided with details of a 24-hour emergency telephone number which they can use in the event of a more serious or urgent matter. This will ensure they receive help and support as a matter of urgency. Children or young people also shouldn't hesitate to contact emergency services when necessary.
Any reports of problems relating to student safety will be dealt with compassionately, discreetly, and without delay.
We hope that this information is helpful and answers any questions or concerns you might have about student safety. If you would like any further information, please do not hesitate to contact us by email or telephone using the following details:
Email: info@applelanguages.com
Telephone: (+44) 01509 211 612
Office hours: 09:30 - 17:30 Monday to Friday (UK times).