Learn Italian in Salerno
Salerno is ideally located, right on the Amalfi coast, with beautiful towns such as Sorrento, Positano and Amalfi just a short drive way. Salerno itself has escaped mass tourism, and remains authentically Italian, with a beautiful historic centre, as well as long seafront promenade with magnificent views over the Gulf of Salerno. Due to Salerno's marvellous year-round climate, people here enjoy an outdoor lifestyle which this beautiful weather makes possible. Where better to learn Italian than in somewhere so Italian, in such a beautiful location and virtually untouched by mass tourism?

Our school in Salerno
14 classrooms
Student computers
On-site cafeteria
Course materials included
Wi-Fi throughout the building
Registered CILS/CELI/DITALS examination centre
Approved for Lanekassen programmes
Resource centre with multi-media learning materials
Photos
Our Italian language school in Salerno is located in the centre of the city, on the seafront promenade and on one of the most beautiful streets in Salerno. The school is in an antique 'Palazzo', a magnificent and well preserved historic building, giving several of the classrooms incredible sea views over the Gulf of Salerno.
The school is comprised of 14 classrooms, a multimedia room with 8 computers and internet access, a cinema room and a library with a wide selection of language resources.

Location: south Salerno
Nearest convenience store: 170 m
Nearest café: on-site!
Nearest metro stop: N/A
Distance from train station: 1 km (Stazione Salerno)
Nearest bus stop: 44 m (Roma Porta Nova)
Distance from airport: 58.5 km (Naples International Airport)
Courses in Salerno
You can learn Italian on an Intensive Italian language course of 20 lessons per week, which are held in small groups of no more than 10 students. Alternatively, if you want to learn as much Italian as possible during your time in Salerno, take the Super-Intensive Italian course of 30 lessons per week. Both courses aim to improve your general Italian skills in classes of other students in a similar ability.
You may wish to take a course of Private Lessons if there are specific things that you wish to focus on, or an Intensive + Private Lessons course to benefit from both group lessons and individual tuition.
If you are aged 50 and above with a love of Italian culture, why not take our Club 50+ course in Salerno? This course allows you to study uniquely with other students of a similar age and combines Italian lessons with a wide variety of activities and excursions.
Want to share the experience of language travel with your whole family? Our school in Salerno offers Family Courses, allowing both adults and children (7-16 years) to learn Italian in an immersive environment.
Our school in Salerno also runs an Intensive + Cookery course, allowing students to experience the local gastronomy and wines of the Campania region.

Special courses in Salerno
Accommodation
Available accommodation
Host Family
Shared Apartment
Shared Apartment Plus
Studio Apartment
Experience life in a traditional Italian household by staying with a carefully selected host family on a bed and breakfast or half-board basis, where you will see your language skills improve in no time!
Our school in Salerno also arranges shared apartment accommodation for students who enjoy their own independence. Shared apartments are comprised of single and double rooms, as well as shared bathroom and kitchen facilities. Choose the shared apartment plus option for a place with air conditioning and more modern facilities.
If you would prefer private accommodation, you can choose to stay in a studio apartment.

Activities
Our school in Salerno organises an extensive cultural program, including guided walks around Salerno, weekly dinners for students and teachers in picturesque local restaurants, cinema and theatre trips, Italian film evenings at the school, as well as discussions at the school on social and political events in Italy. There are also weekly full-day excursions to Amalfi, Positano, Cetara, Sorrento, Pompeii, as well as to other locations along the coast.

Sample activity programme
How to get there
The best way to get to Salerno is to fly to Naples Airport (50 km from Salerno). From Naples, there are regular direct trains to Salerno. Alternatively, private airport transfers can be arranged at an additional fee, which will take you directly to your accommodation from Naples Airport.

---
Location of our school in Salerno
Average score for our school in Salerno based on 27 previous client reviews.
Student reviews & feedback
L. Underwood
I was really impressed by the school in Salerno. Lovely teachers fully accommodating the 50+ class members with other students. I liked the pace of the programme. As a beginner I felt I'd got a grasp of the basic elements in the two weeks, and could start to communicate in Italian.
The accommodation was comfortable, and I loved the location in the old town. My host Bianca Manzo was very pleasant.
Course
Accommodation
School Staff
R. Grimshaw
I felt I was put into the right class. The lessons were a good mixture of grammar, reading, listening and conversation. The teacher was friendly and encouraging. The activities were brilliant and provided a good opportunity to meet other students from other classes and other countries.
I stayed in a typically Italian apartment with a very friendly warm Italian lady who has invited me to return. It was close to the language school and involved a 20 minute walk which I enjoyed each morning. I was made extremely welcome, given lots of useful information and enjoyed fascinating conversations with my host and her friends.
Everyone in this part of Italy is so friendly and welcoming which made it such a lovely experience. I really felt immersed in the local culture. Salerno is a great town to stay in and very well situated for visits to other places in the area. Everything was extremely well organised, making for a very relaxing time. I would definitely like to return to the school and Salerno.
Course
Accommodation
School Staff
A.
Very good approach in both linguistic and socio-pragmatic terms . Congratulations to our Professor Pina Castiglione and her excellent work.
Excellent house with location close to the school. A pleasure. Delightful familiar atmosphere. Very nice room, food and integration.
Course
Accommodation
School Staff
R. Venables
Intense, challenging, fulfilling. We learnt new grammar and practised it through conversation in pairs and teacher/student interaction. The teacher was effective and personable. The pace of the lessons was good.
The couple were pleasant and the accommodation was commodious. They sat and talked with us over breakfast and evening meal.
I would highly recommend the school. The staff were thoroughly effective and friendly. Amongst the best teachers I have known (as a school advisor).
Course
Accommodation
School Staff
N. Letzer
The course was very good, the right level for me and the teacher was enthusiastic and patient.
Lovely family, but food was disappointing, breakfast consisted of a few biscuits.
Course
Accommodation
School Staff
J. Cragg
Good teacher, but she talked a lot! Excellent activity programme whether or not you were on the 50 plus programme. Best of all the schools I have been to.
Course
Accommodation
School Staff
N. Kennedy
Our second teacher was brilliant and it was really interesting, she has a great way of teaching. Tina was a lovely host mother and really looked after us well. Her cooking was beautiful and her grand daughter was a treasure. A very hospitable lady. A true host mother in all senses. Overall i have a very positive experience and would like to thank all at Apple Languages for their help.
Course
Accommodation
School Staff
I. Gehrt
Annamaria was a superb teacher and we learned a lot. She is a very intelligent, sensitive person, notices immediately where to ask more, where there are holes to fill. We had a lot to laugh which I find very important. My friend and I enjoyed every minute with her and can recommend her highly.
Accommodation quite ok, its Italy not home. We had everything we needed.

Course
Accommodation
School Staff
B. Caniza Ayala
An excellent experience
Accommodation, very nice
Course
Accommodation
School Staff
O. Lefebvre
Our stay was wonderful, the teachers were motivating and very polite, [and also] very patient and positive. We learned a lot of grammar and want to continue! There are real positive dynamics in the class. We would like to come again.

M. Elliot
Salerno was a fantastic place to study italian. It seems that few native English speakers go there so I was thrown in at the deep end and was totally immersed in the language for the first two weeks. The school was fantastic and the teachers were so enthusiastic and cleearly loved what they do. Staying with my host was a wonderful experience, this lady is wonderfully warm and very funny and my Italian being a bit ropey at first made life with this non English speaker totally hilarous. Many hours were spent at the kitchen table in hilarious conversation and the highlight of my whole stay in Salerno was being taken out on little trips by Clara in her Fiat 126 on tour around her beloved city and down the coast. Her cooking is legendary.
Course
Accommodation
School Staff
M. Evans
The course was excellent. The two teachers were brilliant and it was down to them that everything was so good.
Course
Accommodation
School Staff
E. Gunn
The teaching style was great, the same as the spanish courses in mexico and costa rica. The teacher was excellent.
Course
Accommodation
School Staff
W. Chester
The course was very good. Our teacher was very patient.
Course
Accommodation
School Staff
N. Vliers
The course was excellent. The teacher was very good and had a structural and flexible approach to maximise the learning of both grammar and communication. The apartment was very good and conveniently close to the school and well located at the historical centre.
Course
Accommodation
School Staff
M. Looymans
The course was very good and the teachers were very friendly. My accommodation was alco very good. Everything was a great success!
Course
Accommodation
School Staff
School statistics
Nationality (%)

Australia (5)
Canada (5)
German (10)
Japanese (10)
Other (15)
Russia (25)
Scandinavian (10)
South america (5)
Swiss (10)
Us american (5)

Average Student Numbers
---
Average ages (June - Aug)
* Statistics considered correct at the time of publishing
Student stories on our blog
I'd rather be in Salerno!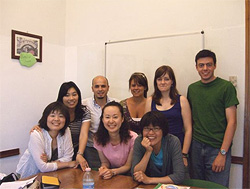 I've been studying at a really nice school in Salerno, in the South of Italy. Originally I wanted to study in Rome but the cost of the course put me off and I decided that the location of Salerno, on the Amalfi Coast, was perfect for a summer course (in fact it's only just over 2 hours by train from Rome so I managed a weekend visit in any case!). The city itself is not huge, but there is plenty going on, open-air concerts (usually free!), evening walks along the seafront, local festivals where you can taste the typical food and drink from that village and plenty of great bars and restaurants. It's amazing how many people are around in the evening – that's when the city really comes to life in the summer!
Read more...