Spanish course in Quito
If you would like to learn Spanish in South America, Quito is a natural choice for your Spanish language program. Quito was declared a World Heritage site by UNESCO in 1985, due to the beauty and historical importance of its Spanish colonial and Inca heritage. If you choose to live in Quito, to learn Spanish at our school, you will see all around you every day, a mixture of Spanish and native cultures, of old and new. This makes Quito a fascinating location in which to learn Spanish, a city with a beautiful old town, yet also a modern, bustling, South American capital. The geographical location of Quito is stunning, lying in a high valley, at 2,800 metres, surrounded by snow-capped peaks. All of this makes Quito an incredible location for a Spanish language course, and students at our school thoroughly enjoy exploring the city, discovering the fascinating history and culture of Ecuador.

Our school in Quito
21 classrooms
Multi-media resources available to rent
Video room for watching Spanish films
Interior patio
Private terrace offering great views
Partially wheelchair-accessible
Course materials included
Wi-Fi throughout the building
Affiliated with New Mexico State University
Accredited by SETEC and the Ecuadorian Ministry of Education
Our Spanish school in Quito is located in a prosperous residential part of the city, in a detached colonial style building, standing in its own grounds. The school has 18 classrooms, cafeteria, video/multimedia room and beautiful interior patio – very popular with students at break time.

Location: Benalcazar, Quito
Nearest convenience store: 350 m
Nearest café: 200 m
Nearest metro stop: N/A
Nearest bus stop: 270 m (Eloy Alfaro y Checoslovaquia)
Distance from train station: 7.9 km
Distance from airport: 37.4 km (Quito Mariscal Sucre International Airport)
Courses in Quito
Students can learn Spanish on an 'Intensive' Spanish course (20 lessons/week), or on a 'Super-Intensive' Spanish course (30 lessons/week). There is also an 'Indigenous Culture of Ecuador' course. In all classes, there is a maximum of just 4 students, meaning lots of personal attention for every student. If you would prefer to study on a on-to-one basis with your teacher, private lessons can also be arranged.
Our school in Quito also arranges Volunteer Work in Ecuador, with placements involving community or conservation based projects. Contact us for further details.

Accommodation
Available accommodation
Host Family
Student Residence
Our Quito school arranges accommodation in carefully selected Spanish-speaking host families. Most of the families live within 10-20 minutes' walk of the school.
Student residence accommodation is also available in single or shared rooms, with access to a shared kitchen, student common room and bathroom. The residence is located next to the school, so is very convenient!

Activities
Our colleagues in Quito usually offer optional activities at least twice a week, with examples of typical activities including a cable car trip up to Pichincha Volcano, trips to museums and traditional markets, soccer games and film nights!

How to get there
The best way to get to our school is to fly to Quito. Airport transfers can be arranged on arrival at a reasonable price.

---
Location of our school in Quito
Average score for our school in Quito based on 11 previous client reviews.
Student reviews & feedback
R. Patterson
I was very impressed by the language school, in particular the dedication and professionalism of its staff. Everything was very well organised, very friendly, and the quality of the teaching was very good. Also the extra-curricular activities (salsa classes etc) were very good, and they went out of their way to help us iin arranging our own travels at the weekend etc.
Course
Accommodation
School Staff
J. Shields
The course was first class. On my first day I was a little nervous, but all of the staff were so welcoming and friendly that I settled in very quickly and had a fantastic time during my studies. All of the lessons were well delivered and extrememly enjoyable. The group sessions were so much fun and a brilliat way to learn the language.
I had an amazing time with my family. They were the kindest, most generous people I could have possibly hoped to stay with and I have now made lifelong friends with them and to come back and visit them some time in the future. The whole experience was just fantastic.
Course
Accommodation
School Staff
D. Lomita
Class was fantastic,I was fortunate to work directly with a superb teacher, Lidia. The rest of the staff at school are also very nice and professional. Incredibly enjoyable experience. Accommodations were perfect. For me. The Torres family was extremely warm, friendly, and helpful. They could not have been nicer, meals were excellent. I want to thank the people I communicated with at Apple Languages. I was very nervous about staying with a family and expressed that in emails and calls. But I was strongly urged to do so and I am eternally grateful for that push. The experience was much richer for it.
Course
Accommodation
School Staff
J. Drake
The teachers were excellent and I really enjoyed the activities with the other classes. The residence was also a great place for me to live. I loved my time in Ecuador and I hope to return.
Course
Accommodation
School Staff
C. Berteau
I couldn't have dreamed for a better host family. They were fantastic!!
Course
Accommodation
School Staff
A. Watson
The course I attended in Quito was fantastic! The way in which the lessons were delivered was perfect and we took part in great activities which helped us get to know the other students. The staff at the school in Quito were brilliant also. Everyone made an effort to get to know you and could help you with any queries you had even if it wasnt regarding school. I very much enjoyed the two weeks I spent there. The homestay accommodation I was provided with in Quito made my stay in Ecuador so much better. My family were incredibly nice and made me feel at home on the very first day. They also helped me settle into Quito and we spent a lot of time together exploring the city and helping me with my Spanish. It would have not been the same without them!
Course
Accommodation
School Staff
J. Fitton
I felt that I learned a lot with only a weeks tuition. I started a group course I realised that I would prefer an independent class, I spoke to the school and was immediately changed to this and really enjoyed the solo classes. My host family in Quito were so lovely. A traditional Ecuadorian family that made me feel so welcome from the moment I arrived. I had a tear in my eye when I left them, I will definitely keep in touch with them. I wish that I had booked more than 1 week, the atmosphere at the school was great, really enjoyed it there. Would definitely recommend it to anyone wanted to learn Spanish in Quito.
Course
Accommodation
School Staff
J. Bills
Overall my experience was very good. I am already thinking about doing it again for a much longer time. The school in Quito is just great.
Course
Accommodation
School Staff
L. Ratzman
The teachers were knowledgable, professional, welcoming and helpful. The hostel in Quito was humble and cozy. It was nice being attached to the beautiful school. I felt very safe because of the doorman and locked gate. I would reccomend the Quito school to anyone I know.
Course
Accommodation
School Staff
E. Weddick
The course was both very good and very enjoyable, the teachers were very friendly and encouraging and the extra activities available were a nice touch and helped you get to know other students.
Course
Accommodation
School Staff
School statistics
Nationality (%)

Belgium (10)
Canada (2)
Germany (7)
Korea (2)
Others (3)
Switzerland (9)
The netherlands (10)
United kingdom (15)
Usa (42)

Average Student Numbers
---
Average ages (June - Aug)
* Statistics considered correct at the time of publishing
Student stories on our blog
Ecuador: where to go and what not to miss!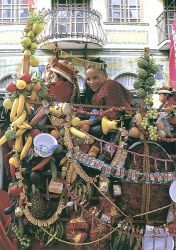 I stayed in Ecuador for two and a half weeks, and it was the most interesting and exciting holiday I ever had! Although the country is quite small, when compared to other South American countries, it offers you the full range of South American landscapes: the Pacific coast, the Andes, and the jungle. And all of them are just a bus ride away from each other! If you are considering a Spanish course in Ecuador and want to stay in a really vibrant city, then go to
Quito
! For the first couple of days you might feel a bit lost in this busy city, but don't worry, you will love it! The colonial architecture in the historic part of Quito is just beautiful, and there are incredible views of the volcanoes which stand all around the city. There are also so many places around Quito that are well worth seeing. For example, not far from Quito is Otavalo with its famous indigenous art and handcraft market. There you can buy beautiful traditional Indian clothes, jewelry and much much more. If you love strolling around markets as much as I do, you absolutely must go there. Not far from Otavalo is Cotacachi, known as the "leather town", where you can buy all kind of leather handcrafts.
Read more...