About us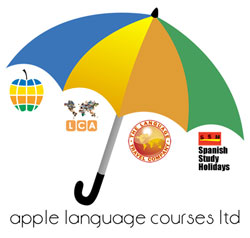 Apple Languages is the main trading name of Apple Language Courses Ltd. Since 1992 this leading language travel agency has been sending clients abroad to learn a foreign language. Starting life as Spanish Study Holidays and then incorporating the next business Language Courses Abroad, we now have over 20 years of experience in the field of language travel, 20 more languages on offer and hundreds of high-quality, worldwide partner schools.
Apple Language Courses Ltd was formed in late 2012 to incorporate all of our language travel brands (Spanish Study Holidays, Language Courses Abroad, Apple Languages and The Language Travel Company) under one elite language travel agency umbrella.

Expertise
Learning a language is a practical skill, like learning how to swim, ride a bicycle or to drive a car. As such, it is possible for just about anyone to learn a language, provided that you have the desire to learn and you attend a course with modern teaching techniques, delivered by experienced and highly motivated teachers.
Like all practical abilities, you learn fastest by getting lots of practice. The best place to get that practise is in a country in which the language that you want to learn is spoken. We organize language courses abroad, for anyone who wants to learn a language. These language courses can be just one week, or up to a full year, depending on the amount of time that you have available. We have courses which are suitable for students of all levels and all ages.
Our experienced language travel advisors will be pleased to help you choose the right course for you. Please do not hesitate to contact us and ask for advice. We know our schools well and will be happy to answer any questions that you might have.

Support

Our friendly and dedicated staff are committed to offering language courses and accommodation that suits the individual needs of all of our clients. We will listen to your requests, help you if you are undecided and guide you through the booking process to ensure you receive the very best language course and accommodation available.
Before your trip starts you will receive comprehensive travel information to ensure you are very well prepared and we are always on hand to answer your questions at any stage of the booking process and during your language course.
Once you are on your course all of our schools are committed to providing the best levels of help and support. This includes the expected incredible levels of 24-hour supervision on our young student courses, together with experienced staff at hand throughout the day in all our adult schools. Booking through Apple Languages means that you have an extra level of support whilst abroad.

Quality

Our schools all meet the very strict criteria we set: highly qualified and experienced native tutors, small group sizes, professional student care and modern teaching techniques. We visit our schools in order to ensure that they continue to meet the very high standards that our students have a right to expect and have constant communication and feedback with all our schools to make sure quality remains at the highest level.
Here at Apple Languages all our full time staff are fully qualified graduates with a passion for this industry. We have considerable experience of language travel and many years experience between us.
You can see what previous clients of ours have said by visiting the Student Feedback page.

Price
Although we work with schools of the highest quality we pride ourselves on the excellent value for money. Our prices are available in Pounds Sterling (£ GBP), Euros (€ EUR) and US Dollars ($ USD) and you can view and compare prices for all our language courses whilst using the 'FIND A COURSE!' price-tool throughout our website:

Location
With head offices located in Loughborough, a university town in the heart of the UK, close to Leicester and Nottingham and just 1.5 hours from London by train, we at Apple Languages know that location is very important when choosing a foreign language school. We work with the very best schools in the most popular or most suitable locations for language travel.
Whenever possible our schools are as conveniently located as possible with excellent facilities and nearby accommodation. In bigger cities such as Paris, Madrid, Berlin, Beijing and Buenos Aires we have more than one school option to accommodate for the different areas of the city and different courses and accommodation options that are available with different high quality language schools.

Choice
Our schools are in a wide range of locations and offer an extensive selection of courses and types of accommodation. It is very important to us that you choose a course, location and type of accommodation that is right for you.
We pride ourselves on our large range of schools in many different locations but also the different types of courses and accommodation options at each school. We also try to offer more choice through further language school options in our key locations.
Having a large choice of high quality language schools really enables us to offer exactly what our clients require. If something that our clients want is not available we do endeavour to give them other options either in similar locations or other parts of the country and we are constantly working on updating the choices we offer.

Staying in touch

Please contact us to let us know exactly what you require from your language course abroad.
Learn more about us by following our social media pages:

Visit our blog to stay updated with the latest news, or sign up to our newsletter to receive monthly communication and special offers from us, opt out at any time.
You can also write to us at:
Apple Languages
69-71 Ashby Road
Loughborough
Leicestershire
LE11 3AA
England


SPECIAL OFFERS
Book by 31 January 2015!
Student Reviews
Maggie
Morrissey
The teachers were 'muy simpatico' and keen to help. As a beginner at 60 years of age I was never made to feel 'silly'. As a vegetarian I was a little worried about how my hostess would cope but she couldn't have been more helpful.
Malaga (Premium), Spain
Why choose Apple Languages?
20 years' experience
ALTO, ICEF, WYSTC, IALC
accreditation
High quality courses
Transparent pricing
Friendly support staff