French course in Paris
Variously known as the City of Light, the City of Art, and the City of Literature, Paris has earned its place as one of the world's most famous cities. With a history spanning over 2,500 years, it has been a key economic, cultural, and political hub for centuries. This legacy has attracted some of the world's greatest artists, architects, philosophers, and intellectuals, who have contributed to the city's reputation as a powerhouse of exceptional literature, music, and fine arts. Paris is a city of perfectionism, of haute cuisine and high fashion, of world-class cinema and high-quality education, and of ground-breaking inventions including photography, the stethoscope, braille, and the aqualung. It is home to a huge wealth of cultural attractions, with some of the planet's most recognisable landmarks and some of the best museums and galleries anywhere. With countless districts to explore - each one with its own unique character - you'll be spoilt for choice for things to do when you attend one of our French courses here!
The earliest records of life in Paris date back several thousand of years, to a time when a Celtic tribe named the Parisii - from which the city takes its name - founded trade routes along the Seine. Relics from this time, and the later Roman city of Lutetia, can be found in the Carnavalet Museum, which is less than 20 minutes' walk from our Notre-Dame school. Here you can also learn how the city withstood successive invasions in the Middle Ages, delve into the tumultuous French Revolution, and see artefacts from the 19th century Golden Age of Parisian Art. As well as that world-famous symbol of the city, the Notre-Dame cathedral, history buffs should also be sure to visit what is left of the Palais de la Cité complex. Here you can stroll through incredible medieval halls, see the stunning stained-glass windows of the Sainte-Chapelle church, and learn more about the Conciergerie, the former prison where Marie Antionette spent her final days.
More modern - but no less popular - attractions include the iconic Eiffel Tower, which was built for the 1889 World's Fair and which is just 15 minutes' walk from our Victor Hugo language centre. Another of the city's world-famous landmarks, the tower is emblematic of the artistic flair which gripped Paris during the 19th and early 20th centuries and which attracted such greats as Claude Monet, Vincent van Gogh, Henri Matisse, Pierre-Auguste Renoir, and Jean Metzinger. If you dare, brave the 276m-climb to the tower's top level for unparalleled views over the city. Culture vultures should also visit the Pompidou Centre, home to the vast Public Information Library, the National Museum of Modern Art, and the IRCAM musical science centre. If you don't manage to make it here, Paris has over 130 museums and art galleries, so you're sure to get your fill of culture!
There are so many notable attractions in Paris that it's hard to enumerate them all here. If you prefer to avoid the usual tourist routes, though, a great way to get an insight into Parisian life is to visit one of its many cafés. Paris' coffee houses were once the political and artistic nerve-centre of the city, and they remain popular today. You'll find one on almost every corner; grab a newspaper or take your schoolwork and enjoy a café crème while you soak up the bustling atmosphere of these interesting places. Institutions like Le Select in Montparnasse and Les Deux Magots in Saint-Germain were particular favourites of clientele like Simone de Beauvoir, Ernest Hemingway, and Jean-Paul Sartre, so they're definitely worth taking the time to see. However you spend you time in Paris, your immersive experience is guaranteed to be unlike any other.
Our school in Paris
18 classrooms
2 terraces
Interior courtyard
Library with multimedia learning resources
Wheelchair accessible
Certified Label Qualité FLE centre
Member of IALC and Campus France
Approved for CSN and Bildungsurlaub programmes
Wi-Fi throughout the building
Photos
Our French courses in Paris take place in the north of the 8th arrondissement. This chic and bustling district is known for its Hausmann architecture and some of the city's best sights, such as the Champs-Élysées, the Arc de Triomphe, and Place de la Concorde. Art museums surround the language centre, and popular attractions like Sacré-Cœur basilica, Palais Garnier, and Parc Monseau can be reached on foot within 20 minutes. More distant attractions like the Louvre, Trocadéro Gardens, and the Petit Palais can also be reached within 20 minutes, this time by metro. This ideal placement means the delights of Paris are at your fingertips as soon as your lessons have finished.
Language tuition takes place in one of the stunning 19th-century buildings the city is so famous for. This 5-storey mansion has elevators and is therefore wheelchair accessible. It has 18 classrooms and 2 terraces granting stunning views across the city's skyline. The building also has an interior courtyard and a library. The premises are used by a local writing school, so you'll be able to practice your newly developed French skills with native Parisians outside class! Wi-Fi is available throughout the building, and nearby public transport links grant unfettered access to the myriad attractions of this amazing, cosmopolitan capital.
As part of a group of language centres which was established in 1978, our Paris school benefits from over 40 years' collective experience teaching French to international students of all ages, abilities, and backgrounds. It has Qualité FLE accreditation from France's Ministry of Education and is a member of quality-control organisations like the International Association of Language Centres (IALC), Eaquals, and Campus France. Its programmes are also recognised by the governments in Sweden and Germany and are thus eligible for CSN and Bildungsurlaub funding. Its location in the heart of one of Europe's most beautiful and dynamic capital cities makes this school one of our most popular French-language facilities.
Location: 8th arrondissement, Paris
Nearest convenience store: next door!
Nearest café: 48 m
Nearest metro stop: 220 m (Europe)
Distance from train station: 450 m (Gare Saint-Lazare, 2.7 km from Gare du Nord)
Nearest bus stop: 73 m (Bucarest)
Distance from airport: 30.9 km (Paris Roissy-Charles de Gaulle Airport)
Courses in Paris
The core Intensive programme at our Paris school consists of 20 group lessons per week in classes of no more than 12 students. This limited size means each student benefits from lots of language practice and highly personalised attention from the teacher, giving them the best chance of success. Classes take place between 09:00 and 12:15 Monday to Friday. You will take a level test in advance and have a short oral assessment upon arrival. This methodology ensures that everyone receives appropriate tuition and therefore has the best chance of improving their language skills.
If you want to make significant progress, you can attend one of the school's more rigorous Super-intensive courses. By selecting one of these, you'll add 6 or 10 further group lessons per week to your core Intensive programme. The extra lessons cover communication or cultural topics. This extra study time will help you to strengthen your language skills and speak with confidence in no time at all.
Please note: if you have no previous experience with French, you will need to start your course on a specific date - contact us for available start dates for beginners.
The most efficient way to maximise your progress is to take private lessons. The standard package consists of 20 one-to-one classes per week, though bespoke packages are available on request. These sessions will give you the undivided attention of the teacher and thus allow you to tailor your tuition to your own exact requirements. This means that private lessons are also a great option for students who feel they need extra support with their studies or who want to cover specific topics during their time in Paris. However you use these lessons, you'll find that you make unparalleled improvement on a private course!
While private tuition is extremely beneficial in terms of language development, it doesn't offer the social experience provided by group classes. Fortunately, we have the answer: combine the best of both courses with an Intensive + Private programme! By adding 6 or 10 one-to-one classes per week to your core course, you'll receive the extra practice afforded by private lessons whilst still experiencing the social side of group tuition. Students who want to learn Business French can use their private lessons to cover professional vocabulary and topics relevant to corporate life. This option is available to students of all ability levels.
One reason many of our students want to learn French is to experience world-renowned French food. On our French & Cookery course, you can do just that, and learn first-hand the secrets of authentic French recipes under the careful instruction of a trained chef. This programme package combines the core Intensive course with 2 2-hour cookery workshops per week, where you'll discover how to make delicious French dishes and learn the vocabulary needed to understand a French recipe. When you've finished, you can enjoy your creation with your classmates! This course is available throughout the year and is open to students with A2 or higher French ability.
The above courses are all available at both of our Paris school's locations.
On the first day of lessons, you should arrive at the main school at 08:20. You will have already submitted a level test prior to arrival, which is used to assess your starting language ability and place you in a group that's most suitable for that level. You will have a short oral assessment on arrival to verify the results of this test, before having your class placement and study location confirmed. This methodology provides students with the best possible opportunity to improve their language skills, regardless of their starting level.
In the afternoon/evening, you'll have the opportunity to take part in the school's activity programme. At the end of your course, you'll receive a certificate of achievement which can be used to demonstrate the French ability level you have reached during your time at the school.
Don't see what you're looking for? Contact us today to see if we can arrange a bespoke package for you!
Special courses in Paris
Accommodation
Available accommodation
Host Family
Student Residence
University Residence
The best accompaniment to an immersive language experience is an immersive accommodation experience - i.e. staying with a local native speaker! Our homestay hosts all offer you the opportunity to practice your French skills outside the classroom and thus get the most out of your language course. Each host offers a private single or twin* bedroom and access to the home's communal spaces including the living areas and bathroom(s). Some hosts can offer you access to your own private bathroom for an additional fee. You can select a self-catering package** - which gives you access to the home's kitchen to cook your daily meals - a breakfast-included package, or a half-board package (breakfast and dinner). An additional supplement is charged for students who require a special diet (e.g. vegan, dairy-free, etc; doesn't include vegetarian diets). Whichever option you select, bed linens and towels will be provided by your host(s) and changed weekly; your host(s) will either do your laundry for you or let you use the home's facilities once a week. Hosts may live up to 50 minutes' travel from the schools by public transport; if you prefer to be closer to the language centre, you can book a host within 20 minutes of the school for an additional fee. Most hosts have Wi-Fi access in the home, but you should advise us at the time of booking if this a requirement for you. You will have your own key to come and go as you please, but you must respect house rules and schedules. Please note that under-18s must book half-board homestay lodging.
** We highly recommend the half-board option, as it is not only cost-effective but also gives you guaranteed social time with your host(s) in the evening, and thus maximum language practice. The self-catering option offers much fewer opportunities for extra language practice, since you have less guaranteed time with your host(s).
For more independence, select one of the school's student residences and stay in a single or twin room* with an en-suite bathroom. Residence rooms either have their own private kitchen or include access to an on-site communal kitchen. The school works with several year-round residences, all located within 20 minutes of the schools by public transport. In each location, bed linens are provided but towels are not, so you should bring your own. Coin-operated laundry facilities will be available on-site, and you'll have access to all the communal spaces in the residence, which may include a lounge, a fitness room, and/or a study area. Wi-Fi is available in all residences. You will be responsible for leaving your room in a suitable condition; if needed, a cleaning charge will be applied at the end of your stay. Please note that students are placed based on availability at the time of booking. We are unable to guarantee any particular location for you.
In July and August, you can select university lodging and stay on-campus at the Cité Internationale Universitaire de Paris. The campus is located around 30 minutes from the language schools and offers private single or twin* bedrooms with en-suite bathrooms and Wi-Fi access. You'll share the communal kitchen with the other residents; please note that crockery and utensils are not provided, so you will need to bring your own or buy supplies locally. This is a cost-effective and highly social option that's great for students aged 18 - 25. Bed linens are provided and changed regularly; towels are not, so you should bring your own. A coin-operated laundry facility is available on-site. When staying here, you'll have access to all the campus' amenities including various eateries, a sports centre, and a cultural centre.
If you prefer total privacy and want a higher standard of accommodation, we may be able to arrange a studio apartment for you on request. Please get in touch to find out more about this option.
The above options are available to all students, regardless of whether you study at the Notre-Dame facility or the Victor Hugo facility.
*Twin rooms are only available to students travelling together. If you select a shared room but are travelling alone, you will be swapped to a single room.
Activities
As well as high-quality immersive language classes, our school also offers a wide range of social and cultural activities to keep you entertained. These generally take place in the afternoons, evenings, or at weekends; they're designed to teach you more about the history and culture of Paris, give you a taste of daily life here, and help you to get to know your classmates. Almost all activities are all held in French, so you'll be able to maintain your immersion and put your new language skills into practice in real-life scenarios.
Many activities are available free of charge, though some may incur an additional fee to cover entrance and/or transportation costs. The exact schedule changes throughout the year but may include:
- Guided tours of various areas of the city
- Visits to attractions, including art galleries, museums, and sites like the Eiffel Tower, The Louvre, and the Fragonard perfumery
- Boat cruises on the Seine
- French film screenings
- Meals and/or drinks with your class
- Yoga lessons
- Cookery workshops
- Food- and wine-tasting sessions
- Full-day and/or weekend excursions to points of interest such as Normandy, Brittany, and the Loire Valley
- Plus seasonal activities available in the city
Sample activity programme
How to get there
Paris is served by two airports: Paris-Charles de Gaulle (Roissy) and Paris Orly. Both are within 30 minutes' drive of the city centre, and both are easily accessible from many worldwide locations.
From here, you can either make your own way to your lodging or we can arrange an airport transfer service for you. If you select this service, a driver will be waiting for you when you land and will take you directly to your accommodation. If you select this service on departure as well, you will be taken back to your chosen airport in time for your departing flight. Transfer services are also available at all train stations in central Paris.
You should arrange to arrive in Paris on the Sunday before your course starts and to depart on the Saturday after it finishes. We may be able to arrange extra nights on arrival and/or departure for you if needed.

---
Location of our school in Paris
Average score for our school in Paris based on 105 previous client reviews.
Student reviews & feedback
M. Michela Astrei
The lessons were always amusing and professional, I also loved the stressless atmosphere.
Course
Accommodation
n/a
School Staff
L. Mikesova
Course in Paris was excellent! Our teacher Catherine, she was absolutely amazing, explained everything very well. I had a lot of fun in the lesson. Gathered great experiences about Paris and life in this city.
Course
Accommodation
n/a
School Staff
D. Larsen
The course was fairly interesting. I was able to learn quite a bit in the time that I was there. The mix of students from everywhere in the world was a nice learning environment, we all came together to learn a new language and meet friends.
Course
Accommodation
School Staff
S. Pischiutta
The course was very intensive and well organized. The accommodation was wonderful, not too far from the school and the family was very friendly, also the food was good.
Course
Accommodation
School Staff
A. Marx
Friendly teaching staff, interesting free tours organised. Liked the emphasis on conversationsal french and the importance of nuances/idioms rather than formal writing techniques

Course
Accommodation
School Staff
R. Gretsky
My course was excellent. I really feel I vastly improved my French language skills. It was also fun to have so many people from all over the world studying French together!
Madame Roquefeuil and her family were wonderful. They welcomed me into their home and family wholeheartedly. I was only there for two weeks, but I really enjoyed getting to know them. They also helped me find my way around and taught me about the public transportation system so I could use it "like a native".
I would definitely use your services again for further language training and cultural immersion. Thank you!
Course
Accommodation
School Staff
D. Smee
I thoroughly enjoyed the course and found all that was completed within the class-time to be effective and beneficial for my A level studies. Moreover, the school also arranged a wide-range of varying activities which I found to be good. The accomodation was good with good food and also good access to the local metro system.
Thoroughly enjoyable and beneficial experience all around - great course, great people, great mates!!
Course
Accommodation
School Staff
C. Pouravelis
The course was perfect. I loved that the professor could not speak any English, so French really was the only language that could be used. I could not have dreamed of a better accommodation.. The apartment was beautiful & the host-mother so sweet. It was a perfect fit.
Course
Accommodation
School Staff
V. Collins
The first day was a bit difficult because I was still new at the language and did not understand some of the mix-ups that morning. But after that, I grew to love it and would recommend it to anyone. Not only does it help your linguistic knowledge but builds your confidence in using it. I enjoyed every lesson, and loved every teacher and every class mate. If I get the chance I would love to do it again.
The woman who I lived with was lovely and caring, and although there were initial language barriers we managed to communicate quite well in the end. The location was great, and the building itself perfect.
Course
Accommodation
School Staff
P. Moser
Experienced teachers, patient and willing to answer questions throroughly. I was able to quickly grasp infomation as it was presented to me in a variety of ways (phonetic excercices, group activities and small presentations that I had to set up myself). On the whole a very pleasant experience.
Course
Accommodation
School Staff
J. Ritchie
The staff were all exceptionnally friendly and made me feel at ease straight away. The apartment was spacious and everything I could have hoped for. The host family were very nice and helped me as much as possible.
Course
Accommodation
School Staff
A. Dauer
The course was good, my ability definitely improved. I stayed with a host family which was great! Gave me the chance to practice what I was learning and my host family was very helpful...pointing out things that might be of interest to me, and the food was excellent.
Course
Accommodation
School Staff
Y. Zhao
The course was fantastic. The teacher was very funny and patient in explaining. The course covered all skills of a language: listening, speaking and writing. My accomodation was excellent. I lived in a house which was very well decorated. The lady I was living with was very friendly and caring. She took me to some lovely places in Paris for a visit and we even had a picnic together on a sunny afternoon. I would definitely like to visit her when I go to Paris again.
Course
Accommodation
School Staff
A. Phillips
I thoroughly enjoyed the course and thought the school was excellent. The initial induction test was very well organised, the excursions were great fun and the guides were lovely, the course material provided was very high quality and the level of teaching was superb, the teacher was very engaging.
The accommodation was brilliant - the area was beautiful and felt very safe, the other students there were adorable and the facillities were excellent - a huge room, ensuite shower and my own fridge.
Course
Accommodation
School Staff
K. Speck
The school has excellent teachers and I really enjoyed my course. I would definitely recommend this school. My daughter and I had a wonderful experience, one we hope to repeat one day.
Course
Accommodation
School Staff
L. Wood
I found the level exactly right, and was able to build on my previous knowledge. The teacher was enthusiastic and very good at communicating.
The accommodation was good, being near the centre of the city. The hostess took the trouble to talk to us in the evenings and went beyond the call of duty to entertain us - we were able to watch the Bastille Day fireworks from her balcony, with a glass of wine!
Course
Accommodation
School Staff
C. Brouwer
My teacher was really helpful, really good, and I learnt a lot. It was a welcoming atmosphere in which everyone was encouraged to participate.
I stayed in a beautiful old house, almost 200 years old, walking distance from the school. There is internet which you can use, and for breakfast there was baguette with Nutella!!
I really enjoyed meeting people in paris, and had a really good time, making the msot of it. I was just resentful that it was only one week, I didn't want to leave!
Course
Accommodation
School Staff
E. Winter
It was absolutely brilliant! I paid extra to have 1:1 lessons and my teacher was superb. She adapted the days to my needs as I wanted to improve my French for my job. She gave me the confidence I needed to apply for my French Language Test. Thank you SO much!
Course
Accommodation
n/a
School Staff
V. Brook
I was extremely pleased with the teacher and with the content of the course. I was only there for a week but it was more enjoyable and valuable than I had anticipated. Thank you very much.
The accommodation was quite close to the school and my room was more than adequate. It had it's own small bathroom which was very welcome. My host was extremely friendly and made me feel very welcome. No complaints.
Course
Accommodation
School Staff
R. Valle
Liked the teaher very much. provided plenty of opportunities for oral practice and was very clear on her explanations of grammar concepts.
My host was very friendly and an easy going lady and very good room too.
Course
Accommodation
School Staff
L. Roberts
Enjoyed the structure of the course and every teacher I encountered. Felt that progress was made.
Course
Accommodation
School Staff
K. Parker
The teacher was great, she encouraged everyone to contribute and there was a good mixture of grammar work and conversation.
The lady I stayed with was friendly and made an effort with the evening meals despite being at work herself all day!
Course
Accommodation
School Staff
B. Harris
The school was a fantastic school, with excellent teaching, friendly staff, fun, international class-groups and a good location.
Nice host family, comfortable clean room and bathroom just a few metro stops from the school.
Course
Accommodation
School Staff
S. Stinner
The course I attended in Paris was very good, all of the teacher's were very helpful and the activities were very well organised. My accommodation was perfectly situated at the 15th arrondissement in Paris. Where there was the Metro very close to where I was staying and many other types of public transportation.
Course
Accommodation
School Staff
School statistics
Nationality (%)

Brasilian (19)
German (8)
Italian (6)
Japanese (11)
Korean (10)
Others (21)
Russian (4)
Saudi (4)
Spanish (6)
Uk (2)

* Statistics considered correct at the time of publishing
Student stories on our blog
A Day in Paris…the Parisian way!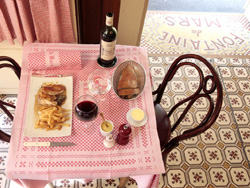 Hello everyone, Maria here! Today, I am going to write about how to spend a day in
Paris
the Parisian way, which means avoiding all sorts of mainstream tourist attractions where no real Parisian visits. In fact, many Parisians
dread
the Champs-Elysees, Eiffel Tower or Louvre. They even pray to never have to set foot in one of these places and some even find them tacky and cheesy. My guide will include everything from breakfast to dinner as well as all sorts of morning and afternoon activities to make the most of your time in Paris. Full addresses and example prices are listed at the end of this post.
Read more...