French course in Paris
Want to learn French and experience life like a true Parisian? Then take a language course at our school in Paris! Home to some of France's most iconic monuments, such as the Eiffel Tower, Arc de Triomphe and the Louvre (to name a few!), this destination will ensure that you are fully immersed in French history and culture right from the word 'Go.' With countless districts to explore, each one different in character but equally as charming; we can guarantee that you will always find somewhere to go and something to do during your stay in Paris. Our school organises daily excursions around the city, accompanied by your course program teacher, to many of the world-famous sights, allowing you to use the French that you learn on your course!

Our school in Paris
19 classrooms across two buildings
Private gardens (both locations)
Student lounge (both locations)
Certified Label Qualité FLE centre
Member of IALC and Campus France
Approved for CSN and Bildungsurlaub programmes
7 classrooms in Notre-Dame facility and 12 classrooms in Victor Hugo facility
Wi-Fi throughout the buildings
Photos
Our Paris school uses two school buildings, both of which are centrally located. The first building is situated right in the heart of the Latin Quarter, just 200 meters away from the famous Notre Dame Cathedral and River Seine and the second building is just minutes away from the Arc de Triomphe and Champs-Elysées.
Between the two buildings, there are 19 well-equipped classrooms available for French lessons. Both buildings also have a student lounge with vending machines and free Wi-Fi access is available throughout the school buildings.

Location: Notre-Dame - 5th arrondissement, Paris
Location: Victor Hugo - 16th arrondissement, Paris
Nearest convenience store: Notre-Dame - 110 m
Nearest convenience store: Victor Hugo - 160 m
Nearest café: Notre-Dame - 34 m
Nearest café: Victor Hugo - 190 m
Nearest metro stop: Notre-Dame - 240 m
Nearest metro stop: Victor Hugo - 450 m
Nearest bus stop: Notre-Dame - 46 m (Lagrange)
Nearest bus stop: Victor Hugo - 190 m (Place Jean Monnet)
Distance from train station: Notre-Dame - 3.5 km
Distance from train station: Victor Hugo - 6 km
Distance from airport: Notre-Dame 35.6 km
Distance from airport: Victory Hugo - 32.9 km (Paris Roissy-Charles de Gaulle Airport)
Courses in Paris
Available courses
Intensive (20)
Intensive + Cookery (22)
Intensive Long Term (26)
Super Intensive (26)
Private Lessons (20)
DELF/DALF Exam Prep (30)
The French language program at our school in Paris includes courses for durations of 1-36 weeks. Choose between an Intensive course, consisting of 20 French lessons per week, a Super-Intensive course, consisting of 26 French lessons each week, or a course of private lessons, which allows you to personalise your language studies to suit your individual needs.
Lessons take place on a Monday to Friday basis, either in the mornings or in the afternoons, depending upon your level of French.
Our French courses are based on a communicative approach, and aim to develop the four main aspects of the French language (speaking, listening, reading and writing) as well as expanding vocabulary and grammar knowledge. In addition to this, you will also learn a little bit about French culture and civilization!

Special courses in Paris
Accommodation
Available accommodation
Host Family
Student Residence
University Residence
If you wish to be fully immersed in the French language and culture, we would advise staying with one of our school's carefully-selected host families. You can choose between bed & breakfast or half-board, or if you would prefer to have a more independent experience, a room only option is also available.
Student residence accommodation is also available for those of you who would like to meet fellow students whilst enjoying your own independence.

Activities
If you wish to combine your French course in Paris with cultural activities, then our school is certainly the best choice!
The school arranges a regular activity programme with guided visits to places of interest within Paris, accompanied by tutors - to Montmartre, Champs Elysees, the Louvre, Sorbonne, the Latin Quarter and many more. There are also regular wine and cheese evenings in the school, visits to the opera and theatre, regular seminars on French culture, customs and history, as well as full day and weekend excursions to other parts of France (Strasbourg, Normandy, the Loire Valley and Giverny – to name a few!) On top of all this, the school also organises a tour of the 'hidden bars' of Paris 2-3 times a month, which is always very popular among students!
Not only is our school's activity programme extremely interesting and enjoyable, but it also helps students practise their French skills outside of the classroom!

Sample activity programme
How to get there
Our school can arrange transfers to / from Charles de Gaulle Airport or Orly Airport, or any Paris train station at an additional cost.

---
Location of our school in Paris
Average score for our school in Paris based on 105 previous client reviews.
Student reviews & feedback
M. Michela Astrei
The lessons were always amusing and professional, I also loved the stressless atmosphere.
Course
Accommodation
n/a
School Staff
L. Mikesova
Course in Paris was excellent! Our teacher Catherine, she was absolutely amazing, explained everything very well. I had a lot of fun in the lesson. Gathered great experiences about Paris and life in this city.
Course
Accommodation
n/a
School Staff
D. Larsen
The course was fairly interesting. I was able to learn quite a bit in the time that I was there. The mix of students from everywhere in the world was a nice learning environment, we all came together to learn a new language and meet friends.
Course
Accommodation
School Staff
S. Pischiutta
The course was very intensive and well organized. The accommodation was wonderful, not too far from the school and the family was very friendly, also the food was good.
Course
Accommodation
School Staff
A. Marx
Friendly teaching staff, interesting free tours organised. Liked the emphasis on conversationsal french and the importance of nuances/idioms rather than formal writing techniques

Course
Accommodation
School Staff
R. Gretsky
My course was excellent. I really feel I vastly improved my French language skills. It was also fun to have so many people from all over the world studying French together!
Madame Roquefeuil and her family were wonderful. They welcomed me into their home and family wholeheartedly. I was only there for two weeks, but I really enjoyed getting to know them. They also helped me find my way around and taught me about the public transportation system so I could use it "like a native".
I would definitely use your services again for further language training and cultural immersion. Thank you!
Course
Accommodation
School Staff
D. Smee
I thoroughly enjoyed the course and found all that was completed within the class-time to be effective and beneficial for my A level studies. Moreover, the school also arranged a wide-range of varying activities which I found to be good. The accomodation was good with good food and also good access to the local metro system.
Thoroughly enjoyable and beneficial experience all around - great course, great people, great mates!!
Course
Accommodation
School Staff
C. Pouravelis
The course was perfect. I loved that the professor could not speak any English, so French really was the only language that could be used. I could not have dreamed of a better accommodation.. The apartment was beautiful & the host-mother so sweet. It was a perfect fit.
Course
Accommodation
School Staff
V. Collins
The first day was a bit difficult because I was still new at the language and did not understand some of the mix-ups that morning. But after that, I grew to love it and would recommend it to anyone. Not only does it help your linguistic knowledge but builds your confidence in using it. I enjoyed every lesson, and loved every teacher and every class mate. If I get the chance I would love to do it again.
The woman who I lived with was lovely and caring, and although there were initial language barriers we managed to communicate quite well in the end. The location was great, and the building itself perfect.
Course
Accommodation
School Staff
P. Moser
Experienced teachers, patient and willing to answer questions throroughly. I was able to quickly grasp infomation as it was presented to me in a variety of ways (phonetic excercices, group activities and small presentations that I had to set up myself). On the whole a very pleasant experience.
Course
Accommodation
School Staff
J. Ritchie
The staff were all exceptionnally friendly and made me feel at ease straight away. The apartment was spacious and everything I could have hoped for. The host family were very nice and helped me as much as possible.
Course
Accommodation
School Staff
A. Dauer
The course was good, my ability definitely improved. I stayed with a host family which was great! Gave me the chance to practice what I was learning and my host family was very helpful...pointing out things that might be of interest to me, and the food was excellent.
Course
Accommodation
School Staff
Y. Zhao
The course was fantastic. The teacher was very funny and patient in explaining. The course covered all skills of a language: listening, speaking and writing. My accomodation was excellent. I lived in a house which was very well decorated. The lady I was living with was very friendly and caring. She took me to some lovely places in Paris for a visit and we even had a picnic together on a sunny afternoon. I would definitely like to visit her when I go to Paris again.
Course
Accommodation
School Staff
A. Phillips
I thoroughly enjoyed the course and thought the school was excellent. The initial induction test was very well organised, the excursions were great fun and the guides were lovely, the course material provided was very high quality and the level of teaching was superb, the teacher was very engaging.
The accommodation was brilliant - the area was beautiful and felt very safe, the other students there were adorable and the facillities were excellent - a huge room, ensuite shower and my own fridge.
Course
Accommodation
School Staff
K. Speck
The school has excellent teachers and I really enjoyed my course. I would definitely recommend this school. My daughter and I had a wonderful experience, one we hope to repeat one day.
Course
Accommodation
School Staff
L. Wood
I found the level exactly right, and was able to build on my previous knowledge. The teacher was enthusiastic and very good at communicating.
The accommodation was good, being near the centre of the city. The hostess took the trouble to talk to us in the evenings and went beyond the call of duty to entertain us - we were able to watch the Bastille Day fireworks from her balcony, with a glass of wine!
Course
Accommodation
School Staff
C. Brouwer
My teacher was really helpful, really good, and I learnt a lot. It was a welcoming atmosphere in which everyone was encouraged to participate.
I stayed in a beautiful old house, almost 200 years old, walking distance from the school. There is internet which you can use, and for breakfast there was baguette with Nutella!!
I really enjoyed meeting people in paris, and had a really good time, making the msot of it. I was just resentful that it was only one week, I didn't want to leave!
Course
Accommodation
School Staff
E. Winter
It was absolutely brilliant! I paid extra to have 1:1 lessons and my teacher was superb. She adapted the days to my needs as I wanted to improve my French for my job. She gave me the confidence I needed to apply for my French Language Test. Thank you SO much!
Course
Accommodation
n/a
School Staff
V. Brook
I was extremely pleased with the teacher and with the content of the course. I was only there for a week but it was more enjoyable and valuable than I had anticipated. Thank you very much.
The accommodation was quite close to the school and my room was more than adequate. It had it's own small bathroom which was very welcome. My host was extremely friendly and made me feel very welcome. No complaints.
Course
Accommodation
School Staff
R. Valle
Liked the teaher very much. provided plenty of opportunities for oral practice and was very clear on her explanations of grammar concepts.
My host was very friendly and an easy going lady and very good room too.
Course
Accommodation
School Staff
L. Roberts
Enjoyed the structure of the course and every teacher I encountered. Felt that progress was made.
Course
Accommodation
School Staff
K. Parker
The teacher was great, she encouraged everyone to contribute and there was a good mixture of grammar work and conversation.
The lady I stayed with was friendly and made an effort with the evening meals despite being at work herself all day!
Course
Accommodation
School Staff
B. Harris
The school was a fantastic school, with excellent teaching, friendly staff, fun, international class-groups and a good location.
Nice host family, comfortable clean room and bathroom just a few metro stops from the school.
Course
Accommodation
School Staff
S. Stinner
The course I attended in Paris was very good, all of the teacher's were very helpful and the activities were very well organised. My accommodation was perfectly situated at the 15th arrondissement in Paris. Where there was the Metro very close to where I was staying and many other types of public transportation.
Course
Accommodation
School Staff
School statistics
Nationality (%)

Brasilian (19)
German (8)
Italian (6)
Japanese (11)
Korean (10)
Others (21)
Russian (4)
Saudi (4)
Spanish (6)
Uk (2)

* Statistics considered correct at the time of publishing
Student stories on our blog
A Day in Paris…the Parisian way!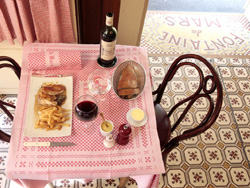 Hello everyone, Maria here! Today, I am going to write about how to spend a day in
Paris
the Parisian way, which means avoiding all sorts of mainstream tourist attractions where no real Parisian visits. In fact, many Parisians
dread
the Champs-Elysees, Eiffel Tower or Louvre. They even pray to never have to set foot in one of these places and some even find them tacky and cheesy. My guide will include everything from breakfast to dinner as well as all sorts of morning and afternoon activities to make the most of your time in Paris. Full addresses and example prices are listed at the end of this post.
Read more...