Learn English in Brighton (Royal Pavilion)
Situated in the city centre, close to the historic Palace Pier and the famous Royal Pavilion, our English language school in Brighton is perfectly located for students wishing to study English in Britain's most popular coastal city! Brighton came to prominence in the late 18th Century, when the Prince Regent (later King George IV) chose to build one of the world's most famous holiday homes there, the Royal Pavilion. Nestled between the South Downs and the sea, Brighton is known as a cosmopolitan city, with a vibrant arts and music scene, as well as a fantastic variety of restaurants, pubs, bars and nightclubs. For those who love to shop Brighton offers a maze of smaller shops and boutiques in 'The Lanes', the oldest area of the city, originally dating back to the 16th Century.

Our school in Brighton (Royal Pavilion)
35 classrooms
2 student lounges
Private patios
On-site bookshop
Course materials included (first book)
Wi-Fi throughout the building
Member of English UK
Accredited by the British Council for the Teaching of English in the UK
Photos
The exceptional facilities for students offered by our English language school in Brighton include free wireless Internet access and Internet lounge, 16 classrooms, 2 student lounges and patio gardens. All this means that you will be studying English in a fantastic learning environment!

Location: central Brighton
Nearest convenience store: 66 m
Nearest café: 120 m
Nearest metro stop: N/A
Distance from train station: 1.2 km
Nearest bus stop: 58 m (Old Steine Stop H)
Distance from airport: 44.6 km (London Gatwick Airport)
Courses in Brighton (Royal Pavilion)
Available courses
Intensive (20)
Intensive + Private Lessons (32)
Super Intensive (26)
Super Intensive (32)
Private Lessons (20)
Cambridge Exam Prep (20)
Cambridge Exam Prep (26)
Cambridge Exam Prep (32)
Family Course (adult) (20)
Family Course (junior 5-11 years) (20)
Family Course (junior 7-11 years) + activities (20)
IELTS Exam Prep (20)
IELTS Exam Prep (26)
IELTS Exam Prep (32)
Our (Royal Pavilion) school offers a 'Standard' course of 20 general English lessons per week. Students can also choose to add either 6 or 12 additional lessons per week, focusing on exam preparation, English culture, linguistics or vocational English. Our English language school in Brighton also offers private courses and exam preparation courses for students who are preparing to take their IELTS or FCE exams.
For further information about any English course at our Brighton (Royal Pavilion) school, please contact us.

Accommodation
Available accommodation
Host Family
Host Family Plus
If you would like to make the most progress possible whilst you are studying at our school in Brighton, then you may like to consider host family accommodation. Your host family will welcome you into their home, and provide you with your own room. You will be encouraged to speak English with them, and to practice what you have learnt in class! Your hosts will provide you with your breakfast and your evening meal, or if you would prefer to prepare your own meals they will allow you access to their kitchen. If you would prefer to live more independently, our school in Brighton also offers private apartments and houses or hotel accommodation.

Activities
The activities offered by our school in Brighton have been specifically designed to provide you with the opportunity to socialise with other students, learn more about the local culture, and practice your English outside of the classroom! Examples of typical activities include film evenings, football, hiking, sea kayaking, yoga, beach volleyball, pottery, basketball and DJ workshops. The school also organises regular trips to local nightclubs and West End musicals, as well as tours of London.

Sample activity programme
Average score for our school in Brighton (Royal Pavilion) based on 8 previous client reviews.
Student reviews & feedback
M. Marzano
I've been enthusiastic of my teacher constantine
Course
Accommodation
School Staff
D. Amedeo
I began with an upper intermediate course, and i liked it very much because we worked hard. The IELS course was more and more difficult but i enjoyed it because contents were very interesting. I stayed in a family for a full immersion 24 hours a day and they were very nice and kind
Course
Accommodation
School Staff
J. Camilo
The course was good, my accomodation was excellent, clean and near the school. The host family was excellent as well. They were all friendly and we could talk a lot. I have learned a lot about the life in UK with them.
Course
Accommodation
School Staff
School statistics
Nationality (%)

Africa (1)
Americas (5)
Asia (18)
Europe (61)
Middle east (15)

Average Student Numbers
---
Average ages (June - Aug)
* Statistics considered correct at the time of publishing
Student stories on our blog
Brighton – no ordinary seaside destination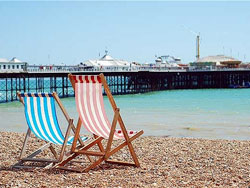 With the addition of our new English language school for
Young Students in Brighton
, I wanted to share my experience of this amazing English seaside resort! Historically established as a day trip location for residents of London, Brighton combines the sun and seaside with eclectic shopping, fascinating culture and unique architecture. I have personally been there on several occasions: as a tourist on holiday, a spectator for an international beach volleyball tournament, using it as a great meeting place for friends and also visiting Brighton as a student!
Read more...