Learn English in Brighton
As the favourite holiday spot for the British Royal family for over one hundred years, Brighton is the ideal place for an immersive English course. With 13 km of beaches, lush public parks, a classic British funfair, a wide array of fashionable eateries, and a packed calendar of exciting annual events, this city is a vibrant and dynamic place. When you learn English in Brighton with us, you'll discover why this former fishing village is now renowned as England's artistic and creative capital, and why it is considered one of the happiest places in the country. You'll discover colourful street art, interesting independent shops, and a wealth of English-language entertainment, from local bands and musicians to comedy clubs and street theatre. You'll experience traditional pubs and lively modern bars, and sample seaside staples like rock candy, cockles, and authentic fish and chips. You'll witness the stunning natural scenery that surrounds the city and the iconic chalk cliffs of the South Downs. Since Brighton is Britain's most popular coastal city, you'll also get to meet lots of English speakers and put your newly developed language skills into practice.
Despite its artistic reputation, Brighton is not just a destination for creatives. This part of the country is brimming with history; with archaeological sites of Neolithic camps, Iron-Age settlements, Roman villas, and medieval castles, Brighton and the surrounding areas are a history buff's dream. Key sites like Hollingbury Hill Fort, Arundel Castle, and Lewes Priory Park are within easy reach of the city, and ideal places to learn more about the island's rich past. Brighton centre, meanwhile, boasts a wealth of Georgian and Regency history, including the magnificent Royal Pavilion complex, which was built for King George IV when he was Prince Regent and which went on to become the summer home for Queen Victoria and her family. Here you can see the splendour of royal life first-hand and learn more about the British monarchy; the Pavilion's beautiful restored gardens, meanwhile, often play host to street performers and family picnics.
Brighton Palace Pier is less than 5 minutes' walk from the Pavilion. Visited by 4.5 million people a year, it's the most-visited tourist attraction in the country outside London, and it's not hard to see why. With restaurants, a funfair, and arcade halls, it offers fun for all ages and that traditional, quintessentially British pleasure pier atmosphere. At night, this 525-metre-long construction is illuminated by over 67,000 bulbs, which makes for a stunning sight. The beach around the pier has been awarded Blue Flag status for its cleanliness and amenities, and is also home to the Brighton Fishing Museum, a fascinating collection of artefacts documenting the city's 1,000-year history as a fishing village. While you're here, be sure to head west down to the beach to the British Airways i360 tower, a futuristic building with a revolving observation deck offering unparalleled views over the city and the sea.
The Lanes district is a must-see for any visitor to Brighton. This warren of narrow alleyways is home to some of the city's most interesting local business, from independent shops and boutiques to quaint cafés and pubs. It's very easy to lose hours here! As you move north through the winding streets, you'll find yourself in North Laine, Brighton's bohemian quarter, which boasts a diverse selection of eateries, quirky art galleries, and specialist shops not found anywhere else in the city. Here you'll also find the renowned Komedia comedy club and weekly open-air markets where you can try out your English skills. However you spend your time in this vibrant, cosmopolitan city, you're guaranteed to have a unique experience and an exciting language holiday. So what are you waiting for?
Our school in Brighton
35 classrooms
2 student lounges
Private patios
On-site bookshop
Course materials included (first book)
Wi-Fi throughout the building
Member of English UK
Accredited by the British Council for the Teaching of English in the UK
Photos
Our English school in Brighton is located right in the centre of the city, and is thus surrounded by iconic attractions like the Royal Pavilion and the Palace Pier, which are both less than 5 minutes' walk away. Across the road is Old Steine Gardens, a lovely public park, and past here is the vibrant Lanes area, a melting pot of interesting shops and eateries where you can enjoy an afternoon and put your newly developed language skills into practice. A little further away from the school - but definitely worth seeing during your time here - are attractions like the beautiful Queen's Park, historic Preston Manor, and Brighton's bustling marina.
English lessons take place in a bright, modern facility with great views over the Royal Pavilion. The building boasts 35 classrooms and its own bookshop, where you can buy English-language materials to supplement your lessons. A set of student computers are available for completing your schoolwork, catching up with friends and family back home, or simply surfing the web. There are also comfortable student lounges for relaxing and a private patio for enjoying the southern British sun. After lessons, you'll find yourself amongst Brighton's most interesting attractions, while public transport links close to the school will enable you to explore further afield.
The tuition offered by this language school is accredited by the British Council for the Teaching of English in the UK, the country's premier language education organisation. The facility is a registered Cambridge Exam Preparation Centre, and is also a member of English UK, a national quality-control association which guarantees high standards in all its member schools. These credentials mean that, by choosing to learn English in Brighton with us, you'll be giving yourself the best chance of success and development. What's more, since you'll be studying in the centre of one of England's most popular coastal cities, you'll have an interesting and exciting language experience.
Location: central Brighton
Nearest convenience store: 66 m
Nearest café: 120 m
Nearest metro stop: N/A
Distance from train station: 1.2 km
Nearest bus stop: 58 m (Old Steine Stop H)
Distance from airport: 44.6 km (London Gatwick Airport)
Courses in Brighton
The most popular course in Brighton is the core Intensive programme of 20 group lessons per week, which take place between 09:15 and 12:30 each weekday. Classes have a maximum size of just 15, which allows you to get lots of language practice and highly personalised attention from the teacher. This, and the fact that you'll be studying with other students of the same starting ability, will help you to quickly and markedly improve your English skills.
If you want a more rigorous study experience, you can attend one of the school's Super-intensive courses. By adding 6 or 12 weekly group lessons to your core Intensive programme, you'll get even more language practice and therefore make even more significant improvements during your time in Brighton. Your extra classes will take place between 13:30 and 16:00 several days a week; your exact schedule will depend on which Super-intensive course you book. These additional classes will focus on speaking and listening, so they'll have you conversing with fluency in no time!
Please note that group classes are not available to complete beginners. If you have little to no previous experience of learning English, you must attend private tuition until you have reached A2 level.
Private tuition offers the best opportunity to improve your English skills. The standard course consists of 20 one-to-one classes per week, though bespoke packages are available on request. Since you'll have the undivided attention of the teacher, you'll get unparalleled language practice and be able to tailor your lessons to your personal needs. This makes private tuition ideal for those who feel they need extra support with their studies or for those who want to cover specialist topics. Private lessons are available throughout the year for juniors aged 11 - 17. Complete beginners and A1-level students should book private lessons until they have achieved A2 level.
Though private classes offer the best conditions for language development, they don't offer the social experience of group classes. Fortunately, we have a solution: you can combine the best of both courses with an Intensive + Private programme! With 12 weekly one-to-one classes alongside your core Intensive course, this package gives you the extra language practice of private lessons and the social aspect of group tuition. If you're learning English for work, you can use your private lessons to cover Business English and have specialised tuition focusing on commercial vocabulary and writing techniques.
If you're planning to sit the IELTS or Cambridge exam in order to apply to an English-language university or to formally demonstrate your language skills, you can prepare for your test in Brighton. Our school's specialised IELTS/Cambridge Exam Preparation courses consist of 20 or 26 exam-focused lessons per week which cover all four aspects of language learning: speaking, listening, reading, and writing. You'll study with other international pupils who are preparing for the same test and sit practice papers, putting you in an excellent position to pass your exam with flying colours. If you feel you need extra assistance, you can add 12 private lessons per week to your IELTS/Cambridge 20 programme.
Are you looking for a family holiday that's both exciting and rewarding? If so, book our family course and experience an immersive stay in of England's most vibrant coastal cities! Between April and August, children aged 5 - 17 can attend age-appropriate classes on one of three available programmes: Explorer (5 - 11), a tuition-only package; Safari (7 - 11), which includes tuition and afternoon activities; or the Young Students' course (12 - 17), which includes tuition on a weekly-alternating schedule and social/cultural activities. Parents can either enjoy some free time while their children study or attend English classes as well in adult groups. A winter programme for Young Students is also available in January and February (see below for further details).
On your first day, you should arrive at the school at 09:00. You will have already completed a level test prior to the start of your course; upon arrival, you will have a short oral assessment to verify the results of this test. In this way, the school can ensure that you are placed in the most appropriate group for your starting ability level, which will give you the best opportunity to improve your language skills - regardless of how much previous experience you have or how long you study for.
After class, you can take part in the school's activity programme. At the end of your course, you'll receive a certificate of achievement which can be used to demonstrate the English ability level you have reached during your time at the school.
Don't see what you're looking for? Contact us today to see if we can arrange a bespoke package for you!
Accommodation
Available accommodation
Host Family
Host Family Plus
In Brighton, we can offer you a fully immersive experience by placing you with a local homestay host. All hosts are native English speakers, so when you select this option you'll be able to continue learning and using the language even outside the classroom. Our hosts live between 20 and 45 minutes from the school by public transport; they offer private single or twin* bedrooms and access to the home's communal spaces, including the lounge and bathroom(s). If you prefer not to share a bathroom, you can select an executive host and have access to your own private facilities. Both standard and executive homestay lodging is offered on either a breakfast-included or half-board basis (half-board includes breakfast and dinner each day). We highly recommend the half-board option as it is not only cost-effective but also gives you guaranteed social time with your host(s) in the evening, thus maximum language exposure. If you require a particular diet (i.e. vegetarian, vegan, dairy-/wheat-free, halal, etc), a small supplement is applied to cover the cost of specialist ingredients. Whichever option you select, bed linens and towels will be provided by your host(s) and changed regularly; your host(s) will either do your laundry for you or let you use the home's facilities once a week. Most hosts offer Wi-Fi access, but this cannot be guaranteed. You will have your own key to come and go as you please, but you must respect house rules and schedules.
*Twin rooms are only available to students travelling together. If you select a shared room but are travelling alone, you will be swapped to a single room.

Activities
As well as high-quality immersive language tuition, our school offers a selection of social and cultural activities in the afternoons, evenings, and at weekends. Through these activities, you will learn about English history and culture and get hands-on experience of life in Brighton. All activities are held in English, so they have the added benefit of maintaining your language immersion and allowing you to put your newly developed skills into practice in real-life scenarios.
Many activities are available free of charge, though some may incur an additional fee to cover entrance and/or transportation costs. The exact schedule changes throughout the year but may include:
- Guided walking tours around the city centre
- Visits to local attractions like the Royal Pavilion, the SEA LIFE aquarium, and Lewes castle
- Meals with your class
- Activities like crazy golf, trampolining, etc.
- Group games and/sports
- English film screenings
- Hiking at Devil's Dyke
- Evenings at a local pub
- Trips to the beach
- A traditional English Afternoon Tea
- Half- and full-day excursions to points of interest like London and Cambridge
- Plus seasonal activities available in the city

Sample activity programme
How to get there
The closest international airport to Brighton is London Gatwick Airport, which is around a 40-minute drive from the city. As one of the UK's largest airports, it is accessible from many worldwide locations.
From here, you can either make your own way to your lodging or we can arrange an airport transfer service for you for an additional fee. If you select this service, a driver will be waiting for you when you land and will take you directly to your accommodation. If you select this service on departure as well, you will be collected from your accommodation and taken back to the airport in time for your departing flight. Transfer services are also available to/from London Heathrow, London Stansted, London City, and London Luton airports.
You should arrange to arrive in Brighton on the Sunday before your course starts and to depart on the Saturday after it finishes. We may be able to arrange extra nights on arrival and/or departure for you if needed.
---
Location of our school in Brighton
Average score for our school in Brighton based on 8 previous client reviews.
Student reviews & feedback
M. Marzano
I've been enthusiastic of my teacher constantine
Course
Accommodation
School Staff
D. Amedeo
I began with an upper intermediate course, and i liked it very much because we worked hard. The IELS course was more and more difficult but i enjoyed it because contents were very interesting. I stayed in a family for a full immersion 24 hours a day and they were very nice and kind
Course
Accommodation
School Staff
J. Camilo
The course was good, my accomodation was excellent, clean and near the school. The host family was excellent as well. They were all friendly and we could talk a lot. I have learned a lot about the life in UK with them.
Course
Accommodation
School Staff
School statistics
Nationality (%)

Africa (1)
Americas (5)
Asia (18)
Europe (61)
Middle east (15)

Average Student Numbers
---
Average ages (June - Aug)
* Statistics considered correct at the time of publishing
Student stories on our blog
Brighton – no ordinary seaside destination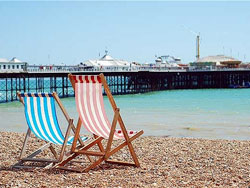 With the addition of our new English language school for
Young Students in Brighton
, I wanted to share my experience of this amazing English seaside resort! Historically established as a day trip location for residents of London, Brighton combines the sun and seaside with eclectic shopping, fascinating culture and unique architecture. I have personally been there on several occasions: as a tourist on holiday, a spectator for an international beach volleyball tournament, using it as a great meeting place for friends and also visiting Brighton as a student!
Read more...