Brighton – no ordinary seaside destination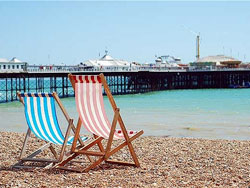 With the addition of our new English language school for Young Students in Brighton, I wanted to share my experience of this amazing English seaside resort! Historically established as a day trip location for residents of London, Brighton combines the sun and seaside with eclectic shopping, fascinating culture and unique architecture. I have personally been there on several occasions: as a tourist on holiday, a spectator for an international beach volleyball tournament, using it as a great meeting place for friends and also visiting Brighton as a student!
When many of Britain's cities struggle to find an identity amongst the same high street stores, coffee shops, fast food outlets and chains, Brighton thrives on the 400 independent venues, cafés, theatres  and shops that fill the 'Lanes' area, spreading out through North Laine and beyond. Seaside resorts can often feel tacky and cheap, but here Brighton succeeds again in creating a prosperous yet good value and unique place that instantly makes you feel at home and intrigued to discover more.
If staying in Brighton for a week or longer at our adult or junior language schools you will be able to take part in seasonal activities organised by our school. These include tours of Brighton and local attractions, excursions to Lewes and Littlehampton, beach watersports, bike riding, BBQs, parties, movies nights and more! Brighton is also a perfect base from which to take a day trip shopping and sightseeing in London or to explore other locations along the coast.
With the conurbation's population reaching almost half a million, Brighton is an exciting and entertaining location for adults and a safe and fun location for kids. Whatever your age, interests and tastes, a visit to Brighton will undoubtedly be able to offer you a special, fun and unique experience!
Peter Carvell