Learn English in New York City
The iconic Statue of Liberty has welcomed generations of immigrants into the United States of America, and, for many, New York City became their home. This melting pot of cultures is now one of the most exciting cities on Earth and is an inspiring location for your English course.
An important centre for American culture, New York City is home to some of the country's finest museums and art galleries, including the Guggenheim, MoMA and the Metropolitan Museum of Art. The city's theatre district, Broadway, is also hugely important for English-language theatre. The city is also famous for its cuisine, which for many represents American cuisine as a whole, and is so wide-ranging that you are certain never to go hungry! Shopping here is also an experience not to be missed.
The Big Apple, as it is affectionately called, is made up of five boroughs, each with their own, distinct character. At the heart lies Manhattan, with its towering skyscrapers and world-famous landmarks. This is where our school is located and is the perfect base from which to explore the rest of the city.

Our school in New York
Our English school in New York City could not be any more ideally located. On the world-famous Broadway, in the vicinity of the iconic Times Square, you really will be studying at the heart of one of the English-speaking world's most important cities!
As well as all the amazing attractions located nearby, you will also find it very easy to visit other parts of the city, as the school is not only close to several subway stations, but is also just 5 minutes from Grand Central Station.
16 bright and spacious classrooms, wireless Internet access throughout, a library and a self-study room are just some of the excellent facilities offered by our school. There is also a student common room (with a huge television!), as well as a lovely deli downstairs, where you can pick up something tasty for lunch.

Photos
Courses in New York
Available courses
Intensive (20)
Intensive (24)
Intensive 30+ (20)
Super Intensive (30)
Business Course (30)
TOEFL Prep (30)
On your first day you will take a short level test, which our colleagues will use to place you in a suitable group with students of a similar level to yourself. You will be taught by native English-speakers who are fully qualified to teach English as a foreign language to international students. We specialise in total immersion courses, so you can be sure that your lessons will be conducted in English from the outset and the school staff will encourage you to use English as much as possible whilst you are studying with them.
If you wish to improve your overall level of English, a group course of 20, 24 or 30 lessons per week will be your best option. Lessons on the 'Intensive' course of 20 lessons per week can be either in the mornings or in the afternoons (your schedule will be confirmed to you on arrival, once you have taken your level test).
The 'Intensive' course of 24 lessons per week includes two additional lessons held twice-weekly, from 12.30 until 14.00. In these additional lessons, you will focus on consolidating your knowledge of English and refining all four skills (reading, writing, speaking and listening).
The 'Super-Intensive' course of 30 lessons per week includes two additional elective lessons per day from Monday to Friday. The electives you can choose from are: Comparative Culture and Communication; Write Now; Basic Writing Skills; Media Studies; The Language of Music; Film Studies; A World of Words; Get Talking.
We also offer 'Exam Preparation' courses for students preparing for the TOEFL and Cambridge exams, as well as 'Business English' courses for those who need to improve their English for their career.

Accommodation
Available accommodation
Host Family
Student Residence Plus
University Residence
Our school in New York City offers two types of accommodation: host family and student residence.
If you want to have as much opportunity to speak English with native speakers, then host family accommodation is the choice for you! It will also give you the opportunity to experience life as a true New Yorker. Most host families live in Manhattan, the Bronx, Brooklyn, Queen's and Staten Island, although there are also some host families in New Jersey. The average commute from host family accommodation is 60 minutes by public transport. If you do wish to stay as close to the school as possible, you can request to stay with a host family in Manhattan, although please note that this is a little more expensive and is only offered on a bed and breakfast basis (normally host family accommodation can be arranged on a bed and breakfast or half board basis).
We think that staying with a host family is a great idea because of the linguistic benefits it offers, but we also realise that this type of accommodation does not suit everyone. This is why we also offer residence accommodation, which is a better option for you if you prefer to live more independently. This option will see you sharing your accommodation with other international students on a self-catering basis. We offer three different types of residence accommodation:

Student residence: This type of accommodation is located at a maximum of 25 minutes by public transport and is suitable for students aged 18 years and above. You can choose to stay in a single or shared room, even if you are travelling alone (although in this case you must be aged 18-28 years). The minimum stay is normally 4 weeks. Facilities include shared bathroom, shared kitchen, laundry facilities, wireless Internet access and free access to the fitness centre.
Student residence plus: This type of accommodation is located between 10 minutes' walk to 25 minutes by public transport from the school. You will have your own room with en-suite bathroom, TV, wireless internet connection and refrigerator. Other facilities offered by the residence include communal lounge, communal kitchen, ATM, coin-operated laundry facilities and fitness centre.
University residence: This accommodation is offered during the summer only and is located on Manhattan's Upper East Side, just a 30 minute subway ride from the school. In this area, you will find the famous Museum Mile, Central Park and Carl Shultz Park. You will have your own en-suite bedroom with air-conditioning and heating, a refrigerator, a microwave, cable TV and wireless Internet access. There are shared kitchen and common room facilities, a games room, a multimedia room and lounge, wireless Internet facilities, public computers, a fitness centre, an ATM, a library and coin-operated laundry facilities.


Activities
Whilst you are in New York, you will want to explore the city and practice your English as much as possible. You will also want to meet your fellow students and make friends from all over the world. This is why the school offer regular activities, such as: English language film-screenings; meals out in local restaurants; lectures; visits to local landmarks, museums and monuments; yoga; shopping; bowling; quizzes and games; trips to local sports events; and excursions to places such as Boston, Philadelphia and Washington D.C.
Activities are completely optional, so you can choose which, if any, you wish to take part in. This does mean that a lot of activities are not included in the course price, so there is usually a small additional charge payable directly to the school, to cover costs such as entrance fees and transport. Please note that the school does usually require a minimum number of participants in order to run each activity proposed.

Sample activity programme
How to get there
Fly into JFK, LaGuardia or Newark Airport. From here, you can either take public transport or we can arrange an airport transfer for an additional charge, if you prefer.

---
Location of our school in New York
Student reviews & feedback
D. Amedeo
Good teachers, good students, perfect location. Host family was perfect, my landlady nice and kind, helped me when I was wrong while speaking Harlem is a very nice place, safe at night. Great experience In a wonderful city!
Course
Accommodation
School Staff
C. Guo
Very friendly atmosphere, opportunies to talk and to express oneself, covering of a lot of topics.
School statistics
Nationality (%)

Brazilian (20)
French (7)
German (5)
Italian (6)
Japanese (9)
Spanish (5)
Swiss (8)
Taiwanese (4)
Turkish (5)

---
Average ages (June - Aug)
* Statistics considered correct at the time of publishing
Student stories on our blog
A weekend in the Big Apple – New York, New York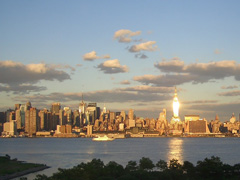 New York is certainly the city that never sleeps! You should try and stay for at least one week but what can you do when you have just a small amount of time? Here I would like to give you a guide that may help you decide where to go and what to do to make the most of your time in NYC.
Read more...
More articles