Learn English in New York City
The iconic Statue of Liberty has welcomed generations of immigrants into the United States of America and, for many, New York City became their home. This melting pot of cultures is now one of the most exciting cities on Earth, and is an inspiring location in which to study English.
An important centre for American culture, New York City is home to some of the country's finest museums and art galleries, including the Guggenheim, the Metropolitan Museum of Art, and the National Museum of Mathematics. Considered by many to be the cultural, financial, and media capital of the world, decisions made in this city affect commerce, entertainment, research, technology, education, politics, tourism, art, fashion, and sports the world over!
Everywhere you look you'll find eateries; from exclusive restaurants with month-long waiting lists to family-run delis to street-side hot dog vendors, there's something for every palate! Shopping here is also an experience not to be missed - near the school you'll find high-end brands, stylish boutiques, and affordable thrift shops, as well as convenience stores for stocking up on daily provisions.
The Big Apple, as it is affectionately called, is made up of five boroughs, each with its own distinct character. At the city's heart lies Manhattan Island, with its towering skyscrapers and world-famous landmarks. This area is synonymous with New York itself - in fact, locals more often refer to it as 'The City' than 'Manhattan'. It's in this bustling hub that our English language school is located.

Our school in New York
9 classrooms
Student lounge
Computer lab
On-site café
Self-study area
Course materials included
Wi-Fi throughout the building
Member of IALC, ALTO, Eaquals, and English USA
Accredited by ACCET and the Independent Schools Inspectorate
Photos
Our language school in New York City could not be any more ideally located. On the world-famous Broadway and just a stone's throw from the iconic Times Square, you really will be studying in the heart of one of the English-speaking world's most important cities!
Lessons here take place in the recently renovated Paramount Building, which offers stunning views across the city. Beautifully decorated to reflect the Big Apple's history, the facility offers 17 bright and spacious classrooms, a student lounge with computers and comfortable seating, a student café serving refreshments, and Wi-Fi access throughout. Students attending an Aged 30+ course study in a separate area of the same building, so you're guaranteed to be with your peers if you select this type of programme. There is an average of 12 students per class on all group courses (max. size 15), meaning you'll benefit from a highly personalised learning experience and get lots of language practice - whichever programme you select!
As well as all the amazing attractions located nearby (such as the Empire State Building, Carnegie Hall, the Chrysler Building, Central Park, and the Rockefeller Center, to name just a few!), you will also find it very easy to visit other parts of the city, because the school is close to several subway stations.
On your first day at our school you will take a short level test, which will be used to place you in a suitable group with students of a similar level to your own. Prior to your arrival, you'll be given a login for a student account where you can access your course materials, find out about activities and language workshops planned for the duration of your course, and further information about the facility.
Location: Midtown, Manhattan, New York
Nearest convenience store: 94 m
Nearest café: on-site!
Nearest bus stop: 31 m (7th Ave/West 44th Street)
Distance from train station: 850 m (Grand Central Terminal)
Nearest metro stop: 87 m (Times Square/42nd Street)
Distance from airport: 24.3 km (John F. Kennedy International Airport)
Courses in New York
If you wish to improve your overall level of English, a group course of 20, 24, or 30 lessons per week will be your best option. Lessons on the Intensive course of 20 lessons per week alternate between a morning and afternoon schedule. This allows you to experience the city at various times of day on the school's packed activity programme. Your exact schedule will be confirmed to you on arrival, once you have taken your level test. Active students can also combine this course with optional dance lessons!
The Intensive course of 24 lessons per week includes two additional lessons focusing on consolidating your knowledge of English and refining all four skills (reading, writing, speaking, and listening). The Super-intensive course of 30 lessons per week includes ten additional elective lessons. The electives you can choose from are: Comparative Culture and Communication; Write Now; Basic Writing Skills; Media Studies; The Language of Music; Film Studies; A World of Words; and Get Talking.
The core courses of 20, 24, or 30 lessons per week are also available in groups solely for students aged 30+. Please contact us if you would like more information about this type of class.
If you have specific topics you'd like to cover, or feel that you need extra attention during your studies, we recommend that you book private tuition and study on a one-to-one basis with one of our expert tutors. You'll receive 10 bespoke lessons per week on the standard package, but can book more if you wish.
We also offer exam preparation courses for students wanting to sit the IELTS, TOEFL, or Cambridge exams. You'll have 30 lessons per week focusing on the skills needed to pass the exam of your choice, including targeted practice questions and discussions of past papers. Staff at the school will also be happy to help you arrange your exam after your course has finished.
Students wanting to maximise the linguistic and/or cultural benefit of their stay can choose to add an extra 10 lessons per week to their course package, covering a variety of topics. These special 'focus programmes' can be added to the 20- and 24-lesson programmes; the following topics are available:
- English in the City: combine sightseeing and museum visits with lessons on New York dialects and English-language culture in the city.
- Business English: cover business vocabulary, negotiating and promotional strategies, how to write emails and presentations, and commercial ethics in English-speaking countries.
- Academic English: prepare for an English-language university course, develop your note-taking and academic writing skills, make group presentations on a range of topics, and learn more about campus life. Study for more than 10 weeks and receive free, personalised counselling sessions to assist with your university application.
Other themed focus programmes include: Speaking with Confidence; Global Awareness; Grammar for Real Communication; Real-Life Listening; Expand Your Vocabulary; Writing with Confidence; Basic Reading and Writing; English for Leadership; Exam Skills; English for Online Communication; and Grammar Extra (an Aged 30+ programme). Contact us for more information!
Accommodation
Available accommodation
Host Family
Student Residence Plus
If you want to have as much opportunity as possible to speak English with native speakers, then homestay lodging is the choice for you! You'll stay with local New Yorkers and receive breakfast each day as standard, with the option of adding dinner each day on the half-board package if you wish. This option is highly recommended as it not only provides you with maximum language immersion, but it also gives you the opportunity to experience life as a true New Yorker. Most hosts live in Manhattan itself, the Bronx, Brooklyn, Queens, and Staten Island, although there are also some hosts in New Jersey. The majority of New Yorkers live in apartments, and these may be several storeys tall, so do let us know if you have mobility issues that may affect which host you are placed with.
The average commute to the school takes around 60 minutes by public transport, which is very good for a city the size of New York. If you would prefer to stay as close to the school as possible (25 - 45 minutes by public transport), you can request to stay with a Manhattan Host. These premium hosts are offered subject to availability and can only provide bed-and-breakfast lodging. Both types of host supply bed linens and towels, and can accommodate special dietary requirements for a small additional fee. Please do note that it is unusual for homes in New York to have a washing machine; there are usually laundry facilities in the building or a 'laundromat' nearby.
Located in the lively suburban district of Cobble Hill in Brooklyn is a residence building offering two types of shared apartment. You can choose between a 3-bed apartment which offers en-suite bathrooms, or a 4-bed apartment with 2 bathrooms that are shared between the residents. The communal kitchen and living facilities are stylishly decorated, making this type of lodging a highly sociable option. At just 35 minutes' travel from the school by subway, these apartments are perfectly located to offer you comfortable accommodation outside the main hustle-and-bustle of Manhattan centre. The block's community manager also schedules activities and events for the building's residents, meaning you'll have lots of opportunity to meet other students of the school staying here, as well as native New Yorkers living in the building.
The 'plus' student residence is located on floors 15 - 18 of the iconic Art Deco hotel The New Yorker, affectionately called the 'Grand Old Lady' by city natives. The Empire State Building is just one block away, and attractions such as the New York Public Library, Times Square, and Penn Station are within easy walking distance, whilst our school is less than 2 km away. This residence is a great option for students aged 18 - 25, offering independence and privacy alongside ample opportunity for socialising with the other residents. You'll have a private bedroom with an en-suite bathroom and access to the huge communal kitchen for cooking your meals, the student lounge for socialising and relaxing, and the quiet self-study areas for completing your homework. There is also a gym, an on-site ATM, a coin-operated laundrette, and a school residential office where you can speak to accommodation staff if you have any problems or need help planning what to do during your stay. All bedrooms have a fridge, a television, and Wi-Fi access. The hotel has 24-hour security, and all residents have a key card to enter the residence floors, so you can feel perfectly safe during your time here.
Located on Manhattan's Upper East Side, the university residence is just 10 km from our central school. In this area you will find the famous Museum Mile, various green spaces, and affordable shops and restaurants. The nearest subway station is just 2 blocks away, so you'll easily be able to explore other parts of the city. The 18-storey residence building offers comfort lodging and great views over the nearby Central Park. Here you'll have a fully-furnished twin room that you can share either with a friend or with another international student of the school. Your room will have an en-suite bathroom, a television, a fridge, and a microwave. Communal areas available to all residents include a shared kitchen, a study lounge, a games room, a multimedia room, a coin-operated laundrette, a fitness centre, and public computers. The building also has 24-hour security and an on-site ATM. Please note that the university residence is only available from July to mid-August. All rooms are twin rooms.
*Please note that twin rooms are only available to students travelling together. If you book a twin room but are travelling alone, you will be swapped to a single room. The only exception is the summer university residence, where you can opt to be placed with a roommate of the same gender.
Activities
As well as tuition, the school organises regular social and cultural activities. Each activity is conducted in English and thus helps to complement your classroom learning with experience in real-life scenarios. As well as being educational, the activities are designed to be fun and to help you make friends during your time at our language school. Most of these activities are offered completely free of charge, although some may incur an additional fee to cover entrance and/or transportation costs.
The exact schedule changes seasonally, but may include:
- A welcome social
- City tours (various districts)
- Visits to local museums, monuments, and landmarks
- Conversation and/or grammar workshops
- Evenings at a Broadway show
- Picnics in Central Park
- Group games and quizzes
- Dance lessons
- Meals out with your classmates
- Seminars and lectures on life in the city
- Full-day or weekend excursions to locations such as Boston, Washington D.C., and Niagara Falls
Staff at the school are also happy to recommend things to see and do in the city, so be sure to ask if you're stuck! Please note that a minimum number of participants is usually required for activities to run.
Sample activity programme
How to get there
New York City has three airports: John F. Kennedy International (JFK), LaGuardia, and Newark Liberty International.
From here, you can either take public transport to your accommodation or we can arrange an airport transfer service for you for an additional charge. If you book this service, a driver will be waiting for you when you land and will take you directly to your accommodation; if you select this service on departure as well, you will be collected from your lodging on your last day and taken back to your chosen airport in time for your departing flight.
Students should arrange to arrive on the Sunday before their course starts and depart on the Saturday after their course finishes.
Kindly note that students under the age of 18 must book return airport transfers.
---
Location of our school in New York
Student reviews & feedback
D. Amedeo
Good teachers, good students, perfect location. Host family was perfect, my landlady nice and kind, helped me when I was wrong while speaking Harlem is a very nice place, safe at night. Great experience In a wonderful city!
Course
Accommodation
School Staff
C. Guo
Very friendly atmosphere, opportunies to talk and to express oneself, covering of a lot of topics.
School statistics
Nationality (%)

Brazilian (20)
French (7)
German (5)
Italian (6)
Japanese (9)
Other nationalities (31)
Spanish (5)
Swiss (8)
Taiwanese (4)
Turkish (5)

---
Average ages (June - Aug)
* Statistics considered correct at the time of publishing
Student stories on our blog
A weekend in the Big Apple – New York, New York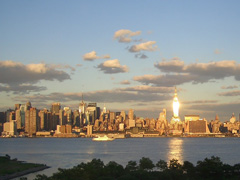 New York is certainly the city that never sleeps! You should try and stay for at least one week but what can you do when you have just a small amount of time? Here I would like to give you a guide that may help you decide where to go and what to do to make the most of your time in NYC.
Read more...
More articles