A weekend in the Big Apple – New York, New York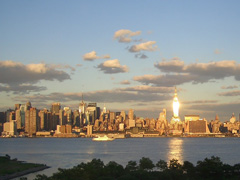 New York is certainly the city that never sleeps! You should try and stay for at least one week but what can you do when you have just a small amount of time? Here I would like to give you a guide that may help you decide where to go and what to do to make the most of your time in NYC.
First of all, you need decide where you want to go! Manhattan, Brooklyn, New Jersey, Queens, SoHo…you can't do everything in one weekend. We decided to stay on the island they call Manhattan.
Manhattan
Manhattan is by far the most well-known part of New York and surely the heart of this multinational, global city. Wander the streets and mingle with the locals, the busy workers and the international tourists. Especially at Times Square you'll see them all. Be prepared for all the bright lights and shining colours that will help highlight your way through the crowds. You can take your picture with Mickey or Mini or whatever Disney character is showing up, but well…you have to pay for it!
Walk further until you reach Bryant Park, right next to the New York Library. For all SATC fans: that's where Carrie planned to marry Mr. Big in her amazing Viviane Westwood gown. We stayed there at the end of September and it was still quite warm. We stopped to have a drink in Bryant Park before heading back to the hotel.
Carry on to the Rockefeller Centre which apparently is most beautiful in winter with its ice rink and famous Christmas decorations, but still an impressive building in any other time of the year too. Top tip: If you really don't like crowds, avoid them at the Empire State building and go to the Top of the Rock. Here is one of the best, unobstructed views of the city!
Downtown New York
Downtown Manhattan, the financial district, has two reasons to visit. Firstly, you can take the boat to Liberty Island and Ellis Island (which is definitely worth doing). Secondly, the famous New York Stock Exchange with large bronze bull is worthy of a photo opportunity!
The World Trade Memorial for 9/11 is another must see and if incredible high views are your thing, then you can try One World Observatory at the top of the Freedom Tower, the centerpiece of the rebuilt World Trade Center complex.
If your time is very limited, then skip this and take in the nice view over Brooklyn Bridge across to Brooklyn by foot. You can actually spend a whole day in this area. Make sure to get a pretzel on the way! My favourite thing was taking the boat over to Liberty Island as you just have the most marvellous view over to Manhattan from the boat and by the foot of the Statue of Liberty.
If you want to treat yourself to nice dinner in Tribeca than you should absolutely find Robert De Niro's place: The Tribeca Grill. I advise you to make a reservation as it will get crowded. It's the perfect place to spot celebrities and/or models just hanging out.
Galleries and famous places
New York is also a city full of famous museums and world leading art galleries. If you are a little of an art junkie you should definitely visit the MOMA (Museum of Modern Art) and the Metropolitan Museum of Art. I know that people say that the Guggenheim is really impressive and the art exhibited is amazing, however, the best thing about it for me was the architecture!
A visit in the Big Apple isn't complete without riding up to the Empire State Building. Enjoy the distinctive art deco style followed by breathtaking views. It's even worth a trip up on a cloudy or snowy day! If you are afraid of heights, as I am, don't miss out and just keep your gaze straight ahead.
For all the shopping enthusiasts: bring some extra money because it's a dream come true in Bloomingdales and Bergdorf Goodman's. I didn't want to leave!
When you've spent all your money skip across to Central Park. Walk the paths you see in so many movies. I liked to find the spot where Carrie and Miranda had lunch in the SATC-movie and the famous fountain at the start of Friends. Make sure to at least for a moment stand still at Strawberry fields before you enter the hectic world that is Manhattan once again.
Restaurants and more
For a great restaurant tip, dinner and view try the The View! This restaurant is situated in Times Square in a famous hotel high up in the skies. From up here, even though you're only having a Manhattan (cocktail) in the bar, you can enjoy an amazing outlook over the whole city. Maybe afterwards go for a show on Broadway or carry on bar hopping. Taxis and also now Ubers are everywhere! Even though walking is no problem the real New Yorker doesn't walk long distances!
New York is an amazing city with many things to do and to see. There is so much to do and when you only have a few days it is hard to make the most of your time. However, I think this covers most of the important things. If you have a little more time and you are, as I am, a SATC enthusiast take a tour to all the places around the Big Apple that have featured in the episodes or movies.
Even better, take an English language course for one week up to several months.
Enjoy New York!
Julia