Learn French in Biarritz
Biarritz is well-known as Europe's surf capital, with its long sandy beaches and great surfing conditions all year round. Our school in Biarritz runs a specific surfing course, giving you the perfect opportunity to combine your French tuition with surf lessons! However, Biarritz is also a great destination for non-surfers, offering lush green countryside with beautiful views for miles. The best way to learn French is to learn the language in France, so choose a location for your French course where people are friendly and happy to speak to you, such as Biarritz. It's a small town, so it's easy to meet people and make friends, and you'll have plenty of opportunities to speak French with the locals!

Our school in Biarritz
10 classrooms
Private parking
Computer room
Course materials included
Certified Label Qualité FLE centre
Member of IALC and Campus France
Wi-Fi throughout the building
Private garden with terraces and a swimming pool
Student lounge with vending machines serving hot drinks and snacks
Approved for CSN and Bildungsurlaub programmes (various states)
Photos
Our French language school is housed in a modern, spacious building in the centre of Biarritz. With 10 bright, air-conditioned classrooms, a student lounge, a computer room, and wireless Internet throughout, the facilities at the school are first-rate and provide students with the ideal environment in which to learn French. Students even have access to a private swimming pool and garden, where you can sit and soak up the glorious French sunshine whilst practising French with your fellow classmates.

Location: Centre Ville, Biarritz
Nearest convenience store: 600 m
Nearest café: 650 m
Nearest metro stop: N/A
Distance from train station: 2.4 km
Nearest bus stop: 240 m (Parc Mazon)
Distance from airport: 2.7 km (Biarritz Pays Basque Airport)
Courses in Biarritz
Available courses
Intensive (20)
Intensive + Golf (25)
Intensive + Private Lessons (26)
Intensive + Surfing (25)
Super Intensive (26)
Super Intensive (30)
Private Lessons (15)
Private Lessons (20)
DELF Exam Prep (30)
Family Course (14-17 yrs) (20)
Family Course (14-17 yrs) (24)
Whatever your requirements, you are sure to find the perfect course for you at our school in Biarritz! Our school offers Intensive and Super-Intensive group courses of 20 or 25 lessons per week, private courses and combined courses of group and one-to-one tuition for students who wish to improve their overall level of French.
If you do have a particular interest in surfing, you may like to consider one of our French and Surfing courses, which combine 20 French lessons with 5 surfing lessons each week. We can also arrange French and Golf courses, which allow students to practise French whilst improving their golfing skills!

Special courses in Biarritz
Accommodation
Available accommodation
Host Family
Studio Apartment
If you wish to make as much progress as possible during your stay in Biarritz, we would certainly advise you to stay with a carefully selected host family, as this will allow you to totally immerse yourself in the French language! It is also an excellent opportunity for you to experience French culture. Your hosts will encourage you to speak French with them as much as possible and will be happy for you to practice what you have learnt in class with them. Most importantly, they enjoy hosting international students of all levels in French, from complete beginner to advanced!
We can also arrange accommodation in a private studio apartment if you would prefer to have a more independent experience during your language immersion programme in Biarritz.

Activities
Our school in Biarritz offers a wide variety of cultural activities to help students learn about the local culture and explore the town and its surrounding areas. These activities also provide students with further opportunity to speak French with native speakers in everyday situations outside of the classroom! Examples of activities organised include guided tours of Biarritz, tasting the local wines, guided tours of museums, horse riding, mountain biking, cookery classes and water sports amongst many, many others! Our school also offers regular excursions to places such as the Pyrenees Mountains, local prehistoric caves and Lourdes.

Sample activity programme
How to get there
Biarritz-Anglet-Bayonne Airport is just outside Biarritz and receives flights from a number of European cities. Many of our students also fly into San Sebastian, Bilbao and Bordeaux, and airport transfers can be arranged from any of these locations, taking you directly to your accommodation in Biarritz. Please note that the transfer service is not included in the price of the programme and will incur an additional fee.

---
Location of our school in Biarritz
Average score for our school in Biarritz based on 81 previous client reviews.
Student reviews & feedback
A. Dowson
Excellent staff, made you feel welcome and helped with increasing your confidence in conversation without feeling embarrassed.
Course
Accommodation
n/a
School Staff
Y. Hardjodikromo
Learned more in one week Biarritz than a year at school in NL.
Very friendly and welcoming accommodation, great food and relaxed atmosphere.
Will return next summer
Course
Accommodation
School Staff
E. Brennan
Course was very good, my teacher Ingrid was fantastic. Accomodation was ok
Course
Accommodation
School Staff
F. Kislinger
Very nice and friendly teacher, good number of people in class, funny games and useful exercises
I stayed with a very friendly woman, nice room, maybe a bit too far from the city center
I really enjoyed my stay!
Course
Accommodation
School Staff
L. Tresoldi
Extremely useful and interesting course, balanced between grammar and conversation. Extremely nice host family, reallly good house, excellent atmosphere and nice food.
Course
Accommodation
School Staff
M. West
A very professional, warm teacher with a great sense of humour who got the group interacting very well. Also a very helpful, friendly staff. An open, welcoming host lady with the most obedient dog I have ever met...not a single bark!! Thanks very much Apple Languages and hope to use your services again.
Course
Accommodation
School Staff
G. Murphy
I did the A level revision course which I found very comprehensive, thought the afternoon classes were very good but found with them the day was too long and very tiring. I was very happy with my host family. They were extremely welcoming and Sandrine was an excellent cook. She catered for all our preferences and had a very laid back manner which I liked.
Course
Accommodation
School Staff
P. Connolly
I was very pleased with the French course. Excellent teachers, well run, good structure and commendable ethos.
I was very happy with the accommodation in a lovely Basque style house with my own bedroom and bathroom. The food was good, the owners were helpful and likeable and spoke to me in French which helped to reinforce what I was learning. It was a good half hour's walk to the college and town centre but I was lent a bicycle/given lifts and I enjoyed the walk too.
Although I was assessed before and on arrival, my first day was too advanced for me. The college was quick to respond and my correct level was established promptly and effectively.
Course
Accommodation
School Staff
S. Neary
I thought that the course I participated in was very successful. I feel that my French has improved and I liked the way that the classes were streamed into individual abilites.
I stayed with Madame Schweitzer who was a lovely lady and made us feel extremely welcome.
Course
Accommodation
School Staff
B. Roche
There was a really nice atmosphere in the school which made me feel really welcome. The surfing course was realy fun and learning in french made in even better. Even though I was only there for two weeks I feel I learned alot.
The accommodation was really nice. The family were so nice to me and made me feel really welcome to the country and were there to help with aything I needed.
Course
Accommodation
School Staff
M. o'Loughlin
A very effective and interesting way to learn french. Host family, food and accomodation in general couldn't have been better, they were some of the nicest people ive ever met. Its a great laugh to meet all the people from all over the world.
Course
Accommodation
School Staff
J. Pope
The course was well organised, i was unhappy at first with the level of French i was learning but this was soon rectified as i was mooved to a higher level. The family couldnt have been nicer, the house was lovely.
Course
Accommodation
School Staff
M. O'Dwyer
Excellent teaching, very organised and relevent. Always interesting. Good mix of oral, aural and written. Victoria Surf was excellent. Basic accomodation but clean, great location, great security. I thoroughly enjoyed the whole course, French classes in the morning were great and the surfing in the afternoon was equally enjoyable.
Course
Accommodation
School Staff
S. Smith
The course was at exactly the right level - not too easy, but not so difficult that I felt frustrated. Tutors were willing to answer questions at any level, and would often chat over coffee at break times etc. My host family were very helpful and very patient with my mistakes.
Course
Accommodation
School Staff
A. McEvoy
The whole course was really great and i learnt a lot during my six weeks stay. Everything was very well organised and all the staff were always obliging, kind and friendly. I couldn't have asked for a better host family! Violette did so much for us during the six weeks. She was so kind and was also a really good chef!
Course
Accommodation
School Staff
Course
Accommodation
School Staff
A. Soria
Very good course. Accommodation was very good, they were friendly and the house was near the school.
Course
Accommodation
School Staff
E. Holmgren
Excellent teachers, good book, overall a great experience.
Course
Accommodation
n/a
School Staff
A. Francesca Steins
From my point of view the attended courses were great. Friendly and helpfully teachers were able to teach me/us a lot of things.The room our courses took place was satisfactory. The lessons weren`t boring at all.
Biarritz is a wonderful town were you can improve your surf and swim skills. It is a very touristic city, but all in all it is very pretty!
Course
Accommodation
School Staff
F. Taliaeva
I had learnt French sometime back but decided to refresh it. The course has allowed my to start speaking and understanding what others say. The host family was excellent, made you feel at home. Madame Anne is a superb personality and very easy to communicate with. I really appreciate her efforts to make you feel comfortable. Million of thanks!
Course
Accommodation
School Staff
A. White
Great school in a convenient location, friendly atmosphere. Great host really friendly and helpful.
Course
Accommodation
School Staff
S. Hählen
My teacher was excellent, her lessons were very interesting. The host family was very kind and very welcoming. I had a really good time and a nice room.
Course
Accommodation
School Staff
A. Quinn
I thought that the content of the course was brilliant. My tutor varied the work everyday but there was always an emphasis put on grammar which was exactly what I needed. I was a bit lost at the start but I could really see a massive improvement in myself by the end. It was great that there were so many different nationalities in my small class as it gave me no chance to slack off and speak English very often. Everyone in the house made an effort to help me progress my French and had an honest interest in my life back home. I really enjoyed my time with my host.
Course
Accommodation
School Staff
F. Doherty
As a student very bad at french the course really helped me on the basics. My host family were very nice and helpful, the food was always fresh and amazing.
A. Hughes
I enjoyed the course and felt I learned a lot.
Course
Accommodation
School Staff
H. Wilson
The teacher was really nice and I met so many lovely students from all over the world and many have become good friends now. My host mother was lovely and really helpful. She gave us really yummy food. Her house was very comfortable.
Course
Accommodation
School Staff
J. O' Driscoll
Enjoyable classes, good numbers and interesting. The golf lessons were teriffic. My host family was very nice.
Course
Accommodation
School Staff
E. Bracey
The course was very helpful and I learnt a lot. The teachers were really nice and enthusiastic, which made the lessons interesting. The accommodation was the best part for me. My host family were the loveliest couple I have ever met and I felt so welcome in their home. I am still in contact with them and I really hope to visit them again.
Course
Accommodation
School Staff
E. Campbell
Wonderful teachers and a great atmosphere. Thoroughly enjoyable. My room was clean and the appartment was very close to the school. I have just had the best time in Biarritz. I met so many great people teachers and students alike. The surf school had a great vibe to it and the waves were sweet everyday. I cannot wait until next year... and I'll stay for a month next time...maybe two!
Course
Accommodation
School Staff
C. Harendt
The school has very friendly and good teachers, there's a good atmosphere in the classes and a good mix of grammar and dialogues.
Course
Accommodation
n/a
School Staff
S. Loney
Great teaching delivered by motivated staff and a superb range of activities organised. The family was very welcoming and the meals provided were top class.
Course
Accommodation
School Staff
W. Hebditch
The course was very enjoyable. There was a good balance of work and play/surfing.
Course
Accommodation
School Staff
J. Helm
The lessons were very good. The school offered extra activities at reduced rates, and it was a very interesting and varied programme. The levelling of students and classes was excellent and movement between groups was possible. Lesson contents and activities in my classes were excellent, varied and suited to my level. I thouroughly enjoyed going to school there for 3 weeks and I learned a lot! My host was very maternal and looked after me very well. She cooked for me, did my washing and was always more than willing to help. She is well educated and genuinely interested in people, so that we never ran out of conversation. She speaks no foreign languages, so i had to speak french to her, which was very good practice. Going to school in Biarritz and practising my french with the host family is the ultimate way to improve one's language skills. It's better than a year's worth of evening classes at home and the progress and results are fantastic! I'd recommend this to anyone, old and young, if you're serious about learning, it's excellent value for money!
Course
Accommodation
School Staff
S. Wilson
I have gained a lot from the course. My host family were very nice and pleasant people to stay with.
Course
Accommodation
School Staff
C. Gill
I found the school had a good standard of teaching and the lessons were useful. My host had a very nice house and she helped me with my french and encouraged me to talk. The food was very nice aswell. The food was very nice aswell.
Course
Accommodation
School Staff
D. Hutton
I think the course was great. The accomadation was lovely, open and very friendly. It was also close to the beach where I surfed which was great, and within walking distance from shops and the major 'hangout' venues. I felt very relaxed, and only wish i had been more fluent at french so that i could have shown my appreciation better.
Course
Accommodation
School Staff
E. Cronin
It was overall very enjoyable.
Course
Accommodation
School Staff
V. Patel
My teachers were fantastic! My host family were great, so accommodating and friendly.
K. Levett
It was really helpful. The teacher was excellent, and not speaking any English was really good as it meant general understanding and vocabulary was broadened. My host was very nice. Also, the fact that she didn't speak English was helpful as we had to communicate in French.
Course
Accommodation
School Staff
M. Prokator
The teachers and staff were helpful and friendly, and my French improved substantially during my two week stay. The surfing course was well organized, the instructors were excellent, and I can't wait to go back! My host family was very nice and the accommodation was great.
Course
Accommodation
School Staff
R. Blunt
The course was good. I stayed with a lovely family, lovely appartment, lovely food, couldn't have been better.
Course
Accommodation
School Staff
H. King
It was really useful as it covered grammar but more usefully, everyday, conversational and colloquial French. My teacher was young so she was like one of us and the fact we could relate to her made us want to pay attention. The host family were lovely and the daughter showed me everywhere on the first night, and they were very understanding and patient. They also helped lots with my french by teaching me things and correcting me. They were just really nice people. It was so much better than I expected. I didn't want to come home - and I mean that. You meet people from all over the world and you become so close. I was so comfortable there I could have stayed forever.
Course
Accommodation
School Staff
L. Loots
The course was very good. There were many different levels and the teachers were very good. Nice accomodation in a host family. The combination of learning a language and learning to surf is a very interesting and good formula!
Course
Accommodation
School Staff
P. Kegel
The course was amazing, and the teachers were great, I loved the fact that you couldn't speak any english in class, and must speak french, it really improved my confidence and overall speaking skills. I met loads of new people and had great fun with the surfing course also im most certainly coming back again as it was one of the best things I have ever done or experienced, thank you Apple Languages.
Course
Accommodation
School Staff
B. Fitzpatrick
I learned a lot of french, the teachers were fantastic and I found that the smaller classes helped a lot.
Course
Accommodation
School Staff
G. Brown
The course was very helpful and the accommodation was in a really good family, nice bedroom and good food.
Course
Accommodation
School Staff
A. Moss
It was fantastic, I enjoyed every minute of it and there was nothing about the course, the staff or my accommodation that i could fault.
The town was lovely, the students were really friendly and the French lessons were very good and also very fun. The surfing lessons were amazing and the surf instructors were so nice and became our friends who we went out with in the evenings. The house was lovely, clean and very beautiful. My room was large with a double bed and a desk, I also had my own Internet connection. The family were really kind and helpful and very fun people. They gave me everything I needed.
Course
Accommodation
School Staff
A. Walpole
The course was fun, and I managed to brush up on all my french. The teaching techniques were very effective and the teacher was very nice! The family were unbelievably welcoming and kind. The house was very sweet and we had an added bonus of having our own rooms! I can't wait to return!
Course
Accommodation
School Staff
R. James
It was a thoroughly enjoyable fortnight and I would have no hesitation in recommending the Biarritz school. I had two different teachers during my stay, both were excellent and encouraged a relaxed but challenging atmosphere within the classroom.
Course
Accommodation
n/a
School Staff
P. Dawe
The course was one-on-one and tailored exactly to my needs and existing (low) standard. I was particularly impressed with the willingness of staff to accommodate my timetable desires. My host was very friendly, room and bed large and the food was excellent.
Course
Accommodation
School Staff
School statistics
Nationality (%)

American (3)
Brasilian (3)
British (4)
German (11)
Irish (4)
Italian (4)
Russian (3)
Spanish (16)
Swedish (3)
Swiss (21)

* Statistics considered correct at the time of publishing
Student stories on our blog
Biarritz: why you should learn French by the sea!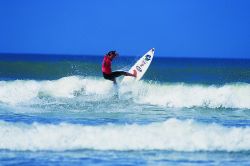 Are you considering learning French in a seaside location? Then look no further than Biarritz! The sea is a gorgeous aquamarine colour, and it's also one of Europe's most popular surf spots. Indeed, if you're a surfer or you're interested in learning how to surf, you can do so at
the French school in Biarritz
. Did you know Biarritz was where surfing as we know it all started, in 1856? It's an ideal location for surfers throughout the year, including beginners, and this is not surprising when you see how big the waves are. They are definitely the biggest I have ever seen in the south of France. I absolutely adore Biarritz, and have been going back there every year since childhood as I'm lucky enough to have family there!
Read more...