Biarritz: why you should learn French by the sea!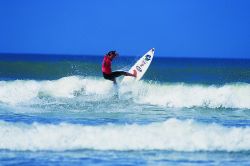 Are you considering learning French in a seaside location? Then look no further than Biarritz! The sea is a gorgeous aquamarine colour, and it's also one of Europe's most popular surf spots. Indeed, if you're a surfer or you're interested in learning how to surf, you can do so at the French school in Biarritz.
Did you know Biarritz was where surfing as we know it all started, in 1856? It's an ideal location for surfers throughout the year, including beginners, and this is not surprising when you see how big the waves are. They are definitely the biggest I have ever seen in the south of France. I absolutely adore Biarritz, and have been going back there every year since childhood as I'm lucky enough to have family there!
Although Biarritz is in the Basque country and is very close to Spain, it does retain its own, very special identity. The Basques speak French with a very melodious and attractive accent, so if you're going to learn French, I would certainly recommend Biarritz!
One thing you'll notice when you arrive in the Basque country is that although it's not a wealthy region of France, people insist on the houses being pretty and traditional. Whether you go to Biarritz, St Jean de Luz or further into the countryside, you will notice that houses are very similar with red shutters and often visible red beams.
Whilst you're there, try out the region's favourite sport, Basque pelota. This sport is very popular throughout the region although still hardly known in the rest of France. There are pelota walls in every single village in the Basque country. There are several different kinds of pelota: paleta for beginners, bare hand or xistera. Even if you don't feel up to having a go yourself, you should at least watch a game to two!
Among the Basque specialties, I would definitely recommend the "gateau basque". I think it's a real shame that you can't find it anywhere else, as it's really delicious!
So, whether you're a sun, sea, surf, sport or cake lover, try a French course in Biarritz – I can guarantee you won't regret it!
Celine