Learn Portuguese in Faro, Portugal
Our school in Faro is an ideal place to learn to speak Portuguese. While learning to speak Portuguese at our school, located close to the beach, you can enjoy the history and Portuguese culture of this coastal town. With so much of historic interest, such good food and so many excellent beaches close by, anybody learning to speak Portuguese at our school will find something to see and do, whatever your interests.
Our Portuguese school in Faro organises excursions and activities for all students learning Portuguese at the school, helping them to combine their Portuguese language course with the chance to learn about Portuguese culture, as well as providing them with extra opportunities to speak Portuguese.
At our Faro school you will not only learn to speak Portuguese, but will also enjoy learning the language in such a beautiful historic port town.
Faro - Image Gallery
Our school in Faro
Our Portuguese language school in Faro, Portugal, is located in an attractive, historic building in the centre of this port town. The school has 6 well-equipped classrooms, as well as a large patio and Internet café, with free Internet access.
| | |
| --- | --- |
| School facts | |
| Lesson length: | 50 mins |
| Number of classrooms: | 6 |
| Average class size: | 8 |
| Minimum age: | 18 |
| Course materials included: | Yes |
| Average number of students: | Summer (23) - Winter (12) per week |
| Disability access: | No |
| Air conditioning: | Yes |
| WiFi available: | Yes |
| Affiliations: | IALC |
| Included in fees: | Assessment Test, Internet access, Text Book, Grading and Final Tests, Audiovisual and multimedia facilities, Audio CD, Certificate / Diploma , Cultural and Extra-Curricular Activities. |
| Typical activities: | Vistis to museums and monuments, screening of movies in Portuguese and sweets (Faro) tastings |
| Paid activities: | Typical dinners in restaurants |
Courses
At our Faro school, you can learn Portuguese on a 'Standard' Portuguese course (15 lessons/week), or on an 'Intensive' Portuguese course (25 lessons/week). Or, you can choose a 'Combined' Portuguese course, which is a combination of the 'Standard' course plus 5 or 10 private Portuguese lessons/week.
The maximum class size at our Faro school is just 8 students per class (except at Easter and in August), providing lots of personal attention to each and every student.
In addition to Portuguese language courses, our school in Faro also offers a Portuguese Gastronomy course, as well as a 'Portuguese for Teachers' course.
Accommodation
Our Faro school can arrange accommodation in carefully selected Portuguese host families, where students can really immerse themselves in the language, lifestyle and culture of Portugal, as well as speak with their family the Portuguese that they learn on their course at the school.
Activities
Make the most of your time in Faro by participating in the school's optional activities programme! Visit museums, monuments and other local places of interest and enjoy typical Portuguese dinners! You will be encouraged to practice your Portuguese at all times, so that you continue to increase your confidence in using the language in every day situations!
How to get there
Our Faro school can arrange airport transfers from Faro Airport, if you would prefer to be met on arrival and taken to your accommodation.
See the two faces of Faro, Portugal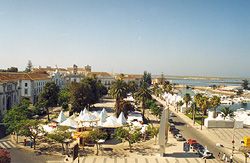 When I think about Faro, I think about the sun, beaches, parties and relaxation!

The great thing about Faro is that it has two faces. In winter, it is a calm place, although it always has good nightlife because of the number of students from Algarve University present in the city. In summer there are lots of things to do because is filled with thousand and thousand of travellers that give life to the city.

If you are a beach lover and a sun lover I definitely recommend that you learn Portuguese in Faro. I go there every year at Easter because at that time of the year in Portugal, and especially in the Algarve, the weather starts to get warm. It's just perfect - warm but not too warm, and at that time of year there aren't many tourists so you can get to know the friendly locals well.


Location of our school in Faro