Learn Portuguese in Faro
Our school in Faro is an ideal place to learn to speak Portuguese. While learning to speak Portuguese at our school, located close to the beach, you can enjoy the history and Portuguese culture of this coastal town. With so much of historic interest, such good food and so many excellent beaches close by, anybody learning to speak Portuguese at our school will find something to see and do, whatever your interests.
Our Portuguese school in Faro organises excursions and activities for all students learning Portuguese at the school, helping them to combine their Portuguese language course with the chance to learn about Portuguese culture, as well as providing them with extra opportunities to speak Portuguese.
At our Faro school you will not only learn to speak Portuguese, but will also enjoy learning the language in such a beautiful historic port town.

Our school in Faro
Our Portuguese language school in Faro, Portugal, is located in an attractive, historic building in the centre of this port town. The school has 6 well-equipped classrooms, as well as a large patio and Internet café, with free Internet access.

Photos
Courses in Faro
At our Faro school, you can learn Portuguese on a 'Semi-Intensive' Portuguese course (15 lessons/week), or on a 'Super Intensive' Portuguese course (25 lessons/week). Or, you can choose a 'Combined' Portuguese course, which is a combination of the 'Standard' course plus 5 or 10 private Portuguese lessons/week.
The maximum class size at our Faro school is just 8 students per class (except at Easter and in August), providing lots of personal attention to each and every student.
In addition to Portuguese language courses, our school in Faro also offers a Portuguese Gastronomy course.

Special courses in Faro
Accommodation
Available accommodation
Host Family
Shared Apartment
Our Faro school can arrange accommodation in carefully selected Portuguese host families, where students can really immerse themselves in the language, lifestyle and culture of Portugal, as well as speak with their family the Portuguese that they learn on their course at the school.

Activities
Make the most of your time in Faro by participating in the school's optional activities programme! Visit museums, monuments and other local places of interest and enjoy typical Portuguese dinners! You will be encouraged to practice your Portuguese at all times, so that you continue to increase your confidence in using the language in every day situations!

Sample activity programme
How to get there
Our Faro school can arrange airport transfers from Faro Airport, if you would prefer to be met on arrival and taken to your accommodation.

---
Location of our school in Faro
Average score for our school in Faro based on 26 previous client reviews.
Student reviews & feedback
J. Steffens
I already knew a bit of Portuguese but with two weeks of the super intensive course all the pieces of knowledge combined.
The teachers are really really nice and open. I enjoyed going there.
Course
Accommodation
School Staff
A. Göttsche
Consequent and patient teacher with good declaration Intodrucing not only the language but the Country and People too Very friendly and helpful , creating a pleasant atmoshere Extremely nice guide in the afternoon programs. I would be happy to come again.
Very friendly and Open-mind hosts without being intrusive. The best I could Hope for: excellent conditions in aspect to room and bathroom - best Hygiene.

Course
Accommodation
School Staff
R. Touitou
The teachers were very friendly! The acomodation in itself was good (clean, spacious, well equipied) but it was far from the school (20 minutes walking), from the town center.
Course
Accommodation
School Staff
F. Somerville
Good teacher and I learnt alot during the month.
Course
Accommodation
n/a
School Staff
X. Yue
The best course I have ever had. Great teachers in terms skill and humor, and lovely office lady. Very good homestay. Close to school, hospitable host and good accommodation. Faro might be a very good place for study. Small town but still lots to enjoy so I didnt get bored.Convinient transport to all coast cities and Seville. Very nice local people who always smile and respond in portugues if you want to practise your portuguese with them.
Course
Accommodation
School Staff
B. Françoise
Teacher was excellent. After 2 weeks learning Portuguese, we're able to write Portuguese and to speak. That's great !
Course
Accommodation
School Staff
L. Ball
The location of the class was excellent in an old style building which added to the character of the course. The teaching and admin staff could not have been more helpful or interested and really strived to make the week as productive as possible. The course moved along at a good pace of learning and there were contiunal checks to see that learning had taken place. The short morning break was welcome and allowed further informal chat with the tutor (in Portuguese) and with the other students. The morning lessons seemed to fly by which is an indication of how interesting they were. I also had a one to one lesson afterwards and this allowed me to cover topics that I wanted to and it was during this time that the language began to drop into place and I would certainly recommend this to anyone as an additional option to extend the learning.
Course
Accommodation
School Staff
J. Amaral
The teachers were above my expectations and I developed a great foundation to learn Portuguese. It's an excellent program. The accommodation was basic but good, we came and went as we pleased and the hostesses were very kind.
Course
Accommodation
School Staff
C. Maud
The teacher did a great job and made the course interesting and very useful. My accommodation was good, very clean, the staff were great and very discreet.
Course
Accommodation
School Staff
R. Gupta
The course was excellent. It was geared well to the needs of students as, after an initial assesment, we were grouped according to our past experiencs and knowledge of the language. In my group there were three students and it worked well. The group tutor was excellent. We had an opportunity, one afternoon, to go with a guide to a local museum which was a very interesting trip. The guide useed Portuguese throughout (albeit speaking slower than she would obviously normally speak - for our benefit, it was much apreciated!)
Course
Accommodation
n/a
School Staff
P. Stow
Despite needing to accommodate a range of abilities, even within a group 'moderated' by the initial test, the teachers provided a thoroughly professional course. The group-work was always interesting; whilst the 'one-to-one' work was highly stimulating and enjoyable. The diversity of our group(s) during the two weeks ensured a wide range of social experiences to be shared - and enjoyed - between the participants.
Course
Accommodation
School Staff
S. Miller
The teachers were extremely friendly and helpful, which created a very positive working atmosphere. The standard of teaching was very high and they were happy to spend time explaining in depth some of the more difficult aspects of the language, in order that we might understand clearly. I stayed in a private home whilst completing the course. My host was very welcoming and friendly, and she helped with practising spoken Portuguese. I was really pleased with my accomodation.
Course
Accommodation
School Staff
J. Payne
The course was well designed to meet my specific need to improve my speaking skills. The mixture of formal study using the book and one to one discussions on a variety of subjects was very helpful.The style was more informal than a previous course I had been on, and I especially liked the way we joined the staff and other students at a local cafe at mid morning break.
Course
Accommodation
School Staff
School statistics
Nationality (%)

France (8)
Germany (26)
Holland (3)
Italy (9)
Norway (3)
Other (27)
Spain (5)
Switzerland (6)
Uk (5)
Usa & canada (8)

* Statistics considered correct at the time of publishing
Student stories on our blog
See the two faces of Faro, Portugal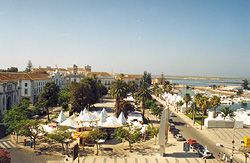 When I think about Faro, I think about the sun, beaches, parties and relaxation! The great thing about Faro is that it has two faces. In winter, it is a calm place, although it always has good nightlife because of the number of students from Algarve University present in the city. In summer there are lots of things to do because is filled with thousand and thousand of travellers that give life to the city. If you are a beach lover and a sun lover I definitely recommend that you
learn Portuguese in Faro
. I go there every year at Easter because at that time of the year in Portugal, and especially in the Algarve, the weather starts to get warm. It's just perfect - warm but not too warm, and at that time of year there aren't many tourists so you can get to know the friendly locals well.
Read more...