See the two faces of Faro, Portugal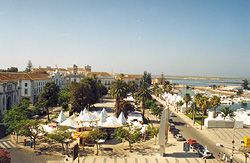 When I think about Faro, I think about the sun, beaches, parties and relaxation!
The great thing about Faro is that it has two faces. In winter, it is a calm place, although it always has good nightlife because of the number of students from Algarve University present in the city. In summer there are lots of things to do because is filled with thousand and thousand of travellers that give life to the city.
If you are a beach lover and a sun lover I definitely recommend that you learn Portuguese in Faro. I go there every year at Easter because at that time of the year in Portugal, and especially in the Algarve, the weather starts to get warm. It's just perfect – warm but not too warm, and at that time of year there aren't many tourists so you can get to know the friendly locals well.
And if you have the opportunity during your course to see it, do not miss the Academic Week of Algarve! With concerts every single night, students really know how to enjoy themselves!
Of course Faro is not all about partying – there are lots of things to do! One thing that it is definitely worth exploring is the Chapel of Bones (Capela dos Ossos). We have two Chapels of Bones in Portugal, one in Évora, Alentejo and the other in Faro, Algarve. For those of you who don't know what a Chapel of Bones is, like the name suggests it's a chapel built with human bones! The chapels tend to divide opinion – either you like them or you don't! Some people think they are creepy but personally I think they are an amazing place to visit! So if you don't get scared easily you should definitely go to the Chapel of the Bones!
Every summer the city of Faro is invaded by motorcyclists from all over the world at the International Motorbike Festival (19th – 22nd of July).
Finally, if you want to get to know Portuguese bands then I advise you to go to the festival and watch 'Blasted Mechanism' play – you will be surprised at their amazing costumes and their live show!
Joana