Learn French in Nice
Learn French in Nice and experience one of France's most vibrant cities! Located on the dazzling Cote d'Azur coast - nicknamed the French Riviera - Nice enjoys an excellent year-round climate and high-speed rail connections to other key cities in France. A language course here allows you to truly experience the laid-back Mediterranean lifestyle for which southern France is so famous. The area around Nice also boasts a number of beautiful medieval villages, where you can enjoy some traditional local cuisine and put your language skills into practice - well worth a visit during your course at our school!
'Nice La Belle', as it has long been called, takes its name from a Greek settlement which was itself named after Nike, the goddess of victory. He city has lived up to this sense of success throughout its history - a busy trading port during the first millennium, Nice later became a favoured holiday destination for the English aristocracy thanks to its beautiful vistas and great weather. The sea air and excellent quality of light have also attracted many famous artists to the city, including Henri Matisse, Marc Chagall, and Yves Klein. Today the city is home to museums and galleries dedicated to these artists, as well as the famous Musée d'Art Moderne et d'Art Contemporain. Other well-known artistic attractions include the Musée des Beaux-Arts, with its works spanning 400 years of Riviera artistry, and the Opera de Nice, which has played host to greats including Johan Strauss and Giovanni Pacini.
Niçois culture has its own particular flavour. Being so close to the southern French border, Nice has a long-standing connection to Italy - in fact, the two countries have fought for centuries over the city, and Nice has changed hands several times. This history has heavily influenced Nice's regional dialect, Niçard, and its local cuisine. Traditional French 'country' dishes like ratatouille, daube, and pissaladière have clear similarities to Italian dishes, while socca - a local pancake made from chickpea flour - was brought to the region by medieval Genoese merchants. Since food is such a huge part of French culture, trying these dishes will give you a deeper insight into the true nature of this popular coastal city.
Another way to soak up Nice's culture and atmosphere is to visit its main sights. Stroll along the Promenade des Anglais, the seafront walkway that stretches 7 km along the shoreline; explore the narrow streets of the old town - particularly Cours Saleya, with its daily flower markets and regular food stalls; and take a look at Nice's own Notre Dame, the little sister of the Parisian original. Visit the northerly district of Cimiez, favourite haunt of Queen Victoria, or the observatory atop Mount Gros, which was once the world's largest telescope. Whatever you do, you're sure to have an amazing experience in Nice La Belle!

Our school in Nice
10 classrooms
Student computers
Library with multi-media learning resources
Course materials included
Wi-Fi throughout the building
CSN and Bildungsurlaub approved
Certified Label Qualité FLE centre
Member of IALC, Campus France, and the FLE Group
Vending machines serving hot and cold drinks and snacks
Photos
Book your language course with us and learn French in Nice's Jean-Médecin district, a fashionable area just a short walk from the city's historic Old Town. 5 minutes away is the famous Place Masséna, a large and grand public square that's a key focal point of the city and the site of annual events like Bastille Day and the Carnival parade. A few minutes from here is the famous Promenade des Anglais, which runs towards the striking promontory of Castle Hill. This site offers excellent panoramas over the city and the gorgeous Bay of Angels. Also within easy reach of the school is the Musée d'Art Moderne et d'Art Contemporain (MAMAC) - which often features on our school's activity programme - and the Acropolis Exhibition Centre, home of regular cultural events.
The language school here has 10 air-conditioned classrooms and a library with a wide selection of multi-media learning resources. Lessons take place in a beautiful Belle Époque building in a chic district that's packed with cosy wine bars, independent boutiques, and a variety of local eateries. The facility has a selection of student computers available throughout the day, whether you want to get some schoolwork done, get in touch with family and friends, or simply browse the web. Between lessons, you can get refreshments from the on-site vending machines.
This school is a certified Label Qualité FLE centre and a member of several quality-control organisations including Campus France, the FLE Group, and the International Association of Language Centres (IALC). Several of its courses are approved for CSN and Bildungsurlaub funding (various states). These credentials demonstrate the exceptional standard of tuition given here. What's more, Nice is one of our most popular French study locations, partly because of the destination itself and partly because of the excellent experience offered by this school.

Location: Jean-Médecin, Nice
Nearest convenience store: 230 m
Nearest café: 220 m
Nearest metro stop: N/A
Distance from train station: 650 m (Gare de Nice Ville)
Nearest bus stop: 160 m (Alphonse Karr)
Distance from airport: 8.2 km (Nice Côte d'Azur Airport)
Courses in Nice
The core Intensive course consists of 20 group lessons each week, which take place in the morning from 09:00 to 12:20 every weekday. Groups are organised according to students' starting ability level, a methodology which ensures that no one is left behind. Each class has a maximum of just 10 participants, so everyone benefits from highly personalised attention from the teacher. For more a more rigorous programme, you can select the Super-intensive course of 30 group lessons per week; the extra 10 classes expand on the skills and techniques covered in the core lessons. Please note that you must have at least A1 French ability to be able to follow the Super-intensive course.
Students over the age of 30 who prefer to study with their peers can select the school's Intensive 30+ or Super-intensive 30+ courses for up to 4 weeks at a time and study only with other pupils of their own age or older. Please note that these age-restricted classes are only available at A2 - B2 levels, so are not suitable for complete beginners or very advanced students. If you're over 50, you can select the Club 50+ course and study with like-minded people from around the world - all of whom are over 50, too!
If you think you would benefit from extra support with your studies, or if you want to cover a specialised topic, you can book private tuition and have 20 or 25 one-to-one lessons per week. Packages of more weekly lessons are available if you have specific study plans. Since you'll have the undivided attention of the teacher, you'll have a bespoke experience that can be customised to your exact requirements; you'll also get lots of language practice and will therefore improve significantly during your time at the school. Semi-private lessons are available for students with the same starting ability level who are travelling together.
Though private lessons are extremely beneficial in terms of language progression, they don't offer the same kind of social experience as group classes. Fortunately, you can combine the best parts of both programmes with an Intensive + Private package! You can add 5 or 10 one-to-one classes per week to your core Intensive course; this allows you to make significant progress whilst still being able to experience the social side of a group language course. Combined packages including 15 and 20 private lessons are also available.
If you're a teenager studying French at school, our school's preparatory courses will help you brush-up your language skills and put you in the best position to pass your exam with flying colours! British students can take the A Level Preparation course, which consists of the core Intensive classes plus 10 mini-group lessons per week covering A Level topics and vocabulary. This course is available for 1 or 2 weeks at a time over summer; you must have a starting French ability level of at least B1 to be able to follow the course. Irish students can take the Irish Leaving Certificate Preparation course, which also consists of 20 Intensive lessons plus 10 mini-group sessions per week covering topics and vocabulary related to the Leaving Certificate exam. This course is available for 1 to 4 weeks at a time over summer; you must have a starting French ability level of at least A2 to be able to follow the course.
If you want an internationally renowned French-language qualification, you can attend the school's DELF Exam Preparation course. This 4-week programme consists of 20 core Intensive lessons plus 6 mini-group sessions per week; these extra classes focus on exam-related topics and will help you to pass your test, whatever level you are taking. The course is available at A1, A2, B1, and B2 levels and includes the registration fee for one exam. Advanced speakers with C1 or C2 French ability can attend the DALF Exam Preparation course and receive 20 core Intensive lessons plus 15 private lessons per week. The extra one-to-one lessons will allow to make significant progress in preparation for your test. This course is available at C1 or C2 level and includes the registration fee for one exam. Both courses have set start dates throughout the year; please contact us for further information.
Do you want to combine your family holiday with the rewarding experience of learning a language? If so, you should book our summer Family course! Tuition is suitable for parents of any ability level and for children aged 9 - 15. Adults study in general language lessons while children study in age-appropriate groups in separate classrooms. Both sets of classes follow the same timetable and format of the core Intensive course. You'll join each other for lunch and then attend the school's social activities as a family in the afternoon. Please note that parents who are complete beginners can only start their course on specific dates. Please contact us if you're interested in exploring this option.
If you're training to be a language teacher or are already an established French tutor, you might wish to attend our specialised teachers' course. This programme is designed to refresh your language skills and cultural knowledge, as well as helping you learn classroom techniques via methodological analysis and practical tasks. This 2-week course consists of 26 weekly lessons and has specific start dates throughout the year; please contact us for more information. Note: tuition is given at C1 and C2 levels.
On the first day of lessons, you should arrive at the school at 09:00. After registering, you will take written and oral level tests, which are used to place you in a group that's most suitable for your starting language ability. This methodology ensures that all students have the best opportunity to improve their French knowledge, regardless of their previous language experience. After the tests, you will have a welcome meeting followed by a guided tour of Nice city centre. Your classes will begin the following day.
In the afternoons/evenings, you will have the opportunity to take part in the school's activity programme. At the end of your course, you'll receive a certificate of achievement. This can be used to demonstrate the language ability level you have reached during your time at the school.
Don't see what you're looking for? Contact us today to see if we can arrange a bespoke package for you!
Special courses in Nice
Accommodation
Available accommodation
Host Family
Studio Apartment
To really benefit from your time in Nice, you should stay with a local homestay host! Hosts are all native French speakers, so they offer extra language exposure and the opportunity to practice outside the classroom. All hosts live up to 20 minutes from the school by public transport and offer private single or twin bedrooms, as well as access to the communal spaces like the living room and bathroom. You can select a twin room even if you're travelling alone; if you do this, you'll be placed with a roommate of the same gender and a similar age. Rooms are offered on either a self-catering basis - meaning you'll have access to the kitchen to cook your daily meals (only available to over 18s) - or on a half-board basis (breakfast and dinner each day). We highly recommend the half-board option, as it is not only cost-effective but also gives you the opportunity to socialise with your host(s) and get as much language practice as possible. The self-catering option offers much fewer opportunities for extra language practice since you have less guaranteed time with your host(s). Whichever option you select, bed linens and towels will be included; laundry is not included, but your hosts will be able to direct you to local laundrettes. You will have your own key to come and go as you please, but you must respect house rules and schedules. If you select this type of accommodation, your host(s) will collect you from the airport on arrival (see Travel section).
If you prefer complete privacy and independence, you can select a studio apartment in the school's residential hotel. Each studio* has its own fully equipped kitchen (with microwave and hotplate; no oven), a private bathroom, and a seating area with a television. These apartments are offered on a self-catering basis, giving you the freedom to cook for yourself during your stay, though you can purchase breakfast on-site for an additional fee if you wish. The hotel has a 24-hour service desk, its own swimming pool, and rooms that are suitable for students with disabilities. Apartments have Wi-Fi access and are located up to 5 minutes from the school by tram. Bed linens and towels are included; a laundry service is available on-site for an additional fee. Please note that this type of accommodation is only available to students over the age of 18.
All accommodation is available from the Sunday before your course starts until the Saturday after your course finishes. Arrival and departure times are usually very flexible. We may be able to arrange extra nights in your accommodation for you if needed - please contact us about this prior to making your booking.
*Double-occupancy studios are only available to students travelling together. If you select a shared studio but are travelling alone, you will be swapped to a single studio.
Activities
To complement your classroom learning with fun and educational experiences, our school offers a range of social and cultural activities. These activities usually take place in the afternoon or evening and are conducted in French, allowing you to maintain your language immersion.
Many activities are available free of charge, though some may incur an additional fee to cover entrance and/or transportation costs. The exact schedule changes throughout the year but may include:
- Guided walking tours of the city
- Afternoons at the beach
- Visits to local museums and/or art galleries
- Group games and sports
- French film screenings
- Cookery workshops
- Theatre afternoons
- Tasting local produce
- Half- and full-day excursions to nearby locations such as Eze-Village, Monaco, and Cannes
- Plus seasonal activities available in the city
Sample activity programme
How to get there
Nice Côte d'Azur Airport is about a 20-minute drive from the city centre and is easily accessible from many European locations.
From here, you can either take public transport to your accommodation or we can arrange an airport transfer service for you for an additional charge. If you book this service, a driver will be waiting for you when you land and will take you directly to your accommodation. If you select this service on departure as well, you will be collected from your lodging on your last day and taken back to the airport in time for your departing flight. If you select homestay lodging, a transfer service on arrival is included for free; you will need to make your own way back to the airport on departure.
You should arrange to arrive in Nice on the Sunday before your course starts and depart on the Saturday after your programme finishes. We may be able to arrange extra nights on arrival and/or departure for you if needed.

---
Location of our school in Nice
Average score for our school in Nice based on 268 previous client reviews.
Student reviews & feedback
M. Foyle
Teachers were very friendly, not too strict, we did lots of group activities and presentations so more oral work than written.
Accommodation was very small but perfect location, very central to main area and one minute walk from beach, loved it and my host was nice.
Course
Accommodation
School Staff
R. ODriscoll
The class was the right level for me, teachers were very helpful and I learned a lot. There was a test at the end with content we had not covered which was a bit annoying, but otherwise excellent course.
Accommodation was absolutely amazing, food was great, and madam Fontaine was such a kind and caring host
Course
Accommodation
School Staff
P. McGahon
Excellent from start to finish with our tutor Jean-Phillips providing great insight and learning.
Course
Accommodation
n/a
School Staff
M. Fitzgerald
Think I learnt a lot, my Hosts were fabulous.
Course
Accommodation
School Staff
A. Lee
Teacher great, small group, learnt a lot.
Course
Accommodation
School Staff
K. Richards
Strong teaching-mix of traditional and progressive-one excellent, two very good teachers; has to be stated that the majority of students at the school were 17/18, which was fine but limited the social aspects of being at the school; overall a very impressive and friendly school (also with a full social programme-if you wanted to take part-which the youngest tended not to)
Gracious host, interesting conversation, lovely flat, fantastic location, tasty mainly vegetarian food.
Nice is a great location with so many travel and sightseeing options; the school was well placed in the city
Course
Accommodation
School Staff
N. Dinan
Everyone is always asking me how was Nice and I tell them; "Imagine the best day of your life and then imagine that straight everyday for 2 weeks." I loved the course and the people I met there!
Helouise was lovely host and made me feel at home from the very start. The food was very nice!
Course
Accommodation
School Staff
N. Billi
It was very intresting, I learnd new words and also my grammar is improved. My accomodation was perfect, the family was so kind and also the place is beautiful.
Course
Accommodation
School Staff
G. Farrell
I really enjoyed this course and will definitely do another one in the future.
My accommodation was great and my host Claudette was lovely.
Course
Accommodation
School Staff
L. Jackson
The course was great. I was initially placed in the wrong class but once I was allowed to move, it was really good. I stayed with a really nice French couple. The room was big and the food was great.
Course
Accommodation
School Staff
C. van den Berg
Very useful, professional teachers, good atmosphere.
Accommodation, very friendly lady, convenient room, nice meals, perfect location.
Course
Accommodation
School Staff
B. Ainger
Excellent tutors, small groups, plenty of opportunity for speaking and listening as well as grammar.
Basic student accommodation, comfortable bed, flooring a bit tired and grubby but no real problem, staff very helpful and welcoming.
Course
Accommodation
School Staff
J. McNamara
Excellent. I learnt loads and my French improved so much. I also had a great time and met loads of new friends.
Host Family were so nice and welcoming. They made the experience so good.
Course
Accommodation
School Staff
J. Sankey
A really good course relaxed and friendly. Good learning environment.
Wonderful, our hosts Jean Paul and Esther Placard were kind, hospitable, food was tasty and we ate with the family, so nice.
Course
Accommodation
School Staff
J. Sankey
I really enjoyed my two weeks at the school in Nice Learning was fun, the staff friendly, the teacher Delphine was superb I didn't want to come home!
I stayed with a lovely couple, they made us welcome and bent over backwards to help us, both with our french and learning about the french way of life. A big thank you to them both.
Course
Accommodation
School Staff
N. Reynolds
This is a great school that goes all out to make sure its students' experiences are memorable.
Very, very comfortable accommodation, central to all!
Course
Accommodation
School Staff
D. Croxford
I found the Course excellent. The Professor....Sandrine....was patient, understanding and a superb teacher of French for my level. I gained much from the Course.
My hosts were very considerate in all ways. Although their understanding of English was not great my host Alexandrine had an app on her iPad covering English and French. We did not need this too often as my French is reasonable. The accommodation was very nice and my host's cooking was delicious.
Course
Accommodation
School Staff
A. Max
Our teacher Sandine was terrific. Very patient and knowledgeable. Everyone loved her so much we bought her a gift in appreciation.
Course
Accommodation
School Staff
P. Holmes
I absolutely loved the course, it was very comprehensive and I found my teachers to be excellent quality. The lessons themselves focused initially on grammar and then as the lesson progressed we used the grammar we had been taught within conversations together. Personally I found it a brilliant way to improve my spoken french.
I opted for half-board with a host family. My host was amazing, she was very patient with my slow french and corrected me (in a nice way!) when I made a mistake. Her cooking was brilliant and we always had interesting conversations over dinner.
Course
Accommodation
School Staff
U. Bastiaans-Strauch
I was very pleased with my lessons and the teachers as well, especially my private lessons , having conversation mainly. I joined a small , very nice international group of students , and we spent quite some time together after school as well! Considering the average age of our group, we created an what's app called "eternal students"!!!
Course
Accommodation
n/a
School Staff
L. Lindsay
During the intensive course, it was interesting studying French grammar at a specific skill level. Whilst studying different topics, I could improve my grammar and learn about different kinds of literature, music and French poetry at the same time. I can recommend the Club 50 course to all adult students who wish to learn or improve their French skills.
My accommodation near the school was comfortable and my hostess was welcoming and friendly. The most remarkable thing was that my requests had been fulfilled and that the school had found excellent accommodation for me.
Thank you to all my teachers.
Course
Accommodation
School Staff
J. Jennings
Loved the course I was put in the top class when I arrived but found it a bit difficult so asked to move down The next class was more my level even though I was more advanced than most of the students The teacher Jean Phillipe was fantastic He made the lessons interesting and was very patient.
My family were great They picked my up at the airport and made me so welcome The meals were great Valerie was an excellent cook The room was clean and spacious The only problem for me was not having an en suit bathroom but everything else was perfect.
Course
Accommodation
School Staff
L. Söderhjelm
Club 50+ Course
Excellent teachers, studying in a pleasant small group, acceptable hotel situated close to school
Course
Accommodation
School Staff
A. Stevens
It was really beneficial. The teacher was really nice, explained everything really well.
Course
Accommodation
School Staff
B. Mcshane
Excellent teachers especially Mme Karine, friendly inclusive atmosphere
Course
Accommodation
n/a
School Staff
F. Bye
The course was a high standard and it was at the correct level. However I would've preferred to cover more material rather than focusing on a few select areas of grammar.
The location of my accommodation was excellent, and really local to the centre as well as the school. The host family was very friendly and I was very comfortable in my room. The food was nice however sometimes there wasn't enough and there were little carbohydrates with the meals. Meeting at the airport was very reassuring for this experience.
Course
Accommodation
School Staff
M. Leonard
Teachers were helpful and class was suited well to my ability
Course
Accommodation
School Staff
N. Reynolds
This was my 7th time attending this school and I hope there's an 8th, 9th, and more! I especially loved my prof, Sandrine, this year. She made everything so much fun. But the very best part was the excursions that go along with the Club 50 course. The school planned so many very fun and interesting things for us to do.
Course
Accommodation
School Staff
S. Burton
It was a varied programme and Gil, the tutor, was good at adapting the course to fit the group. It seemed quite challenging at first but by the end of the week, I felt more confident about speaking French and felt more able to understand what was being said.
This was excellent with a delightful hostess, Benedicte, who made us feel very much at home and was really encouraging with helping us speak French. The dinners she provided were delicious, and she was very flexible with times/arrangements. She also was helpful with information about buses/trains and local area.
It was a very stimulating and enjoyable week and I would have liked to stay for the 2 week course another time.
Course
Accommodation
School Staff
B. Painter
We really enjoyed the classes the teacher was very organised, patient, informative and professional. The excursions were fabulous! Again, the teacher was a perfect host and ensured our safety at all times. Benedicte was a brilliant host very comfortable accommodation, lovely food and great company.
Every thing about our experience was perfect and can't wait to book the next one.
Course
Accommodation
School Staff
H. Bofise
I think The course was really good. The teacher taught us fast but efficiently and she always explained various times if we didn't understand certain things.
Our accommodation was really nice and big. The room had the perfect desks, beds, bathroom, everything worked fine and everything went well for our stay.
Course
Accommodation
School Staff
D. Maguire
I thoroughly enjoyed my time on the course and feel I have learned a lot of French I find it much easier and more natural to speak French. Everyone I dealt with be it school staff or my host family were very friendly and helpful.
My apartment was always very clean. The food was plentiful and also delicious. Martine was always kind and helpful to me speaking slowly when I could not understand words.
Course
Accommodation
School Staff
C. Murphy
Very good teaching and lesson plans! Learnt loads of grammar, but maybe some of the vocab taught wasn't entirely relevant to conversational french, or exam vocabulary. Very good accodomation, with a lovely couple. Never a problem with the food, breakfast or dinner, and they were always there to help with anything
Course
Accommodation
School Staff
C. MacInnes
Excellent organisation of school. Very friendly and helpful staff. Relaxed atmosphere in classes. Good location. Very pleasant, helpful and considerate family. Good food in the house. Nice clean house. I would definitely return to the school in the future to perfect my French due to the excellence of the school and the fact that Nice is a nice city.
Course
Accommodation
School Staff
H. Palmer
I thoroughly enjoyed the course. I thought the classes were dynamic with a mixture of grammar exercises and discussion work. I definitely felt like I learnt a lot. The student accommodation was in a very good location right next to the beach and not far from the town centre. I would recommend this school to other students as I found the teachers welcoming and approachable. Also Nice is a great place to learn French!
Course
Accommodation
School Staff
J. Banyard
Club 50 is a very good option for the older person who doesn't want the stress of trying to keep up with younger minds. We went in at intermediate level and found myself easily able to keep up. It is far more relaxed but at the same time gave, for me, the right amount of grammer and stimulation to use the language. We were encouraged to use French at all timesand covered a number of interesting topics in our discussions. I came away a far more confident French speaker.
Course
Accommodation
School Staff
L. Meredith
The course was extremely useful, with an equal concentration on difficult aspects of grammar and discussion, which was perfect for me! It was very interesting to hear what people from different countries had to say about the topics of discussion, and the issues were always relevant and interesting.
I would fully recommend staying with a French host family, as due to the friendly and welcoming nature of the lady I was staying with, I was able to speak a lot more French than I would have done otherwise.
I thoroughly enjoyed my language course in Nice and think that it was very useful for my language skills.
Course
Accommodation
School Staff
J. Heanre
I really enjoyed the classes, and found it very easy to learn with small classes, the student teacher ratio is very good. I found my individual classes very useful, and very progressive. The teachers i had were all very helpful and willing to help in any way possible.
My accomadation was excellent. The family i stayed with were very friendly and welcoming.The food was amazing and the accomadation as a whole were very satisfactory.The location was very good and my room was very spacious.
Course
Accommodation
School Staff
I. Richardson
The teacher that I had was fantastic, I learnt a lot and they accomodated everybody by taking into account the speed that different people learnt at within the class. No problems with accom, clean, good food and well located. The activities that were organised were good but could have been a bit more extensive.
Course
Accommodation
School Staff
A. O Farrell
The course was excellent. The school was very thorough and very organised. I had to take a test on the first day to establish my level of french which was the best way of establishing this. The teachers were all very well preapred for the classes and all the topics covered were useful.
Overall i found the experience an enjoyable one. I feel that i learned a lot in the three weeks and in the future if i need to refresh my french i would avail of this service agian.
Course
Accommodation
School Staff
J. irwin
I felt that the school got the balance between spoken, written french and grammar just right. My apartment was well situated in the quiet area of town, well equipped and larger than I expected. The neighbours were friendly and I enjoyed having time to myself after school. A thoroughly enjoyable experience.
Course
Accommodation
School Staff
L. Mcconnell
The staff were all very nice and made learning French fun and interesting. The combination of grammar and speaking excercises was good and taught in a way that made me pick it up quickly. I loved my French 'family'! I could not have asked for a nicer host. I spoke French with her all the time and she was very patient with me if i didnt understand anything. She was an amazing cook, did my washing and took great care of me. I would very much like to stay with her again!
Great course, great way to learn the language and meet lots of amazing people. Highly recommended!!!
Course
Accommodation
School Staff
H. Lawson
I enjoyed the course and found it very helpful, the staff and teachers were all friendly and willing to help. The one to one lessons in the afternoon were particulary interesting and helpful. There was also lots of excursions organised and it was easy to meet other people.
I found my accomodation to be excellent, the lady and her daughter who I lived with were a pleasure to stay with. They were really welcoming and happy to give advice on where to go and what to do in Nice. I felt as if I was actually part of their family.
Course
Accommodation
School Staff
R. Lydall
Brilliant course - really enthusiastic professor who inspired students to develop their learning while making the classes fun. The out of school activities were excellent and the other students were a joy to meet.
Course
Accommodation
School Staff
C. Crevola
My French language course in Nice was a fantastic experience. I came out feeling far more confident and I felt successful. My decision to go PRIVATE and have three weeks one-to-one was the best decision. It was amazing to have 4 hours intensive French conversation 5 days a week. exhausting but rewarding. My teachers was fantastic and I believe that her patience, humour and empathy were some of the best I have seen.
Course
Accommodation
n/a
School Staff
H. Coutts
The best language school we have experienced. The teachers were professional, experienced and made learning great fun. we had 4 different teachers in the 8 weeks and all were equally good. There was an amazingly warm freindly atmosphere in the school and the add on visits and activities really helped to integrate students from such a diversity of ages and cultures. The administation was excellent with flexibility about classes to suit our needs.
A lovely experience with a greatly improved grasp of french and french culture and many new friends as a result. What a way to spend an English winter!
Course
Accommodation
n/a
School Staff
A. McIntyre
I thoroughly enjoyed the school, staff, other students and location. I will think about another course in the future. I would and have recomended the course to others.Very enjoyable in all aspects. I did have reservations about the No English' spoken in class but staff were very good at inspiring confidence and helping all students in well organised groups to improve. Thank you for the service and all aspects involved in the course
Course
Accommodation
School Staff
P. Hill
I had a superb tutor who was able to quickly gauge what I needed and who made the whole 3 weeks both profitable and enjoyable. We also greatly appreciated the cultural activities arranged by the Nice school
Course
Accommodation
n/a
School Staff
O. Soskic
Truly useful, good balance of grammer and oral practice, brilliant teachers. The quality of teaching at the language school in Nice surpassed all my expectations. Great experience overall, significant boost to conversation skills, absolutely gorgeous part of France to visit. So much to do and see on Cote d'Azure that in 2 weeks I only had enough time for half of the activities on my list. I guess I'll just have to go again next year :-)
Course
Accommodation
School Staff
L. Craig
The staff were very friendly and helpful. My teacher was excellent and I learned a great deal during that 4 weeks. I would like to return to continue study in Nice. Learning a new language in another country is a unique and rewarding experience. as communication and travel make the world a smaller place, we should all endeavour to be as multilingual as possible!
Course
Accommodation
n/a
School Staff
M. Gill
Highly qualified, imaginative, enthusiastic and friendly tutors. They were aware of our needs, maintained the momentum but knew how to and when to let us rest from the vigours of French grammar, pronunciation and learning new vocabulary.
The course was merely a debut for me and I will certainly return to Nice for more. It is hard to think of a better place to learn French during our winter than on the Cote d'Azur with its turquoise sea and snow capped peaks in the background.
Course
Accommodation
n/a
School Staff
V. Watts
We really enjoyed the teaching. It was good to have a mix of nationalities and ages. A very positive expereince and we would recommend the school strongly. We went on several trips and enjoyed these.
Course
Accommodation
School Staff
C. Valcke
I was in Nice for 3 weeks, 2 weeks standard course and 1 week individual lessons and i really learnd a lot. I speak so much better french now and the excursions were also very nice. So i'll be back next year. Thanks !!!
I stayed with a host family, she was a friendly lady and the meals were ok.
Course
Accommodation
School Staff
V. Costa
I had a very good teacher. I apprecieted her method of teaching: her lessons were interestings, useful for a fast learning of French and they were pleasent too. I found also a nice atmosphere in the classroom, with the others students. Everything good and nice!
Course
Accommodation
School Staff
L. Law
I thought that the course was very well organised. Right from booking, I experienced very professional and efficient service. The accomodation was good and the family were welcoming and helpful.
Course
Accommodation
School Staff
A. Dauer
The profs were very helpful and I really enjoyed my class. Stayed with a host, self-catering...was great to stay with someone local to practice my French. She welcomed me into her home and introduced me to friends that came by.
Course
Accommodation
School Staff
J. McGourty
The course was excellent, very well structured, and the teachers were very helpful and friendly. I learned a lot during my week's intensive course, and I would highly recommend it to other people who are thinking of studying French abroad. I hope to return to Nice to do another course in the not too distant future!
My accommodation with my French host was in a nice area of Nice, not too far from the city centre. My French host was very friendly and welcoming, and really made me feel at home during my stay. We spoke to each other in French a lot, so it was great to put my French language skills into practice!
Course
Accommodation
School Staff
B. Lewis
I attended with my daughter who is studying French at AS level. We both found the course challenging but very enjoyable and were only sorry that we could not stay longer. I would definitely attend another course in the future.
Course
Accommodation
n/a
School Staff
A. Treasure
The school has a frinedly feel, nice old building. We met intereseting people. Our Teachers were enthusistic, amusing and not at all scary.
We stayed in an appartment which was fine, but I think we would have gained more by staying with a host family
Course
Accommodation
School Staff
A. Hamer
The course was great and extremely helpful in learning the language. I liked the idea of the teacher only speaking french. The accommodation was great and the lady who ran it was extremely helpful and polite. Cannot complain at all about it - it was great.
Course
Accommodation
School Staff
R. Waters
I thought the lessons were well designed and interesting. The teachers were friendly and there was a good atmosphere. My host was really nice and the accommodation was fine.
Course
Accommodation
School Staff
B. Coughlan
The quality of teaching staff encountered was impressive. They were generally very knowlegable apart from their core language teaching abilities and were accordingly very well able to hold the attention of students of different age and background. Their enthusiasm for language was very evident
Course
Accommodation
n/a
School Staff
K. Johnston
The teachers I had at the advanced level were very interesting in their approach to the classes they delivered, and they were interesting charaters themselves, interested in getting to know the students and discuss various cultures as well as the french. I really enjoyed attending each day as I felt each class gave me something new and was not just about revisiting the grammar learnt at school level.
Course
Accommodation
n/a
School Staff
J. McGourty
I really enjoyed this course and found all of the teachers at the school to be very friendly and professional. They all had a real passion for teaching the language, which was great to see. I learned a lot during my week at the school and would like to return.
I stayed in an Apart Hotel, which was convenient to reach the school, and also good quality accommodation.
Course
Accommodation
School Staff
J. M.
No complaints about school or staff. Must mention excellent activities programme with special mention for Aurelia who worked above and beyond the call of duty.
Found my own accommodation, Hotel Comte de Nice, which I would not recommend. Awakened every morning around 5 and 6 am with noise of market being built and deliveries made. [Apple Language Courses has a wide range of accommodation options in Nice and are happy to recommend alternative hotels to clients].
Two excellent meals included. One evening at typical Nicoise restaurant and farewell lunch on last Friday. Other schools should emulate.
Course
Accommodation
n/a
School Staff
M. Bennett
When I arrived I was put in a group to sit a test but found it very hard and said straight away that I need to go into a beginners group and I was moved to another which was perfect for me. I loved my teacher Marine and all my classmates were awesome.
My accommodation was great - I was able to come and go as I please and felt very comfortable with Fabienne. The apartment was in a great location and a 20 minute walk to school and the beach and a 15 minute walk to the shops - it was perfect.
would definitely recommend studying abroad (if fact I already have) as it is an awesome experience and is great meeting people from all over the world of all ages with the same interest as you. I loved every minute of it. Thank you
Course
Accommodation
School Staff
M. Glynn
Classes were really well structured. High Quality of teaching compared with other language courses I have attended through other organisations.
Accommodation
Lovely family, nice food, really pushed me to improve my french.
Course
Accommodation
School Staff
R. Ford
I took part on an intensive/ A level course in Nice. I found it to be very beneficial - I learnt a lot of grammar and vocabulary that I am sure will prove useful in my exam!
A friend of mine and I stayed in an apartment in Nice with a retired lady. Our host was very kind and cooked good meals for us in the evenings.
Course
Accommodation
School Staff
N. Reynolds
I had the best time in Nice this year and felt that my French really improved. Best of all, I loved the activities organized for the Club 50 class. The school staff worked very hard to make sure we had a great time in Nice.
The accommodation (Self-Catering Hotel) was very, very comfortable and the manager, Monique L'Aury, could not have been more friendly and helpful. I loved staying there!
I plan to come back!
Course
Accommodation
School Staff
K. Jenkins
I enjoyed the course and tutor and staff were very friendly. The afternoon trips and guide were excellent. The classes were fun and good tuition.
I liked the Villa Victoria hotel and would go back there.It was clean and friendly/helpful staff. Breakfast was good and hotel in a good location.
Will definiitely do another course.
Course
Accommodation
School Staff
A. Jessop
Lovely host family and brilliant language course provided. A-Level specific content was slightly weaker as teacher didn't know what our paper would look like and couldn't find the link (although I provided one on the form I completed) but the lessons were brilliant and the school is a wonderful set up. The activities on offer were great fun!
Lovely host family with other students within the flat. Still in touch
Course
Accommodation
School Staff
N. Reynolds
What a wonderful school! The teachers are great and the extracurricular activities (I was in the Club 50 group) were beyond great. This was my third time at this school and there may be a fourth in my future. My accommodation was exellent, comfortable & central to everything I needed. The Apple Languages staff were very helpful throughout my enrollment!
Course
Accommodation
School Staff
R. Swain
My language course in Nice was great! The staff at the schhol were excellent. I started off at A0 (complete beginner) progressing to B2 after just over 5 months and owe it all to the professors at the school. Meeting other students was something the school encouraged greatly and again, I owe it to them for helping me meet such wonderful people and make great friends from all different nationalities. Thank you, Apple Languages!
Course
Accommodation
School Staff
M. Murphy
Really enjoyed the course and thought it was a good standard of teaching. Nice house lady no problems
Course
Accommodation
School Staff
S. Rehwinkel
My teachers were very enthusiastic. The school emphasizes aural communication, exactly what I need. Classrooms and equipment were good.
Course
Accommodation
n/a
School Staff
B. Tinn
I was in the Intermediate French class, there were 10 students in the class of mixed ages 16 - 71 - It worked very well. The teacher was excellent and gave well structured, interesting and fun lessons. She involved everybody in every activity. I benefited enormously from the one week course. I want to attend another course there in the near future. It was superb. Apple Languages are always very friendly, courteous and very helpful prior to the course .
Course
Accommodation
School Staff
J. Welland
My course was excellent, my 7th time at this school. The accommodation is good and convenient for the tram to the school. As a person who has to holiday alone I find it a great holiday and have made many friends.
Course
Accommodation
School Staff
E. Reinerstedt
I'm always satisfied with the helpfullnss of this school. It's always wellcoming! If your serious and love the combination of work and holliday, this is right for you!
Course
Accommodation
School Staff
S. Crawshaw
Well organised, enthusiastic tutors, interesting lessons and excursions. Fantastic location, my hostess was generous, interested and made me feel very welcome. The whole experience was enjoyable and I hope to do something similar in the future.
Course
Accommodation
School Staff
K. Spicer
I loved my teacher, Brenda. She was REALLY great. The school was comfortable and well organized. The excursions were great! I stayed at Residence Lamartine. Monique was very friendly and helpful. The location was wonderful and I liked my room. The school is a terrific school, I had a great time. Nice is a good location!! Everyone in my class seemed to have a wonderful time.
Course
Accommodation
School Staff
G. Bader
The classes were well run and fun. No one was made to feel incompetent or embarrassed and the teacher was excellent. The trips out in the afternoon were also well or ganised and interesting. I was very impressed and would do another course through Apple but in a different location as that would be more interesting. I stayed with Solange Bourdis who is a delightful and energetic widow of 72 years. She has a very comfortable and elegant apartment which is about 10 minutes walk from the college and the same from the sea so perfectly placed. We got on very well with her and she spent two evenings out with us.There was nothing about the whole experience that I would be able to find fault with. The help from everyone both in the UK and in France was first class.
Course
Accommodation
School Staff
J. Hogan
The course was good, with small classes and a fun way of learning french. The accommodation was was clean and close to the school.
Course
Accommodation
School Staff
J. Hanrahan
Teaching standards were excellent. The aims and objects of each class were met. The teachers were task orientated which meant we didn?t waste time. It was also nice to be pushed to learn and at the same time be treated as adults. I was absolutely happy with my accommodation and host family. Room and facilities were first class. The food was excellent and the help I received from the family with my studies was appreciated.
Course
Accommodation
School Staff
I. Harrop
I had an excellent teacher and made sure that we all understood everthing. My French as a result has greatly improved. The classes ... we all agreed were excellent.
Course
Accommodation
School Staff
C. Ryan
The course in Nice was very good and the rooms were bright and there was lots of room for us to put our papers. The teacher was great and really encouraged us to speak french. There were many activities for the students and we were able to meet and make friends which made learning more fun. The school is in a very handy location to shops and beach. Nice is a really beautiful place to be. My accommodation was in a very good location and the apartment was lovely.
Course
Accommodation
School Staff
H. Welsh
Probably learnt more grammar in 2 weeks than in 2 years! It was a great way to learn and have holiday at the same time. We met people from different countries and cultures and thoroughly enjoyed the experience.
Course
Accommodation
School Staff
G. Gorton
I really enjoyed the course, and overall I thought that I learnt alot.
Course
Accommodation
School Staff
E. Kent
Good course, well taught.
Course
Accommodation
School Staff
J. Campbell
Great course layout, French taught in an interesting and exciting way in classes small enough to allow for everyone to participate. The school was great as well, nice central location with good facilities. Loved staying with a host family as was actually also with 4 other language school students. Great school, great city, great location. I would definitely recommend it to others!
Course
Accommodation
School Staff
R. Daniels
The course at the school in Nice was excellent. The book they gave us with all the grammar for each level was very helpful. The amount and frequency of cultural activities at the school was also very good. The accommodation was clean and the family was nice.
Course
Accommodation
School Staff
E. Emde
Lovely atmosphere, highly motivated staff in the school.
Course
Accommodation
School Staff
A. Shah
I would certainly recommend this to friends and would love to go back one day! My host was fabulous! She was very friendly and extremely helpful. I also liked being within walking distance to the school and the beach.
Course
Accommodation
School Staff
F. Smith
I found the classes very intresting because we did different activities in french such as french films, games and talking to locals. I learned a lot during my 3 weeks and would definatly recommend it to anyone doing a language course. The host family was very welcoming and friendly. The accomodation was spacious and clean.
Course
Accommodation
School Staff
A. Fure
The course was fantastic. The school was fantastic. I had a wonderful 2 weeks.
Course
Accommodation
School Staff
L. Hollstén
Our teacher was very good and always eager to teach us.
Course
Accommodation
School Staff
F. Berger
I was not sure what to expect from this 50+ course, but was absolutely delighted by its structure and the professional manner in which is was run. The teacher was extremely gifted in encouraging conversation in an interesting/enjoyable format, while including a good deal of attention to grammar. The cultural activities were interesting and fun.
Course
Accommodation
n/a
School Staff
U. Rudat
The teacher was excellent and made my stay really worth my while. The location was really fantastic,5 minutes from school, 10 from Old Nice and 5 from the beach.
Course
Accommodation
School Staff
J. Clad
The course was great and I learnt a lot. The teachers were very good and the school was well presented. The extra activities were a great idea to make new friends and get some knowledge on the culture. Overall my experience was very good, i had a great time and cant wait to return.
Course
Accommodation
School Staff
G. Dicker
The course was very thorough, with plenty of opportunities to practice speaking and listening.
Course
Accommodation
School Staff
M. Early
Course was great. I enjoyed the course very much. The teaching and activities organised by the school were excellent and the atmosphere at the school was perfect.
Course
Accommodation
School Staff
P. Kakela
My teachers were excellent. It was all very much worth the money.
Course
Accommodation
School Staff
C. Peebles
The location, classrooms and school buildings were excellent - beautiful building and functional classrooms, and that my French teacher was an excellent, lively teacher.
Course
Accommodation
School Staff
R. Winters
I was impressed with the quality of the course. The class size was small and the students in my class were at a very similar level. The student body was very international and French was often the only common language. I will, and have, recommended the course to friends.
Course
Accommodation
School Staff
D. Arditi
The course was interesteing and the teachers were friendly and professional, the accommodation was also good.
Course
Accommodation
School Staff
J. Berry
I learnt much despite the fact that my course lasted only one week, whether it be new grammatical points or discovering more about French culture. The content was enjoyable and encouraged me to speak with spontaneity, an area of skill which I find more difficult than reading or writing in French. I was impressed with my skill level by the end of the course. My accommodation was excellent and the route between it and the school allowed me to see a lot of Nice. I was able to speak at some length with my hosts in extended conversations in French, on various issues. Going to a francophone country opens your ears much more to the French language than learning it in an artificial classroom environment in the UK. The lessons were always fun and stimulating.
Course
Accommodation
School Staff
M. Shimells
I took a combined course and had two teachers with very different styles... One of my teachers concentrated on getting my B1 group to speak using a variety of techniques. these included controversial, but entertaining, debates and used a lot role play scenarios. The other teacher concentrated on the finer points of grammer... Excellent.
Course
Accommodation
School Staff
B. Semerey
The course exceeded my expectations. Our group gelled really well and, we tried to speak French all the time, not just in class. Our teacher was a wonderful teacher, with a great sense of humour. The school was really well-organised and the excursions and activities well thought-out for the age group.
Course
Accommodation
School Staff
D. John
I found that the level of the group I was allocated to was a perfect level for me. I felt that the course was well structured and highly enjoyable. I will definitely be attending more courses in the near future! I was accommodated by a wonderful and friendly family who were extremely welcoming and included me in a lot of what they did (including a trip to the seaside with other family members). The food was brilliant and on my last day they provided a lovely lunch which I hadn't been expecting. The family gave me a brilliant insight into French family life and made my stay memorable.
Course
Accommodation
School Staff
M. MacConville
The teachers were very friendly and made classes very fun while helping us learn a lot. The apartment was very pleasant to stay in and our host made us feel at home.
Course
Accommodation
School Staff
H. Jones
I really enjoyed the course and the teaching was excellent. I really feel that my French improved greatly and I will definitely be going back. Our host family were really nice people and took care of us. They also helped us with any problems and cooked very nice meals.
Course
Accommodation
School Staff
E. Bracey
The standard of teaching was the best I've seen and the staff were so friendly. I stayed with such a lovely family, very kind and I'll miss them. I absolutely loved my week in Nice with Apple Languages, it was one of the best experiences of my life and I will definitely go again.
Course
Accommodation
School Staff
E. Rose
The teachers were very good and helpful, I learnt a lot from my course with a good balance between the different skills: oral, grammar and listening. My accommodation was fantastic, really well located and it was extremely helpful that they had Wi-Fi.
Course
Accommodation
School Staff
V. Baker
The teachers were lovely and the teaching was really good! Very nice apartment by the Port, my host was very welcoming. I had a really great time!
Course
Accommodation
School Staff
D. Auzinger
The course was absolutelly excellent. I was in the beginner course and couldn´t speak any french before. I think after those 3 weeks in Nice I can speak, read and write like a pupil after 1 1/2 or 2 years french in school. It was a wonderful experience.
The school is well organized and every week they are offering tours around Nice, a cinema evening, sport activities or a Quiz evening where you can meet all the other pupils. My accomondation was great. I had just a 20 minute walk to the school. I booked also half-board and the food was great.
Course
Accommodation
School Staff
C. Wake
Good mix of students. Good programme of social events.
Course
Accommodation
n/a
School Staff
S. Reilley
The teachers were so energetic, helpful, and patient. I felt that I learned so much during my stay. In selecting the 20 hour per week option, I felt that I had a sufficient amount of class time, and also had sufficient time to explore the area. I was happy with the accommodation. I loved that there was an outdoor market right outside my door each morning. I was quite impressed with the customer service I received from Apple Languages. I had many questions, and also had to change the dates of my trip unexpectedly. Apple Languages were incredibly prompt, helpful, and professional, and I would definitely plan another trip with Apple Languages or recommend Apple Languages to a friend.
Course
Accommodation
School Staff
H. Wright
Teacher was friendly. Very nice host family. Accomodation was in an ideal location - only 5-10 mins away from the school and near the centre of town. Soon learned my way about. The city of Nice was lovely. Great weather. I loved Place Massena. Nice Etoile and Fnac were good places to shop. Brought home some french reading material from Fnac. Tour of old Nice was good, there was a beautiful view.
Course
Accommodation
School Staff
C. Fraser
Excellent standard of teaching. Brilliant resources. Interesting and captivating classes. Brilliant host family, good food, interesting and helpful conversations and dinner. Excellent experience.
Course
Accommodation
School Staff
C. Brammer
My teachers ... were both excellent, attentive, and helped my progress in learning French in ways that I had not properly anticipated. Although my course was just for the one week I know that my knowledge of French has increased substantially both in understanding of the basic grammatical structure and also in some of the gaps where I need to continue my learning. It's a terrific course with great teachers and 3-4 extra-curricular activities organised each week. My accommodation, a studio apartment, was neat and tiday and was located conveniently for access to Nice train station, the school, shops, and importantly the beach. I would recommend to anybody staying on a short length course (1-2 weeks) to take accommodation with a local family to give the best opportunity for additional interactions in the language (and impromptu learning experiences).
Course
Accommodation
School Staff
N. Forster
It was very useful and I think I learnt a lot, I also had fun whilst doing so. My accommodation was very clean and tidy, the lady we were staying with was very friendly and helpful.
Course
Accommodation
School Staff
N. Walker
I found the course very useful in revising topics that I had previously studied at school, yet which i did not know throughly. The lady with whom we stayed was very nice and friendly and her flat was very spacious
Course
Accommodation
School Staff
C. Spiga
The course was exactly what I wanted and expected. A school where I can learn to speak and not simply the grammar which I already knew, basically.
Course
Accommodation
n/a
School Staff
School statistics
Nationality (%)

British (22)
Czech (3)
Dutch (3)
German (24)
Italian (3)
Japanese (3)
Others (17)
Spanish (3)
Swedish (3)
Swiss (19)

Average Student Numbers
---
Average ages (June - Aug)
* Statistics considered correct at the time of publishing
Student stories on our blog
Nice(ly) Done!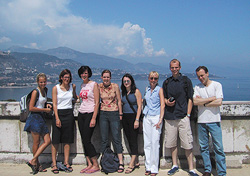 With palm trees, the sparkling Mediterranean, sunshine galore and cheap as chips flights from my local Bristol airport, Nice was the natural choice for my French course! But I soon discovered that the fact that Nice was so easy to travel to was just the icing on the cake... the city is gorgeous! I stayed with a family in the north part of the city, close to my school in Cimiez among the lovely (and might I add, very posh!) traditional French villa homes. From up there on the hill you could look out and get the most wonderful views over the city. One of my favourite times of day would be mid-evening, taking a walk after dinner in the warm South of France air, and watching dusk settle over the town and the twinkling sea ahead.
Read more...
More articles