English course in Cambridge
Study on an English course in Cambridge, one of England's most beautiful and historic towns! Cambridge is graced by the prestigious Cambridge University, attended by the likes of Isaac Newton, Charles Darwin and Oliver Cromwell. Join hundreds of others in cycling around the cobbled streets, or take a punt (a small boat) down the River Cam, marvelling en-route at exquisite college buildings stretching toward the heavens. The most impressive of these is the awe-inspiring King's College Chapel, which is the symbol of this ancient town.
After your English lessons, enjoy lunch in a traditional English pub; admire artworks along the medieval backstreets; or explore museums like the incredible Fitzwilliam Museum. If you want to discover some more of England, Cambridge is just 50 miles away from London, and the gateway to the wonderfully unspoilt landscapes of East Anglia.

Our school in Cambridge
23 classrooms across 2 nearby buildings
On-site cafeteria
Private gardens
Course materials included
Wi-Fi throughout the building
Member of IALC and English UK
Learning Centre with multi-media learning materials and a self-study space
Registered Cambridge Assessment and IELTS examination centre
Accredited by the British Council for the Teaching of English in the UK and the Independent Schools Inspectorate
Photos
Our English language school in Cambridge is located just 15-20 minutes' walk from the city centre, and is housed in impressive 19th Century buildings with excellent facilities for learning English. These include 22 classrooms, as well as a Learning Centre with library, computers and multimedia facilities and free Internet access (including wireless Internet). There is also a café and a garden where you can relax between classes. In the summer the school also uses another site just 10 minutes' walk from the main campus, and with equally excellent facilities, including 18 classrooms, computer suites with free internet access, a cafeteria and garden.

Location: south Cambridge (main building)
Nearest convenience store: 500 m
Nearest café: on-site!
Nearest metro stop: N/A
Distance from train station: 350 m
Nearest bus stop: 51 m (Hills Road)
Distance from airport: 44.7 km (London Stansted Airport)
Courses in Cambridge
If you would like to improve your general level of English then one of the group courses of 20 or 28 lessons per week would be perfect for you! Our school in Cambridge also offers exam preparation courses for students wishing to prepare for their Cambridge FCE (First Certificate in English), Cambridge CAE (Certificate in Advanced English) or IELTS (International English Language Testing System) exams. Our school's experienced, dedicated teachers will do everything they can to improve your level of English. Stay for as little as two weeks, or for as long as a whole year!
For further details on any of our English courses, please do not hesitate to contact us.

Accommodation
Available accommodation
Host Family
Student Residence
Summer Residence
The most effective way to learn English is to constantly expose yourself to the language. With this in mind, our school arranges accommodation for students with local host families. Not only will you receive breakfast and dinner each day, but you'll also get all the English practice you could wish for! Only the friendliest, most capable families are chosen, guaranteeing you a pleasant stay in England.

Activities
To supplement your English course in Cambridge, our school runs a varied program of activities, taking place in the afternoons, evenings and at weekends. Play sports, watch English language movies, socialise at school parties and enjoy nights out in Cambridge. Weekend excursions take in places like London, Stratford-upon-Avon, Warwick and Bath. Our school also arranges longer duration trips to York and Scotland!

Sample activity programme
How to get there
If you like, our school can collect you from the airport, although this service is not included.

---
Location of our school in Cambridge
Student reviews & feedback
N. Lefort
My first teacher Chris Brown was excellent. Accommodation, everything was perfect.
Course
Accommodation
School Staff
A. Magazzino
The course was very exciting and fun to attendo to, I learnt a lot during the lessons and the teachers were really good.
The accomodation wasn't one of the best but still it was a nice residence.
The evening activities were fun and the staff was very nice and helpful.

Course
Accommodation
School Staff
L. Campisi
Good teaching and beautiful activities in the afternoon and at the weekends.
School statistics
Nationality (%)

Brazil (4)
China (3)
France (3)
Germany (3)
Holland (5)
Italy (16)
Japan (11)
Rest of world (37)
Swiss german (8)
Turkey (10)

* Statistics considered correct at the time of publishing
Student stories on our blog
College city: Cambridge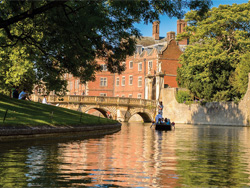 Internationally known and respected for its colleges, Cambridge has built up quite the reputation as an academic centre. But it wouldn't be fair to say that Cambridge has nothing else on offer besides its schooling. While the University's college buildings are truly stunning and will definitely fill your heart with awe, there is much more to see and do in this famous English city. If you want to know more about this national treasure, read more and find out why Cambridge might just be the right place for you to learn English, have fun, and find out more about the culture of England.
Read more...
More articles