Relaxing (and learning English) in Cambridge
I've just come back from Cambridge. I had heard beautiful things about the city before, but it really was even nicer than I could have expected!
What I really liked about Cambridge is that the locals seem so happy – and very relaxed! If you are able to spend time with the right locals (taking host family accommodation on an English course, for example!) they transmit these chilled out feelings to you! It was very strange for me, coming from Madrid, to see all the people using their bikes (because that is not so usual in my country), but all these people cycling everywhere rather than using cars just adds to the relaxing, slow paced atmosphere in Cambridge.
I had my classes at the school during the mornings and then I spent the afternoons with my classmates lying on the grass, relaxing, going to really great, cosy English pubs full of character and then sightseeing… The perfect student lifestyle! You cannot fail to see beautiful spots all over the city. I can't particularly choose any one over others, because there are SO many! However, I can say that in particular I really loved walking through the pedestrian town centre and especially through the market place – there has been a market in Cambridge city centre since the Middle Ages!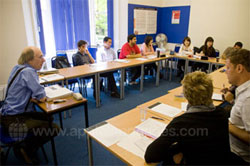 In the historic market square there were so many stands and so much delicious food on display – not so good if you're on a diet, with all these local cheeses, pastries and other things to tempt you 😉 You can also find lots of other items such as jewellery, things for your house and garden, music, books, clothes and many other things at very good prices. I don't know how well they like people trying to barter in the market, but I had a lot of fun talking with some of the sellers to try and get a few more pence off and this is a really good way of practising your English, building confidence though using what you learn in real situations!
As you may already know, Cambridge is famous for its university. Some of the university buildings are absolutely amazing, such as King's College! I can't imagine what it must be like to study in a building like that! Even just seeing it by walking by every day was really nice.
One of the best ways to getting to see all around the university buildings probably is punting. Punting really fits in well with the easy-paced and historic, beautiful city. Just relax and enjoy a boat afternoon along the river. I did it 3 or 4 times during my stay, with friends from the school – pretty much the perfect way to spend a sunny summer's afternoon!
One of the advantages of taking an English course in Cambridge is that during the weekends you can visit cities such as London or Oxford! They are very close to Cambridge, and this way you will have the opportunity of seeing two sides of England, its exciting capital city and another historic and beautiful university city.
What I can say is that for me, taking part in the English course in Cambridge was like having a very nice holiday, in which I got a much better understanding of English culture and history, while at the same time really improving my language skills! I really hope I have the opportunity to do a language course abroad again! It was one of the most enriching experiences of my life!
Alicia (Spain)