College city: Cambridge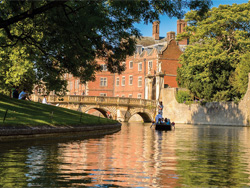 Internationally known and respected for its colleges, Cambridge has built up quite the reputation as an academic centre. But it wouldn't be fair to say that Cambridge has nothing else on offer besides its schooling. While the University's college buildings are truly stunning and will definitely fill your heart with awe, there is much more to see and do in this famous English city.
If you want to know more about this national treasure, read more and find out why Cambridge might just be the right place for you to learn English, have fun, and find out more about the culture of England.
Sporty Cambridge
One thing you might not instantly associate with Cambridge is sport. Our school offers a range of activities you can join in on, including football (the English classic), basketball, badminton, and volleyball. You can also go bowling with your classmates of an evening, if you wish. Another classic you can try for yourself is cricket – a 400 year-old game that's iconic in the British world of sport. Failing that, you can try rounders, which is similar to baseball and played by British schoolchildren across the country.
If you're not into ball sports, why not go swimming or join the dance class our school offers? Adding some British dance moves to your repertoire is a great way to get to know the country's culture. For a taste of true Cambridge, however, you should try rowing. Britain's iconic Boat Race, a rowing match between the teams of the University of Cambridge and the University of Oxford, is almost 200 years old. The event has taken place every year and is televised to over 15 million British people! Cambridge currently holds the title of most victorious team, having won 84 races to Oxford's 80.
Whether you're a sporty person or not, it's worth getting involved in the activities the school offers. In many ways, it's more about learning the ways of another country and how these sports relate to the local culture than it is about the sport you play. That and the fun you have with your new-found schoolmates!
Museums
Culture vultures and history buffs don't come off badly in Cambridge, either. The Fitzwilliam Museum is the biggest museum in the whole city and is considered to be one of the best collections of antiquities and modern art in western Europe. The exhibitions are the legacy of Richard Fitzwilliam, an Irish nobleman who was educated at Cambridge University, and contains works by famous artists including van Gogh, Picasso, and Monet. As well as paintings, you'll find coins from throughout history, 16th century music manuscripts, Qing Dynasty porcelain, rare books, and furniture from around the world. This diverse collection is not to be missed!
View this post on Instagram
Cambridge has many more museums on offer, like the Museum of Archaeology and Anthropology. Here you'll find archaeological artefacts found in Cambridge alongside a wide range of global exhibits. In the University Museum of Zoology you'll see extinct specimens – some of which were collected by Charles Darwin himself – and can learn more about animals alive today. In the Centre of Computing History, meanwhile, you'll hear the story of the Age of Information. You can even attend coding courses and gaming days here!
The University
Of course, one of the most famous institutions in Cambridge is its university, which was founded back in the 1200s! Many of the college's buildings date back to the 16th and 17th centuries, and most allow visitor tours throughout the year. Whether you book a formal tour or simply go for a wander around the colleges, you'll have an excellent chance to get to grips with the architecture and design of the iconic places of Cambridge. Don't miss the chance to see these buildings, which are stunning inside and out!
Another university facility to look out for is the Botanic Garden of Cambridge. This is the home to over 8,000 different plants from all over the world! A trip here isn't about having green fingers, it's about discovering Mother Nature's wonderful children while you learn a thing or two. There are 29 gardens within the complex, each focusing on different types of flora. There's a tropical glasshouse, some 'Bee Borders' – an area for local bees and visitors alike – and a Terrace Garden, which features specimens from New Zealand. Lose yourself in the wide range of environments here and experience a different view of the plants that surround you.
Punting tour
Ever heard of punting? Punts are long, flat-bottomed boats propelled, not by a motor or paddles, but by a long pole. Punters stand on the back of the boat and push against the riverbed with this long pole – which is usually up to 5 metres long – while passengers sit back and relax. Sounds like the canals of Venice, right?
Punting in Cambridge started at the beginning of the 20th century and soon became the most popular way to cross the Cam, the eponymous river that runs through the city. There are several ways to experience this distinctly Cantabrigian pastime. Lots of local providers offer leisure punts from various locations along the river; you can join a group tour, rent a boat and punter, or rent just the boat and try your hand at punting yourself. However you do it, a trip along the Cam will give you a completely different perspective of the city, and some excellent views – perfect if you want to explore but don't want to join an ordinary walking tour.
Events throughout the year
Cambridge's annual calendar is jam-packed with things to do. Due to its high number of students, there are many different and diverse events available throughout the year.
One example is the Cambridge Literary Festival, which is held twice a year (usually around April and November) and covers a wide range of topics. Poets, writers, and thinkers come together to discuss history, current affairs, poetry, politics, fiction, and more. This place is perfect for learning something new or gaining a different perspective on something you thought you knew. Enjoy some unique talks and discussions and engage your brain!
A much more long-standing celebration is Midsummer Fair, which has been held on the city's Common since the 13th century. Though the fair's attractions may have changed somewhat since its inception, it's still a popular event attended by many locals. Take a trip down to play some traditional English fairground games like hook-a-duck and the coconut shy.
Other annual events in the city include the Folk Festival – which features some of the country's best artists – the Shakespeare Festival – an 8-week season of open-air performances of the works of Britain's most famous author – and the Science Festival – the UK's largest free science fair.
Whatever your interests, there's something here for you!
Music in Cambridge
Lovers of music and art, behold: the Strawberry Fair! Held for over 40 years, this is the ideal place to experience music. Across around 12 stages, which each specialise in a particular genre, you'll find musicians from Cambridge and the surrounding areas. There's also a café, an activities marquee, and various other attractions. This is the perfect place to get lost in unusual music with locals and like-minded people! And who knows – perhaps you'll find a completely new world of music while you're here …
The fun has begun! Come sit in the sun! #StrawberryFair #MidsummerCommon #Cambridge #Festivals pic.twitter.com/I3WwkafIFi

— Strawberry Fair (@strawberry_fair) June 2, 2018
For fans of classical music, this city caters for you too! The Cambridge Summer Music festival (CSM) promotes classical concerts in and around the city, from solo performances to big orchestras and choirs. Whether you're already a classical music fan or not, this festival is worth a visit for a deeper understanding of this genre. After all, a live performance by a good choir or orchestra can not only rock your world but also change your mind!
Great connection
The relatively short distance to London makes Cambridge a very easy destination to reach. With three airports in range, you will easily find a suitable flight, wherever you're coming from. London Stansted is the closest of the capital's main airports, at just about 50 km away. Wherever you fly to, you'll be able to get a bus, taxi, or train the rest of the way.
Excited about Cambridge? Check out our English school in Cambridge to find out more about what courses are on offer, or contact us and see how we can help you out!