Learn English in Cork
The city of Cork was voted among the top ten cities for 'Best in Travel in 2010' by the Lonely Planet Guide! Since then the city has been renowned for its lively cultural scene and its culinary flair and has fast gained reputation as one of Europe's hippest cities! Like Venice, the city gets its distinctive continental atmosphere from being built on an island over two channels of the River Lee, giving rise to Cork's numerous bridges.
Choose to study English at our school in Cork and you can immerse yourself in Irish history and tradition, with the chance to discover the city's hidden treasures, as well as some unique dining options, great shopping, including the English Market, with its stalls selling treats from all over the world, small elegant boutiques, cosy pedestrian lanes and a panoramic view on every corner! Cork offers numerous interesting architectural features and some of the best art galleries, theatres and museums in Ireland. The yearly festival programme attracts the best of film, jazz, folk, literary and musical talent and traditional Irish music and dance also thrive in this vibrant city bursting with energy!

Our school in Cork
12 classrooms
Study room with multi-media learning resources
Cinema/TV lounge
Private gardens
Hot-drinks-making facilities
Course materials purchased on-site
Wi-Fi throughout the building
Winner of iStudy's Global Awards 2017 & 2018 and CSM's Excellence Award 2019
Photos
With almost 40 years of experience, our school in Cork offers a very wide range of language courses and high standards of accommodation in a wonderful setting! Expert teachers make it their goal to devote attention to each individual student, in order to provide an excellent language learning experience and to help you to reach all of your goals. We are confident that you will enjoy a rewarding and unforgettable time in Ireland!
There are 2 school buildings, both renovated, located side-by-side with 24 comfortable classrooms in total. There is a computer room with free internet access, a common room and a cosy garden where you can relax in between your classes. The school also boasts a study room, fully equipped with a library for books, magazines, newspapers and DVDs, as well as listening stations, self-access learning resources and computers with CD-ROMs for extra study activities.

Location: Victorian Quarter, Cork
Nearest convenience store: 130 m
Nearest café: 130 m
Nearest metro stop: N/A
Distance from airport: 8.8 km (Cork Airport)
Nearest bus stop: 240 m (St. Patrick's Quay)
Distance from train station: 800 m (Cork (Kent) Station)
Courses in Cork
On the first day of your course you will be able to take the level placement assessment, which has various different components, so that the school staff can place you in exactly the right group for your English level. Courses are available at all levels, from beginner to advanced and you will receive a private tutorial every week with your teacher, to ensure that your objectives and individual course needs are being met! All of the programmes also incorporate a cultural aspect, which helps students learn more about Irish culture and the Irish way of life!
Choose the Intensive group course, consisting of 20 classes each week, in groups of maximum 12 students, in order to improve all aspects of your language skills. The main focus is given to improving your communication skills, with a lot of emphasis on speaking and listening in order to achieve fluency in English. Reading and writing exercises are built into the classes in an interactive, interesting and stimulating way, as well as the introduction of new vocabulary, the use of idioms and rules of grammar.
Students who wish to combine group classes with private tuition can opt for an Intensive course plus private classes, combining 4 group classes with 1 private English class each day, from Monday to Friday.
In order to ensure the maximum possible progress in the minimum amount of time, then we also offer Private Lessons only, for students who have limited time available to study, or for those who are looking for an entirely personalised English course, focussing on specific language needs and requirements or on specialised vocabulary.
There is a special Business English programme available during the summer months, from 1 to 4 weeks in duration, which combines the Intensive English course of 20 lessons each week with 6 additional classes per week in the afternoons, devoted to teach a variety of professional and business skills, in order to prepare you for the world of work. This is a very practical course available to students with an intermediate level of English or above and which covers skills for speaking on the phone, for letter writing, note taking, giving presentations and for holding business meetings in English.
Alternatively, we also offer a mini-group course of Business English for Professionals & Executives, consisting of 30 lessons each week in groups of just 6 students maximum. This programme is highly specialised and extremely interactive, with the aim to teach a wide variety of communication skills necessary for you to execute all business and professional tasks with complete confidence. The expert teachers and very small class sizes allows for optimum language exposure and an intensive and invaluable programme, focussing on skills in problem solving, interviewing, negotiation, delivering presentations and handling facts and figures to name just a few. There are regular modules on interesting topics in management, sales, marketing and human resources.
Choose the Exam Preparation course at our school in Cork if you are looking to take one of the Cambridge English Exams. This course introduces you to all of the exam components in detail and also provides plenty of past paper examination practise. This course will enable you to maximize your potential for the very best exam result and will enable you to reach your linguistic goals!
Non-native teachers of English can choose the challenging 2-week Teacher Training Course offered at our school in Cork, which is available at certain times of the year. On this practical programme, consisting of 25 classes per week, you will gain insight and a better understanding of modern teaching techniques, methodology, classroom resourcing, lesson planning, language enrichment and ideas in current teaching theory and practises, to name just a few of the areas that are covered. Contact us for all further details and any questions you may have!

Accommodation
Available accommodation
Host Family
Summer Residence
The Accommodations team at our school in Cork are dedicated to monitor and to ensure that high standards are maintained in all types of accommodation offered and they are there for whatever need you may have, to make your stay in Ireland as wonderful as possible.
You can choose to stay with an Irish host family for a total immersion experience and for the chance to make long lasting friendships, be part of the community and to really get to know daily life in Cork! Host families are available on a half-board basis, with full-board at the weekends.
For those who prefer to have more independence there is the option of living in a modern shared student apartment, just 5 minutes' walk from the school and from the city centre. The apartments consists of 3 or 4 single rooms, with shared kitchen, living room and bathroom facilities.
During the summer months students can stay in the student residence building situated just 7 minutes' walk from the school, by the River Lee. You will have your own room with en-suite bathroom and share the living areas and fully equipped kitchen with 5-7 other students. There is free internet access available (cable required) and bed linen is also provided in the residence rooms.

Activities
The city of Cork offers visitors a packed calendar of concerts, exhibitions, shows, festivals and other entertainments throughout the year and you will never be short of exciting things to do and see!
Aside from many smaller weekend festivals, you may wish to take part in the famous Jazz Festival or the renowned Film festival!
As part of the school's activities programme you will be able to learn Irish dancing and then practise your new talents at the traditional Irish dance, known as a "céili".
You can join one of many organised excursions to places of interest and attractions in and around the city, such as visits to nearby castles, or to an Irish whiskey distillery. There are culture talks, barbeques and evenings out in the local traditional pubs. The school also organises weekend excursions to the capital city of Dublin!
Cork is also of course a fantastic location for practising any kind of sports and nature lovers can escape into the stunning surroundings for hiking, walking and trekking in other parts of beautiful Ireland.
Sample activity programme
How to get there
You can book an airport transfer on your arrival into Cork airport, however, this is not included in the course fees. Please contact us for any further arrival queries you may have.
---
Location of our school in Cork
School statistics
Nationality (%)

Brazilian (13)
Finnish (3)
French (13)
Italian (15)
Korean (5)
Liechtenstein (1)
Russian (11)
Spanish (15)
Swedish (2)
Swiss (10)

* Statistics considered correct at the time of publishing
Student stories on our blog
Craic-ing Cork Calendar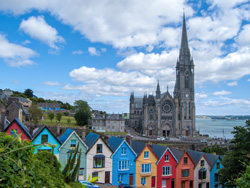 On the northern coast of Ireland lies a city that has it all but is, unfortunately, often overlooked thanks to its big brother, Dublin: Cork. The name Cork might not be well known around the world, but that doesn't mean this isn't a place that has a lot to offer! This student city is packed with beautiful landscapes, rugged coastlines, and mountainsides. But Cork isn't just for people who love nature - it's for everyone! The events happening throughout the year are incredibly diverse and ensure that everybody who stays in Cork has an unforgettable time.
Read more...