Learn French in Vichy
Come and learn French with us in Vichy - a spa town in the heart of France which is overflowing with culture and surrounded by incredibly beautiful countryside. With a strong cultural heritage, Vichy is home to the famous Art Nouveau opera house, the magnificent Palais des Congrès and Napolean III's private chalets, making it the perfect destination for language lovers and culture vultures alike! What's more, Vichy is just a small town, making it even easier to explore these magnificent attractions and immerse yourself in the culture during your stay! The small size of the town gives it a welcoming atmosphere, where you can chat to the friendly locals and put your French skills into practice in an authentic environment.

Our school in Vichy
7 classrooms
11 computer labs
On-site cafeteria
Course materials included
Wi-Fi throughout the building
Certified Label Qualité FLE centre
Member of Campus France and Alliance Français
Amphitheatre for lectures and film screenings
Access to the university library's 20,000 multi-media documents
Photos
Our French language school in Vichy is found on a university campus near the centre of town, just a short walk from the Parc des Célestins. The school boasts excellent facilities, including classrooms, language laboratories, restaurant, library, free Internet access and a student common room. It is also home to a resource centre with over 20,000 documents at your disposal, including books, DVDs and news articles!

Location: Vieux Vichy, south central Vichy
Nearest convenience store: 350 m
Nearest café: on-site!
Nearest metro stop: N/A
Distance from train station: 950 m
Nearest bus stop: 950 m (Gare de Vichy)
Distance from airport: 67.7 km (Clermont-Ferrand Auvergne Airport)
Courses in Vichy
At our school, you can learn French on a Super-Intensive course of 26 lessons per week. This course is an ideal option for anyone wishing to learn French or improve their general French skills with other like-minded students.
For a more personalised programme, why not combine 18 or 26 group lessons with an additional 6 private lessons on a Combined Course? Or, for complete flexibility with your French learning, choose a course of Private Lessons only!
Special courses in Vichy
Accommodation
Available accommodation
Host Family
Student Residence
Studio Apartment
Accommodation is available in Vichy with carefully selected French host families. Staying with a host family is the best way to fully immerse yourself in the language and culture as you will naturally speak French to the family, enabling you to practise each day what you learn on the course! Stay in a single room on a bed and breakfast or half-board basis.
Students can also choose to stay in the student residence. All the rooms in the residence are equipped with a private toilet, shower and kitchenette. Students from our school share the residence with French university students, providing lots of opportunities to speak French.
For a more independent experience during your time in Vichy, you can stay in a studio apartment. Studios are available for one or two people and come equipped with a bathroom, private kitchen, bed and a television.

Activities
The school organises a cultural program for students throughout the year to help them further enhance their language skills and make friends from all over the world! Activities vary from week to week, but may include things like French film evenings, parties, cycling trips, boat trips, dance evenings, cookery workshops and tastings, city tours and much more! regular excursions are also organised, to nearby points of interest such as Lyon, the Vulcania park and even Disneyland Paris.

How to get there
The nearest airport to our school in Vichy is Clermont-Ferrand. Alternatively, you can fly into Paris Charles de Gaulle or Lyon-Saint-Exupery.

---
Location of our school in Vichy
Average score for our school in Vichy based on 22 previous client reviews.
Student reviews & feedback
M. Elena Pertusati
Excellent teachers, motivated and motivating.Small classes ( good to improve speaking skills)
Great family, welcoming and ready to help. Excellent opportunity to talk in a real context.
The school organizes plenty of afternoon activities and nice excursions
Course
Accommodation
School Staff
M. Balfour
Best course I have ever taken to study French. The teachers were very motivated and the classrooms were more spacious that at any other language school I have attended. There was also a free proper workshop in the afternoon and I have never experienced this before at any language school.
I stayed with a lovely French family at the top of a hill overlooking Vichy. The lady came to pick me up from the train station and gave us a warm welcome and quick tour of Vichy by car upon arrival. We had homemade meals - cooked from scratch every night and the family tried to introduce us to some French cookery!
Vichy is a bit of a sleepy little town so you might want to sign up for the various activities the school run after class and at the weekend!
Course
Accommodation
School Staff
M. Gujadhur
I was apprehensive because I thought there would just be youngsters - but I was pleasantly surprised with the mix of ages and nationalities. As a teacher I thought I would feel as if I was back at work during those 2 weeks but it was a fantastic experience. Amazing home! My host "mother" was a fantastic cook. Friendly and so funny. I will keep in touch - we have swapped recipes. I had a ball! I learned a lot and am much more confident to speak the language than before, I used to get tongue-tied but now I just chat as if I always have spoken French!! Awesome!
Course
Accommodation
School Staff
S. Kennedy
I thought the teacher was very good. The house I stayed in was lovely, the family were very nice to me and the meals were excellent. My friend and I attended tennis lessons in the afternoon. We enjoyed this very much and the coaching was excellent, exceptionally helpful and friendly.
Course
Accommodation
School Staff
B. Ringrose
The course in Vichy exceeded my expectations in every respect. The teachers were excellent, knowledgeable, enthusiastic and they were very successful in engaging the class. The topics covered were relevant, contemporary and absolutely correctly pitched to the type and level of the group. My accommodation was very good. I had a studio apartment in a small hotel in the old town. It was very comfortable and extremely well positioned in respect of walking to the school and generally well located for getting around Vichy. The school was welcoming and helpful and my fellow students were lovely. I would love to have stayed longer!
Course
Accommodation
School Staff
A. Barker
Really good course that combined general improvement of french and two specific teacher workshops per week. The accommodation was good, with lots of other students from various nationalities.
Course
Accommodation
School Staff
H. James
The course was very well organised, the school ws in nice surroundings and had good resources.
Course
Accommodation
School Staff
R. Van Der Loo
The teachers and staff were very kind, professional and helpful and the lessons were delivered in a very pleasant and interesting way. For me a reason to go back once more!
Course
Accommodation
School Staff
R. Patel
The course was very enjoyable, with enthusiastic teachers, and also an abundance of excellent excursions. The accommodation was ideally situated between the University and the town centre. This location is ideal for people that appreciate hiking, nature, and volcanos.
Course
Accommodation
School Staff
S. Koolwijk
It was a good course, at a high quality level. Because of the good assessment on the first day and the number of students, I was able to participate in a group that was at about the same level. This was very helpful for me. Also the quality of teaching was of a high standard. My accommodation was also very good. I very much enjoyed my host family. It was pleasant and I had lots of opportunity to practise my French in the evening.
Course
Accommodation
School Staff
School statistics
Nationality (%)

(6)
China (22)
Italian (4)
Mexican (7)
Swiss (4)

* Statistics considered correct at the time of publishing
Student stories on our blog
Vichy – wellness in the heart of France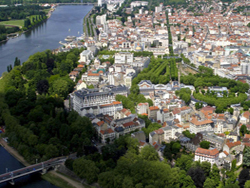 The beautiful Auvergne region awaits! Vichy is a special spa town with friendly locals located in the heart of France. It overflows with authentic French culture and is surrounded by incredibly beautiful countryside. It's known as a spa resort because of the many thermal springs in and around the city. Vichy is the ideal place to learn French whilst discovering the gorgeous French countryside - and why not take advantage of the hydrotherapeutic facilities available in the city while you're at it?! For a total well-being package, there are lots of exercise and sporting opportunities on offer. Don't delay: experience Vichy for yourself!
Read more...