Vichy – wellness in the heart of France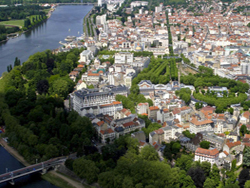 The beautiful Auvergne region awaits! Vichy is a special spa town with friendly locals located in the heart of France. It overflows with authentic French culture and is surrounded by incredibly beautiful countryside. It's known as a spa resort because of the many thermal springs in and around the city.
Vichy is the ideal place to learn French whilst discovering the gorgeous French countryside – and why not take advantage of the hydrotherapeutic facilities available in the city while you're at it?! For a total well-being package, there are lots of exercise and sporting opportunities on offer. Don't delay: experience Vichy for yourself!
If you need more reasons to book an exciting language experience, you'll find a list of some of Vichy's highlights below …
The Queen of Spas
Vichy has something very unique: the only volcanic hot thermal spring in France. It's a city famous for its thermal baths. These were first noted by the Romans and it has been a centre for wellness and beauty ever since.
It was reported that, towards the end of the 17th century, a woman's rheumatism was cured by showering in and then drinking the spa waters of Vichy. This woman was Marie de Rabutin-Chantal, at the time an aristocrat. Marie went on to praise the healing effects she had experienced, and to tell her peers about it. From this period through to the start of the 19th century, the European aristocracy descended on Vichy, which grew into a renowned centre of health and well-being. It wasn't, however, until Napoleon III visited several times in the 1860s that Vichy's prosperity was assured. The town grew and developed into a city, soon becoming a popular relaxation destination for European royalty, too. This history gave Vichy the name, "Reine des villes d'eaux" (Queen of the Spa towns).
So, what's all the hype about? Is there any truth to the supposed healing qualities of Vichy's water? In short, yes. The thermal waters in Vichy originate from the Auvergne volcanoes. Rising up from beneath the surface of the Earth, this water follows the same path as it has done for thousands of years. This process filters out dirt and chemicals whilst adding rich minerals and trace elements thought to be beneficial for human health.
Today, 6 out of the 12 thermal baths are open to the public and can be visited throughout the year. You can choose between hot springs and colder ones, and the different temperatures have different health benefits. You can even drink the natural thermal water as part of a spa treatment – it's naturally carbonated and contains useful elements such as calcium, iron, potassium, zinc, and fluoride. While it won't cure serious diseases or conditions, the water here will certainly help you feel revitalised and refreshed!
Architecture of Vichy
The architecture and history of Vichy are impressive for a relatively small city. In the older areas you'll find buildings from before the 19th century, though there isn't much left from this period.
This is because, after visiting Vichy in 1861, Napoleon III was keen to expand and improve the town. The French Emperor was responsible for the construction of a number of key public buildings including the town hall, the church, the casino, and the train station. At the same time, other urban planning projects were set up and new roads, parks, and quays came into being. In fact, Napoleon himself said of Vichy: "I am more pleased here than anywhere else, for this is my creation."
Vichy received some much-needed modernisation during this time. This modernisation has led to the blend of several different architectural styles found in the city: neo-medieval, neoclassical, neo-Flemish, and neo-Renaissance.
The most dominant style of architecture in the city, however, is Art Deco. This style is evident throughout the centre, where guided tours are on offer to teach you more about the city's intertwined history and architecture.
One of the buildings you should definitely look out for is the church of Saint-Blaise-Notre-Dame-des-Malades. Designed by Antoine Chanet and his son Jean Liogier, this colourful church is characteristic of Art Deco architecture and features mosaics, marble walls, and stained-glass windows. The domed roof displays a stunning fresco worked in purples and blues.
Also a must-see is Vichy's Opera House. The building's Art Nouveau style makes it unique – quite literally, because it is the only Art Nouveau opera house in France. This is the stage upon which many famous opera artists made their debut; if you want to learn more, head to the nearby Vichy Opera Museum. The Opera House has been a protected Historical Monument since 1991, and is a sight to behold even if you aren't interested in architecture!
Nature of the city
Those who prefer nature and green spaces won't be left behind in Vichy. In the centre you will find the Parc des Sources, the oldest in the city. This park is a wonderful green triangle surrounded by a canopied path (ideal if it rains or you want to escape the hot summer sun!). In the park is the Hall the Sources, another striking Art Deco building where you can sample some of the spring water. It's an opportunity you shouldn't miss!
The parks beside the Allier River are ideal places to enjoy nature. Praised for their high variety of trees, these parks are lovely relaxing oases amid this urban city. The Kennedy and Napoleon III Parks were designed by the French Emperor himself during his expansion of Vichy and today are important spaces for the local community. It's partly thanks to these parks that the city has won both the National Tree Prize and the Quality Label 'Remarkable Trees of France'.
You will also find a promenade along the Allier – which is rather unusual, given that this is not a seafront. Nonetheless, the promenade is ideal for cycling, jogging, or simply strolling along and enjoying the atmosphere.
Just outside Vichy are the volcanoes of Auvergne, the perfect place to enjoy some hiking! This beautiful landscape offers breath-taking views over rolling hills and the fields of pastoral France – a must-see for friends of nature.
You will find several mountains of differing heights in this area, all inactive volcanoes and therefore safe to explore. You might recognise a key peak, Puy du Pariou – it features on the Volvic logo! Also worth a hike is the Puy du Dôme, the highest mountain of the Auvergne. If you prefer, you can take a funicular railway to the top instead, where you'll find a truly fantastic panorama. On clear days, you can see towards Clermont-Ferrand and even further!
These volcanoes are the cause of the springs and thermal baths in this region, so why not take a look at the source of this main attraction?
Active in the Auvergne region
Vichy is ideal for doing sports. From jogging and cycling to water sports like rowing, sailing, or jet-skiing, there's something active for every preference. Whether it's keeping up with your regular routine or discovering a whole new world of keep-fit training, make Vichy your next active holiday!
If you are into sports, you will be happy to hear that Vichy hosts its very own Ironman race. Those who are interested can watch athletes from around the world give their all in the hardest triathlon there is. This one-day sports event has its very own appeal and can be compelling for spectators. If you are eager enough, you can even join the fun!
Vichy in the heart of France
What Vichy can't offer, its position and connection to other French cities certainly can! From here it's easy to travel to Clermont-Ferrand, Lyon, and even Paris. These cities are well-connected and, most of the time, just a short trip away. You can reach them easily by train, bus, or car.
The great central position of Vichy gives you a wide range of travel options around France. Though you might not think it, you can easily travel to the coast and visit the famous Côte d'Azur, perhaps for a weekend trip before resuming your studies the following Monday.
Vichy's central position in France also makes getting there relatively easy. Several airports ✈️are close to the city and you can also travel by train 🚂 or drive by car 🚗 if you wish. As you'll see from the maps below, the connections are excellent!
Learn French in Vichy
Our French language school in Vichy offers very high-quality tuition, with lecturers and teachers who love what they do and have lots of experience in doing it. It's also the perfect environment to experience French as a language and a culture. Based on the city's university campus, our Vichy school benefits from sharing the university's facilities, including an excellent restaurant for students to use.
Anybody who likes to do some extra learning and research can use the campus library for free. With over 20,000 books, DVDs, CDs, and magazines, you will have all the material you need to advance your language comprehension even further.
Vichy is mostly untouched by mass tourism, which means you will be in daily contact with many people speaking their mother tongue. Not only will this maximise the effect of your classes, but it will also give you a unique French feeling and a great idea of what it means to be a native. The fact that Vichy is full of history and French culture only helps to immerse you more in this wonderful city.
– Compiled by Dennis