Learn English in Dublin
Choose an English course at our Dublin school for state of the art facilities in a bright and spacious learning environment, right in the centre of the city. There is a full range of courses for all ages and levels and a diverse social activity programme. As you explore the city centre you will find new and exciting things to do and see every day of your stay, as the street art scene in Dublin is in full bloom and still growing!
You can visit Dublin Zoo, lounge around in Stephen's Green or take a picnic to Phoenix Park, open 24 hours, 7 days a week, all year round! Dublin is not a sprawling metropolis and so you may be surprised to know that Phoenix Park stretches over 1,750 acres and is the largest enclosed city park in Europe! It is five times the size of London's Hyde Park and double the size of New York's Central Park. Even the Irish President lives there, in Áras an Úachtaráin, whilst the stunning Farmleigh House hosts a large variety of events in the park, all through the year.
For students in Dublin who are interested in literature, you can walk in the literary footsteps of such writers as Yeats and Joyce, or if you are a shopaholic you have a large pick of designer boutiques. Dublin restaurant owners have also grown increasingly creative recently, understanding that food lovers don´t necessarily have lots of money to spend on lavish meals. Hence a huge selection of pop-up restaurants have emerged in the city, offering delicious food at very reasonable prices. In these cosy, intimate cafes you can make new friends as you eat! You can smell the rich scent of hops from many corners of the city, so you will not forget to try Guinness, the traditional stout beer of Ireland, also known to many as a "meal in a glass"!

Our school in Dublin
40 classrooms
Rooftop restaurant with outdoor terrace
Library with multi-media learning resources
Computer lab
Student lounges
Course materials purchased on-site
Wi-Fi throughout the building
Accredited by ACELS
Member of Eaquals
Approved for Bildungsurlaub programmes
Photos
One of the biggest attractions of the school is its location right in the heart of the city, just minutes away from the shops on O'Connell Street. The school offers students an enhanced educational experience in a real university campus-style setting! Here you will have the chance to meet and socialise with Irish students, which can greatly enhance your experience and provide you with extra chances to practise your English during your stay.
Aside from over 40 bright and spacious classrooms, each with interactive whiteboards and multi-media facilities. The school also offers students access to a large college library, where you will have free use of computer facilities and other self-access study materials. Free WiFi is also available throughout the building, as well as DVD and multimedia equipment. You can relax and meet friends in the outdoor terrace and rooftop restaurant which offers hot and cold food, snacks and real Italian coffee!

Location: central Dublin
Nearest convenience store: 240 m
Nearest café: on-site!
Nearest metro stop: N/A
Distance from train station: 240 m (Connolly Station)
Nearest bus stop: 130 m (Buckingham Street Lower)
Distance from airport: 10.1 km (Dublin Airport)
Courses in Dublin
For 20 or 25 general English lessons each week, covering all aspects of the language, you can choose the Intensive and Super-Intensive courses. These courses are available on any Monday, or on the first Monday of each month if you are a complete beginner. You will receive regular tests to help you to progress and to ensure that you are in the correct class for your English level. These are the most popular courses at the school, with a maximum of 14 students in each class. The main focus of the classes is to improve the student´s communication skills in English through reading, listening, speaking and writing, as well as learning grammar, pronunciation and vocabulary. All of our highly experienced, expert teachers hold degrees as well as the University of Cambridge teaching qualification, many at DELTA level.
The school also offers a Business course composed of 5 hours per week of Business English, in addition to the 20 hours of the Intensive course. A wide range of authentic materials are incorporated into these classes and lessons are designed using relevant and up-to-date websites and other sources, to enhance your knowledge of the Business English world. You will be able to practise presentation, negotiation, discussion and telephone skills in these specialised classes.
If you wish you take some one-to-one classes in conjunction with your general English group course, then you can choose the Intensive plus Private lessons course at our school in Dublin and you will receive an additional 5 tailor-made private classes each week. Alternatively you are welcome to take Private lessons full time, in which case you can concentrate on any particular area of the language that you are interested in, such as specialised vocabulary or focus on pronunciation. Private English classes are designed for students who wish you make as rapid progress as possible in the time that they have available.
The IELTS Examination preparation course is ideal for students who require a recognised English language qualification for their future career or future studies. The school offers a course of 4 weeks designed to teach all the necessary techniques to pass the exam. The certificate is recognised in more than 8000 institutions all over the world! Students need to have an upper-intermediate level of English to attend this course at our school and the staff will help to arrange to sit the examination in external centres. This course is available to start on the first Monday of every month, except in January and December.
The Dublin school is also an authorised Cambridge Exam Centre which means that you can choose the University of Cambridge English Exam preparation course for 8, 10 or 12 weeks. Please contact us for details of specific start dates for these courses, according to the level of exam that you wish to take. You need to have an upper-intermediate level of English to attend this course.
For non-native, secondary school teachers of English, the school offers a 2-week Teacher´s refresher course on certain dates in the summer months, which consists of workshops, lectures and discussions in 25 group classes per week, with a maximum of just 12 per class. Teachers of English have the opportunity on this course to broaden their teaching knowledge, fine-tune their skills and share new teaching methods and practises. Please contact any of our team members for details of course start dates and prices.
Accommodation
Available accommodation
Host Family
Shared Apartment
Our school offers home stay accommodation with a local Irish families living in the suburbs of the city. This is a great way to practise your English on a daily basis, to meet the native people and to discover a different part of Dublin! The host families can be reached by public transport and can be traditional families with children, single-parent families, young couples or retired couples whose children have left home. All of the host families are carefully selected by the accommodations officer at the school and visited on a regular basis.
Alternatively, for students who wish to share accommodation with other international students, there are also self-catering, shared apartments available, which are all located around just a 15 minute walk from the school building. Each apartment has 4 bedrooms, a living area with TV and a fully-equipped kitchen to prepare your meals. The bed linen is provided in the apartments, but students need to bring their own towels.
Hotel, Hostel, or Bed & Breakfast accommodation is of course also an available option in Dublin at any time of the year and if this is your preferred choice then our team would be happy to help provide price quotations on request.
Activities
The school plans and arranges an exciting and varied programme of activities and excursions for all tastes, on a weekly basis. Many events are free of charge and the school also hosts a free "Integration Club" about living and working in Ireland.
There are evenings of dance, music, cinema and theatre visits. Of course, no stay in Dublin would be complete without a visit to the Guinness Storehouse, or an authentic Irish pub night. There are also visits to historical monuments, to the Irish Museum of Modern Art and to the Dublin Writers Museum. Students can sign up for excursions further away from the city, for example to Glendalough, Galway and to Kilkenny Town.
How to get there
Dublin airport lies around 9km to the north of the city centre and has 2 terminals. You can book an airport transfer on your arrival for an additional fee and you will be met at the airport and taken directly to your accommodation.
Alternatively, you can take a public bus or the airport bus to the city centre and then a taxi. The cost of a taxi all the way from the airport to the city will depend on which part of the city you will travel to and can be between 25 and 60 euros. The airport bus costs only 7 euros and leaves Terminal 1 every 15 minutes. This bus stops at various city centre locations and also in some residential areas, from where you can take a taxi.

---
Location of our school in Dublin
Student reviews & feedback
E. Albinelli
The course was great. All the teachers were well-trained, kind and friendly. The atmosphere in the classroom was great. Fantastic learning environment. My host family was really kind and helpful. I really enjoyed staying at their house. They treated me like a member of their family and I really appreciated it. They lived in a really nice area in the southside of Dublin, but perhaps it was a bit too far from the city centre. The school tells you that most of the families live in the suburbs and that it may take a while to get to school, so it is up to you. I do not regret my choice, because staying in a host family is a great experience.
Course
Accommodation
School Staff
School statistics
Nationality (%)

Arabic (5)
Austrian (3)
Brazilian (9)
French (9)
German (7)
Italian (15)
Korean (5)
Other (25)
Spanish (15)
Swiss (10)

Average Student Numbers
---
Average ages (June - Aug)
* Statistics considered correct at the time of publishing
Student stories on our blog
Dublin: the dream destination for an English course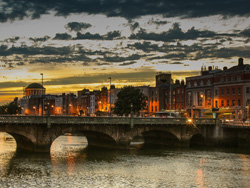 Dublin, the diverse capital of Ireland, has so much to offer. It's known for its massive art scene, its enchanting history, and its buzzing nightlife. With approximately 50% of citizens under 25, the city is modern yet quirky, with lashings of tradition and culture. Find out why Dublin is one of the best destinations in the world to learn English - and what a week in this captivating city can look like - below.
Read more...
More articles