My experience in Dublin
Since St. Patricks day was celebrated last week, I thought it was about time to write something about my visit to Dublin. St. Patrick's Day is a bank holiday on which Ireland's most important saint is commemorated. You can find many parties where people dress up in green or dress up with other Irish symbols. This day is celebrated worldwide, but the best location to celebrate this bank holiday will be definitely Dublin!
I went to Dublin together with two friends, we all love to visit cultural sites during the day and explore the pub culture during the night, and this was exactly the reason why we decided to book a trip to Dublin.
The first day we went to see Trinity College (http://www.tcd.ie/). This is the oldest University of Ireland, it looks absolutely stunning and typically Irish. You could see many students walking around, on their way to the lectures.  The most interesting part of Trinity College was the library; I have never seen a library this large (and high!). I must admit that it felt like I just walked into the library of Hogwarts.
After visiting Trinity College it was time to relax in one of the beautiful parks of Dublin. Again we saw a lot of students, enjoying their lunch break in the relaxed atmosphere at the park. After our relaxing visit to the park, we walked to the famous St. Patricks Cathedral (http://www.stpatrickscathedral.ie/), the largest cathedral in Ireland! The cathedral is built right beside a 'holy well' which St. Patrick used in the fifth century to baptize the people.
Since our hotel was perfectly located next to the Temple Bar area, it was not a hard decision where to spend the night! The streets in the Temple Bar area were very crowded, there was such a nice atmosphere, many musicians played their instruments on the streets and everyone was very open and friendly. Of course we had some pints of the typical and tasty Guinness in one of the cosy pubs!  This area is ideal for a pub-crawl or a relaxed night out, you can visit some larger clubs or enjoy the typical Irish live music in a pub.
The next day it was time to get a breath of fresh air in Howth, a stunning suburb of Dublin, developed from a small fisher's village, located on a peninsula. We were lucky to see some seals, that were looking at the fish & chips of the tourists like begging dogs! We decided to be brave and walked for four hours through the beautiful nature area, next to the impressive cliffs. Howth was very easy to reach by train, it took us only 30 minutes to go from the crowded and vibrant city centre to this peaceful nature area along the coast.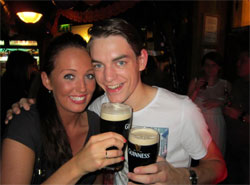 Of course, we couldn't have said that we had been in Dublin if we wouldn't have visited the Guinness Storehouse Museum (http://www.guinness-storehouse.com/). You could literally learn everything about the black stout, how it is made and you could even learn how to tap a perfect pint. The upper floor of the museum was round, with huge windows, from there you could see the whole city –and beyond.
Since we were too tired from our walk in Howth and the museum, we decided to head back to the city centre by a typical horse and carriage. The last evening was perfect for eating some typical Irish stew in the Temple Bar area and relaxing in one of the pubs afterwards, whilst enjoying the great live music.
Dublin is the perfect location if you like to visit cultural attractions, enjoy going out, and ideal if you also like to have a break from the vibrant city life now and then. I would definitely visit Dublin again, there is so much more to see, but the main reason for going back would be to experience that great atmosphere once more!
Apple Languages offers English courses in South Dublin:
Stephanie