Dublin: the dream destination for an English course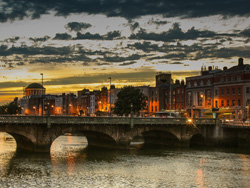 Dublin, the diverse capital of Ireland, has so much to offer. It's known for its massive art scene, its enchanting history, and its buzzing nightlife. With approximately 50% of citizens under 25, the city is modern yet quirky, with lashings of tradition and culture.
Find out why Dublin is one of the best destinations in the world to learn English – and what a week in this captivating city can look like – below.
In our map of Dublin, we've marked a number of must-see places. From museums and galleries to sports stadiums and shopping centres, there's a well-rounded selection of attractions for anyone to enjoy!
Art attack
Dublin is a never-ending source of art and inspiration. You'll find street art around almost every corner in some areas, and the city is home to a total of 19 art museums!
Dublin also has a rich literary heritage, including Bram Stoker, Oscar Wilde, and Maeve Binchy. It's not only authors that get creative here, however. Many famous actors have emerged from Dublin's stages, whilst the city's live music scene is enormous. If you're into the arts, you've come to the right place.
Literature
Dublin houses many masterpieces of literature in the National Library of Ireland and the famous library at Trinity College. These are special places that are definitely worth your time to explore. Filled with thousands of books housing an almost unlimited amount of knowledge, these libraries emit an ancient aura – they're almost like sacred time machines! It's not just that you can get your hands on as many books as you like; Dublin's libraries are a sight to behold in themselves. Classic works spanning many centuries await you in these bookworm heavens.
Also worth a visit is the National Print Museum of Ireland. This rather unusual museum celebrates the techniques of printing and stamping. Here, you can take a look at different printing methods and how this important revolution took place. The whole museum contains over 10,000 exhibits and also displays special exhibits from time to time. A great example is the 'To The Moon' exhibition, which is running from 21st March 2020. This collection is all about how the Irish printing industry helped get the first crew to the moon in July 1969!
Art
There's lots more to Dublin's creative pulse. If you're interested in art, then you'll find the city heavenly. There are plenty of museums for you to visit, and a huge art scene to discover.
The Irish Museum of Modern Art (IMMA) is one incredible place to check out. Situated in what was, for 250 years, a hospital for wounded soldiers, the IMMA offers a wide range of modern and contemporary art. Over 3,500 pieces are waiting to be discovered! This museum always adds new pieces to its collection and, while it focuses on the 1940s, you'll also find pieces from right up to the 2000s. The wide range of photography and portraits make it a well-rounded experience for all enthusiasts.
Another place to look out for is the National Gallery of Ireland. If you couldn't get enough from the 3,500-strong collection in the IMMA, then you'll be served just fine by the 16,300 artworks here! Sculptures, paintings, photographs, prints, drawings, and more can be found within the walls of this gallery. Open 7 days a week, it houses some great examples of European art from Spain, France, Germany, England, Ireland (of course!), and more. At the time of writing, the Gallery is hosting a special exhibition of photographs from the Bank of America's collection.
It's not just galleries and museums where you can find art, though. The city has one of the most active underground scenes around. Street art is very popular here, and establishments like the iconic Temple Bar often host small exhibitions of works by the city's best up-and-coming talent.
View this post on Instagram
Theatre
If the art galleries and libraries aren't enough for you, why not visit the theatre? Dublin has a very vivid theatre scene, and a great way to maintain your language immersion is to enjoy a play or musical!
One of these must-see venues is the Abbey Theatre, also known as the National Theatre of Ireland. With ticket prices starting at around €10, you can watch some interesting and immersive plays without breaking the bank.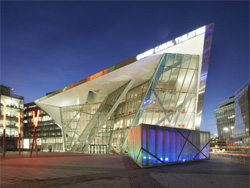 To find out what's on at the time of your stay, visit their website via the link above. Besides the shows, you can also take part in tours around the building and take a peek behind the majestic curtains. This theatre offers backstage tours, walking tours which delve into the history of theatre in Dublin, and studio sessions. Jackpot!
Another great example of the theatre scene is the Bord Gáis Energy Theatre. What looks a bit surreal from the outside is one of the best theatres the city has to offer. In fact, it's the only Irish theatre with a stage capable of accommodating so-called West-End shows (i.e. those at the highest level of commercial theatre). Its capacity also exceeds every Broadway theatre in New York. If you've ever wanted to sit in a gigantic theatre waiting for the red curtain to part, then this is the one to visit.
The sport of a nation
As is the case in many countries, sport is a huge pastime in Ireland, especially in Dublin. The city offers the chance to see popular sports like football as well as local classics like hurling and Gaelic football (Peil Ghaelach).
You can watch these in the biggest stadium in Ireland, conveniently located in the heart of Dublin. With over 82,000 seats, Croke Park is not only the third-largest stadium in all of Europe. It's also the headquarters of the Gaelic Athletic Association. Here, football fans can watch a match surrounded by many Irish fans or learn about the Gaelic version of the sport, which is really quite different. The energy in the stands won't fail to hype you up!
Rugby fans should pay the Aviva Stadium a visit. This relatively young stadium is home to the Leinster Rugby team, so you'll again have the chance to witness a sport that's strongly intertwined with local culture.
Trinity College Dublin
The oldest university in Ireland awaits! Wonder around the same halls as Oscar Wilde and Erwin Schrödinger and experience life within these sacred walls. Since 2017, the College has offered public tours to give visitors an in-depth view of this famous university. This is the perfect way to get a better understanding of the ancient institution.
Take advantage of your time in Dublin and visit this beautiful campus. The tour guides are students themselves and have great knowledge of the facility and its intriguing past. They'll show you the chapel and its stunning facade, and the many nearby squares. You'll also learn more about the university's traditions, as well as modern life on campus.
Almost as famous as the College itself is its library. You can walk the 65 metres of the breathtaking Long Room, which is home to 200,000 books! Here you'll also find the Book of Kells exhibition, an ancient manuscript written by monks in 800 AD. This place needs to be seen to be believed, and some even say it's more magical than being in the heart of Hogwarts!
Ancient walls
Dublin is not just a focal point for art lovers and students – it also offers some stunning architecture.
History buffs will love the Christ Church Cathedral in the centre of the city. This remarkable church was founded around 1030 and completed at the end of the 12th century. What makes it so unique is that it had to be renovated in 1871. Architectural styles obviously didn't stay the same over the 700 years since the Cathedral was begun, so the building now has a distinctively mixed style that blends medieval and Victorian elements.
The Cathedral is also home to the biggest crypt in the British Isles. It displays monuments and historical features like items from the cathedral's sacristy – and even a mummified cat and mouse!
A must-see in terms of architecture and history is Dublin Castle. In 1204, the castle was constructed near the dark pool – or Dubh Linn – which gives the city its name. Today, the castle's ancient walls and towers can still be seen, and visitors are welcome to discover its interiors. The apartments and their contents form a museum, which you can experience on your own or with a tour guide.
The Castle also regularly hosts extra exhibitions, like the '100 Years of Women in Politics and Public Life' pop-up museum, which is open to visitors between 10th February and 4th May this year. Such exhibitions offer a great way to reflect on history so far and may even give you a different perspective on things.
There is much more to see in Dublin than just these two, though! Saint Patrick's Cathedral is ideal for anyone who just can't get enough of churches. Leinster House is the place to go if you want to see the building that inspired the White House. The National Museum of Ireland offers interesting exhibits about Irish culture, archaeology, and art.
Landscapes of Dublin
Dublin is not just an urban area; it can also offer you relaxation in nature. In the city, you'll find numerous green places which are perfect for lying on the grass and getting some fresh air. You can also go a step further: leave the city and really get outdoors.
One of the best local landscapes is the Wicklow Mountain range just outside Dublin. Here you can go hill-walking, climbing, hiking, or fishing – it's just the right place to discover some of the country's flora and fauna. Wicklow National Park also offers recreational activities like rowing, diving, and swimming. While doing some of these activities, you might see some of the otters that live in the area, or perhaps see some of the park's endangered birds.
Why not combine a road trip with a unique coastal experience by visiting the Cliffs of Moher? A three-hour drive west from Dublin is the 14-kilometre-long coastline which offers terrific views over the sea. There are excellent walking trails here, some with dramatic drops down to the shore. There is also a visitors' centre offering more information about the area, as well as the Atlantic Edge exhibition. We think the cliffs themselves justify the visit, however – you'll never forget the fresh North Atlantic air and the distinctive feeling of the coast right beneath you.
Dublin Drinks
There is no escaping one of the world's most famous beer brands in this city. The Irish brewer Arthur Guinness created a dark, dry stout with a thick creamy head in Dublin in 1759, and the rest is history! The Guinness Storehouse, located on the site where Guinness is still brewed today, is one of the most popular tourist attractions in the whole of Ireland.
The country's most famous pub is situated nearby in the Temple Bar area, a lively, cobbled street running alongside the river. The bar is a tourist attraction in itself – here, you can sample one of Europe's most expensive pints, as well as over 450 different kinds of whiskeys.
Shopping in Dublin
As a capital city, Dublin caters for every shopaholic. You shouldn't miss the opportunity to check out the malls, boutique shops, and specialist stores here. This way, you can practice your English and find some sweet souvenirs to take back home.
One of the places you should be sure not to miss is the George Street Arcade. This massive brick building is just 5 minutes' walk from both Trinity College and Temple Bar. It offers clothing (mostly vintage), jewellery, music, and many options for souvenirs. Having opened in 1881, the Arcade is the first purpose-built shopping centre in Dublin. It's not just a shopper's oasis – it's also an intriguing blast from the past!
A more modern mall is Stephen's Green Shopping Centre, which is located close to Dublin Castle. In here you'll find a huge variety of shops and a number of eateries, so it's the perfect place for a day's retail therapy. The Stephen's Green has done well to combine under one roof a fine selection of common franchise brands and well-preserved local shops.
If you like it a bit more traditional, then check out the Moore Street Market, the oldest food market in all of Dublin. If you like your fresh fruits and vegetables, definitely be sure to stop here! Enjoy the authentic atmosphere and even try bargaining a little with the friendly storekeepers. You'll also find some African and Asian stores on Moore Street, which are perfect if you want to try something a little different or perhaps even get the taste of home during your stay in Ireland.
View this post on Instagram
A Connected City
Luckily, Dublin's airport is close to the city and easily accessible from many European airports, so it won't be hard for you to get here.
Even better, the airport is well-connected to the city. Buses depart from outside the airport every 15 minutes and stop in various city-centre locations. From the centre, it's easy take a taxi or walk to your accommodation.
If you prefer a bit more guidance, we can arrange a private transfer on arrival for you. If you select this option, you'll be met at the airport and brought directly to your accommodation – much more convenient, and very helpful for a younger or more nervous traveller.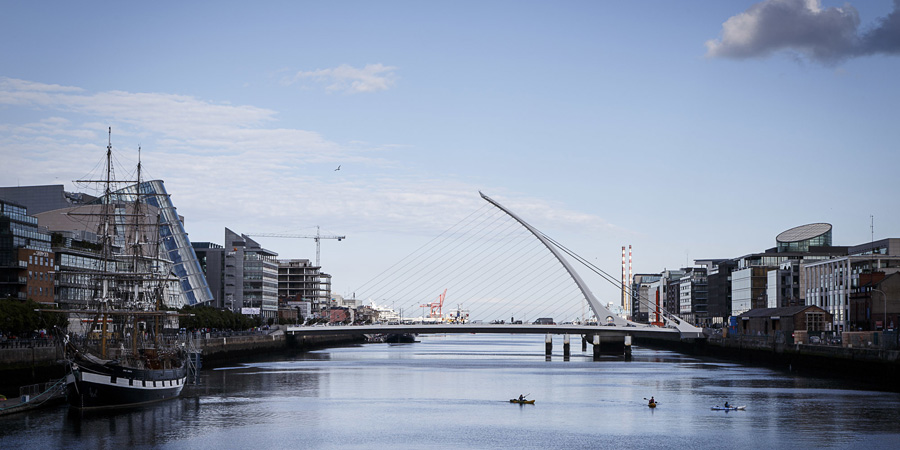 Your first week in Dublin
Below is an example of what to expect during your first week on an English course in Dublin at our incredible language school:
If you're interested in taking a course with us and curious about what else our school has to offer, then feel free to contact us or call us today!
We will be more than happy to help you create the perfect English language experience.