Why Paris is the perfect place to learn French
I love France's capital! It's that simple! The alleged city of love has so much to offer. Paris is a great city to immerse fully in the French language and culture and of course the best place to be in contact with real Parisians.
I myself have been to Paris a couple of times and have to say I definitely haven't seen it all, yet! Now you may ask why Paris is so great to spent time there and learn French… Well, I hope that my following explanations will give you a better idea. If you've never been to Paris I hope to highlight it is such a marvellous city, perfect for your next French course.
Perfect Parisian life
First of all, Paris is full of bistros and little cafés where you can use all the French you learned during class. Read a French newspaper and just acquaint yourself with some of the regulars. You might become a regular to a certain French café or bistro yourself. There are bound to be many just around the corner from where you'll be staying. Sitting in a café, slurping on your café au lait and watching the locals pass by is almost an art form in itself! There will busy business folk passing. Stylish Parisian women and men floating by in their newest dresses, high heels or suits. It might seem surreal or out of a film the first couple of days but you'll no doubt adjust quickly and just enjoy the scenery!
The world's fashion capital
Second of all, Paris is the world's fashion capital (sorry New York) with all the main names in fashion having studios and flagship stores there. It's worth going to just have a look at all of these! You might not be able to buy something but hey, looking doesn't cost a thing! Stroll up and down Champs Elysees or visit Lafayette and maybe you'll be lucky to visit during one of the sales (twice per year)!
It's not just the high fashion brands are worth discovering. Paris also has some real good vintage stores or young designers who offer great unique finds for a reasonable price. I once stumbled across a cute little boutique in Montmartre where they had the most amazing clothes. It should still be there! Montmarte in the 1920s used to be where all the artists lived, that's now Le Marais, another hip borough in Paris which also has many cute shops.
Art and Culture in Paris
Third of all, Paris is full of art and culture! You'll discover something new in all the museums each and every time you visit. You definitely have to queue to visit the Louvre, but it is very worthwhile doing so! Don't expect too much from the Mona Lisa painting (sorry but I believe you have to lower your expectations). My advice: don't try to see all of Louvre in one day otherwise you won't see anything!
Another all-time favourite of mine is the Centre Georges Pompidou in Le Marais. The building alone is just so amazing and a work of art itself. Inside is just as amazing with the different floors and the different exhibitions taking place. They also have an incredible public reading library inside. As an art lover I would also advise you visit the Musée d'Orsay. This incredible museum is located directly overlooking the Seine-river and has its own metro stop!
Exploring this sensational city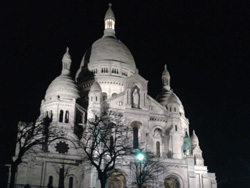 Fourth of all, Paris has so much more to offer and to explore. Just think about the Eiffel Tower or Sacre Coeur! The city offers so many sights that your stay in Paris won't get boring at all! You could take the train out to Versaille and visit the beautiful French garden, spend a day in Disneyland or visit the garden where Monet painted his famous Water Lilies. Just wandering Paris's streets you'll discover loads and loads of different things, corners and little places with cute cafés.
Are you looking to improve your French? Then look no further as we offer great courses with accommodation in one of the most amazing cities in Europe! You can click on the following link to see our French school in Paris: www.applelanguages.com/en/learn/french/france/paris.php
Have a look at our website and don't hesitate to contact our sales staff, as they are more than happy to help you find the right course!
– Jules