Learn Portuguese in Lisbon
Learn Portuguese in Lisbon and discover Lisbon, Portugal's hilly capital. This beautiful city is located on the Western coast of Portugal and stretches along the banks of the River Tejo, towards the Atlantic Ocean.
Lisbon is full of history and culture, and anyone who wants to learn the Portuguese language in this fascinating city, will find something to see and do. As the city edges away from the river's banks, visitors will find a maze of cobbled streets and limestone buildings leading towards key attractions such as the imposing São Jorge Castle, where you will find amazing views over the city. Approaching the heart of Lisbon you will find the city's main street, the Avenida da Liberdade, a wide boulevard lined with leafy trees, upmarket hotels and designer shops.
Well known for its relaxed way of life, mediterranean climate and cafe culture Lisbon is a great city to explore at leisure, of course stopping along the way for a traditional 'pastel de nata' or two in one of the many pavement cafes!

Our school in Lisbon
Our Portuguese language school in Lisbon is ideally located in the centre of Lisbon, close to the Saldanha Square. The school occupies a building with 18 classrooms, and is equipped with TV and audio-visual facilities, a student room, and kitchen where you can make drinks and snacks during lesson breaks. Free wireless Internet access is available throughout the school.

Photos
Courses in Lisbon
At our Lisbon school, you can learn Portuguese on a 'Semi- Intensive' Portuguese course (15 lessons/week), or on an 'Super Intensive' Portuguese course (25 lessons/week). Or, you can choose a 'Combined' Portuguese course, which is a combination of the 'Intensive' course plus 5 or 10 private Portuguese lessons each week.
The maximum class size at our Lisbon school is just 8 students per class (except at Easter and in August), providing lots of personal attention to each and every student.
In addition to Portuguese language courses, our school in Lisbon also offers a 'Portuguese for Teachers' course which is aimed at those teaching Portuguese as foreign language.
The school also offer a Portuguese and Surfing course which combines 15 language lessons with additional surf lessons, which can be taken in the afternoons, after your language lessons have finished for the day. The cost of the Portuguese and Surfing course includes transportation to and from the surf beaches and equipment (wetsuit and surf board).

Special courses in Lisbon
Accommodation
Available accommodation
Host Family
Shared Apartment
Student Residence
Our Lisbon school can arrange accommodation in carefully selected Portuguese host families, where students can really immerse themselves in the language, lifestyle and culture of Portugal, as well as practice the Portuguese which they learn on their course at the school. Host family accommodation is available on a bed and breakfast basis.
Shared apartment accommodation is available for students who want self-catering accommodation. The apartments are fully furnished and are shared by other students taking a Portuguese course at the school.

Activities
Our Lisbon school in Portugal organises a full programme of activities and visits around Lisbon for all students attending a language course, many of which are included in the course fees. Students can combine their Portuguese course with the chance to learn about Portuguese culture and history and sample the best that Lisbon has to offer with our school's optional activities programme! The school regularly arranges trips to local places of interest, concert and theatre trips and evenings out to enjoy the city's famous nightlife!

How to get there
Public transport connections from the airport in Lisbon to the city centre are very good. However, if you would prefer, our Lisbon school can arrange a transfer from the airport, directly to your accommodation.

---
Location of our school in Lisbon
Average score for our school in Lisbon based on 60 previous client reviews.
Student reviews & feedback
L. Jackson
Course was amazing. Course book included in price, and group sessions and private lessons have given me such a boost to help me remember everything I had forgotten + learn new things in just one week!
Course
Accommodation
n/a
School Staff
J. Conroy
The course content was very good but would be suited to someone with a solid foundation of Portuguese.
My accommodation was clean, tidy and very central.
Course
Accommodation
School Staff
T. Magg
The course was professionally run. It was interesting to meet other students from around the world at the language school.
Accommodation was very well located within walking distance of the school, shops, restaurants and parks. The room was small but adequate.
Course
Accommodation
School Staff
J. L Berchoux
Everything was perfect. The teachers were very professional and friendly.
Accommodation was perfect too and Margarida Costa was very friendly too.
I am really very satisfied about everything. It was a great experience!
Course
Accommodation
School Staff
J. Pezier
The school is run very professionally. The course structure is clear, the teachers I had were excellent, entertaining and very helpful. The course material and the class room equipment were of high standard. I was a complete beginner and will want to return for A2 and B1 grades

Course
Accommodation
n/a
School Staff
J. Kim
Everything about the course was good. The only thing that could be better is to have one professor per course. In my case, I was moved around every week and it was bothersome because the second I got settled in and adjusted to the teaching method of a professor, my colleagues and I were transferred again.
Course
Accommodation
School Staff
P. Dufourcq
Teacher was helpful and committed. She was also very nice. I would definitely recommend the school. Staff was brilliant! My host was also nice, friendly and helpful. Bedroom/bathroom was clean and matched my standards.
I will recommend Apple Language Course. I will come back.
Course
Accommodation
School Staff
R. Atwater
Great teachers and fun experience with other students!
Course
Accommodation
n/a
School Staff
D. Melville
I really enjoyed my time on the course, it was a very good experience. The accomodation was also very good and my hosts were very kind to me. The school and Apple Languages are excellent organisations.
Course
Accommodation
School Staff
C. Byers
I have enjoyed my week at the school, and have decided to continue with my lessons. I like my teacher and am continuing to use her for my twice-weekly lessons, and am hoping to stay at the school until at least the end of the year. Thank you.
Course
Accommodation
n/a
School Staff
A. Poglio
It was one of the most amazing experience of my life, and I am 100% convinced that there is no better method to learn a language than there where it is spoken!
My host family was wonderful, discreet and helpful. I had a very clean room and bathroom of my own, with all the facilities (TV, Fridge, etc.), at 5 minutes of walk from teh school. Excellent!
Course
Accommodation
School Staff
R. Patterson
Teacher was excellent and class size was small, which was good. The school responded flexibly and creatively by bringing in an extra teacher to teach the 4 of us who didn't fit into the usual experience levels (we were all self-taught to various degrees), which was great.
Course
Accommodation
School Staff
A.
I had a wonderful 4 months in the beautiful city of Lisbon. The school was situated in the middle of the city and was very accessable. The teachers and school was brilliant and I would definately recommend anyone wishing to learn Portuguese to go to this school.
Course
Accommodation
School Staff
M. Emmelmann
The staff of the school are amazing. The two teachers I had where excellent, they were eager to anwser all the questions you have, not only about the language but also about the country. I really appreciate the daily program in the afternoon. I really learned at lot, Thank you.
Course
Accommodation
n/a
School Staff
J. Surroca
Not only did I progress in Portuguese but they made me love the language. Now I continue learning for pure pleasure.
Course
Accommodation
School Staff
F. Leenders
My course was very intensieve, but very good. The teachers where very good and I learned alot and had a great time.
I stayed in a good, clean host family and the people were nice and lived there own live.
Course
Accommodation
School Staff
K. May
I really enjoyed learning Portuguese at this school. The teachers are very dedicated and always well prepared. Classes are not too big. Only a small number of students are enrolled during the winter months which makes learning Portuguese even more fun and more effective. I plan on coming back this year in order to enhance my language skills. My accommodation was located within 10 minutes walking distance from the school. A supermarket, cash machine and laundrette were also nearby. My three flatmates were very nice, too.
C. Gates
The course was great. Teacher was patient, helpful, and really cared about the students. I will use this language school again in the future. One of the best I have used. Stayed with a host nation family. Accommodations were great. This experience allowed me to practice what I learned in school and be completely immersed in the langauage.
Course
Accommodation
School Staff
J. Ravnkilde Lillie
As I was the only student, it was very intensive, but the teacher was very good to change the learning when I was loaded with information.
S. Gabioud
I took private lessons, which were very good but wished I could have stayed longer. My accommodation was close to the school with a friendly couple.
Course
Accommodation
School Staff
M. Noonan
I thought the course was beneficial for improving my understanding of Portuguese grammar. I certainly improved my pronunciation of Portuguese in the short time I was there. The teachers were kind and helpful and gave me insights into Portuguese culture.
Course
Accommodation
School Staff
K. Maggert
The school was perfect for my needs - I cannot wait to go back and continue with my classes. My profesor was so patient and also sensitive to the needs of the students. It helps that he makes learning very interesting. His sense of humor helped a lot as well. My host was like family to me. She went above and beyond being a dona de casa. She was like a 2nd mother. It was also great because the immersion experience to the Portuguese language helped me a lot to improve my communication.
Course
Accommodation
School Staff
P. Balabanov
A high level language course combined with a well balanced cultural programme and friendly and responsive staff.
Course
Accommodation
n/a
School Staff
D. Da Costa
The quality of the course was excellent, with very friendly and highly qualified staff. My host family was very welcoming and friendly. It was a great experience living with a host family, as it enabled me to meet people from the host country and it was a great way to practice the language too. Excellent organisation from start to finish. I would recommend Language Courses Abroad to anyone: friends, family or even colleagues.
Course
Accommodation
School Staff
F. Pasinelli
The school is OK, it's centrally located and close to the tube station. Teachers are nice and helpful! I would recommend it!
Course
Accommodation
n/a
School Staff
J. Clinch
The three hour morning course was excellent. I would repeat this. My host was a delightful lady.
Course
Accommodation
School Staff
T. Allerhand
I found that the language school was well organised and the teachers were very professional, and also most helpful and encouraging. The teaching materials were very good. The school had a good programme of additional activities for the students including sightseeing visits, a film and a dinner.
Course
Accommodation
n/a
School Staff
A. Laming
Great loved it, learned a lot. Our hosts were very friendly and welcoming, looked after us very well.
Course
Accommodation
School Staff
A. Byrne
The teachers were so friendly, helpful and pushed us into talking Portuguese very gently. The pace was good, a really fun mix of grammar and just chatting. The woman I was staying with was amazing!! I was really sad to leave her behind. She went out of her way to make me feel at home, but also left me to do my own thing. She didn't mind what time I came home as long as I told her I was going out and she put in a conscious effort to speak Portuguese with me as she knew this was my aim.
Course
Accommodation
School Staff
L. Keska
The course was a real pleasure, though quite a hard work. The teacher was friendly and qualified who managed to motivate and was really successful in doing so.
Course
Accommodation
School Staff
Y. Bosman
The main tutors we had were both excellent,very professional, good communicators, knew the challenges of teaching Portuguese to foreigners and were friendly and encouraging. I stayed with a very friendly lady in comfortable and clean accommodation. I wish I could have stayed longer.
Course
Accommodation
School Staff
P. Willett
I had an excellent teacher.
Course
Accommodation
School Staff
A. De La Loma
Both the course of Portuguese in Lisbon and Apple Languages' help in the whole process has been terrific, so I would not doubt about looking for more language courses abroad with Apple Languages.
Course
Accommodation
School Staff
A. De Groot
The course was personal, with good teachers, good facilities, the combined course is perfect for a one week stay.
Course
Accommodation
School Staff
V. Paunova
The course was excellent and quite intensive, the teachers I in particular had were really capable, the teaching materials were well-chosen and sufficient, and the atmosphere in general was very good.
Course
Accommodation
School Staff
G. Van Zwieten
Starting from scratch I had my doubts about what can be done in only five days, and I'm pleasantly surprised to find that we really managed to learn a lot - in a usable way. Big credit to the school and teacher. I couldn't have wished for a kinder host.
Course
Accommodation
School Staff
S. Rudman
I really wish I could have stayed longer than a week! Sadly, my work commitments prevented me from doing so. Even though it was only 1 week, I feel that already I have made significant improvements in my Portuguese and have learnt new grammar which my teacher in England has not yet covered. Special thanks to my teacher, she was excellent! I could not have wished for a better family to stay with. I arrived very late in the evening, tired after a long afternoon of travel and they were very welcoming. They really helped me to progress in Portuguese and made me feel part of the family. I will miss them very much and if the opportunity arose, I would love to stay with them again if I do another week or so on the course next year. They were also very complimentary about my level of Portuguese and encouraged me to speak without feeling afraid or embarrassed to make mistakes. I had the most fantastic, unforgettable week of my life. I have made new friends who I will keep in touch with by e-mail. I hope to go back next year to do a further course. Thanks to everyone who made this week a pleasant and unique experience. I will probably try the school at Faro next year.
Course
Accommodation
School Staff
C. Vigneron
I was very satisfied wwith this course and the teachers.
Course
Accommodation
n/a
School Staff
J. Manley
The course and tuition were great. I also appreciated the excursions and activities programme. My accommodation was very good, very, very convenient and comfortable, and my host was very kind and friendly.
Course
Accommodation
School Staff
L. Cryan
I was lucky enough to be in very small groups throughout, the teachers were always great and I learnt an awful lot. It was so beneficial for me, within 3 months at the school, I learned more than I did in 2 years at uni! I lived with a lovely lady and her dog and she couldnt have been more helpful. At one point I was ill for 5 days and in bed the whole time and she made sure I ate 3 times a day (even when I didn't want to!)
Course
Accommodation
School Staff
School statistics
Nationality (%)

France (8)
Germany (26)
Holland (3)
Italy (9)
Norway (3)
Other (27)
Spain (5)
Switzerland (6)
Uk (5)
Usa & canada (8)

* Statistics considered correct at the time of publishing
Student stories on our blog
Lisbon as seen from a Portuguese point of view…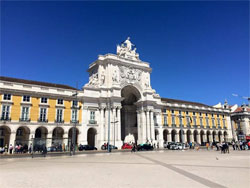 Before you ask if this article was written by a Portuguese person, yes, it was. Is it still going to be impartial? Well, I will try to be! To start with, Lisbon is the capital of Portugal and one of the few European capitals that can be proud of having the sea just a couple of minutes away. It is consequently the most populous city in Portugal, offers lots of things to do and is definitely worth visiting!
Read more...