Lisbon as seen from a Portuguese point of view…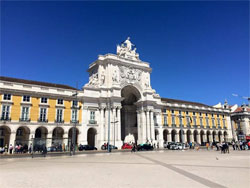 Before you ask if this article was written by a Portuguese person, yes, it was. Is it still going to be impartial? Well, I will try to be!
To start with, Lisbon is the capital of Portugal and one of the few European capitals that can be proud of having the sea just a couple of minutes away. It is consequently the most populous city in Portugal, offers lots of things to do and is definitely worth visiting!
In case you decide to take your Portuguese course in Lisbon, here you have some tips of things to do and places to visit!
If the weather is nice (which normally is, comparing to other cities in Portugal), you can choose to invite your classmates from the course to go for a walk in "Parque Eduardo VII" or in "Jardim da Estrela", where you can relax and enjoy the peacefulness of Nature, right in the heart of the city. Since the city is also known as the city of the seven hills, it offers a lot of viewpoints for tourists to enjoy the panoramic views of Lisbon. But here there is a secret: visit the viewpoint called "Miradouro de Monte Agudo". It is a perfect place to spend the afternoon, surrounded by the forest park.
On the other hand if you are more into bustling activities, you can go to "Chiado", where you will find a lot of people in hurry and where you can go shopping at "Armazéns do Chiado" (only if you are a shopping fan, of course!). In case you still have enough energy in the evening, I advise you to visit "Bairro Alto" and to try to find the pubs lost among the narrow streets. And since you are already there, what do you think about going to a "Casa de Fados"? It is the most popular Portuguese type of music and one of the origins of the word "saudade". After that, you can end the evening at "Urban beach" or "Bliss", two of the most famous night clubs in Lisbon.
If you are a traditional sweets lover, you can't leave Lisbon without going to Belém and try the "Pastéis de Belém". They are completely irresistible! And after eating these amazing sweets/pastries, what do you think about going for a walk by the river and visit "Padrão dos Descobrimentos" and "Torre de Belém"?
In case you still have some free time, you can take the train to Sintra. It is one of the most beautiful and romantic villages in Portugal with a lot of places to explore! You can visit "Quinta da Regaleira", "Palácio do Monserrate" or "Palácio da Pena", a palace that seems taken from a fairy tale! If you are still keen on exploring, go for a walk at "Parque da Pena" and try to find the "Chalet e Jardim da Condessa D'Elda".
So now do the following: book your language course in Lisbon, visit this stunning city and then tell me if I was impartial or not!
Rita