Learn Spanish in Seville
Seville is certainly one of the most beautiful cities in Spain – a wonderful location in which to learn Spanish. Seville is the home of Flamenco and could not be more typically 'Spanish'. On a Spanish course at our premium school in Seville, you will not only learn Spanish, but will also be immersed in the easy-going, relaxed way of life that gives Seville its wonderful character and charm. We have two schools in Seville, each school offering high-quality Spanish courses. Our Seville (Premium) school is located in the heart of the Seville, just 5 minutes' walk from the cathedral and world-famous 'Giralda'. This school offers outstanding facilities for Spanish language learning, including a multimedia room, wireless Internet access, bookshop and modern, spacious, fully-equipped classrooms, as well as a beautiful central patio, rooftop terrace and a plunge pool!

Our school in Seville (Premium)
Our Seville (Premium) school is located in the historic centre of Seville, within easy walking distance of famous monuments such as the Arabic palaces, the cathedral and 'Giralda', the 'Tower of Gold' and many more. The school occupies a beautiful 3-storey refurbished historic building, with a wonderful internal patio surrounded by marble columns. This school is exceptionally well-decorated and equipped, with the very highest standard of facilities. There are 32 air-conditioned classrooms, a library, bookshop, Internet café, multimedia centre and roof-top terrace with spectacular views over Seville.

Photos
Courses in Seville (Premium)
Available courses
Intensive (20)
Intensive (25)
Intensive + Private Lessons (25)
Intensive + Private Lessons (30)
Super Intensive (30)
Private Lessons (20)
Academic Year (20)
Club 50 (20)
DELE Exam Prep (30)
Teachers Course (15)
You can learn Spanish on a wide range of Spanish language courses, including a Business Spanish Course and a DELE Exam Preparation course. The maximum class size on most courses is 10 students per class, smaller than at many schools.

Special courses in Seville (Premium)
Accommodation
Available accommodation
Executive Studio Apartment
Host Family
Shared Apartment (with Spaniards)
Student Residence
Studio Apartment
You can stay in carefully selected Spanish host families, in self-catering student residences (shared with other international students from the school), or else in private studio apartments. 'Executive' apartments are also available, as well as 'Host Families Plus', for students looking for host family accommodation with private bathroom facilities. Our Seville (Premium) school can also arrange for you to share a self-catering apartment with a Spaniard, if you prefer not to share with international students. All accommodation is within walking distance of the school.
Students who stay in Spanish host families tend to learn faster, as they practice with their families the Spanish that they learn on the course.

Activities
Our school in Seville organizes full-day weekend excursions to Ronda, Cordoba, Granada and Cadiz, as well as to the beach. There is also an extensive cultural program 4 afternoons per week, including guided tours of Seville, Flamenco dancing lessons, Spanish film evenings in the school, Spanish cookery lessons and much more! This school is certainly one of the best equipped Spanish language schools in Spain, offering the very highest standard of Spanish course.

Average score for our school in Seville (Premium) based on
71
previous client reviews.
Student reviews & feedback
R. Lo Bue
All round an excellent school with a high level of teaching. Fully air conditioned which definitely helps in Sevilla!
Course
Accommodation
n/a
School Staff
M. Anderson
The teaching was very good - stretching but I coped! It was all very well organised and I would definitely recommend - and I hope to return.
Accommodation in a studio was absolutely fine. Everything clean and all the necessities were to hand. The street itself was a bit noisy, but given the central location that was to be expected.
I feel very fortunate to have booked what turned out to be a really first class course with excellent support to help me do it. It can be a bit daunting doing something like this for the first time, but I'm really pleased that I did and the support/info from Apple was really helpful.
Course
Accommodation
School Staff
L. Beesley
Excellent teacher. Small group. Really good interactive methods of learning. Very enjoyable.
UK based office were incredibly efficient and helpful.
Course
Accommodation
n/a
School Staff
B. Huntley-Meiffret
Mercedes was an excellent teacher & there was a lot of interactivity & fun in the programme as well as serious study. B1.2 course clarified & explained grammar points clearly. I wish I could have stayed longer & will go back.
Course
Accommodation
School Staff
S. Yianni
I thoroughly enjoyed my one week intensive course. Reyes Ortega was an excellent teacher. She was extremely professional, and patient!. Her classes were not only informative but she had the ability to make them fun. My only regret is that I wish my stay was longer.
My accommodation was perfect. It was clean and I felt very safe. I would have liked a few more pillows and perhaps another bed sheet but apart from that very satisfactory.
Course
Accommodation
School Staff
L. Obst
The course was useful and I enjoyed the company of my fellow students and our teacher but in my opinion the class size of 10 students is too big. We particularly enjoyed the flamenco evening which is a must while staying in Seville.
We stayed with a lovely Spanish lady called Pilar who was looking after us ever so well during our two-week stay with lots of tasty food and conversation so that we could really 'live the language' while staying with her. I can only recommend staying with a host family and Pilar made us feel very welcome and part of her household. We could not have had a better hostess.
Course
Accommodation
School Staff
L. Jauncey
The school was very well organised. My teacher was good but often spoke too fast for me to understand, so I didn't learn as much as I had hoped. I enjoyed the interaction with the other students; the activities and excursions were great; and I made friends from all over the world.
The lady I stayed with was very pleasant. She cooked for me every evening and there was plenty of food.
I would definitely use Apple Languages again, I had an enjoyable time and would go on another Club 50 language course.
Course
Accommodation
School Staff
W.
Excellent teacher and activities designed for single and group work. Clean and nice bedroom with host family. Noisy at night because of location next to bars and the basilica. Breakfast was very basic.
Course
Accommodation
School Staff
B. Jorrisch
Excellent course, fantastic professors.
Accommodation, was very good
Course
Accommodation
School Staff
C. Boardman
Course was well structured and nice to have 2 different teachers working on different things but with a theme across the week. Small group size and I improved my speaking a lot with all the practice. Regular homework was helpful. There were some grammar points that I'd been ignoring on my own that I was forced to finally understand fully
Course
Accommodation
School Staff
A. Marley
I loved it. I wasn't placed in an appropriate level for my level, and I don't think that the all around placement of students truly catered to their abilities, but nonetheless I had so much fun meeting people from other countries and exploring Sevilla with these new friends for 2 weeks. My host family was great. She'd been hosting students for 7 years and was so flexible and understanding towards our varying needs. Very clean and well-kept--there was AC too!
Course
Accommodation
School Staff
E. Brandão
CLub 50 Course. Excellent staff, great teachers, good facilities, exemplary cleanliness. I stayed in a second floor accommodation with stairs which was bad for my knees. I really enjoyed the hostess. Attentive, friendly and kind. .
Course
Accommodation
School Staff
J. Hanselman
Fantastic course. It was exactly what I wanted. The reason why I put a "4" for accommodation is that I had an 'ant' problem, but it was taken care of right away.
Course
Accommodation
School Staff
V. Nadia
Reaaly good mix of students. Great teachers who used a variety of teaching methods to keep us interested. Learnt a lot and got my enthusiam fired up! Friendly atmosphere at the school- have made international friends who I keep in tuch with. Didn't imagine i could have so much fun whilst studying or feel so relaxed when going on a trip by myself.
Course
Accommodation
School Staff
C. Esling
The teaching standard was high, and the classes were very interesting. The dynamics of the class were inspiring. The couple I stayed with were delightful - relaxed and good natured. They made me feel very welcome, and helped with my Spanish learning. The flat was small but adequate, and comfortable.
Course
Accommodation
School Staff
B. Swainson
The teachers were very friendly and professiona, they were well trained and conscientious. Classes were fun, relaxed and yet a lot of work was covered.
Course
Accommodation
n/a
School Staff
G. Andrews
I thoroughly enjoyed the course. My aim was to feel more confident with speaking Spanish and I believe I achieved this by the end of the course!!! The teacher was enthusiastic and motivational - this helped as the course was intense! The accommodation was clean, modern and comfortable. It was in a good location, convenient to the school and the tourist attractions in Seville. I am really pleased that I booked this course in Seville. Apple Language were very helpful with my queries and this made me feel confident that I had made the right choice.
Course
Accommodation
School Staff
R. Gale
I had an excellent time. The people, the course, the city and of course the language. The school makes you feel very welcome, and the cultural programme alongside the studies is an excellent way to meet new people outside of class. I met some great people that made the two weeks very enjoyable. Espero que te vea el año proximo.
Course
Accommodation
School Staff
B. Gurtenne
I have just completed a two week Club 50 Spanish course in Seville. I have had such a marvellous time and cannot fault the school and its teaching, my Spanish host or the cultural programme that was offered to me. I made some wonderful friends from all around the world with whom I hope to keep in touch.
At this point I must also thank you all at Apple for the support you gave me in the preliminary arrangements for this trip. It was obvious from the start that you are a very professional organisation and this eliminated any fears or anxieties that I may have had at the beginning of my venture. This efficiency, competence and support was mirrored in Seville at the school.
N. Hakin
The course is superb.instructive, challenging,and helpful I enjoy it so much I intend to return for the sixth time in either november or next february. I always stay with Rosa and Carlo. the accommodation is superb and the chat in the evening la sobremesa is worth just as much as the course.
Course
Accommodation
School Staff
E. Shur
I had a charming teacher with a lovely personality, a lovely school with an excellent social programme. It was very enjoyable and instructive. The accommodation was in a nice position and very comfortable.
Course
Accommodation
School Staff
H. Gibbons
The course was excellent, it did exactly what I wanted, first half of the morning grammar the second half conversation. My accommodation was very good, it was situated on the outskirts of the town but within walking distance.
Course
Accommodation
School Staff
G. Raggett
I really enjoyed studying at Seville Option 1, even if it was just for 5 days. Everything was very efficiently run and all the staff were very friendly. The building itself in Seville is beautiful, airy and light. I recommend this course to anyone wishing to study spanish in a beautiful city. I stayed in residence accommodation and it was great. Only 20 minutes from the school, the building itself was clean, accommodating and has everything you might need for your stay there. I was very impressed.
Course
Accommodation
School Staff
G. Burghardt
We loved the class. Our teacher was extremely good -- very focused, cheerful, organized, and helpful.
Course
Accommodation
n/a
School Staff
A. Durno
The teachers were excellent and the course context was good.
Course
Accommodation
School Staff
G. Brenière
The general level of teaching was excellent. I stayed in a well equipped and tastefully arranged flat.
A. Poynter
The teachers were really friendly and usually prepared a varied range of activities. I learnt a great deal about Spanish culture and way of life as well as new grammar and vocabulary, including more colloquial phrases and idioms. The cultural programme was a fantastic way to see more of Spain and make friends with other people on the course. I stayed with a friendly Spanish family in a comfortable house and had the top floor to myself with my own kitchen, bedroom and bathroom.
Course
Accommodation
School Staff
S. Koolwijk
It was a very nice, and well conducted course. Even as a beginner I was able to have some basic conversations in Spanish at the end of two weeks. Which was a nice result. I still have to practise more, and next time I prefer to stay with a family so that I can practise more on Spanish. I stayed in an apartment. I had access to all services, the owner was nice and it was good.
Course
Accommodation
School Staff
R. Bragg
I loved it, it was amazing, the people, Seville, my accommodation. I would definitely go back again. The lady I stayed with was really nice and friendly. I was right in the centre of seville which was so useful. She made delicious meals for me as well. I would recommend her to anyone. Thank you for providing me with an unforgetable experience in seville learning, living and loving the life in spain!
Course
Accommodation
School Staff
M. Quigley
The school organisation was generally very good. We had pleasant accommodation with a Spanish lady in her flat.
Course
Accommodation
School Staff
J. Pollard
The course was fantastic, I couldn't have asked more.
Course
Accommodation
School Staff
J. Bloomer
All the staff at the school were very friendly, patient and helpful, it was a really great experience! Great accommodation, my host was really great!
Course
Accommodation
School Staff
C. Hahn
I absolutely loved my course! Great teachers, great teaching method, great environment! Honestly, everything was awesome! It's so worth it! The accommodation met all my needs too!
Course
Accommodation
School Staff
M. Prowse
Very strong school, and very impressed with the teachers. Would definitely recommend this school to any others considering visiting Spain. Accommodation was good, with excellent food. I was also extremely impressed with the school's cultural programme. Very good tours of local highlights - I've learned a lot about Spanish history and architecture in the last three weeks!
Course
Accommodation
School Staff
A. Scotto
My courses was really interesting, and both the teachers were very good. The accomodation was good, clean, new and in a good position. Next year I'll stay longer!
Course
Accommodation
School Staff
E. Acheson
The course was great, the 9 or 10 of us all started at the same time which was nice. Great diversity of people, from all places and of all ages. Very nice teacher, relaxed but thorough. Learned a lot in 3 weeks, and now I am in a great position to continue learning Spanish on my own.
The teacher's approach was quite structured, which works great for me. Half of it was a conversation class as well, which was very helpful.
My accomodation was very good, good-sized room, clean, nice family. The mother was extremely warm and good about talking to us in Spanish as much as possible when she was around. We had the freedom to go out whenever, etc. and the two of us had our own bathroom. All in all a very good experience.
The after school and week-end programming was excellent! The most amazing tour guides from the school, great for practicing Spanish comprehension, spoke very comprehensible Spanish, and knew tons of interesting things. Very professional. Kudos!
On a day trip to two nearby towns we got to see so much and do so much, and for a tiny price. Highly recommend doing as much of these as possible.
Course
Accommodation
School Staff
F. Owens
The school was a very well organised. The teachers we had were all excellent. The over 50s course was very well planned with very good excursions in the afternoon. We were delighted with the whole experience in Seville. Our host family was very welcoming. The accommodation was spotless with a good en suite shower room. The food was good and nothing was too much trouble for our hostess and her family. Her daughters came every lunch time and talked to us to improve our spanish and to help us with places to visit in Seville.
Course
Accommodation
School Staff
S. Goode
I really enjoyed the course, I was soooo nervous the first day but the teacher was so lovely and I was instantly put at ease. I really enjoyed the lessons, especially the conversation practice. My accomodation was perfect for my needs and the landlord was extremely helpful. The whole experience was extremely good,and i would definitely do it again!
Course
Accommodation
School Staff
P. Willars
It was tailored to my ability, my teachers were lovely and didn't just teach me Spanish but about the lives and culture and politics of the country. They helped me integrate into the community, and alongside the course were loads of opportunities to do cultural activites with the school and the teachers. It was excellent and outstanding value for money. The family were welcoming, lovely, patient with my feeble Spanish, the room was nice, the food was good, the location was excellent, and the price was good.
Course
Accommodation
School Staff
B. Moore
Staff were friendly and helpful and the standard of teaching was very good.
Course
Accommodation
School Staff
A. Pumareda
The course was very good/interesting/dynamic/interactive, and much more. The mini-group worked very well: the teacher was able to notice the capabilities of each members of the group to make everybody learns at their own rhythm! The private course was very good for the culture/tradition/how-does-it-work-in-spain type questions. I lived with two spaniards in Triana (which is a very animated/popular neighborhood). It was a good experience: they were very nice and told me a lot of "insider-tips"! The accomodation was quite "simple" but very nice.
Course
Accommodation
School Staff
Q. Carruthers
The course was reasonably well taught. The additional studies I did for the intensive course were exceptionally well taught. The accommodation was bBasic but clean and satisfactory.
S. Hawkins
The intensive small group was very good and the teahers were all very enthusiastic. The school very well organised and had good facilities, with good extra free lessons and organised excursions.The level test at the beginning is an excellent way of getting into correct class. I stayed with a very friendly host who made the effort to sit and chat to us for short time with each meal, they were very welcoming and quick to put you at ease.
Course
Accommodation
School Staff
D. Berrospi
An excellent experience. I would definitely do something like this again! The best holiday experience I've had. My host family was fantastic, everything was great.
Course
Accommodation
School Staff
B. Taylor
I took the private course for the Spanish Language and History. The one-on-one was great, my teacher pushed my skills and we laughed a lot. The school also provided so many opportunies to see the cultural and historical sites of Sevilla. I would definitely recommend this school for everyone! My host was so patient, her cooking was wonderful and very authentic Andalusian. When coming to another country alone, for the first time, Carmen and her home were so welcoming, clean, neat, and happy. I believe to immerse yourself totally in the culture is the best way to learn a language. You come away with so much more understanding and the culture and the language.
Course
Accommodation
School Staff
W. Hughes
The way the course was set out was good in that grammer and conversational skills were covered each day. The accomodation was very good and the food was excellent. An excellent experience and everything well arranged.
Course
Accommodation
School Staff
M. Pomfrett
The school was very good. I like dthe teaching staff and everything ran like clockwork. The course was excellent and everything ran well in Spain. Our accommodation was very good, well located, an adequate size and everything worked.
Course
Accommodation
School Staff
School statistics
Nationality (%)

American (15)
German (12)
British (10)
Swiss (10)
Dutch (8)
French (6)
Italian (6)
East Europe (6)
Japanese (5)
Korean (5)

Average Student Numbers
---
Average ages (June - Aug)
* Statistics considered correct at the time of publishing
Student stories on our blog
Sevilla tiene un color especial!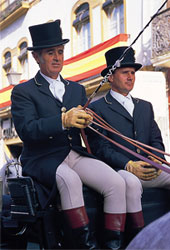 If you enjoy watching expert equestrian riders, amazing (but also controversial) bullfighters, flamenco dancers and huge parties, the
Feria
will definitely not disappoint you! The Seville April Fair (Feria de Abril) is held this week in Seville, Andalusia. This year we see it taking place from 16th to 21st April, two weeks after Easter Holy Week (Semana Santa de Sevilla). Officially, this year's amazing
fiesta
began on Monday at midnight with the
prueba del alumbrado
(lighting test), in which thousands of colored light bulbs were lit around the main gate of the city. The
Feria
will run for six days and starts with a parade of flower decorated carriages with expert riders, carrying Sevillian dignitaries through the city towards the Spain's oldest and most unforgiving bullring (
La Real Maestranza
).
Read more...