Sevilla tiene un color especial!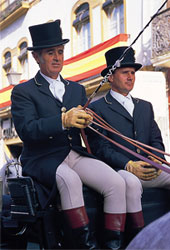 If you enjoy watching expert equestrian riders, amazing (but also controversial) bullfighters, flamenco dancers and huge parties, the Feria will definitely not disappoint you!
The Seville April Fair (Feria de Abril) is held this week in Seville, Andalusia. This year we see it taking place from 16th to 21st April, two weeks after Easter Holy Week (Semana Santa de Sevilla).
Officially, this year's amazing fiesta began on Monday at midnight with the prueba del alumbrado (lighting test), in which thousands of colored light bulbs were lit around the main gate of the city.
The Feria will run for six days and starts with a parade of flower decorated carriages with expert riders, carrying Sevillian dignitaries through the city towards the Spain's oldest and most unforgiving bullring (La Real Maestranza).
During this celebration, the far bank of the Guadalquivir River will be totally covered in over 1000 casetas –private tents that belong to eminent local families, groups of friends, political associations, etc.- in which people meet, dance and party, drinking jerez and manzanilla and eating tapas from noon until late into the night. If you really want to experience the fair, you absolutely need to go to a tent. Even if most of them are private, it is quite likely for you to be invited to drink a jerezor have a tapa, since Andalusians are known for being incredibly nice.
The amazing thing about it is that this festive atmosphere is present both in and outside the tents. More often than not you will see people dancing and partying in the streets as well!
Tradition has it men need and women need to wear a traditional costume. The traje corto -a short jacket, tight trousers and boots- for men and a traditional flamenco dress for women. Men also wear a hat called cordobés.
On Sunday, a beautiful firework display will mark the end of this year's fair.
As the saying goes, Sevilla tiene un color especial!
Apple Languages offers Spanish courses in Seville all year round!
Carlos