Spanish course in Seville
Seville must be experienced to be appreciated. It is simply one of the most beautiful, atmospheric cities in the world, and a wonderful destination in which to learn Spanish. Students who choose to learn Spanish in Seville do so in a city which could not be more typically 'Spanish', as Seville is the home of Flamenco and the capital of the Andalusia region. We have two Spanish language schools in Seville, each school offering high-quality Spanish courses. Our Seville school is located in the centre of Seville, just a few metres from the cathedral and famous 'Giralda' tower.

Our school in Seville
Our school in Seville occupies 18 classrooms, a spacious study area with computers and free Wi-Fi access, and a roof-top terrace overlooking the Alcázar where you can sit and enjoy the Andalusian sunshine! The school is located in the centre of Seville, within easy reach of all the city's famous monuments.

Photos
Courses in Seville
Available courses
Intensive (20)
Intensive + Business Course (26)
Intensive + Mini-Group (24)
Intensive + Mini-Group (28)
Intensive + Private Lessons (28)
Private Lessons (20)
DELE Exam Prep (30)
Students can take an Intensive group course of 20 lessons per week or combine those 20 lessons with either 4 or 8 weekly mini-group workshops on an Intensive + Mini-Group course.
For a more personalised programme, opt for a course of Private Lessons or combine your group course with individual tuition on an Intensive + Private Lessons course.
Our school also offers students the opportunity to study Business Spanish, or to prepare for their DELE examination on a DELE Exam Prep course.

Accommodation
Available accommodation
Host Family
Host Family Plus
Shared Apartment
Shared Apartment Plus
We can arrange accommodation for the duration of your course in Seville with one of our carefully selected host families. Students who stay in Spanish host families tend to learn faster, as they practice the Spanish that they learn on the course. Opt for host family plus accommodation for your own private bathroom, air-conditioning and Wi-Fi access. You'll also be the only student living in the house.
Alternatively, we can arrange accommodation in a shared apartment, where you can live with local Spaniards or international students studying at the school. Each student stays in their own bedroom, although shared rooms can be arranged for friends or relatives travelling together.

Activities
Our school in Seville offers high quality Spanish courses, with an excellent program of visits and activities. Not only is the activity programme a great opportunity for students to discover the local area and experience the culture of Seville and its surroundings, but also practise their language skills in an authentic context. Examples of activities organized by our school in Seville include guided walks in Seville, Spanish film evenings, grammar workshops, and reading and writing workshops. The school also organizes weekend excursions to Cadiz, Cordoba, Granada and Itálica.

How to get there
Most of our students tend to fly into Seville airport, where we can arrange private transfer to pick you up and take you directly to your accommodation. Please note that the transfer service is not included in the price of the programme and will incur an additional fee.

---
Location of our school in Seville
Average score for our school in Seville based on
8
previous client reviews.
Student reviews & feedback
E. Cox
I feel the style and methods of teaching managed to improve the most important skills when learning a foreign language. Learning through the target language at all times helped more rapid progress. I came away being a lot more comfortable in the language with little effort exhorted and as a complete beginner, after 1 month feeling relatively competent was a great sign.
Accommodation was just fine. The food cooked was excellent and the friendliness was great. Good communication was key to making the experience work more and was easy to establish even with basic Spanish skills.
Course
Accommodation
School Staff
T. Hooper
Classes were fun and useful One on one tuition was effective and intense
Course
Accommodation
School Staff
T. Kato
School is situated in the convenient place, the teacher leads the class into the theme in the enjoyable and attractive way.
My accommodation was a room in an apartment house living with its owner woman. She is nice and delightful, on the other hand she leaves me when I need. It is really comfortable.
I hoped to learn any systematized way using some text or drill book to review at home.
Course
Accommodation
School Staff
S. Wilkins
The class was of 7 students, sufficiently small for us all to get good attention. I found the grammar classes easy to understand and very helpful. The conversations were based around topics on which we all could speak, and did speak. The excursions were well led and interesting.
My hostess was very friendly and we had discussions well into the late evening. The cooking was excellent and we had the run of the fridge at other times. There were 3 other students and we all got on well together.
Course
Accommodation
School Staff
H. Gibbons
The course was excellent, it done exactly what I wanted, first half of the morning grammar the second half conversation.
My Accommodation was situated on the outskirts of the town but within walking distance. The room was nice, unfortunately I didn't specify non smoking or animals. Having said that the accommodation was very good.
Course
Accommodation
School Staff
M. Felstead
I was delighted with my course. After explaining my needs and wishes to my teacher, I received 10 hours of excellent lessons, with very helpful conversation practice, error analysis and provision of materials. It was exactly what I had hoped for and it provided me with just the right kind of refresher course suitable for my level in Spanish. My teacher has also been kind enough to send me extra materials via e mail and offer further support or help on request. As usual, I received very helpful and efficient service from Apple Languages and once again was very pleased indeed with the quality of the location and tuition in Spain.
Course
Accommodation
School Staff
A. Newson
The course was brilliant in the centre of Sevilla with great teachers and extra activities regularly. The accommodation couldn´t have been more convenient, when I said the street name to locals they were shocked at how central it was. The accommodation itself was very nice, it was a good place to spend a month.
Course
Accommodation
School Staff
Student stories on our blog
Sevilla tiene un color especial!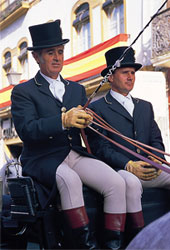 If you enjoy watching expert equestrian riders, amazing (but also controversial) bullfighters, flamenco dancers and huge parties, the
Feria
will definitely not disappoint you! The Seville April Fair (Feria de Abril) is held this week in Seville, Andalusia. This year we see it taking place from 16th to 21st April, two weeks after Easter Holy Week (Semana Santa de Sevilla). Officially, this year's amazing
fiesta
began on Monday at midnight with the
prueba del alumbrado
(lighting test), in which thousands of colored light bulbs were lit around the main gate of the city. The
Feria
will run for six days and starts with a parade of flower decorated carriages with expert riders, carrying Sevillian dignitaries through the city towards the Spain's oldest and most unforgiving bullring (
La Real Maestranza
).
Read more...