Learn Spanish in Valencia
Only people who have been to Valencia know what everyone else has missed: large spectacular beaches, incredible food, excellent nightlife and a fascinating city largely undiscovered and unspoilt by mass tourism, lying next to the warm Mediterranean Sea. Valencia effortlessly combines the historic (Gothic and Baroque buildings in its city centre) with the truly futuristic (Santiago Calatrava's City of Arts and Sciences). Within the extensive historic hub is a wonderful range of churches, plazas, markets and shops, and a variety of restaurants offering that world-famous Valencian dish, paella. If you learn Spanish in Valencia with us, you'll discover all these delights and more!
Residents proclaim that Valencia has always existed with its 'back to the sea', meaning the main focal points of the city are not based around the beach as with other popular Mediterranean destinations. However, recent times have shown that Valencia is turning around. It now has an outstanding marina for the Americas Cup yacht race, and a permanent street circuit by the beach that hosted the Formula One Grand Prix for five years.
Fairs, fashion week, and fiestas: Valencia is a city of celebration and fireworks, and visitors are more than welcome to join in the fun! Valencia is also a musical and theatrical city, hosting many internationally renowned events in the world-class facilities throughout the city. If it's shopping you're after, then look no further! Valencia caters to everyone, from haute couture stores to stylish boutiques to the popular weekly flea markets.
Winding its way across the city from the north-west corner to the marina is a converted riverbed that contains the Valencia Bioparc (the city's amazing zoo), several gorgeous gardens, Europe's largest aquarium, and the incredible City of Arts and Sciences. With so much to offer, more and more international students are choosing Valencia as the location for their Spanish course, experiencing the very best of Spain in this very 'Spanish' of cities.
Our school in Valencia
28 spacious classrooms
Air-conditioning throughout
Wi-Fi access throughout
Student lounge/study area
Patio/garden area with a BBQ
Two patios with chairs and sun loungers
Kitchen for cookery lessons
Vending machines serving drinks and snacks
Parts of the building are accessible for students with disabilities
Photos
Our new-look school is situated in a stunning 153-year-old property in the heart of the city's Old Town, the Carmen district, is the best place to learn Spanish in Valencia! The facility is just a few minutes' walk from the beautiful Saint Mary's Cathedral (which is said to house the Holy Grail!), and the Central Market building. The area - which is packed with shops, restaurants, and interesting street art - is a hotbed of activity during the day and one of Valencia's best nightlife spots in the evening. At only 20 minutes by car from the beach, it's also ideally located for catching some seaside sun!
The building - newly renovated and still containing segments of the city's 11th-century Arabic walls, a vestige of Spain's Moorish occupation - boasts 28 spacious classrooms spread across two floors, a kitchen used for cooking workshops, and air-conditioning throughout. It also has an outside patio area, two terraces, and a reading area where students can relax, socialise, or study between lessons. Its central location makes it perfect for extra-curricular exploration, while its airy study areas and interactive whiteboards make it ideal for learning Spanish, whether you are a complete beginner or already have some experience.
The school employs highly qualified and experienced tutors who are used to teaching in a dynamic and immersive way, catering to each individual at every level. With accreditations from the Cervantes Institute and the Spanish Federation of Associations of Spanish Schools for Foreigners (FEDELE), as a member of the International Association of Language Centres (IALC), and with approval for CSN and Bildungsurlaub programmes, this school is guaranteed to be able to provide high-quality tuition for you, whatever you need and wherever you're coming from! You'll also benefit from regular interaction with the dedicated Student Services Team, who are on-hand to assist should you need them.
Location: Carmen district, Old Town
Nearest beach: 5km
Nearest convenience store: 3-minute walk
Nearest café: across the road!
Distance from train station: 2 km
Distance from airport: 10 km
Nearest metro stops: Angel Guimera & Estacio de Turia, both 1.2 km
Courses in Valencia
Choose from a wide range of Spanish language courses in Valencia, including an Intensive course (20 lessons per week), a Super-intensive course (20 lessons + 5 or 10 conversation lessons per week), and combined Intensive + Private packages (20 or 25 group lessons + 5 individual lessons per week). The most popular duration for these courses is 2 - 4 weeks. Study on the Intensive course for 12 weeks or longer in Valencia for one of the best-value Spanish language courses in all of Spain!
If you have specific topics you'd like to cover, or feel that you need extra attention during your studies, you can choose private lessons only and receive expert one-to-one tuition that can be tailor-made to your exact requirements. You'll have 20 bespoke lessons per week on the standard package, but can book more if you wish. Duo private lessons can also be arranged for two students of the same level travelling together.
We can offer exam preparation courses for students wanting to have an internationally recognised Spanish-language qualification. You'll have 20 lessons per week focusing on the skills needed to pass the exam of your choice, including targeted practice questions and discussions of past papers. Our school can help you prepare for the DELE or Spanish Chamber of Commerce exams; your teachers will also be happy to help you arrange your exam after your course has finished. Those who want concentrate on commercial Spanish can take the Business course (20 group + 5 special business lessons per week).
Valencia is an excellent location for water sports and our school runs a special Spanish + Sailing course from May to September. Combine your Spanish lessons with 6 hours of sailing tuition each week, taught by qualified instructors. This course is available to students of all levels, whether you have sailing experience or not.
Recently added and becoming more popular with 17- to 30-year-olds is the au pair programme. EU Nationals study for 2 weeks and then spend 3 or more months living with a local Spanish family, providing 20 contracted hours of childcare per week. Full-board accommodation is included, and you'll receive some pocket money in return for your services. Please contact us for more information about this programme.
Our rewarding Volunteer work programme in Valencia gives students the opportunity to fully integrate themselves in the Spanish way of life. You can help people in need via several different projects, including social care, environmental conservation, health care, and cultural and educational support. You must study for at least 2 weeks on an Intensive course, and can then arrange 4 or more weeks of volunteer work in the sector of your choice.
If you are a full-time student from the European Union, our school also offers work experience in a local Spanish company. You'll need to book an intensive course for a minimum of 2 weeks, and demonstrate at least B1 proficiency in order to be eligible for this programme. You'll then work as intern in the sector of your choice for at least 12 weeks. Interested students should apply at least three months in advance, to give our school time to find the most suitable company in your preferred industry.
Special courses in Valencia
Accommodation
Available accommodation
Host Family
Shared Apartment
Student Residence
Studio Apartment
Summer Residence
If you want to have as much opportunity as possible to speak Spanish with native speakers, then homestay lodging is the choice for you! Carefully selected hosts offer private single or twin rooms* and provide 1, 2, or 3 meals per day as part of your accommodation package. Hosts all live within 25 minutes' travel from the school by public transport, and some live within walking distance. All host families offer a comfortable and safe environment, and can also provide a weekly laundry service. You will have your own keys to come and go as you please, but you must respect house rules and schedules.
For more independence, stay in a shared apartment or private studio apartment. The shared apartments offer private single or twin rooms*, a fully-equipped kitchen with a washing machine, and a lounge with a television and comfortable seating. These apartments are ideal for students aged 18 - 25 who are travelling on a budget and looking for a highly social experience. Communal areas include the kitchen, bathroom(s), and living facilities. Rooms are offered on a self-catering basis, which gives you the freedom to cook for yourself during your stay. Bed linen is provided but towels are not, so you should bring your own. Each apartment is located no more than 25 minutes away from the school by public transport, and has up to 4 bedrooms and 1 or 2 bathrooms.
If you prefer complete privacy, then a studio apartment would be the best option for you. You'll have a private, self-contained studio within walking distance from the school, complete with its own lounge, bathroom, and fully-equipped kitchenette. Bed linens and basic utilities are included, but towels are not so you should bring your own. Common areas in the apartment block are cleaned once a week; students are responsible for keeping the studios clean and tidy. Double-use studios can also be booked for students who are travelling together.
Kindly note that a refundable €100 security deposit is required upon arrival for students staying in shared or studio apartments.
The main student residence, located on the University of Valencia's campus, is just 30 minutes' walk from the school, or around 15 minutes' travel by bus. This type of lodging is highly recommended for young students aged 16 - 25, as it provides ample opportunity for socialising at a cost-effective price. The residence is shared with Spanish students during the academic year, giving foreign visitors the chance to practice their skills with locals of their own age. You'll have a single or twin room* with an en-suite bathroom, a television, a telephone, and personal study space. You'll also have access to the student common room, the television lounge, the on-site coffee bar, the building's 24-hour reception service, and a simple communal kitchen. If you prefer to cook for yourself using this kitchen, you can book a self-catering package; however, most students prefer to book 1, 2, or all 3 daily meals in the residence's on-site canteen.
The school also offers two other student residences, both of which are a little closer to the school. Each residence is newly renovated and offers comfortable, stylish lodging that's ideal for students aged 18 - 25. Residence Gran Vía is located to the east of the city centre, close to the Palace of Music and the famous Colon Market, and just 20 minutes' walk from our school. It offers single and twin rooms, each with a private en-suite bathroom. In this residence, you can select a twin room even if you are travelling alone and share the bedroom with another international student of the school. Students share the large communal kitchen-diner, the lounge, and the building's private terrace. Bed linens and towels are provided, and are changed during the weekly clean of the residence common areas. Students are responsible for keeping their own rooms clean and tidy.
The other residence, La Nave, is located further north, just down the road from the striking Puerta de la Mar and the stunning Bridge of Flowers. It takes only 12 minutes to walk to the school from this quiet residential area, which is considered one of the best parts of the city. La Nave offers single and twin rooms*, some with private en-suite bathrooms and some with shared bathrooms. All residents have access to the shared kitchen, the dining room, and the residence's private terrace. Bed linens and towels are provided, and are changed during the weekly clean of the residence common areas. Students are responsible for keeping their own rooms clean and tidy.
All accommodation is available between 14:00 on the Sunday before your course starts until 12:00 (midday) on the Saturday after your course ends. We may be able to arrange extra nights on arrival and/or departure for you if needed.
*Please note that twin homestay rooms, twin rooms in an apartment, and twin rooms in the La Nave and university residences are only available to students travelling together. If you book a twin room but are travelling alone, you will be swapped to a single room.

Activities
To help you enjoy your time in Valencia, our school organizes an extensive cultural program which is specially designed to offer the best of the city and the surrounding area. Each activity is conducted in Spanish and thus helps to complement your classroom learning with experience in real-life scenarios. As well as being educational, the activities are designed to be fun and to help you make friends during your time at our language school.
The school aims to provide 4 or 5 free activities each week, and there will also be others available at an extra cost. The exact schedule changes throughout the year but may include:
- A city tour
- Welcome party
- Cookery workshops
- BBQs in the school garden
- Tapas 'caminas'
- Dance lessons
- Group games and sports
- Picnics on the beach
- Visits to local museums and attractions
- Spanish film screenings
- Shopping trips
- Language workshops
- Conversation exchanges
- Half- and full-day excursions to locations like Alicante, Buñol, and Játiva

How to get there
Valencia has its own airport, also known as Manises Airport, which is just a 15-minute drive from the city centre. From here, you can either take public transport to your accommodation or we can arrange an airport transfer service for you for an additional charge. If you book this service, a driver will be waiting for you when you land and will take you directly to your accommodation; if you select this service on departure as well, you will be collected from your lodging on your last day and taken back to your chosen airport in time for your departing flight.
Valencia also enjoys great connections from nearby Alicante and a high-speed train route from Madrid.
Students should arrange to arrive on the Sunday before their course starts and depart on the Saturday after their course finishes. We may be able to arrange extra nights on arrival and/or departure for you if needed.
---
Location of our school in Valencia
Average score for our school in Valencia based on 90 previous client reviews.
Student reviews & feedback
S. Steenbergen
The course is interesting, majority of the teachers are so kind and so nice and the other staff are very accommodating too. The tours that the school offers are great and you'll have the best time with Victor and Sofia! Furthermore: overall a good school, good books, great people, good vibe and nice teachers.
Apple Language course helped me through everything and the communication was always fast, clear and great! If you want to book through an organisation, I fully recommend them!!
Course
Accommodation
School Staff
E. Mc Nabb
The course was good and I definitely learned a lot. After completing the oral and writing assessment you are sorted into the right class for your level. My class was about 10 students and everyone was friendly and eager to improve their Spanish. The course improved my Spanish speaking and my confidence as well as being fun!
I stayed with a woman who had a flat maybe a 20 minute walk from the centre (or 10mins by bus). She was very welcoming and friendly, and provided delicious meals typical of Spain. There was another student staying in the flat too who was a similar age and we got on very well.
It was such a valuable experience for so many reasons- I met interesting people from all over Europe, my confidence developed, and of course my Spanish improved! The first day or two is quite daunting coming on your own to another country not knowing anyone, but you settle in quickly and soon make friends.
Course
Accommodation
School Staff
L. Delmar
I really enjoyed the course and I felt I learned a lot. This was my first time learning Spanish and the course has made me enthusiastic to learn the language.
The building where my Spanish lessons took place was absolutely beautiful. It creates a great environment to learn in.
Overall, my visit to the school was outstanding. The staff were extremely nice, especially my Spanish teacher, Martha, who made learning fun and educational, and always put a smile on my face when I walked into class. Muchas gracias todas!
Course
Accommodation
School Staff
E. O Riordan
I loved it best 3 weeks of my life.
Course
Accommodation
School Staff
D. Tovey
The organisation of the course was excellent. Teachers were friendly and helpful.
I felt I made good progress in only two weeks and would definitely do another course
Course
Accommodation
n/a
School Staff
E. Booth
Teachers were very good and course content exccellent. Service and attention to detail was very good.
Apartment was spacious . It could have been a cleaner but overall very good.
Course
Accommodation
School Staff
A. McCormack
Absolutely perfect from start to finish.
Accommodation was comfortable and very nice.
Course
Accommodation
School Staff
Z. Glenister
I did the 20 lesson intensive Spanish course (A1 for beginners.) Really welcoming and enthusiastic teachers. The level test was nothing to worry about - just try your best even if you speak very little Spanish! Lovely air-conditioned school right in centre of city. Great facilities. Good range of activities to join in from 6pm including a walking tour of the town, graffiti art tour, a dance class and paella evening. Complete immersion in Spanish - learnt so much in just one week!
Stayed with host family in flat about a 10 minute bus ride & 10 min walk from the school. Retired couple so welcoming and patient with our Spanish!
Overall, this was a very positive experience - the combination of the course and host family worked really well for improving our Spanish. Would definitely do again!
Course
Accommodation
School Staff
R. Hartley
The course was well organised, structured and fun. The teachers were extreamly profesional and approachable; fun and engaging. The school provided a fabulous book for us to work from, with each chapter leading on from the other. Every leasson was connected to the last and was fun and interactive!
My accommodation was in a fabulous position, big and comfortable. It was a little tired and there were a few things that needed to be replaced and fixed, but overall it was great.
I can not rate the school and teachers higher. It really was a joy to have attended and would definitely attend this school again and in fact will again next year!!!
Course
Accommodation
School Staff
V. Lemstra
The course was pretty clear to me, teachers really knew how to teach the students. Made big steps, started as beginner and really recognize topics on the streets.
I only had bed and breakfast in a host-family, this had some advantages, breakfast every morning and not the struggle with doing groceries. However, the advantages of a host-family is to speak as much as possible Spanish but when you don't eat dinner with them you will lose this advantage. Altogether, the host-family was nice. The house looked good and everything was clean.
Course
Accommodation
School Staff
C. van Swieten
Great teachers, very patient, very helpfull. The lessons were perfect, alternate, write, listen and speak, The first week I had my lessons in the afternoon. It was easy to convert them from noon to morning. My accommodation was great!! Lots of space, very clean and quiet.
Everything was just perfect! I had a great time in Valencia.

Course
Accommodation
School Staff
F. Hüffer
I attended the course as a recap for Spanish as I haven't spoken it in the last 2 years and not in a way to learn a lot of new things. As a recap the 2 weeks were perfect I got an overview of all the grammar and refreshed my vocabulary a little bit.
The accommodation was fine. I had some issues with the heat as the ventilator wasn't sufficient to get that much fresh air into my room as I had an inner yard window with no wind but despite that it was good.
Course
Accommodation
School Staff
I. Elmasry
The teachers very nice - helped understand and break down the material. I felt very comfortable and at home in my host family, host family was very caring and sweet.
Course
Accommodation
School Staff
R. McDermott
Very well organised and taken seriously, it has definitely improved my Spanish. The residence is perfect for young students who need nothing else but a comfortable room and somewhere to cook/eat meals. Very secure and ideal for students.
Course
Accommodation
School Staff
H. Hartman
I absolutely loved the course. It was challenging but I'm a positive way and the teachers were amazing. I was only there for 2 weeks but I felt like I learnt a lot and have definitely boosted my confidence. I took part in a number of extra activities which were all great except one which was disappointing. However the staff were very apologetic and handled it well.
The lady I stayed with was so lovely. I was a bit nervous when I found out she spoke no English but I think it was a good thing as it made me focus a lot more. She was so flexible which meant I could spend time with the people I met as well as her. She was also a fantastic cook which is always a bonus!
Thank you for all your help prior to departure. I had a lot of questions and not once did you make me feel like I was being a pain.
Course
Accommodation
School Staff
A. Greaney
Overall, I was delighted with the course I chose. As I booked an intensive course, the classes were quite challenging at times but I feel like I learned so much in the space of three weeks. The conversation classes really helped me to improve on my oral work for my exams next year. I had such a good experience and I hope that one day I will return to Valencia again!
My friend and I couldn't have asked for a nicer host family. They were so nice and accommodating to us. They only spoke Spanish so it was really good for us as we had to really push ourselves to speak in Spanish. We were very lucky we were put with a nice family as it made our experience all that more special!
Course
Accommodation
School Staff
L. Christensen
I took a 4 week intensive course and the course was really good! This was my 2nd time at the school, the method of learning is as always the best! Fun and easy, the teachers adapt easily to your needs.
I lived with with a host family and overall it was really good. They are so kind and the stay with them has been enjoyable! I took half board with breakfast and dinner, but the best thing living with the family is that you can always practice your spanish and get really close to the spanish culture!
Be happy, live life and learn spanish in one of the most dynamic and beautiful city in Spain!! You'd love it!
Course
Accommodation
School Staff
J. Mccarron
The course was intensive and solely in Spanish,10 students, there was no hiding place. 2 teachers Patricia and Carla both excellent.1 one/one teacher Pau gives everything. I would go back in the morning unfortunately I have to work, but my desire to learn has been immeasurably stimulated and its thanks to the wonderful teaching. My classmates, who were strangers at first, were kind and helpful, generous. I think about them and the whole experience very positively.
You can't do any better than provide excellence and that was what I experienced.
Course
Accommodation
School Staff
J. Aboitiz
My course was fantastic. 4 hours a day 5 days a week and many long weekends (because spain loves holidays). i did this for 15 weeks and it went by to fast. the teachers were great and enthusiastic (they even took us out at night sometimes and we would have dinners arranged), and the school was in an ideal location in the middle of valencia, spain.
If you have the opportunity to go to spain to learn spanish, Valencia is ideal.
Course
Accommodation
School Staff
G. Phillips
I just did 10 hours of one to one Spanish in two & a half hour sessions over 4 days, which was probably a bit too intense ie to keep up my concentration for that long each day, but otherwise it was great & i enjoyed it, & have hopefully learned quite alot.
Course
Accommodation
n/a
School Staff
L. Bremner
I thought the course was excellent! All the staff were very friendly and made learning spanish great fun!
I chose to stay in university accommodation which was generally fine- the only drawback was that is was quite far away from the language school/where my friends in host families lived.
Course
Accommodation
School Staff
A. Birchall
The course lived up to it's name and was truly "super-intensive". Hard work but very enjoyable. The course structure and organisation was excellent and the all the teachers were highly committed and very professional. I enjoyed all the classes but especially the private ones which were superb. The course objectives were clearly stated and all achieved. I can thoroughly recommend it.
A warm welcome awaited my arrival to a spacious apartment only a 10 minutes walk from the school. My casera was warm, friendly and couldn't do enough for me. My room was comfortable and my host was very flexible about meals. She also spent a lot of time with me conversing in Spanish. It was like having 2 or 3 additional private lessons every day!
Because of hearing difficulties I struggled in the first class I attended but was quickly moved to an easier level where all the teachers both recognised my problem and went out of their way to make the task of learning easier for me. I could supplement the learning in the conversational and private lessons so that my own personal objectives were all achieved. As much as I enjoyed the mixed age group classes I think it would be great if the Valencia school offered courses for the over 50s as they often have different learning objectives and learn at a slower rate than the youngsters.
Course
Accommodation
School Staff
L. Christensen
Course
I took the super intensive 25 lesson course and as well 1 private lesson. The course is very good for those who can only stay 1 week which is very little, but to get the most out of it. And after few days I could speak fluently with of course knowledge of the language before I arrived.
Accommodation
My accommodation was indescribable, I couldn't be more happier and satisfied with the quality and I want to go back.
Extra
If you consider to take a course, do it! You will not regret! You will see a language with new eyes and as well have a well deserved little vacation when you are there! I loved it, and want to do this again!! I will definitely go back to Valencia!
Course
Accommodation
School Staff
J. Johnson-Turner
Course
My course was well run and taught by experienced and friendly staff. Nuria and Carla were the better teachers of the three that I experienced. Course materials provided were good, and as the text book (with CD-rom) is mine to keep, I can continue with the course at home. The emphasis on speaking was great, the class gave a safe environment to practice the language without fear of making mistakes. Conversation and discussion around the textbook topics was encouraged, and allowed a variety of vocabulary to be learned. The extra curricular activities organised by the school were varied and interesting, including educational, cultural and fun social events for students.
Accommodation
My accommodation was not booked through Apple Languages.
Extra
The only negative is I could only stay for 2 weeks :(
Course
Accommodation
School Staff
G. W
Course
Course was excellent! Learned a lot more than expected and met a lot of good people.
Accommodation
The accommodation was good, I enjoyed my roommates. If i were to stay for more than a month I would find my own accommodation.
Course
Accommodation
School Staff
A. Phillpott
Very organised and professional school. Competent, friendly teachers and interesting course content. Valencia is an ideal city to learn Spanish and the locals are so friendly and encourage you to practice your language skills outside of the classroom.
Course
Accommodation
School Staff
T. Arnone
I thought the school was very organized and the facilities were beautiful. The teachers were very personable. I am at a B1 level and was enrolled in the intensive 20 course. I would like the courses much more if they would concentrate more on conversation rather than grammar, as the hardest part of learning a language for me is to be able to speak.
M. Tomaszewski
The course focussed on communication, which was great. Although grammar was covered, making yourself understood was the focus, which was excellent. The accommodation itself was very good,
Course
Accommodation
School Staff
E. Walsh
The classes were well structured and the teachers were very helpful, fun activities were integrated into important lessons so it made the classes enjoyable. Great atmosphere in the building. My accommodation was very central, 15 minutes walk from the school and along the bus line so basically everywhere was within access.
Course
Accommodation
School Staff
L. Ciniewicz
Really enjoyed it. The teaching was much more stimulating than my teaching back at school in the UK and I was encouraged to join in a lot more. The lady I stayed with was very nice to me and cared for me in a very kind and motherly way. I do thank her.
Course
Accommodation
School Staff
K. Roberts
Excellent teaching standards, good exercises and friendly staff. Good accomodation, great view, double bed, had the apartment to myself for a week which was nice, but also had other people there for the rest of the time. Great! Valencia is a great city and it is sooo easy to make friends at the school. I would recommend a trip to anyone looking to learn spanish.
Course
Accommodation
School Staff
N. Courts
Good school, great fun class made up of all ages and nationalities. Two excellent teachers in Bea and Violeta. The location of the host family accomodation was good with easy access to all Valencia. The host couple were lovely and made me and the other student feel very welcome. The flat was quite small but clean and tidy. Valencia is a great city with lots of things to do, good transport and friendly locals. As a complete beginner I thoroughly enjoyed the course and would recommend it to others of any age.
Course
Accommodation
School Staff
H. Broens
It is nice to hear the different opinions of your classmates from all over the world. I stayed with a very friendly family, they did everything they could to make you feel at home, It's not a 5* hotel, but I would not like to exchange it.
Course
Accommodation
School Staff
R. Celine
It was a very cool experience, I enjoyed a lot, I liked everything the school, the city!
Course
Accommodation
School Staff
S. Goodall
The teachers at the school were on the whole very professional and had a good teaching style. The accommodation I thought was excellent! It was extremely clean and very modern. Transport to the school was very good and regular.
Course
Accommodation
School Staff
J. Johnson
The course was good and the accommodation was great, clean, comfortable, and in a good location.
Course
Accommodation
School Staff
G. Adams
The course was very good - programme well-suited to my interests and level of language. Excellent accommodation, clean and well-designed. We were very pleased with the location of the school and the accommodation just a short walk away.
Course
Accommodation
School Staff
A. Hurman
The school was very well organised with enthusiastic and helpful staff. The teaching was first rate. A welcome folder was awaiting us on our first day and as well as giving us a written test, we were asked to converse on a on-to-one basis as well. A lovely family who made us very welcome and provided superb meals, they lived in a (very comfortable, spacious) flat.
Course
Accommodation
School Staff
J. Ruttledge
The tutors and staff at the school were excellent and very supportive. The course materials were also good. My accommodation spotless and well organised.
Course
Accommodation
School Staff
C. Blundell
The course was top notch and exactly what I needed. The accommodation was brilliant, being immersed amongst Spanish neighbours and potential friends was excellent for practicing my second language. I would strongly recommend this course or one similar and definitly have thoughts of returning to further myself and enjoy it once more.
Course
Accommodation
School Staff
P. Carmen
I found the course really stimulating. The atmosphere in the group was good with lots of stimulation from both of the teachers. My accommodation was very clean, tidy and comfortable. Overall, it was a very enjoyable experience and one to be repeated.
Course
Accommodation
School Staff
J. Stevenson
The course was very good and the standard of teaching was excellent. Accommodation was first class. The host was very friendly and welcoming.
Course
Accommodation
School Staff
M. Reed
I was glad I knew some Spanish as I think I would have felt out of my depth slightly, even for complete beginners it does help to have some vocabulary. The professors were great, they made it fun and also when we were outside of school there were just as friendly. My host lady was lovely, she always checked if I liked the food and if not she would always buy the things I did like. I had a set of keys and I could come and go as I pleased. Washing was also done for me and anything I needed I just had to ask her. The city of Valencia is beautiful and I have made so lovely friends. I would be happy to book another course in the future.
Course
Accommodation
School Staff
N. Fox
The course was good and the teachers were excellent.
Course
Accommodation
n/a
School Staff
K. Monnier
A good mixture of oral and written practice. I would have liked more grammar but this is probably due to my own teaching background and learning methods. Very dynamic teachers, always ready to answer questions, generally helpful and friendly. A great experience. My accommodation was very conveniently situated within easy walking distance of the school and town centre. Comfortable room, though basic, with shared bathroom, all very clean. My host was very welcoming, likes the company of students, and specially likes to talk. Good practice for anyone studying Spanish.
Course
Accommodation
School Staff
R. Cunningham
The course was well led, the content was interesting, and Spanish was maintained throughout grammar. All of the staff were very helpful.
Course
Accommodation
School Staff
J. Rohde
Valencia is a great place to learn Spanish. The teachering staff is young but experienced, motivated and helpful. The school offers cultural activities for every day of the week and most of them are free ! I can only recommend the school to anybody else. I stayed in a quiet spacious apartment with 4 bedrooms and 5 beds, located near the center of the city (for stations by Metro) it took on average 15-20 minutes to get to the school.
Course
Accommodation
School Staff
J. Whitehouse
My course had a very welcoming atmoshere and the teachers were amazing and very friendly and the staff were able to sort out my problems as well. It was an experience that benefited and made me confident when speaking spanish.
Course
Accommodation
School Staff
C. Dube
The private classes were particularly good for learning grammar and the group classes were very useful for conversation. The accommodation was a very spacious, fully equipped, clean and conveniently located flat.
Course
Accommodation
School Staff
J. Leadbeater
The course was excellent in every respect. The school organisation was first rate. The staff were extremely competant and the teaching methods successful and revolutionary. My host family was very Spanish, friendly and offered everything I needed.
Course
Accommodation
School Staff
R. Mypal
A good introduction to my (introductory) Spanish course by excellent teachers. Nice clean classrooms and good location of school in the centre of Valencia.
Course
Accommodation
School Staff
C. Smith
The course was very well run and I have come back with much more Spanish than I ever thought I would. The accommodation was very clean, the towels were changed regularly and the staff were very friendly. I am hoping to go back next year for the next level.
Course
Accommodation
School Staff
Z. Clark
I enjoyed the course and learnt a lot. My accommodation was excellent.
Course
Accommodation
School Staff
E. Trittschuh
I loved the variety of people attending the courses. Such a great mix of ages and nationalities. I would definitely recommend the course. It was nice to be able to walk downstairs to attend classes.
Course
Accommodation
School Staff
School statistics
Nationality (%)

American (11)
British (3)
Chinese (13)
Dutch (4)
German (5)
Italian (8)
Japanese (10)
Russian (12)
South korean (12)
Swiss (7)

Average Student Numbers
---
Average ages (June - Aug)
* Statistics considered correct at the time of publishing
Student stories on our blog
Dreaming of Spanish in Valencia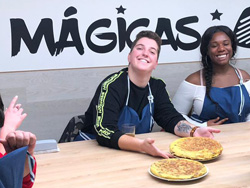 Hello! My name is Sylvana. I was an intern for Apple Language Courses back in 2017. I have always dreamt of continuing my language learning and now I've got that chance! I've just started a Spanish language course with the Apple Languages school in Valencia - I am enrolled on an 8-week Intensive course, so hope to make excellent progress! In this blog post, I will explain a little bit about what it's like to stay with a Spanish host family. I'll tell you my current level of the language and what I hope to achieve during my time in Valencia. I will also give you a small itinerary of a typical week with activities at the school.
Read more...