Dreaming of Spanish in Valencia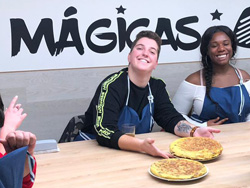 Hello! My name is Sylvana. I was an intern for Apple Language Courses back in 2017. I have always dreamt of continuing my language learning and now I've got that chance! I've just started a Spanish language course with the Apple Languages school in Valencia – I am enrolled on an 8-week Intensive course, so hope to make excellent progress!
In this blog post, I will explain a little bit about what it's like to stay with a Spanish host family. I'll tell you my current level of the language and what I hope to achieve during my time in Valencia. I will also give you a small itinerary of a typical week with activities at the school.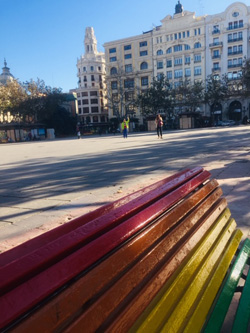 Before travelling to Spain, I was working as an English teacher in Vietnam. I decided to attend a course because I really wanted to improve my Spanish. I've studied Spanish before at university, but that's almost 3 years ago now and most of my knowledge of Spanish has since faded away. Why Valencia, you might ask? To be honest, I'm not really sure myself! Before booking, I had a look on the Valencia page of the Apple Languages website and the school looked great. They also seem to have a really good activity program. I was also able to speak with one of my friends who did an internship in Valencia, and she really recommended the city.
On my first day at the school, I had to take a language test. The test consisted of two parts: an oral part and a written part. As I said before, most of my Spanish had faded. The test determined that my current level is A2. Once the language test was over, I collected my books for the first class, which started soon after. The number of students in class is usually between 6 and 8, and there will never be more than 10 students in total. This way, there's plenty of opportunities to practice Spanish! The teachers have an emphasis on speaking and a communicative approach, especially for the lower levels, so I knew I wasn't going to be stuck doing boring grammar exercises!
I decided to stay with a host family during my course. This is really good practice for your Spanish because most families speak only a little English. It takes some getting used to at first, but they have made me feel really welcome from day one. I booked half-board accommodation, so that means that I get breakfast and dinner every day.
In Spain it's normal to eat dinner at around 9-10 pm – that took a bit of getting used to for me, but I'm slowly adapting!
The school organises a lot of fun activities. Almost every day you can join others in a fun extracurricular experience. Every Monday there is a walking tour through the city for new students. On Tuesday I had a cooking workshop where we learned how to make tortillas de patatas. I had the option to attend a dance class instead, but I went for the cookery class so I could learn Spanish recipes.
There are also a lot of tours through the city and to museums and other attractions. This way you get to know Valencia in a new and quick way, which is so exciting! On Saturday, we had a trip to Albufera, where we did a cycling tour and we even went on a boat.
Most of the activities are free; for some you have to pay a small fee to cover expenses. So far, I have really enjoyed the activities. It's a nice way to meet new people and to get to know your way around town.
All Spanish classes take place in the morning, from 9am to 1pm, with a break in between. In the afternoon you have time to study, to have lunch, or to go into the city centre. In the afternoon, at around 5 or 6 pm, you can attend an activity which will usually end at around 8 pm. You can then go home and have dinner with your host family, or have a beer on one of the school's terraces (just make sure you message your host mother first! 😉).
View this post on Instagram

At the time of writing, it's only my first week here, but so far I've already lots of exciting new experiences. I've got 7 more weeks left, so I'm sure there are way more to follow!
I will be sure to update you on my adventures in the beautiful city of Valencia in the near future.
---
February 2020 update:
View some photos of my recent excursions around Valencia by clicking on the orange pins on the map below.
– Sylvana