Learn French in Paris
France's capital is one of the world's most famous cities, and undoubtedly one of the best places to attend a French language course. A powerhouse of culture, Paris is renowned as the birthplace of perfectionism. It's a city of exceptional artistry and world-class education, of haute cuisine and high fashion, and of almost unparalleled political influence. The city's rich history and significant cultural heritage attracts visitors from around the world; for centuries, people have flocked in their millions to see the huge variety of attractions on offer. With some of the planet's most recognisable landmarks - like the Eiffel Tower, the Arc de Triomphe, and the Louvre's glass pyramid - hundreds of museums and galleries to enjoy, and a wealth of interesting shops and restaurants to explore, it's certainly difficult to get bored here. So what are you waiting for? Learn French in Paris with us and discover this iconic city for yourself!
Paris - also known as the City of Light, the City of Art, and the City of Literature - was founded over 2,500 years ago and quickly became a key stop on the north-south trade route. Its importance only increased over time, and the city has long been one of the world's premier economic, cultural, and political epicentres. History buffs can learn more about Paris' past in its many museums. Of particular note is the Carnavalet Museum, which has a collection of interesting artefacts from the earliest Celtic settlements right up to the 19th century artistic Golden Age. Other key historical sites include the iconic Notre-Dame cathedral, the Basilica of Saint Denis, and the Luxembourg Palace complex. All these sites and more are within easy reach of our Opéra school.
From the Middle Ages onwards, Paris has been the stomping ground of some of the world's greatest intellectuals and creatives. The city is the mother of such famous names as Voltaire, Simone de Beauvoir, Jean-Paul Sartre, Pierre Curie, and many, many more who have left their mark on humanity. The legacy of Paris' great minds includes iconic literature, prominent philosophical ideas, and life-changing inventions including the stethoscope, the aqualung, and the first photographic image. Simply by strolling along Paris' streets and boulevards, you'll pass the favourite haunts of those who made their name here. Cafés like Le Select in Montparnasse and Les Deux Magots in Saint-Germain, for example, were once the political and artistic nerve-centre of the city, and counted amongst their patrons Ernest Hemingway, Emile Zola, Pablo Picasso, and F. Scott Fitzgerald. Today they offer the perfect opportunity to gain insight into the day-to-day life of ordinary Parisians - be sure to take the time to visit a coffee house, grab a café crème and a copy of Le Monde, and watch the world go by before you.
There are so many notable attractions in Paris that it's hard to enumerate them all here. One thing's for sure, however: an immersive French course in Paris is guaranteed to be unlike any other!
Our school in Paris (Eiffel)
11 classrooms
Student computers
Library resources
Air-conditioning
Hot and cold drinks machines
Course materials included
Wi-Fi throughout the building
Certified Label Qualité FLE centre
Registered TCF and TEF exam centre
Member of Campus France and Datadocké
Approved for CSN and Bildungsurlaub programmes
Photos
Our Paris Eiffel school's main building is located in the capital's 15th arrondissement, a bustling district which is home to some of the city's major and best-known attractions. These include of course the Eiffel Tower and the Champ de Mars gardens, the Esplanade des Invalides, L' École Militaire, and a large number of art museums including the Musée d'Orsay, the Musée Rodin, and the Musée Maillol. The area also boasts some of the best examples of classic Haussmann architecture, which gives the city so much of its charm. Sites like the Grand Palais, Place de la Concorde, Luxembourg Gardens, and the Louvre are easily accessible by bus or metro.
Lessons take place in a boutique language centre just off the picturesque, tree-lined Avenue de Suffren. The building has 11 classrooms and a large computer lounge which students can use to complete homework, get in touch with friends and family back home, or surf the web. A selection of materials and books are available to borrow to supplement your classroom tuition, and there are also several hot and cold drinks machines. The building also benefits from air-conditioning, and there is Wi-Fi throughout.
When you learn French with us at our Paris Eiffel school, you benefit from high-quality immersive tuition which has been awarded Qualité FLE accreditation from the French Ministry of Education. The school has been welcoming international students for more than 30 years; over this time its staff have developed excellent techniques for teaching French to students of all ages, backgrounds, and abilities. The facility is also a member of Campus France and Datadocké, and its courses are eligible for CSN and Bildungsurlaub funding. Its prime location makes it a popular choice for many of our students.
Location: 15th arrondissement, Eiffel Tower district
Nearest convenience store: 140 m
Nearest café: 130 m
Nearest metro stop: 600 m (Dupleix)
Nearest bus stop: 130 m (Champ de Mars - Suffren)
Distance from train station: 5.9 km (Gare du Nord)
Distance from airport: 30 km (Paris Roissy-Charles de Gaulle Airport)
Courses in Paris (Eiffel)
Core general French lessons offered by our Paris Opéra school take place either on a morning or an afternoon schedule. The standard course is the Intensive programme, which consists of 20 classes per week in groups of no more than 14. Morning lessons take place between 09:00 and 12:00 each weekday and cover all four key aspects of language learning: speaking, listening, reading, and writing. The morning course is offered in groups arranged by starting ability, allowing you to jump right in at the appropriate level. Afternoon classes take place between 14:15 and 17:15 each weekday and consist of mixed-ability workshops covering written French, grammar, oral communication, and French culture. These afternoon lessons are ideal for those who prefer to focus on particular areas of their studies, as opposed to the more general approach offered on the morning course.
This school offers a variety of more rigorous general French programmes. On the Super-intensive 26 course, you'll add 6 extra classes per week to your core Intensive programme. You can either select the morning course and receive extra general French lessons or select the afternoon course and attend additional workshops on the topic of your choice. If you want even more language practice, you can select the Super-intensive 30 course and add 10 afternoon workshops per week onto the core Intensive morning programme. This way, you'll get the best of both types of course and combine general language learning with specialised focus on a range of linguistic and cultural topics. Super-intensive packages of 34, 38, 42, and even 52 weekly lessons are also available. Feel free to get in touch with our language advisors for more information about these packages.
Please note: if you have no previous experience with French, you will need to start your course on a specific date - contact us for available start dates for beginners.
If you think you may need extra support with your studies, or if you want to cover specific French topics, we recommend that you book private tuition. The standard package consists of 20 one-to-one lessons per week, though bespoke packages are available on request. Since you'll have the undivided attention of the teacher, you'll receive tuition that's tailored to your exact requirements and benefit from much more language practice than you would have on a group programme. However long you're able to study for, you'll find that you make incredible improvements on a private course.
Though private lessons are extremely beneficial in terms of progression, they don't offer the same kind of social experience as group classes. Fortunately, you can combine the best parts of both courses with a Super-intensive + Private package! This programme adds 5 or 10 one-to-one classes per week to your Super-intensive 26 course, giving you the extra practice afforded by private lessons but still allowing you to experience the social side of a group course.
For those who want to learn more about the French way of life, this school offers a fantastic French & Culture programme, which combines your Super-intensive 26 morning course with 8 afternoon workshops per week. The afternoon lessons will give you a deeper understanding of French history, French art, cinema, and literature, the way of life in France, and even some of Paris' key districts. This package is open to students of all ability levels, including complete beginners. Beginners should note that they will need to begin their programme on a suitable date.
If you want to improve your speaking ability, the French & Communication course is for you. On this programme you'll have 26 general French lessons in the morning plus 8 weekly afternoon workshops. The afternoon lessons will introduce you to new vocabulary, help you to hone your listening comprehension, develop your French pronunciation, and give you extra conversation practice. You'll be speaking with confidence in no time!
Alternatively, if it's the rules and structure of the language that you're struggling with, why not book the French & Grammarprogramme instead? This course also consists of 26 general French lessons in the morning followed by 8 additional workshops in the afternoon. These will cover the specifics of French grammar and help you to improve your written skills with focused tasks.
Teenagers learning French at school can get themselves in the best position to pass their exam with flying colours on our Exam Preparation course. British and Irish students can prepare for their A Level/Leaving Certificate exams on this specialised programme, which consists of 26 Super-intensive classes plus 8 mini-group lessons per week. The additional afternoon classes cover exam-specific topics and vocabulary. This course is available in July and August for students with a starting ability level of B1 or higher. The programme can also be tailored to German students preparing for the Abitur exam.
Younger students can attend the school's excellent junior programme, which takes place at the Saint Nicolas facility in June and July. For parents who want to accompany their children to Paris, we can offer our summer family course, which consists of 20 Intensive lessons per week on the morning schedule. Children learn in age-appropriate groups (6 - 11 and 12 - 17) while parents study in adult classes at the same language centre. You'll then be free to explore the city together in the afternoons and enjoy an exciting and rewarding family holiday.
If you need to learn studying French for work or you're planning to work in a French company, you can learn the appropriate skills on our Business French course. When you book this programme, you'll add 16 specialised mini-group lessons to the Super-intensive 26 morning course. These mini-group sessions have a maximum of just 3 students, so you'll get lots of opportunities for language practice and be able to tailor the lessons to your requirements as needed. In your extra sessions, you'll learn professional and administrative vocabulary, how to read and write business documents and/or prepare business presentations, and learn the specifics of formal communication in French corporate settings. Your afternoon lessons can also be used to cover Legal French. Both courses are open to students with B1 or higher starting ability. Please contact us for more information on available start dates.
On the first day of lessons, you should arrive at the school at 08:00. You will sit written and oral level tests after registering; these are used to determine your starting language ability and place you in a group that's most suitable for that level. This methodology provides students with the best possible opportunity to improve their language skills, regardless of their starting level. At the end of your course, you'll receive a certificate of achievement which can be used to demonstrate the French ability level you have reached during your time at the school.
Don't see what you're looking for? Contact us today to see if we can arrange a bespoke package for you!
Special courses in Paris (Eiffel)
Accommodation
Available accommodation
Host Family
Shared Apartment
Student Residence
Studio Apartment
University Residence
Experience the French way of life first-hand and practice your language skills with native speakers by staying with a local homestay host! All hosts live within 50 minutes of the school by public transport and offer private single or double* bedrooms on either a breakfast-included or half-board basis. Half-board includes breakfast and dinner each day and is ideal if you're looking for a fully immersive experience, since meal-times present the perfect opportunity to practice your French in an authentic setting. You'll also have access to the communal spaces like the living room and bathroom, though some hosts can offer private bathroom access for an additional fee. Bed linens and towels will be provided by your host(s) and changed weekly; your host(s) will either do your laundry for you or let you use the home's facilities once a week. Most hosts can offer Wi-Fi access, but you should advise us at the time of booking if this a requirement for you. You will have your own key to come and go as you please, but you must respect house rules and schedules.
For those who prefer to cook for themselves, we offer shared apartment lodging with local Parisians. This package includes breakfast each day and kitchen access for the cooking of your other daily meals. Though this option offers fewer opportunities for conversation practice than homestay lodging, you'll be staying with a native French speaker so you will be able to put your newly developed language skills to use. Bed linens and towels are included, and you'll have access to the home's washing machine to do your laundry. Many apartments have Wi-Fi access, but you should advise us at the time of booking if this is a requirement for you. You'll have your own key, so can come and go as you please.
If you prefer more independence, we highly recommend student residence lodging. The school works with two year-round residences which are both located around 45 minutes from the school by Metro. Both residences offer single and double* bedrooms with their own private bathrooms. Breakfast is included each day and served on-site; it is also possible to upgrade your meal package if you wish. Bed linens and towels are provided and changed regularly; laundry services are available for an additional fee. Both buildings have reception areas manned by friendly staff members who will be happy to assist you should you need anything or to recommend the best local attractions to see during your stay. Please note that other residences with similar facilities may be used during high season.
Between July and August, the school offers summer residence lodging in university halls of residence. This is a low-cost and highly social option that's great for students aged 18 - 25. When you select this type of accommodation, you'll have a single bedroom with kitchen facilities. As standard you'll share the bathroom and living areas with the other residents; it is possible to upgrade to a room with an en-suite shower for an additional fee. These rooms are available on a self-catering basis, though crockery and utensils are not provided; you will need to bring your own or buy supplies locally. Bed linens are included but towels are not, so you should bring your own. A coin-operated laundrette is available on-site, and the building has free Wi-Fi access.
For a higher standard of accommodation select a studio in one of the school's aparthotels. These lovely apartments have fully equipped kitchenettes, private bathrooms, and added amenities including air-conditioning and Wi-Fi access. Studios are offered on a self-catering basis, allowing you to cook for yourself or sample local restaurants as you prefer. Bed linens and towels are included and changed regularly; laundry is available on-site for an additional fee. The school works with various aparthotel complexes in the city, and students are placed based on availability; we therefore cannot guarantee the location of your accommodation.
During summer, private apartments for up to 6 people are also available. These apartments are located in a complex close to the Saint Nicolas facility and are ideal for families attending this language centre together. Available apartments vary in cost; please contact us for further details.
*Twin bedrooms and studios are only available to students travelling together. If you select a shared room or studio but are travelling alone, you will be swapped to a single room or studio.
Activities
You really will be spoilt for choice for what to do in Paris after your lessons have finished. Though this school does not offer a specific activity programme, our colleagues there will be delighted to offer advice and suggestions for what to do in your spare time.
Popular activities for visitors include exploring Notre-Dame, Sacre-Coeur, and the city's other impressive churches, seeing a French-language show at one of the many theatres and concert halls, or simply strolling along Paris' gorgeous boulevards and promenades. History buffs can learn more about the city's past in its museums, while culture vultures can take in the works of some of Europe's greatest masters in Paris' many art galleries. Shopaholics will have hours of fun exploring the hundreds of boutiques and stores across the city, and nature lovers can enjoy a vast array of interesting and beautiful public parks. You can even take a trip out of Paris and visit the stunning Loire Valley, the incredible Versailles Palace, or the several natural parks which surround the city. Whatever you want to do, our school's staff can help you do it!
How to get there
The French capital is served by two airports: Paris-Charles de Gaulle (Roissy) and Paris Orly. Both airports are around 30 minutes from the city centre by car, and flights to both are available from many worldwide locations.
When you arrive, you can either make your own way to your lodging or we can arrange an airport transfer service for you. If you select this service, a driver will be waiting for you when you land and will take you directly to your accommodation. If you select this service on departure as well, you will be taken back to your chosen airport in time for your departing flight. Transfer services are also available at all train stations in central Paris.
You should arrange to arrive in Paris on the Sunday before your course starts and to depart on the Saturday after it finishes. We may be able to arrange extra nights on arrival and/or departure for you if needed.

---
Location of our school in Paris (Eiffel)
Average score for our school in Paris (Eiffel) based on 62 previous client reviews.
Student reviews & feedback
P. Janoff
Very challenging and fun. I learned so much and enjoyed the field trips.
Accommodation, bed was too small but the staff were amazing in their customer service.
Stephanie is the best contact person of all time!!
Course
Accommodation
School Staff
E. Lopez
Excellent course, mainly grammar based and focused on developing speaking skills.
Course
Accommodation
n/a
School Staff
A. Aguilera Infantes
The school was very very nice all the people who work there are super friendly and my techar Sebastian is amazing always smiling, he is very patience and very profesional. I really recommend this school to everybody!
Course
Accommodation
School Staff
M. Cafarelli
My teacher Emilie is amazing! So friendly, so kind and gentle. Very positive and helpful. So satisfied of her. Thank you emilie because you helped me so much!!!! Thank you!
Course
Accommodation
n/a
School Staff
O. Zalewska
Fantastic teacher, full on course, very enjoyable.
Course
Accommodation
n/a
School Staff
M. Morton
Brilliant course with brilliant teachers. A wide variety of grammar, written exercises and oral training. Perfect accommodation. Extremely comfortable and easy to get to. Lovely person (Marie) who was very welcoming.
I wish I could have stayed longer
Course
Accommodation
School Staff
G. Wilson
Going back to school after 55 years is a shock to the system, and I found it more difficult than the younger students. However my object to improve my comprehension and conversation was successful. Very comfortable living space and excellent cuisine, though for my taste not enough fresh fruit and green vegetables. Going to have to go on a diet now!
Course material provokes an interest in French culture and current events which I had largely ignored previously. My curiosity has been stimulated and I am able to follow events on the Internet/radio and thus continue to develop my language abilities too.
Course
Accommodation
School Staff
K. Hilder
It was a very good experience, that I thoroughly enjoyed. The family that I stayed with were absolutely fantastic, I could not have asked for nicer people. We were looked after and fed very very well. I was made to feel so welcome, and it was lovely to have a family that could speak english so that if I had a problem then I could ask but otherwise we were able to converse in French. Would definitely recommend this accomodation to anyone that asked.
Course
Accommodation
School Staff
B. Fortes
The course was great, with structured methodology and an entry class that placed me exactly in the class I needed. The business course is very focused and the teacher (Valerie) is very well informed and dynamic.
Accomodation was great and very cheap. I loved that each student is given his own room, complete with a bookshelf and a desk to study. However, it is a little far from the school (40 minutes by subway) and students should know this before booking.
I will definitely book with you again!
Course
Accommodation
School Staff
I. Emerson
The course was excellent; very well-organised and an excellent level. Teachers very good indeed.
I think it is good that only French is spoken and that there is no dumbing down - standard was high. Good variety of skills used too.
Course
Accommodation
n/a
School Staff
R. Hahlen
The teacher Isabelle was great. She changed her exercises frequently and was fun. I learned a lot from her in a week. The class was only 6 people which was super. The building was a bit hot though. Good airco[nditioning] would be a nice extra. For the rest I was very satisfied.
Course
Accommodation
n/a
School Staff
F. Pakvis
Course
the level designated was done very good. The teachers were very good too. the subjects discussed which were indicated to me in advance were very well covered by the private sessions. The teacher, Nicola was able to set a very comfortable and relaxed atmosphere in the group and was creative in offering ways of teaching, a big thank you to him!
Accommodation
not applicable
Extra
the lesson material was a bit on the poor side. No books but instead copies taken from study books. Also no writing material like block notes or pencils. [msg from Apple: often course materials for short term courses are photocopied for clients. We do try and inform the majority of clients to bring their own pens and paper etc]
Course
Accommodation
School Staff
J. Richardson
Course
Anne is excellent. Enthusiastic, interested & kind. Fredericke on the last day was excellent & I hope to see her again as my maison secondaire happens to be in a village she visits often.
Accommodation
Mme Kovacshazy is highly intelligent and interesting. A very nice apartment.
Very pleased I did it
Course
Accommodation
School Staff
A. Pretelli
The course is very good, interesting and helful, professors are very competent. The family is good and nice, the house is near the school and services to get to school are excellent.
Course
Accommodation
School Staff
M. Bygraves
The classes were well structured and interesting so I gained a lot during my time in Paris.
Course
Accommodation
n/a
School Staff
K. Gernat
The staff is always friendly and helpful. My instructors were very good and were always ready to help out when I was confused or had questions about the lessons. Lots of fun. I will definitely be back....hopefully next year. A Bientot!
Course
Accommodation
n/a
School Staff
J. van Opstal
Total impression/ good expirience - personal attention specially - good contact with your office.
C. Wood
Great location...close to everything. Fantastic teachers that are focused on improving your French. Lots of variety and fun in class! Students seem to be focused on learning too!
Course
Accommodation
School Staff
C. Pierson
I found the courses to be very complete with many different activities
Course
Accommodation
n/a
School Staff
N. Dowlatshahi
The courses were excellent, the staff super friendly, and the teaching methods used by the teachers were very dynamic, different than most other traditional language courses and very effective.
The teachers were simply excellent!
Course
Accommodation
School Staff
H. Susanne
The course was very good, I've learned a lot. The teacher was very motivating and I had a very good time!
Course
Accommodation
School Staff
A. Galvin
The course was very effective and I was able to vastly improve my oral French over the course of my stay. Apple Languages were very helpful before my departure and answered all of my questions in a friendly and effective manner.
Course
Accommodation
School Staff
G. Katrien
It was a good course, friendly people.
Course
Accommodation
n/a
School Staff
L. Phillips
I really enjoyed private one to one lessons. My room was presentable and had everything I needed.
Course
Accommodation
School Staff
H. Welbergen
I enjoyed the french course very much. It was really what I wanted to learn: speaking french. The teacher was always very enthousiastic, even when it was really hot. She also helped us with difficulties and ambiance was very nice. I really would like to do a language course again, maybe Italian or french again.
Course
Accommodation
School Staff
K. Hoscher
The environment is fantastic, teachers make the lessons good fun and they are encouraging and patient. Conversation and interaction was encouraged which helped me understand and speak alot faster than I would in a 'normal' course.
Course
Accommodation
n/a
School Staff
S. Boxall
I found the range of topics covered very good and the level in which I was put was right for me. I liked the way the classes were organised.
Course
Accommodation
School Staff
R. Cunningham
General standard of teaching was high, with a couple of superb teaching staff. Overall, though, a very enjoyable and beneficial experience.
Course
Accommodation
n/a
School Staff
A. Unthiah
It was especially useful to be taught by real French people. The teachers were for the most part very helpful and friendly. The host family was very welcoming and made me feel at home.
Course
Accommodation
School Staff
B. Regan
I enjoyed the class very much, the teachers were very professional and kind. I stayed in a Hotel, just one block from the school. The rooms were large, clean, lovely. The staff was very friendly and breakfast was included.
I would recommend it to my friends.
Course
Accommodation
School Staff
F. Beiser
I had two teachers and both of them were absolutly great. The course was very well designed for me at my level. It was a great experience for me and I hope to do it again soon.
Course
Accommodation
n/a
School Staff
S. Kendall
Everything was as good as I could have imagined.
Course
Accommodation
n/a
School Staff
M. Swain
The course was great. The teachers really cared and wanted us to learn. It was definitely a 'get out of it what you put into it' kind of course, but this is the best way to learn, as far as I'm concerned - no tests, because I'm here for myself, not to prove anything to anyone and not to earn credits, although they offer that option.
Course
Accommodation
School Staff
M. Swain
I learned a lot not only about the French language but also the culture and pronounciation, which I think are equally important.
Course
Accommodation
School Staff
R. Juarez
The language courses and teachers were great, the location of the school was great too. I met a lot of great people. My host family was absolutely fantastic, very friendly, very helpful, and very French.
Course
Accommodation
School Staff
E. Pickering
The course was a very fulfilling experience. I made lots of friends, improved my language and now have work experience in Paris to put down on my CV. The teachers were very friendly, informal and informative. The lessons were often lively and humourous and they put everyone at ease to participate in lessons.
Course
Accommodation
n/a
School Staff
M. Gorini
The course was very interesting and well-organised.
School statistics
Nationality (%)

American/british (11)
Brasilian (9)
Dutch (9)
German/austrian (11)
Italian (9)
Japanese (9)
Spanish (10)
Swedish (7)

Average Student Numbers
---
Average ages (June - Aug)
* Statistics considered correct at the time of publishing
Student stories on our blog
A Day in Paris…the Parisian way!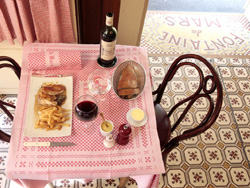 Hello everyone, Maria here! Today, I am going to write about how to spend a day in
Paris
the Parisian way, which means avoiding all sorts of mainstream tourist attractions where no real Parisian visits. In fact, many Parisians
dread
the Champs-Elysees, Eiffel Tower or Louvre. They even pray to never have to set foot in one of these places and some even find them tacky and cheesy. My guide will include everything from breakfast to dinner as well as all sorts of morning and afternoon activities to make the most of your time in Paris. Full addresses and example prices are listed at the end of this post.
Read more...