Learn Spanish in Barcelona (Diagonal)
As a city with a fiercely proud Catalan identity, Barcelona is a great place to discover more about the multi-faceted nature of Spanish society. The winding streets of the famous Gothic Quarter are a haven for history buffs, while the modern commercial area at Port Vell is perfect for an afternoon's retail therapy. Widely considered to be the artistic capital of Europe, the city is also ideal for art-lovers - with some of the most striking architecture in the world and a wide selection of arts museums and galleries, you'll be spoilt for choice for things to do! Come and learn Spanish in Barcelona with us and discover the delights of this amazing seaside city for yourself…
With global influence in commerce, education, sports, media, science, fashion, and the arts, Barcelona is one of the world's most popular cities. Its history goes back to the Roman Empire, when Barcino - as it was then known - developed from a small colony into and large and heavily fortified settlement. You can see artefacts from this time and learn more about the city's history at the MUHBA (Museu d'Història de Barcelona), which is only 25 minutes from our language school. This complex has various locations around the historic Ciutat Vella ('Old Town') - largely pedestrianised, you can explore this interesting and beautiful area to your heart's content!
Though Barcelona has long had a strong local culture, this really blossomed after the passing of General Franco. The new-found freedom provided by the removal of Franco's repressive rule spurred an explosion of creativity in the city, which has helped to create the vibrant atmosphere Barcelona is well-known for today. The fashionable district of Eixample, for instance, is characterised by its wealth of modernista architecture, a style epitomised by the almost magical work of Antoni Gaudí. Gràcia, meanwhile, is full of indie boutiques, arthouse cinemas, and art nouveau architecture. It's not just the beautiful buildings that make this city so appealing, however. With a total of 60 municipal parks, Barcelona is peppered with green spaces like Parc de la Ciutadella and the famous Parc Guell. If you prefer to be by the sea, the city has seven beaches covering 4.5 km of coastline, so you can easily catch some sun and surf after your lessons have finished. Sports fans can visit Camp Nou - the home ground of FC Barça, one of the world's biggest football teams - or watch a motorsports event at the Circuit de Catalunya. Foodies, meanwhile, will enjoy the wealth of Catalan cuisine available in the city, like ollada (a rich, meaty stew), esqueixada (salted cod salad), and sweet pastries like xuixos.
The city is particularly enjoyable during off-season, when the streets are quieter but the weather is still warm. In fact, with winter temperatures of around 15° C and summer averages of 30° C, Barcelona is clement at any time of year. With an international airport just outside the city and excellent rail links to other European destinations, it's also easy to get to - so what are you waiting for?!
Our school in Barcelona (Diagonal)
9 air-conditioned classrooms
Well-decorated student lounge
Communal computers and iPads
Food and drinks vending machines
Wheelchair-accessible
Wi-Fi throughout the building
Accredited by the Cervantes Institute
Approved for CSN and Bildungsurlaub programmes
Registered SIELE test centre
Member of the International Association of Language Centres (IALC) and the Institute of International Education (IIE)
Photos
If you choose to learn Spanish in Barcelona, you'll study at our city-centre language facility in the modernista quarter of Eixample. This district is known for its high proportion of artistic buildings, particularly those by famous Catalan architect Antoni Gaudí. Iconic mansions like Casa Milà, Casa Comalat, and Casa de les Punxes are all within a few minutes' walk of the school building, while the world-famous Sagrada Família is just 20 minutes away. The language centre is located on a tree-lined street that's filled with shops and restaurants, so you'll easily be able to grab a drink or meal after your lessons have finished. In fact, the nearest café is just across the road! What's more, the school is around the corner from a Metro stop and across the road from a bus stop, so you can easily reach other areas of the city and discover its myriad attractions.
With 9 air-conditioned classrooms, this facility offers a highly personalised experience to all students. The building is recently renovated and features a colourful and well-decorated student lounge with food and drinks vending machines. The lounge also has a reception area; the staff working here will be happy to help you find interesting things to see and do during your time in the city. The school has a selection of student computers and iPads that are available for personal use or for completing schoolwork. The building is wheelchair-accessible, and its upper floors are accessed by an elevator, so students with limited mobility can easily get around.
This highly accredited school is a member of the International Association of Language Centres (IALC) and the Institute of International Education (IIE), two organisations that are dedicated to maintaining high standards of language tuition in their member schools. It has certification from the Cervantes Institute, and is an official test centre for the Institute's SIELE examination. As well as its formal credentials, this school's central location in the cosmopolitan city of Barcelona makes it a sought-after Spanish study centre.
Location: Eixample, Barcelona
Nearest convenience store: 120 m
Nearest café: across the road!
Nearest metro stop: 230 m (Diagonal)
Distance from train station: 2.7 km (Barcelona-Sants Station)
Nearest bus stop: across the road! (Pau Claris - Rosselló)
Distance from airport: 15.6 km (Barcelona-El Prat Josep Tarradellas Airport)
Courses in Barcelona (Diagonal)
The standard Intensive course at this school consists of 20 group lessons each week. Classes take place every weekday and may be held in the morning or the afternoon; morning classes run between 09:30 and 13:30, while afternoon classes run between 14:30 and 16:30. Your timetable varies based on your ability level and the number of other students of each level; your schedule can therefore only be confirmed on your first day, once all students have arrived and registered. Groups are organised according to starting ability, which ensures that no one is left behind. Each class has a maximum of just 10 participants, so each pupil benefits from highly personalised attention from the teacher.
You can start your course on any Monday, regardless of your starting ability level.
To get more from your language experience, combine your core tuition with bespoke one-to-one lessons on an Intensive + Private course. You can add 5 individual lessons per week to your core Intensive programme, allowing you to focus on specific topics or get extra help with your studies. This type of programme is ideal if you want to make significant improvements during your time at the school. If you like, you can use your 5 private lessons to cover Business Spanish, Medical Spanish, or Teachers' Spanish (includes discussions of methodology and techniques). Please note that specialised private lessons require a minimum starting ability of A2.
For a more rigorous programme, add 10 private lessons per week to your Intensive course and get twice the one-to-one time with your teacher. If you're planning to gain a language qualification, you can use these individual lessons to prepare for the DELE test. Tuition can be given at any ability level, and our teachers can help you arrange your examination after your course has finished. Additional private lessons usually take place during the period 14:30 - 18:30.
If you prefer, you can book a whole course of private lessons and have either 10 or 20 one-to-one lessons per week. Larger packages are available if you'd like to book more weekly lessons. Since you'll have the undivided attention of the teacher, you'll receive bespoke tuition and get lots of language practice, so you're guaranteed to progress very quickly!
On the first day of lessons, you should arrive at the school at 08:00. You'll have a level test upon arrival, which is used to assess your starting language ability and place you in a group that's most suitable for that skill level. This provides you with the best possible opportunity to improve your Spanish knowledge, regardless of your starting ability.
In the afternoon/evening, you will have the opportunity to take part in the school's activity programme. At the end of your course, you'll receive a certificate of achievement. This can be used to demonstrate the language ability level you have reached during your time at the school.
Don't see what you're looking for? Contact us today to see if we can arrange a bespoke package for you!
Accommodation
Available accommodation
Apartment shared with Spanish host
Host Family
Host Family Plus
Shared Apartment
Student Residence
Staying with a local homestay host is the best way to maximise the benefits of your language tuition. Since hosts are all native Spanish speakers, you'll be able to practice your language skills with them and maintain your Spanish immersion. All hosts live up to 35 minutes from the school by public transport, which is an excellent commute-time for a city the size of Barcelona! You'll have a single or twin* bedroom and 2 meals per day as part of your accommodation package (breakfast and dinner). If you require a special diet, there will be an additional charge for this; this includes vegetarian, vegan, halal diets, etc. As standard, you'll share the living and bathroom facilities with your host(s) and any other students in the home, though 'plus' hosts can provide private bathroom access (subject to availability). Bed linens and towels are included, and you'll have access to the home's laundry facilities to wash your clothes. Please note that you may need to use a local laundrette for this. Wi-Fi access can be guaranteed in all homestay lodging. You will have your own key to come and go as you please, but you must respect house rules and schedules.
Please note: if you would like to book accommodation and are aged 16 or 17, you must select homestay lodging.
If you'd like to stay with a Spanish person but prefer a bit more independence, then select an apartment shared with a Spanish host. You'll stay in a private single or twin* bedroom on a self-catering basis and have access to the kitchen to cook your own meals. This type of accommodation is highly recommended for students over the age of 30, as it offers increased independence alongside opportunities for immersion. Please do note, however, that this option is much less immersive than a homestay package with meals, since you have less guaranteed interaction with your host(s). Bed linens and towels are included, and you'll have access to the laundry facilities to wash your clothes. You may need to use a local laundrette for this. Wi-Fi access can be guaranteed in this type of lodging.
If you prefer to stay with other school students, you can select a shared apartment and do just that. This type of lodging is a cost-effective option that offers a highly social experience and is therefore ideal for students aged 18 - 25 who are travelling on a budget. You'll have a private single or twin* bedroom and share the kitchen, bathroom(s), and lounge with the other apartment residents. Rooms are offered on a self-catering basis, giving you the freedom to cook for yourself during your stay. Bed linens and towels are provided, and all apartments have Wi-Fi access. We cannot guarantee that all apartments have a washing machine; please let us know if this is a requirement for you. The school works with various apartments across the city; students are placed based on availability at the time of study, so we cannot guarantee any particular location for this type of lodging.
Between July and August, you can stay in the school's student residence, which is located around 30 minutes from the school by Metro. Residence lodging offers a social experience that's ideal for students aged 18 - 25, since it's based on the city's university campus. This residence is used by Spanish students as well as international visitors, so you'll have the opportunity to practice your language skills during your time here. If you select this option, you'll have a private single or twin bedroom with an en-suite bathroom. It's possible to choose a twin room even if you're travelling alone; if you do this, you'll be placed with another international or Spanish student of the same gender. You'll also have access to all the residence's communal areas, including the study lounge, the social room, the music room, the gym, the spacious gardens, and the laundry room, which is self-service and coin-operated. The building has a 24-hour reception, so someone is always on-hand to provide assistance should you need it. Rooms include breakfast each day in the on-site cafeteria; you can upgrade to a half-board or full-board package if you prefer. Vegetarian, vegan, and coeliac options are always available. Towels and bed linens are included and changed weekly. Wi-Fi is available throughout the residence for free.
All accommodation is available from the Sunday before your course starts until the Saturday after your course finishes. We may be able to arrange extra nights in your accommodation for you if needed - please contact us about this prior to making your booking.
*Twin rooms are only available to students travelling together. If you select a shared room but are travelling alone, you will be swapped to a single room.
Activities
To get the most out of your experience in Barcelona, we recommend that you take part in the school's social and cultural activity programme. As well as helping you to get to know your fellow students, the activities are designed to be both educational and entertaining. Each session is held in Spanish, allowing you to maintain your language immersion and helping you to continue to learn through experience in real-life scenarios.
Many activities are available free of charge, though some may incur an additional fee to cover entrance and/or transportation costs. You're guaranteed to have 4 activities per week, though others may also be available. The exact schedule changes throughout the year but may include:
- Guided walking tours of the city
- Visits to local museums and attractions
- Dance classes
- Evening meals and/or drinks with your classmates
- Visits to local markets
- Free culture classes
- Sports games and group picnics
- Extra workshops on comprehension, pronunciation, and Catalan
- Excursions to local places of interest like Cava Freixenet, Monterrat, Girona, or Sitges
- Plus seasonal activities available in the city
How to get there
Barcelona-El Prat Josep Tarradellas Airport is around a 45-minute drive from the city centre and is easily accessible from most worldwide destinations.
From here, you can either take public transport to your accommodation or we can arrange an airport transfer service for you for an additional charge. If you book this service, a driver will be waiting for you when you land and will take you directly to your accommodation. If you select this service on departure as well, you will be collected from your lodging on your last day and taken back to the airport in time for your departing flight.
You should arrange to arrive in Barcelona on the Sunday before your course starts and depart on the Saturday after your programme finishes. We may be able to arrange extra nights on arrival and/or departure for you if needed.

---
Location of our school in Barcelona (Diagonal)
School statistics
Nationality (%)

Brazil (10)
Canada (8)
France (11)
Germany (11)
Italy (9)
Sweden (6)
Switzerland (3)
The netherlands (8)
Uk (9)
Usa (5)

* Statistics considered correct at the time of publishing
Student stories on our blog
A few local favourites in Barcelona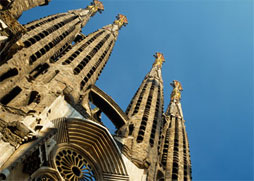 Home to one of our most popular
language schools
(and my very own big sister) Barcelona is always worth visiting, especially if you are living there as a student on a Spanish language course! I have personally visited Barcelona about 10 times now and even after being back home for just one week, I can't wait until I have the opportunity to return again. There is just so much to see and do and experience for not only the tourist, but also those that live there, discovering new things every week or even every day.
Read more...