A few local favourites in Barcelona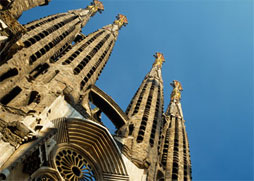 Home to one of our most popular language schools (and my very own big sister) Barcelona is always worth visiting, especially if you are living there as a student on a Spanish language course! I have personally visited Barcelona about 10 times now and even after being back home for just one week, I can't wait until I have the opportunity to return again. There is just so much to see and do and experience for not only the tourist, but also those that live there, discovering new things every week or even every day.
Read on to be reminded of the main attractions, together with a few favourite things to do from a Barcelona resident!
As a tourist on your first visit you absolutely have to visit Gaudí's masterpieces: Sagrada Familia, La Pedrera and Parc Guell to name just the top three. After you've filled up on Gaudí you then have the Picasso Museum, Poble Espanyol de Montjuïc (Spanish village) – whilst taking in the Magic Fountain of Montjuïc and the views from the Olympic park and more. The Barcelona Card can help you with all of these attractions, either giving you free entrance or a good discount, together with helping you get around the city, skipping queues and giving you further discounts – really making it a useful purchase.
Those who really want to immerse themselves in art and avoid the busiest tourist spots should just consider the Art Ticket which includes Picasso, Fundació Joan Miró, MNAC and the surprisingly cool CCCB. When I last checked, the Art Ticket cost €28.50 and included admission to all the permanent collections and temporary exhibitions at these centres and more.
Not being a huge football fan I have never actually visited Camp Nou, only passing by several times on trips from the airport or to surrounding areas. However, with a capacity of almost 100,000 and home to one of Europe's best and most popular clubs – F.C. Barcelona – and some of the very best players in the world, a tour around this iconic stadium is guaranteed to be a worthy trip for any sports enthusiast!
Barcelona Zoo and the Aquarium are two more attractions that I have yet to experience but these together with the other sights above are all well known and certainly well written about. As someone that has seen and done as much of what is possible and also likes to stay away from the crowds and street sellers of Las Ramblas, what else is there to do?
Hire a Bike!
Around Barcelona you will see lots of bicing (pronounced bee-cing) stations which many tourists try and use but these are reserved only for residents! However, due to the popularity of the bicing and the fact that tourists see more and more people riding around the city, bike hire has started to become very popular. This simply means it is easier (and probably cheaper) for a visitor to Barcelona to hire a bike. A quick search will give you many companies offering services for tourists… or language students who stay for two or more weeks. For those that don't appreciate the exercise as much you can even hire electric bikes. If you choose to book a language course in Barcelona, our Spanish school will be able to advise you on the best option for bike hire depending on where you are staying in the city.
Go to the beach on your bike or the train!
With Barcelona being relatively flat and very bike friendly, riding around is not only amazingly good fun and exercise, but you can cover most of the city in just one morning or afternoon. Alternatively, simply ride up and down La Barceloneta alongside one of Europe's most impressive city beaches – which is likely the closest significant beach to any major city in Europe.
If staying in Barcelona for longer and wishing to sunbathe like a resident and not with all the tourists then get on a train out of the city, in either direction along the coast. These take you to lots more beaches that are cleaner and less busy than the main beach at Barceloneta.
Stop off for an award winning coffee!
Close to where my sister lives, between the incredible El Born neighbourhood and the Gothic Quarter is a local favourite coffee shop – Cafés El Magnífico. Service is rather slow, especially when busy, but the wait is more than justified. Even my Portuguese friends (all Portuguese people think Spanish coffee is not good) would not fail to enjoy the freshly ground, handmade, premium roast coffee in this delightful little café – hidden from the mass tourists at 64 Carrer de l'Argenteria
Eat Sushi
Barcelona is a large cosmopolitan and international city and like all internationally renowned cities there are literally hundreds of different places to eat sushi! Walking distance from Ramblas, Jaume I and El Born is a small but perfectly formed sushi take-away restaurant serving fresh and delicious starters, sushi and drinks for prices that won't break the bank. Called temaki-ya and relatively new, opening in 2010, their most popular dishes are the delicious and healthy coned-sushi, inspired by the fast food outlets of the owner's native Brazil. Collect ten cones to get one free! For my personal tastes though, it's hard to beat the €3.95 gyoza I had for starters, along with the salted edamame beans and a fresh Spanish beer.
Enjoy some of the very best ice cream!
Perfectly situated opposite the coffee shop above is one of the franchised TOMO II Gelateria – an ice cream shop which is a favourite with locals and tourists alike. I can safely say it was the best chocolate ice cream I have tried as you can see with the excitement on my face whilst strolling around the Gothic Quarter!
Embrace the Thai!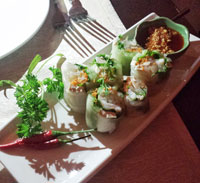 Thai businesses in Barcelona seem to be more and more common and it's an influence you definitely notice if staying for a little while in the city. If you are ever close to the Passeig de Gracia district of Barcelona you really must visit the restaurant Thai Gracia.
Although we hadn't booked a table and the restaurant was completely full, they saw we were hungry and opened up a private function room just for the two of us! The food was not only very authentic (I travelled Thailand for a few weeks in 2009) but exceptionally delicious. Just don't eat the chillies in one go if you aren't good with hot food! The spring rolls in this picture were particularly outstanding.
Looking for some relaxation after a busy day of sightseeing and discovering new secrets? Or, just missed the film you were aiming for at the cinema? A Thai massage will invigorate you and leave you feeling ready for more. Ranging from €15 – €150 Euros depending on the treatment and location – a lot more expensive than in Thailand, but still worth it! – you should really treat yourself and unwind with a Thai Massage. We stopped off at Ban Thai Masaje which cost €30 Euros for 45 minutes.
Peter Carvell