Sunny days in Nice!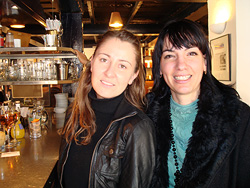 Nice is simply perfect – a beautiful. picturesque town, lying on the warm shores of the Mediterranean Sea with a welcoming, friendly atmosphere and INCREDIBLE weather! It seems the sun never stops shining! I loved it to bits! Seeing the sparkling Mediterranean each morning, enjoying the wonderful climate, and taking part in fun-filled school sponsored activities are just some of the many things I loved about studying in Nice. The weather is unbelievable, and makes all the difference when sitting, taking in the sun, at break time, chatting with other students in the school garden.
My mornings were spent in class studying, afternoons loaded with activities to help you practice French and become familiar with your new surroundings, and evenings full of Nice's wide range of nightlife. It felt like my time there was not nearly enough – I long to return to my easy-going French lifestyle! It made it so easy to study, being surrounded by such a relaxing atmosphere. Walking along the promenade and enjoying a cup of excellent French coffee after classes was always a favorite activity of mine, and the afternoon outdoor markets are also something I loved. On Mondays the market behind the beach sells antiques, but from Tuesday through Sunday food and flowers are the specialty. Everyone outside selling their goods is welcoming. I just fell in love with the warm ambiance of the marketplace and couldn't stop going back, looking at everything on offer, even though most of the time I was really just 'window shopping'!
My school in Nice simply couldn't have been better! The staff were so welcoming to me and teachers were always so energetic – you couldn't help but be infected by their enthusiasm! Our classes never had more than 10 students, usually just 7 or 8, so we all became really friendly with each other, which helped make us all comfortable enough to speak lots and lots in class… rather than being nervous about making mistakes – We were all friends, so it really didn't matter! During our breaks we sat in school patio area, or in the school's lovely private garden to enjoy the warm air and have a quick snack.
Nice really gives you a great taste of all kinds of aspects of the French lifestyle with a large selection of both cultural and leisure activities. To start off the first week of school, there was a lovely welcoming party on Tuesday night. This is where all of the students got a chance to meet each other outside of their classes, and practiced their French. Watching the sun set for the first time in the south of France, with all of my new international friends is something that I will never forget. The other activities to choose from are almost endless, changing every week – and the staff all join in! You get free guided visits of the old town, French films, and also evenings out to theaters or restaurants. You can, of course, take advantage of the sea and go sailing or underwater as some of my friends did! You so quickly make life long friends while studying… I'm still in contact with so many people that I met on the course, from all over the world!
It is easy to get swept away with the beauty of Nice. Even in February the sun peeks out of the sky, warming you up, and you can easily sit outside to enjoy something as delicious as merda de can, which although sounding unappetizing, is an extremely tasty gnocchi stuffed with spinach, which makes it bright green! I tried this dish at Le Safari, which ended up becoming my favorite restaurant in Nice – within walking distance from school. It sits in the old town, just after you pass the famous Marché aux Fleurs, market. I used to sit outside to enjoy my lunch with my two French friends, who had no problem teaching me new vocabulary. It was nearly always sunny, and it was fabulous when I didn't even have to wear my jacket in the middle of February!
I couldn't have asked for more when choosing where to study French. Nice left me in awe, wanting more of its warm and serene environment, and I hope to make it back someday soon! But, till then, I've got lots of memories and lots of new friends to keep me coping with 'life after Nice!'
Jess (USA)