Nice(ly) Done!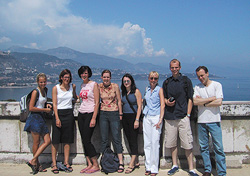 With palm trees, the sparkling Mediterranean, sunshine galore and cheap as chips flights from my local Bristol airport, Nice was the natural choice for my French course!
But I soon discovered that the fact that Nice was so easy to travel to was just the icing on the cake… the city is gorgeous! I stayed with a family in the north part of the city, close to my school in Cimiez among the lovely (and might I add, very posh!) traditional French villa homes. From up there on the hill you could look out and get the most wonderful views over the city. One of my favourite times of day would be mid-evening, taking a walk after dinner in the warm South of France air, and watching dusk settle over the town and the twinkling sea ahead.
It was just the ideal summer away. Everything suited me perfectly. I could enjoy the busy cosmopolitan city-life side of Nice, with shopping trips, the hustle and bustle of restaurants, and bars in the commercial centre. Then I could wander 20 minutes down the road and find myself in the quaint old town among traditional market stalls, squares lined with people enjoying the café culture, and huddles of French gents playing petanque on dusty pathways in parks. Walking 15 minutes in the other direction I would end up in the heart of the glitzy Nice Marina, strolling past bazillions of Euros-worth of yachts and stalking the celebrities who come to Nice to sip champagne in the heart of the French Riviera. I loved it!
And to top it off, my school was in an awesome mansion building. I am not kidding! We had this beautiful detached building and our own gardens to relax in during breaks, all located in the peace and tranquility of one of the nicest, classiest areas of the city. We were even in the same neighborhood as the Hotel Régina where Queen Victoria used to stay when she used to visit the South of France, and the very sophisticated Matisse museum – I was certainly very spoilt during by time in Nice!
I would recommend Nice to everyone. For me it was a perfect mix of modern and traditional France, a real opportunity to practice French language skills in a busy city environment, yet at the same time, a chance to unwind, soak up the sun and enjoy the gentle, Mediterranean pace of life with my lovely host family. I'm already planning my next trip back!
Zoey (UK)