Learn Spanish in Cadiz
Cadiz sits on Spain's southernmost point, with one foot in the Mediterranean and one foot in the Atlantic. As the longest continuously inhabited settlement in the Iberian Peninsula, Cadiz certainly has a long and fascinating history, which is evident throughout the town, from the ancient Roman theatre to the impressive city walls and seafront fortifications. Cadiz is also home to some of Spain's most spectacular beaches, and the surrounding region is an area of outstanding natural beauty! As an important seafaring town, the local cuisine is well known for its delicious fish and seafood dishes, as well as its fresh fruit and vegetables from market gardens, cheese from the Sierra and beef from La Janda!
Cadiz also hosts the Cadiz Carnival each year, one of the most spectacular festivals in the world! Visit the distinctive Cathedral, with its glimmering golden dome, before stopping for refreshments or some tapas in a picturesque plaza or park. Take a walk on the promenade, gazing out over the azure expanse of the Atlantic. The Playa de la Caleta, overlooked by palm trees and an elegant spa house, is the perfect place to watch the sunset.
As well as all this, the locals are well known for being very open, friendly and welcoming, making Cadiz a fantastic location for foreign students to learn Spanish!

Our school in Cadiz
13 classrooms
Course materials purchased on-site
Large rooftop terrace
Spacious student lounge
Various study spaces
Kitchen for cookery lessons
Wi-Fi throughout the building
Member of the FEDELE organisation
Authorised for Bildungsurlaub (various states) and CSN courses
Accredited by the Cervantes Institute and the universities of Seville and Barcelona
Photos
Our Spanish school is housed in a modern building, in one of Cadiz's most attractive neighbourhoods, just a few metres from the beach and very close to the old city walls and town centre. The classrooms at the school are spacious, light and extremely well equipped with interactive whiteboards and audiovisual equipment. The school is air conditioned and offers WiFi Internet access throughout. There is also a bookshop, a video library, multimedia room and conference room.
Our school here is part of a group of schools that was founded in 1983 and therefore has over 30 years' experience teaching Spanish to international students of all ability levels. It is accredited by the Cervantes Institute and the universities of Seville and Barcelona, and is a member of the International Association of Language Centres (IALC) and the Spanish Federation of Schools of Spanish for Foreigners (FEDELE). These credentials demonstrate the high quality of tuition available here. Cádiz is compact enough that our school is within easy reach all the sights and sounds of this cultural capital, including the cathedral with its golden-tiled dome, the nearby Roman amphitheatre, and the popular Santa María del Mar beach.
Location: just outside central Cádiz
Nearest convenience store: 42 m
Nearest café: 38 m
Nearest metro stop: N/A
Distance from train station: 800 m
Distance from airport: 42.3 km (Jerez Airport)
Nearest bus stop: 110 m (Juan R. Jimenez, overground metro)
Courses in Cadiz
Our school in Cadiz offers a wide variety of courses! In addition to group courses which include either 20 or 25 Spanish language lessons per week and courses of private lessons, it is also possible to hit the waves and combine your language course with surfing, windsurfing or sailing lessons. Exam preparation courses are also available for students preparing to take the internationally recognised DELE exams.
A Club 50 course is also available with specific start dates across the year. This course is specifically designed for students over the age of 50, who would prefer to study with other like-minded students and combines language lessons with a programme of activities focusing either on Spanish art and history or gastronomy and wine.
Throughout the summer months, the school also offers a popular course for students aged 13-17 years of age.

Special courses in Cadiz
Accommodation
Available accommodation
Host Family
Shared Apartment
Student Residence
Studio Apartment
For a fully immersive experience, we recommend that you stay with a local homestay host. You'll live with a native Spaniard and be able to practice Spanish with them, so you can carry on learning even outside the classroom. Hosts live up to 20 minutes' walk from the school and all offer a safe and comfortable living environment. You'll have a private single or twin* bedroom and 1, 2, or all 3 meals per day as part of your accommodation package. Special diets can be provided for an additional fee (e.g. vegan, halal, gluten-/lactose-free; does not include vegetarian diets). As standard, you will share the living and bathroom facilities with your host(s) and any other students living in the home, though some hosts can offer rooms with private bathroom access (subject to availability). Bed linens, towels, and a weekly laundry service are included in the accommodation package. You will have your own key to come and go as you please, but you must respect house rules and schedules.
If you prefer more independence, you can choose a shared apartment and have a private single or twin* room in a flat in the city. You'll share the kitchen, living, and bathroom facilities with your fellow residents, who are usually native Spanish speakers (sharing with other international students may be possible, subject to availability). Rooms are offered on a self-catering basis, giving you the freedom to cook for yourself during your stay in Cádiz. Bed linens and towels are included, and many apartments have on-site laundry facilities (though, in some cases, you may need to use a nearby laundrette). Please note that, even if you stay with a native Gaditano, this type of lodging is much less immersive than homestay lodging, since it offers much fewer opportunities for language practice.
Between July and September, you can select the school's student residence, which is a great option for younger students wanting to stay with other international language learners. The residence is just a 20-minute walk from the language school and offers private single or twin* bedrooms. As standard you will share the bathrooms with the other residents, though single rooms with private bathroom access are available for an additional fee. Rooms are offered on a half-board basis, meaning you'll receive 2 meals per day on-site as part of your accommodation package (breakfast and dinner). Special diets can be provided for an additional fee (e.g. vegan, halal, gluten-/lactose-free; does not include vegetarian diets). Bed linens and towels are included and changed once a week. You can pay a small fee for an on-site laundry service if you need to wash your clothes during your stay. Please note that this type of lodging incurs a security deposit of €150, to be paid on arrival; this fee will be returned to you on departure providing your key is returned and your space is left in a suitable condition.
If you prefer complete privacy, then a private apartment would be the best option for you. You'll have a self-contained studio within 20 minutes' walk of the school, complete with its own bathroom, lounge, and fully-equipped kitchenette. All apartments have heating, air-conditioning, and Wi-Fi access. Bed linens and towels are included, and many apartments have on-site laundry facilities (though, in some cases, you may need to use a nearby laundrette). Apartments are offered on a self-catering basis, giving you the freedom to cook for yourself during your stay.
*Twin rooms are only available to students travelling together.
Accommodation is available between the Sunday before the start of your course and the Saturday after your course finishes. If you attend for just one week, we recommend that you book an extra night of accommodation on departure so you can attend the full-day excursion, which usually takes place on the middle Saturday. Check-in and check-out times are usually very flexible.

Activities
The cultural activities offered by our school in Cadiz offer the perfect opportunity for students to learn more about Spanish culture! Examples of activities offered include guided visits to the old town, where you will learn about the cultural heritage of Cadiz, as well as talks on Spanish cinema and Salvador Dali, flamenco shows in the school and basketball games between students, teachers and locals. The school also arranges regular excursions to places such as Tangiers in Morocco.

How to get there
The closest airport to Cadiz is in Jerez de la Frontera. With a direct train service from the airport to Cadiz taking around 45 minutes, it is easy to reach Cadiz from Jerez. You can also fly to Seville, which is approximately 2 hours from Cadiz, or even Malaga, which is around 4 hours from Cadiz. We would be very happy to arrange airport transfers for you from Jerez, Seville or Malaga, although these are not included in the course price.

---
Location of our school in Cadiz
Average score for our school in Cadiz based on 10 previous client reviews.
Student reviews & feedback
L. Gowen
Learnt a lot. Really helped with my conversational Spanish as well as my grammar. Teachers were very good and all the staff were very friendly and helpful.
I stayed at la oca student residence. Great facility, had everything I needed and beautiful terrace. Only thing I wish we were given more details about it like where the bins are and kitchen etiquette. I had to figure out a lot of things myself
Course
Accommodation
School Staff
H. Martin
Chiqi was an excellent teacher. I felt challenged and motivated.
Accommodation was much larger than I expected. However, the oven didn't work, but they fixed that within a couple of days.
I intend on taking another language class in Cadiz at some point.
Course
Accommodation
School Staff
B. Brown
Fantastic teachers with right mix of grammar and conversation at the correct level.
Lovely lady in apartment moments from the beach, town and school.
Brilliant customer service all round. I have thoroughly recommended Apple Languages for years
Course
Accommodation
School Staff
S. Hogan
The teachers were amazing, constantly engaging the class in discussion and examples. The topic was very relevant, exactly what I had wanted to practise.
Our Spanish madre was very nice, she gave us a key so we could be independent. It was a really good distance from the school and the beach too.
The staff at the school were amazing! Also the activities run by the school were a really good way to meet new friends- definitely keep putting them on!
Course
Accommodation
School Staff
T. Hanan
Apple Languages were extremely helpful in finding an alternative when my originally booked school was unavailable, due to circumstances entirely beyond their (or my) control. The situation was not created by Apple, but they assisted in transferring my original payment to a new school and finding alternative accommodation. Superb customer service, above and beyond what could reasonably be expected.
The accommodation was described as a "studio", but turned out to be a fully equipped 1-bedroom apartment, much bigger than I expected, equipped with a full kitchen, dining table, microwave and washing machine. The apartment was extremely conveniently located, a 3-minute walk to the school.
Thank you Apple Languages - I'll speak to you again next season for my next course.
Course
Accommodation
School Staff
B. Jorrisch
Virginia Galvez Naranjo (for level B1 class) was a superb teacher... two weeks of a fantastic learning experience with a dedicated, professional and fun instructor!!!
Lovely [host family] accommodation in Cadiz. Perfect!
Course
Accommodation
School Staff
K. Mitchell
I thoroughly enjoyed the course. It was well structured and professionally delivered by enthusiastic staff. I was impressed by the professionalism and reliability of all the administrative detail and paperwork both in the UK and in Spain. My transfers proved to be reliable and punctual and directions to the school were detailed, accurate and very helpful. I very much appreciated having the daily excursions included in my Club 50 package and found most of them to be interesting, entertaining and very well conducted.
My accommodation was excellent in its location, proximity to the school, comfort, cleanliness and the hospitality and friendliness of my host.
Course
Accommodation
School Staff
L. Schemak
I loved the atmosphere at the school. They offered a lot of extracurricular activities and the teachers there were very nice and welcoming, engaging in conversations. My course in general was very conversational which helped my Spanish a lot.
My accommodation was lovely! Besides the cleanness and comfort of the space, I couldn't ask for a better host family, who was warm and caring throughout my stay and when problems occurred, always willing to help.
Course
Accommodation
School Staff
C.
I highly recommend the school in Cádiz: The classes' quality is excellent particularly because of the teachers . They work highly professionally and are very dedicated to their work. The grammar and conversation lessons are something I enjoyed in particular because they included creative tasks in order to practice your speaking skills. Another advantage was an additional private lesson because the teacher bore my wishes in mind.
J. Monaghan
I found the course was very well organised and the teachers were really helpful and i learnt a lot in the 3 weeks i was there and would definitely return again. I found the accommodation was very comfortable and well located. Everything i needed was within walking distance.
Course
Accommodation
School Staff
C. Prendergast
The course was very helpful and good, I learnt a lot. I stayed with a very caring and lovely host family.
Course
Accommodation
School Staff
School statistics
Average Student Numbers
---
Average ages (June - Aug)
* Statistics considered correct at the time of publishing
Student stories on our blog
Cool Cádiz in Southern Spain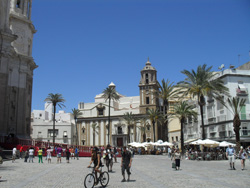 On the coast of the North Atlantic Ocean is a small peninsula packed with culture, history, and beauty. This special place is called Cádiz, and it's the perfect study location if you want to learn Spanish in an authentic area with a distinctive Spanish character. You'll also be spoiled by the wonderful beaches surrounding the city, where you can relax after your lessons. Still not convinced? This blog post will hopefully change your mind and show you some key parts of this stunning city!
Read more...