Cool Cádiz in Southern Spain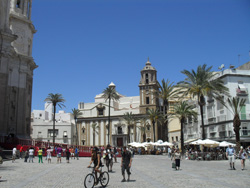 On the coast of the North Atlantic Ocean is a small peninsula packed with culture, history, and beauty. This special place is called Cádiz, and it's the perfect study location if you want to learn Spanish in an authentic area with a distinctive Spanish character. You'll also be spoiled by the wonderful beaches surrounding the city, where you can relax after your lessons.
Still not convinced? This blog post will hopefully change your mind and show you some key parts of this stunning city!
The city of Cádiz
Cádiz is an experience all of its own. It's hard not to be impressed by the wonderful amalgam of narrow Andalusian streets, picturesque plazas, and astounding architectural gems. Lose yourself in the city's winding alleys and see what you can discover. Trust us: you won't regret it.
Plaza de San Antonio
One prime example of gaditano architecture is the Plaza de San Antonio and the Church of San Antonio that towers over it. This quadrangular plaza is over 300 years old, and – together with the surrounding buildings – one of the city's key historical sites. Once it was one of the most important places in Cádiz, until more modern plazas took its place. But still, life fluctuates around here, and the Church of San Antonio alone is well worth the visit. Its sandstone facade is awe-inspiring, while inside you'll find a huge and intricately carved altarpiece, which looks like marble but is actually made of wood.
Cádiz Cathedral
Certainly one of the best buildings in Cádiz is its cathedral. This absolutely stunning building was dubbed the 'Cathedral of the Americas', since it was funded by Spain's trade with the New World. This time in Spanish history is often referred to as the Siglo del Oro (the 'Golden Age'), and Cádiz – as a major port city – benefited greatly from the country's new wealth. In the face of this prosperity, the extant cathedral was considered simply not good enough, so a new and better building was planned.
The new cathedral began as a Baroque piece, but it was later felt that the city needed something even grander, so the design was changed. In the 116 years it took to build the cathedral, successive architects took over the project and added their own unique flair. The combination of Baroque, Rococo, and Neoclassical styles gives the cathedral a particular charm, while its spectacular gilded dome is a nod to Spain's power and wealth during the Siglo del Oro.
The cathedral's chapels are home to a huge collection of relics and paintings from the old cathedral and various Spanish monasteries. Its interior is just as stunning – if not more so – than the outside, so be sure to take a look inside if you get the chance. It's a joy for any history buff or culture vulture!
Castle of San Sebastian
Just off the main city is a small peninsula, where you'll find the Castillo de San Sebastian (Castle of San Sebastian). Built where a temple for the titan Kronos is said to have once stood, this fortress is surrounded on all sides by the sea. The peninsula is connected to the mainland by a cobblestone bridge, which offers great views of the city from out at sea. The peninsula is also home to a large electric lighthouse, which was once the second-largest in Spain. The complex is currently closed to the public for renovations, but you can still walk along the boardwalk and get up to the gates. For a truly amazing panorama, head out at sunset.
The beaches of Cádiz
If you go to Cádiz, you'll find beaches aplenty. In fact, our language school is literally 2 minutes away from the Santa Maria del Mar beach, and very close to La Playa de Victoria. This means that you're ideally situated to top up your tan or jump into the cool ocean waves. Enjoy yourself!
La Playa de Victoria might be one of Spain's most famous beaches. Stretching a whopping 3 kilometres along the shoreline, it's one of the largest urban beaches in Europe. You're sure to find yourself a suitable spot here! The beach's length means it's easily accessible from many parts of the city. Whenever the urge to visit a beach hits you, Playa de Victoria will only be a few minutes away.
Another famous gaditano beach is La Playa de la Caleta, which is immortalised in many a Carnival song. Why, you ask? Simply because it's considered to be one of the most beautiful beaches in existence. If you want to know what all the fuss is about, check it out! From this beach you can reach San Sebastian Castle, so you can experience some culture and history there after some relaxing self-care on the sand.
Besides these bigger ones, you will find multiple smaller beaches around the city. If you can't get enough of sand and sea, Cádiz is the place for you!
Cádiz Festivities
Spain is well-known for its loud and long-running street parties. Cádiz, in particular, plays host to numerous annual festivities.
Epiphany
To start off the year, the whole nation celebrates Epiphany. Epiphany is the Christian holiday which commemorates The Three Kings' (or Three Magis', or Three Wise Men's) visit to the newborn baby Jesus. In Spain, many children receive their gifts from Kings Melchor, Caspar, and Balthasar on January 6th, rather than from Santa Claus on December 25th. In fact, in Spain the Kings are generally more important than Santa, and some families don't observe the holiday on December 25th at all.
In Cádiz, children are told that the Kings come on camels to bring sweets and gifts to the well-behaved. On the night of January 5th, people flock to the city to see the Kings' Parade, which is full of colourful floats, people dressed as kings on camels, and lots of loud music. The 'Kings' will often throw sweets to the children in the crowd. When they get home from the parade, children clean their shoes and leave them out so the Kings can find them. They'll also often leave food for the Kings' camels, since it's said that this is the only day they eat.
The following morning, children awake to gifts under their shoes and a delicious breakfast of sweet Roscón de Reyes, a colourful ring-shaped cake. Traditionally, the cake contains a prize – usually a crown or a small figurine of the baby Jesus – and a dry broad bean.
Whoever gets the prize in their slice is crowned the King or Queen of the day, while the person who gets the bean has to pay the value of the cake to the person who originally bought it. Dia de los Reyes (Kings' Day) is a magical celebration that marks the end of Christmas and the official start of the new year, and it's a time that's specially marked for spending with friends and family.
Cádiz Carnival
Not long after King's Day comes Carnival. Cádiz is home to one of the best-known carnivals in the whole of Spain. The celebration was instated in the 16th century as a copy of the famous Venice Carnival, but since then it has developed its own unique flair. This carnival is characterised by its sense of humour, and features groups of costumed singers playing satirical songs and performing comedic sketches. It's always a loud and raucous affair.
There will be orchestras, choirs, solo singers, and quartets all doing their part to make the Carnival as entertaining as possible. Famed for their wit, the gaditano performances often mock current events, popular songs, and public figures. During the 10-day festival, you'll also see processions, concerts, puppet shows, and fireworks. As with many European carnivals, Cádiz's festival is linked to the Christian tradition of Lent and always takes place around the end of February.
Holy Week
Holy Week is one of the most important annual festivals in Spain (if not the most important!). From Palm Sunday to Easter Sunday, many cities, towns, and villages will celebrate the final period of Jesus' life, commonly called the 'Passion of Christ'. In Cádiz, the festival is a sombre occasion characterised by processions of wooden and plaster depictions of Jesus and/or Mary. These heavy and often intricate floats – or tronos – are carried through the city's streets by robed members of Catholic brotherhoods. Some of the floats are several metres tall and require hundreds of people to carry them!
Especially in Andalusia, it's common for women in black mourning clothes to follow the tronos, acting as living symbols of Mary's sorrow. As with almost any Spanish celebration, there'll be music and dramatic re-enactments, although the tone of the performances are quite different to those seen at other times of year. The whole point of this festival is to honour Jesus' sacrifice and, as a devoutly Catholic country, it's a celebration which is dear to many Spaniards. If you want to participate in a festivity that is deeply anchored in the history and culture of the country, definitely be sure to visit Cádiz during Holy Week!
Outside Cádiz
The Province of Cádiz has much more to offer than just its capital city:
Baelo Claudia
Just an hour's drive from Cádiz city is Baelo Claudia, the remains of an important Roman fishing town from over 2,000 years ago. Sadly, the town fell victim to a terrible fate: successive earthquakes and pirate attacks caused the population to leave in droves, and eventually the town was left empty. What's left are some incredible bits of ancient architecture and an old, wise aura that permeates here.
A surprising amount of the town's infrastructure remains, giving you an idea of what it would have been like during its height in the 1st century BC. Pay a small fee and see the ancient town walls with their watchtowers, the public square, four temples – 3 dedicated to the Capitoline Triad and 1 to the Egyptian goddess Isis – the courthouse, the remains of various markets and factories, and parts of the theatre, which once seated 2,000 people. Baelo Claudia really is an amazing place!
Spanish cities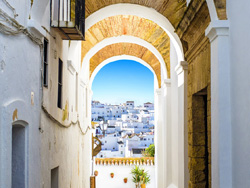 When you study at our language school, you'll have the opportunity to attend afternoon or weekend excursions to different Spanish cities. This is the perfect way to see more of this beautiful country and make the most out of your time here.
For example, there are trips to Vejer de la Frontera, which is a prime example of a typical Andalusian pueblo. Known for its whitewashed houses and labyrinthine streets, this hilltop town is a feast for the eyes. Enjoy a completely different image from a city like Cádiz and take a deep dive into Andalusian culture. What's more, the beach is only a 20-minute drive away, so you can see the sea here too if you like!
Another popular excursion destination for our school is Seville. This city offers more stunning architecture and hundreds of museums, so it's the ideal place to learn more about Spanish history and culture. There are art museums like The Andalusian Contemporary Art Centre, The Museum of Arts and Traditions, and the Flamenco Art Museum, and historical museums like The Archaeological Museum and The Antiquarium. Together with many green places and gardens, Seville is a very colourful city.
What now?
If you're interested in this wonderful city and want to know more about our Spanish courses in Cádiz, check out our website or contact us for more information. We'll help you arrange an unforgettable language experience!
How to get there
There is no airport in Cádiz, so you'll need to plan your trip accordingly. The closest airport to Cádiz is in Jerez de la Frontera. You can fly to Jerez Airport (XRY) from many European destinations, and the airport is also used for domestic flights from Madrid and Barcelona. If you're struggling to fly into Jerez, you can travel to larger international airports like Seville (SVQ) or Málaga (AGP).
After arriving into one of these airports, you can easily take public transport to Cádiz. You can travel from Jerez Airport to Cádiz by train, which takes approximately 45 minutes and costs around €10. Seville airport to Cádiz is less than 1.5 hours by car. It takes approximately3 hours by bus and costs €15.
For peace of mind, our language school can arrange a private airport transfer service for you for an additional charge. You can also be met at Cádiz train station.
Contact us if you'd like more information on the available travel options with your Spanish course.