Learn German in Hamburg
Hamburg is a beautiful and historic port city in northern Germany. As a founding member of the Hanseatic League, it dominated European trade for centuries and has grown into a thriving, modern metropolis. A city of canals, parks, waterfront pubs, and picturesque buildings, Hamburg is a popular tourist destination for both international and domestic visitors. It's home to world-renowned opera, ballet, and theatre; to famous museums and art galleries; to medieval churches, beautiful 18th-century townhouses, and incredible modern architecture. With a wealth of cool bars, fashionable eateries, and beatnik events venues, this cosmopolitan city is also vibrant, exciting, and distinctly funky. When you learn German in Hamburg, you'll enjoy its world-class attractions, exciting festivals, and lively nightlife as you develop your language skills through high-quality tuition and regular practice with the locals. Surely there is no better way to study?
Though people have lived around the River Elbe for tens of thousands of years, Hamburg itself was founded in the 9th century. Within 200 years, it had become an Imperial Free City and one of the Holy Roman Empire's most important trading hubs. Much of the city's development came in the 19th century, when the iconic Speicherstadt warehouse district was built to accommodate the city's merchant traders. The largest district of its kind in the world, the area forms one huge UNESCO World Heritage Site and epitomises Hamburg's roots as an industrial powerhouse and economic hub. In fact, it's arguably the true heart of the city. Though many warehouses remain operational, the district is now home to residential complexes, museums, local businesses, and popular attractions such as Hamburg Dungeons and the Miniatur Wunderland model railway. Characterised by its many canals and bridges, Speicherstadt is surprisingly beautiful and a lovely place to explore.
Near here you'll find the bustling HafenCity quarter, home of the striking Elbphilarmonie concert hall, the Maritime Museum, and several lovely public parks. Just north of here is the city centre, where you'll find eateries galore and shops to suit all tastes and budgets - Mönckebergstrasse is a particular favourite for those seeking some retail therapy. A short walk from here is Altona, home to the weekly Fish Auction Market, Hamburg's oldest open-air market which features fresh foods, handmade crafts, and live bands performing jazz, skiffle, and country music. For more exploration of the city's mercantile roots, head south to Europe's third-largest port, where you'll find museum ships, restaurants, musical theatres, hotels, and even a floating church!
Whatever you do during your time here, you'll realise that, in Hamburg, there is always something new to see and do. Your immersive experience will give you first-hand experience of life in this bustling metropolis and give you lots and lots of opportunities for language practice, which will in turn help you to quickly and significantly improve your German skills.

Our school in Hamburg
80 classrooms across 3 buildings
On-site residence with rooms and studios
Course materials purchased on-site
On-site bookshop
Library/self-study area
Registered TELC test centre
Member of IALC and the VDP
Approved for CSN programmes
Wi-Fi throughout the building
Photos
Our German language school in Hamburg is located on a pedestrianised street right in the heart of the city. The area is brimming with shops, cafés, and restaurants, so when you study here you'll be ideally placed to enjoy Hamburg. Within the immediate vicinity of the school are key attractions like the Kunsthalle, one of Germany's largest art galleries, and the Staatsoper, home of Hamburg's internationally renowned Philharmoniker orchestra. The iconic Planten und Blomen park is just a 10-minute walk away. By day, this beautiful park is filled with locals and tourists alike enjoying its thematic gardens; by night the park comes alive with mesmerising water-light shows. With just 20 minutes' walk of the school, you'll find the popular Schanzenviertel neighbourhood, a diverse and bohemian area noted for its lively bars, vibrant street art, and excellent shops.
Our language school is one of the largest in Germany, boasting 80 classrooms across 3 adjacent buildings. One of these buildings has a residence with comfortable rooms and studios and a communal kitchen. The main facility has its own bookshop where you can buy textbooks and audio-visual materials which will complement your classroom tuition. There is also a library/self-study area, which is available to all students. All buildings have free Wi-Fi access. With easy-to-reach public transport links just minutes from the school's doors, you'll be able to explore the delights of Hamburg once your lessons have finished.
Founded in 1952, this school has a huge amount of experience teaching German to international students of all ages, backgrounds, and abilities. Its tuition is highly regarded, with certification from Hamburg's Weiterbildung association. The facility is a registered telc examination centre, and its courses are approved by the Swedish government for CSN funding. As a member of quality-control organisations including the International Association of Language Centres (IALC) and Germany's Federal Association of Private Schools (VDP), this school offers excellent language instruction. When you learn German in Hamburg with us, you'll be giving yourself the best chance of developing your language skills in one of the country's most iconic cities.
Location: Neustadt, Hamburg
Nearest convenience store: 130 m
Nearest café: 350 m
Distance from train station: 1.5 km
Nearest bus stop: 140 m (U Stephansplatz)
Nearest metro stop: 81 m (Stephansplatz)
Distance from airport: 9.9 km (Hamburg Fuhlsbüttel Airport)
Courses in Hamburg
The general German course in Hamburg is the Super-intensive programme of 25 group lessons per week. Classes take place every weekday on either a morning schedule - 08:30 to 13:00 - or an afternoon schedule - 13:30 to 17:45. You can select either timetable based on your preferences. Whichever schedule you book, you'll study with people of the same starting ability in groups of no more than 15. This limited class size means you'll get lots of attention from the teacher and plenty of language practice, allowing you to improve quickly. Both schedules are available for 1 - 36 weeks, so you can book as much tuition as you need to achieve your desired ability level.
If you prefer a less rigorous programme, you should book the Semi-intensive course, which consists of just 10 group lessons per week. These take place between 09:45 and 11:15 Monday - Friday, giving you lots of free time to enjoy your stay in Hamburg. Class sizes on this programme are also restricted to just 15, so you'll still benefit from high levels of language practice and teacher interaction. Even though you'll only have 10 lessons a week, you'll still find that you make great improvements!
Please note: if you have little to no previous experience of learning German, you must begin your language course on an appropriate date. Feel free to contact us for further information on beginners' start dates.
If maximum development is your goal, then pickprivate tuition. The standard package consists of 20 one-to-one classes per week, though bespoke packages are available on request. With the undivided attention of the teacher, you can tailor your lessons to your own needs and get unparalleled language practice. Private lessons are therefore particularly suited to those who want to make quick and marked improvements, those who feel they need extra support with their studies, and those who want to cover specialist topics like medical or business German.
Whilst private tuition certainly offers rapid improvement, it doesn't offer the social experience of group classes. Fortunately, this school offers a Super-intensive + Private package so you can combine the best aspects of both programmes! By adding 5 weekly one-to-one classes to your morning or afternoon group course, you'll be able to enjoy the social side of group tuition and still benefit from the additional language practice offered by private classes.
If you're planning to sit the TestDaF exam in order to apply to a German university, you can prepare for your test in Hamburg. The specialised TestDaF Exam Preparation course combines 25 general German lessons per week with10 weekly mini-group lessons in classes of up to 10. Your additional lessons will focus on exam-specific topics and techniques and will put you in an excellent position to pass your test with flying colours. This programme is available throughout the year, meaning you can book as many preparatory lessons as required before sitting your test. Please note that exams are not included in the programme or taken at our language school.
On your first day, you should arrive at the school at either 08:00 or 13:00, depending on the schedule you have booked. You will have already submitted a level test to determine your German ability prior to arrival. After you have registered, the results of this test will be verified with a short oral assessment. This methodology ensures that you are placed in the most appropriate group for your starting level, which will give you the best opportunity to improve, regardless of how much previous experience you have or how long you study for. Once you have been assessed, you can purchase your course materials; your classes will begin as soon as all students have arrived and been placed.
After class, you can take part in the school's activity programme. At the end of your course, you'll receive a certificate of achievement which can be used to demonstrate the German ability level you have reached during your time at the school.
Don't see what you're looking for? Contact us today to see if we can arrange a bespoke package for you!

Accommodation
Available accommodation
Host Family
Shared Apartment
Student Residence
Studio Apartment (18-35 years)
For maximum language immersion, stay with a local homestay host during your time in Hamburg. Hosts are all native German speakers, so when you select this option you'll be able to continue learning and using the language even outside the classroom. Our hosts live up to 45 minutes from the school by public transport; they offer private single or twin* bedrooms and access to the home's communal spaces, including the lounge and bathroom(s). This option is available on the following meal packages: self-catering, breakfast-included, or half-board (breakfast and dinner each day). Whichever option you select, you'll have access to the home's kitchen to prepare your other meals. We highly recommend a half-board package as it is not only cost-effective but also gives you guaranteed social time with your host(s) in the evening, thus maximum language exposure. Bed linens and towels will be provided by your host(s) and changed regularly; your host(s) will either do your laundry for you or let you use the home's facilities once a week. Most hosts offer Wi-Fi access, but you should let us know at the time of booking if this is a requirement for you. You will have your own key to come and go as you please, but you must respect house rules and schedules. Please note: if you are studying for fewer than 4 weeks, you must book this option; you are welcome to arrange your own lodging in Hamburg if you prefer.
Shared apartment lodging is a great option for students travelling on a budget who are looking for a more social living experience. When you book this type of accommodation, you'll have a private single or twin* bedroom and access to the apartment's communal spaces including the kitchen, lounge, and bathroom(s). Apartments are shared with locals and/or with other international students. Bed linens and towels are included; you'll be responsible for doing your laundry using the apartment's facilities. Most apartments have Wi-Fi access, though you should let us know at the time of booking if this is a requirement from you. You'll be placed based on availability at the time of booking, so we cannot guarantee the location of your lodging. A refundable security deposit may be payable on arrival; the amount varies based on the apartment and will be confirmed in your travel information document. Please note that this type of accommodation is only available to students over 18 who are staying in Hamburg for 4 or more weeks.
For a higher standard of social lodging, select a room in the school's on-site student residence. Single, double, and triple* rooms are available on a self-catering basis, each with their own television and free Wi-Fi. Bathrooms are shared per floor. You'll have access to the communal pantry, which has a fridge, a coffee machine, and crockery; basic meals can be stored and prepared here, though cooking facilities are not available. Bed linens and towels are included and changed regularly; your room will be cleaned each weekday. There is a coin-operated laundrette close to the residence for doing laundry. Please note that this type of accommodation is only available to students over 18 who are staying in Hamburg for 4 or more weeks. You should arrive and depart on a Friday.
For total independence, select a studio apartment and have a self-sufficient room with a private bathroom and a fully equipped kitchenette. Studios are located in a residential block just 20 minutes' walk from the school and are offered on a self-catering basis. All rooms have Wi-Fi access, and bicycle parking is available in the building. Bed linens and towels are included and changed regularly; there is a coin-operated laundrette on site for students' use. A €300 security deposit is payable on arrival and will be returned to you on departure providing your room is left in a suitable condition. Studios are booked on a 4-weekly basis and only available to students aged 18 and over. You should arrive on a Saturday and depart on a Friday.
*Twin and triple rooms are only available to students travelling together. If you select a shared room but are travelling alone, you will be swapped to a single room.
Activities
As well as high-quality German tuition, our school offers a wide range of social and cultural activities in the afternoons, evenings, and at weekends. These activities will teach you about German history and culture and give you hands-on experience of life in Hamburg. All activities are held in German, so they have the added benefit of maintaining your language immersion and allowing you to put your newly developed skills into practice in real-life scenarios.
Many activities are available free of charge, though some may incur an additional fee to cover entrance and/or transportation costs. The exact schedule changes throughout the year but may include:
- Guided city tours
- Visits to popular attractions such as the Planten und Blomen Park, St Michael's Church, Hamburg Harbour, and Holsten Brewery
- Drinks and/or meals with your class
- Trips to various museums and art galleries
- German film screenings
- Half- and full-day excursions to local points of interest such as Lübeck, Ahrensburg Castle, and Schwarze Berge Wildlife Park
- Plus seasonal activities available in the city

How to get there
Hamburg Fuhlsbüttel Airport (also known as Hamburg Flughafen) is just a 30-minute drive from the city centre and is easily accessible from many worldwide locations.
From here, you can make your own way to your lodging or you can book an airport transfer service on arrival. If you select this service, a driver will be waiting for you when you land and will take you directly to your accommodation. If you select this service on departure as well, you will be collected from your accommodation and taken back to the airport in time for your departing flight. Transfer services are also available at Hamburg Hauptbahnhof and Hamburg Central Bus Station.
You should arrange to arrive in Hamburg on the Sunday before your course starts and to depart on the Saturday after it finishes**. We may be able to arrange extra nights on arrival and/or departure for you if needed.
**Please note that students booking residence lodging should arrive and depart on a Friday; students booking studio apartment lodging should arrive on a Saturday and depart on a Friday.

---
Location of our school in Hamburg
Average score for our school in Hamburg based on 50 previous client reviews.
Student reviews & feedback
A. Misic
The course was excellent. The teachers had a great teaching method, which was inclusive and oriented on improving individual weaknesses of each student, as well as going through the lessons and improving the skill level of the entire group.
The accommodation was at a great location, clean and comfortable. The host was very welcoming and went out of her way to make me feel at home.
The general experience was wonderful and I am greatly pleased with every aspect of my stay.
Course
Accommodation
School Staff
M. Vianini
The course was very good. Maybe too many students in my class, but it was the busiest period.
Hostfamily was very friendly, the house was big, beautiful and clean.
Course
Accommodation
School Staff
C. Boardman
Once again the teachers were outstanding. Progress is extremely rapid. For me, 3 weeks of the super-intensive course is enough in one go!
Course
Accommodation
School Staff
J. Tang
The teachers (Steffi and Angelika) are passionate and professional; The intensive course has a big impact because the teachers have the time to correct our mistakes. There are many opportunities for talks.
My hostess was wonderful and caring. She has a nice apartment by the river, and the area is super cool. There are many restaurants, cafes, boutiques and bakery.
Course
Accommodation
School Staff
E. de Haas
Small classes, personal attention, relaxed atmosphere, competent teachers, fellow-students from all over the world.
Course
Accommodation
n/a
School Staff
S. Gamble
Great kick start into the language. Good to stay in Hamburg city & practice. Course content was good and challenging. Tutors were friendly & helpful. School is in a good location with easy access via train from the airport.
Course
Accommodation
n/a
School Staff
D. Frassinelli
I took the Intensive Course (25h/week) in Hamburg. The teachers (Amelie and Philip) are super good: completely different teaching style made the class never boring and you can really learn! The studio apartment was located behind the main station. The location is very good and the quality of the room is high: new furniture, everything working as expected.
Course
Accommodation
School Staff
K. Toth
Overall, I was very happy with the teachers at the school. I also found the weekend/afternoon excursions to be very useful. They were well organized. I am satisfied with the Colon Language School in general.
Course
Accommodation
n/a
School Staff
R. Anderson
Course was very good. Very well structured as we followed along with a textbook. All teachers were very good and had their own style of teaching. It was very refreshing to have lots of different teachers as it kept things interesting and new. Had so much practice with speaking too, since everyone in the class spoke German to each other. My German has gotten much better and I am more confident speaking it than before.
My accommodation was faultless. Frau Esser was so welcoming and lovely. She made sure I felt totally at home, spoke German with me all the time, and gave me my space when I wanted it, which was great. To get to the school it was only a short bus ride to the city and a 5-10 minute walk from that stop to the school.

Course
Accommodation
School Staff
K. Scrivener
Loved it. We were placed in the wrong class initially [at the wrong level] but that was rectified on day one.
Marlies was the perfect host in the perfect home.
Course
Accommodation
School Staff
Course
Accommodation
n/a
School Staff
C. Boardman
Teachers are patient and focussed - the quality and speed of learning are exceptional. Accommodation was perfect for me - bed-sit style private apartment, very close to the railway station, free secure parking for bicycles, very fast free wifi, laundry in basement.
The quality of teaching at the school in Hamburg is very high indeed. Strongly recommended.
Course
Accommodation
School Staff
M. Schuring
Its was fun and i learned a lot in 1 week.
Accommodation was perfect. I felt at home form the first day. I had a lot of freedom.

Course
Accommodation
School Staff
B. Walsh
Teachers excellent, course excellent. In particular my host family were 'stars'. Very pleasent and helpful with German conversation in the morning and evening.
Course
Accommodation
School Staff
T. Tritten
The course were good and entertaining. I did not feel like I sat through so many hours per day, which is a good thing. It went by too fast.
Course
Accommodation
School Staff
C. Botman
It was good, I learned a lot; of course the language but also about the way of living in Hamburg.
Course
Accommodation
School Staff
J. Russell
The whole thing was just so much fun. It was a lovely experience. I had excellent accomodation with a host family who lived on the northern edge of Hamburg. I went to Hamburg for eight weeks to do intermediate German. Towards the end of my stay, I found that some native Germans commented upon how well I spoke German. At first I thought that I was being teased because I always have to think carefully before I speak, but no, people were serious. The quality of the teaching at Hamburg is excellent.
Course
Accommodation
School Staff
C. Anderson
I thought the course was really great. I learned a lot in the short time I was there. I would have liked to have learned more grammar, but I understand that speaking is also important. My accomodations were wonderful--I could not have asked for anything more. My room was also really clean. The office staff in Hamburg were really great. They were always friendly, and they let me keep my suitcase in the office a week before class started so that I could backpack around Germany. My vacation would have been a pain without their help.

Course
Accommodation
School Staff
K. Norrie
I liked the flexibility offered to fit classes around my particular timings. The style of teaching was suitably diverse and well designed for my needs.
I was very pleased with the progress that I made during my short time in Hamburg.
Course
Accommodation
n/a
School Staff
C. Boardman
Just a quick note as my course is finishing. It is difficult to imagine how it could have gone any better - every aspect of my month in Hamburg has been excellent. The class size was generally small - for much of the time we had 7-8 people and in the past week 10-11. I had two teachers each morning, which turned out to work really well - each teacher is different so having two people improved my learning. The teaching materials were really good and the pace was good for me too. I have made lots of progress and I will definitely be back: 5 August to 1 September 2017 seems very likely.
The accommodation worked out fine too - I wanted a place of my own and that's what the SmartMents [Studio Apartment] provided. It was really handy to have a large bike store in the basement and the laundry room was very useful. There was a good internet connection and the room had plenty of cupboards and plenty of electrical sockets too. Supermarkets were not far and it was handy that the railway station was so close, with its many food stalls and easy connection for my weekend visits away.
A really good month - many thanks to you and to the people in Hamburg.
Course
Accommodation
School Staff
N. Hasker
A very good school in the centre of Hamburg. Both teachers I had (Anne-Sophie and Vera) were excellent, and it was also very enjoyable meeting the other students from around the world. I was warmly welcomed by Ute and Hilmo Kepes at their house in Hamburg, I had a very nice room and Ute cooked excellent meals.
Course
Accommodation
School Staff
R. Sixsmith
The course was excellent due to the tuition provided. The accommodation was good although a bit far from the centre of Hamburg. However it was more than adequate for my needs.
Course
Accommodation
School Staff
D. Herbert
The course was good and it was great that it was all in German. The class size was fine (about 10) allowing for lots of opportunity to talk.
Course
Accommodation
School Staff
R. Tapia
I enjoyed it all, the teachers, the host family, the office staff. Everyone was very helpful and friendly. I have already recommended a few friends to contact you for their next language immersion vacation. My host family went above and beyond what they had agreed to do for me. They dealt with my food allergies without a complaint. It was by far an extremely pleasant experience! THANK YOU!!! I learned and liked the whole experience so much that I think I might be back next year to continue learning Deutsch.
Course
Accommodation
School Staff
G. De Bruin
The course was a lot of fun and I enjoyed it very much.The teachers were really nice and the courses were a good combination of theory and practice, especially a bit later on when the teachers focused mainly on talking which was really good.
Course
Accommodation
School Staff
A. Miller
The school is truly an excellent institution, and I felt that every single hour in class was well worth the money paid. I would recommend the school to anyone!
Course
Accommodation
n/a
School Staff
J. Chisholm
The course was excellent, especially the teachers.
Course
Accommodation
n/a
School Staff
C. Montgomery
I thoroughly enjoyed my course, all the teachers were very professional and I will be going back when time allows. My accommodation was very clean and comfortable.
Course
Accommodation
School Staff
T. Crean
Really enjoyed the classes, the teachers were very patient, polite, and thorough throughout the course and I really enjoyed my time there.
Course
Accommodation
School Staff
I. Solga
I had really great teachers during my course - one of them was actually the best teacher I ever had!
Course
Accommodation
School Staff
C. Cavanagh
I enjoyed the school and in particular the first teacher we had. The accommodation was great: my host was very welcoming and spoke lots of german with me.
Course
Accommodation
School Staff
S. Boukara
It was quite interesting and well presented. I was lucky to have a 2 very good teachers. I would definitely recommend it.
Course
Accommodation
n/a
School Staff
L. Gentile
The course was very interesting and stimulating. The teacher was funny and very good to talk to. The school residence was clean and my room was pretty big. The residence was very good located in the center of the city, so we could walk instead of taking U-Bahn and S-Bahn.
Course
Accommodation
School Staff
School statistics
Nationality (%)

China (12.0)
France (3.0)
Italy (7.0)
Korea (3.0)
Mexico (3.0)
Spain (7.0)
Switzerland (24.0)
Turkey (4.0)
Uk (4.0)
Us (4.0)

Average Student Numbers
---
Average ages (June - Aug)
* Statistics considered correct at the time of publishing
Student stories on our blog
How to do Hamburg in 24 hours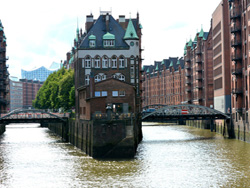 For all you Hamburg newbies out there! In this post you will find my personal tips on how to get the most out of one or two days exploring Hamburg! Start the day by experiencing Hamburg from an unusual perspective by taking a boat tour through the harbour (Germany's largest port). Go directly to the Harbour to get a boat. Don't let yourself be intimidated by the many different boats for tourists, the itinerary is the same for all and usually lasts 2 hours! Do, however, watch out for impostors; a tour should cost you no more than 20€!
Read more...