How to do Hamburg in 24 hours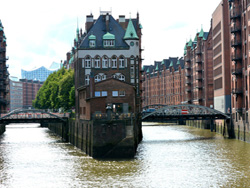 For all you Hamburg newbies out there! In this post you will find my personal tips on how to get the most out of one or two days exploring Hamburg!
Start the day by experiencing Hamburg from an unusual perspective by taking a boat tour through the harbour (Germany's largest port). Go directly to the Harbour to get a boat. Don't let yourself be intimidated by the many different boats for tourists, the itinerary is the same for all and usually lasts 2 hours! Do, however, watch out for impostors; a tour should cost you no more than 20€!
Next, I would suggest that you visit St. James' Church (St. Jacobi Kirche) which is Hamburg's oldest church. It is located right in the heart of the city, just behind Hamburg's main shopping street Mönckebergstraße. The guided tours are free, however, if you would prefer to visit the church independently, do help yourself to a fold-out pocket guide at the entrance. They will provide you with plenty of interesting information. What really impressed me was the baroque organ set which has 60 stops and approximately 4000 pipes. It is the largest remaining baroque organ in Northern Europe! Fancy a listen? Recitals take place every Saturday at noon!
For lunch, I recommend that you have the famous fish sandwich (Fischbrötchen) of Hamburg. This is now a local institution which has become as iconic as Berlin's currywurst. It is simple and the ideal lunch on-the-go! However, be careful to ensure that you get your sandwich from the Fish Market! Any other "fish sandwiches" are an offense to the original fish sandwich and the people of Hamburg. The best time to order it is before noon as you could easily get swamped out by the Hamburg locals. To get to the Fish Market take bus number 112 to "Braune Brücke – Övelgönne/Neumühlen", getting off at the "Fischmarkt" stop.
Image credit goes to the awesome travelling foodie blog.
If you are seeking a Hipster/Indie experience when in Hamburg, then I suggest that you continue by exploring the Portuguese district. It takes 15 minutes to get there from the Fish Market, so you will have just enough time to finish your sandwich on the way there!
Finally, the Jenisch parc is the perfect place to unwind after a long but exciting day! You could have a picnic or a barbecue for example. You could also rent a bike, roller-blade, run, or just lay on the grass and relax.
Should you ever be in Hamburg on a Saturday, I would advise you not to miss Schanzen flea market which is near to the city centre and open from 8:00am to 4:00pm. A real treasure trove that is definitely worth seeing!
Learning German whilst in Hamburg is a great way to get to know this incredible German city!
– Maria