Learn Spanish in Buenos Aires (Plaza de Mayo)
Buenos Aires is a city that combines Latin passion with European elegance. This is a city like no other, where the fiery tango is danced in streets lined with European-style architecture and where one of the world's most animated live theatre scenes rubs shoulders with more bookshops and libraries than any other city in Latin America. Buenos Aires is a city of innumerable contrasts and these not only highlight its vivacity, but also its intriguing history. This is a spectacular city and a fantastic choice for your Spanish course!
Outside of the classroom, you will have many opportunities to practice your Spanish with the friendly Porteños, whether you are browsing one of the bustling markets, discovering the city's variety of cuisines in one of the many excellent restaurants, or sipping cocktails in Palermo's trendy bars. The Spanish you learn here will allow you to converse with any Spanish-speaker.
As you may already have seen, we have three Spanish schools in Buenos Aires. We offer these three different schools because this is such a popular location amongst our students and due to each school offering different course and accommodation options for you to choose from. Because we select the schools that we work with very carefully, you can be sure that whichever school you choose you will be taught by highly qualified, native Spanish-speaking teachers, who are very experienced in teaching students of all levels. The courses are all total immersion courses and so will be taught in Spanish from the outset. You will also be placed in a group with students of a similar level to yourself. Therefore, there really is nothing to separate our schools in Buenos Aires in terms of professionalism and quality of teaching.

Our school in Buenos Aires (Plaza de Mayo)
16 classrooms
Student computers
Communal dining area with vending machines
Air-conditioning and heating
Course materials included
Wi-Fi throughout the buildingMember of IALC
Accredited by the Cervantes Institute
Recognised DELE examination centre
Approved for CSN and Bildungsurlaub programmes
Photos
Ideally located between Plaza de Mayo and Plaza de la Republica, our school is within easy reach of many of Buenos Aires' most important landmarks, including the Obelisk, Avenida 9 de Julio, Teatro Colon, Puerto Madero and, of course, Plaza de Mayo itself. This makes it the perfect base from which to explore the city.
This school offers some of the best facilities for students in South America, with fully-equipped classrooms, wireless Internet throughout, student lounges and study rooms, a snack area, air conditioning and central heating. This school also offers disabled access.

Location: central Buenos Aires
Nearest convenience store: 63 m
Nearest café: 140 m
Nearest metro stop: 110 m (Alem)
Nearest bus stop: 120 m (Avenida Leandro N. Alem)
Distance from train station: 1.4 km (Retiro Mitre)
Distance from airport: 33.7 km (Ministro Pistarini (Ezeiza) International Airport)
Courses in Buenos Aires (Plaza de Mayo)
Available courses
Intensive (20)
Intensive + Tango (22)
Super Intensive (30)
Private Lessons (10)
The dynamic atmosphere created when you are placed in a small group (with a maximum of 12 students) with those of a similar level to yourself will help you to quickly get to grips with Spanish. The 'Intensive' course of 20 group lessons does tend to prove the most popular as it will allow you plenty of time to explore the city, although if you are taking the course for a shorter duration then you may like to consider the 'Super-Intensive' course of 30 lessons per week.
Private lessons are the perfect choice if you wish to focus on anything specific in your lessons. We normally offer 10 or 20 private lessons per week as standard in this location, but if you would like to take a different number of lessons, please do not hesitate to contact us for a quote.
If you are preparing to take the DELE exam, you should consider the DELE preparation course. This is a course of 10 private lessons per week which will improve your Spanish further, whilst specifically focusing on the skills required to pass the exam.
We also cater to those who require Spanish for business reasons. This course consists of 10 private lessons focusing on the Spanish required in professional situations.
Finally, why not combine your Spanish course with some tango lessons, to get a real taste of Argentina? You will have one group and one private tango lesson per week (taught in Spanish) and these lessons are suitable for dancers of all levels (including complete beginners).

Special courses in Buenos Aires (Plaza de Mayo)
Accommodation
Available accommodation
Host Family
Shared Apartment
Student Residence (San Telmo)
If you require accommodation whilst studying at our school in Buenos Aires, we are sure to offer an option that suits you! 'Host family accommodation is usually a really popular option amongst all of our students, as it is really enriching being able to live with locals and experience the culture first-hand. Linguistically, there is no better option than staying with a host family, as it really does provide invaluable opportunities to practice speaking Spanish outside of the classroom. Host families are typically located within 20-40 minutes from the school by public transport. This accommodation option is offered on a half board basis. Host family 'plus' accommodation which includes a private bathroom is also available on request.
Alternatively, you may wish to have a little more independence and be able to prepare your own meals. In this case, you may like to consider shared apartment accommodation (which you would share with the local owner), or student residence accommodation where you would be sharing with local and international students. Again, the travelling time to the school is usually 20-40 minutes by public transport.

Activities
Part of taking a Spanish course in Buenos Aires is having the opportunity to explore the city, better understand the local culture and, of course, to use your new-found Spanish skills in everyday situations. It is partly for this reason that the school offers an optional activities programme which is open to all students. This is also the perfect way to meet your fellow students and to make friends from all over the world.
Examples of typical activities offered include city tours, mate tasting, Spanish film screenings, Milonga nights, tango lessons and excursions to places such as Colonia in Uruguay. You will be informed of the exact activities offered during your stay upon your arrival and, whilst some activities may be free, others may incur a small additional charge payable directly to the school.

How to get there
Our colleagues in Buenos Aires recommend that you book an airport transfer on arrival as this is the easiest and safest way to travel to your accommodation. Please note that this service will incur an additional charge; please contact us for further information.

---
Location of our school in Buenos Aires (Plaza de Mayo)
Average score for our school in Buenos Aires (Plaza de Mayo) based on 4 previous client reviews.
Student reviews & feedback
G. Salgado
The teachers were phenomenal! Even after the course ended and I was leaving several gave me their personal emails in case I had any questions or needed activities to give to my students!
My host family were amazing! They were kind, helpful and attentive! I had never eaten as good as I did with any host family I ever stayed with! When I go back to Buenos Aires, I am definitely stating with them!
Course
Accommodation
School Staff
G. Salgado
Teachers at [the school in Buenos Aires] were phenomenal! I would definitely go back in a heartbeat! The family was amazing! I ate like a king! If I go back, I would definitely be staying with the same family! 4 weeks was too short!
Course
Accommodation
School Staff
I. Crook
The most excellent teacher Sonia Herskovits - difficult topics made easy and so much fun. I was looking forward to the lessons and would have extended classes if could... planning to come back for 6+ weeks next year. My accommodation was the best - my hosts Alejandra Sen and her husband Juan Carlos " Bubby" were wonderful and went out of their way to make me feel welcome. I feel I made new friends and will be staying in touch and coming back Apartment was located in very nice part of town and beautifully decorated, spotless
Course
Accommodation
School Staff
P. Kamczyk
My course was awesome! We had a motivated and funny professor, who made it comfortable and easy to learn! All memebers of the school were friendly and open minded and the atmosphere in general was like this as well!!
Course
Accommodation
School Staff
School statistics
Nationality (%)

Brazil (16)
Denmark (3)
France (5)
Germany (12)
Italy (3)
Sweden (5)
Switzerland (14)
The netherlands (5)
Uk (7)
Usa (10)

Average Student Numbers
---
Average ages (June - Aug)
* Statistics considered correct at the time of publishing
Student stories on our blog
My life changing time in Buenos Aires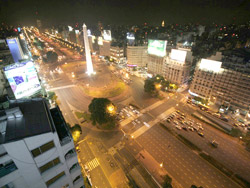 Thailand, Germany, and Australia are a few places that I have been but I knew the next adventure in my life would be somewhere in South America. I had a couple cities in mind but it only took me five minutes before I knew where I wanted to live. The culture and lifestyle of Buenos Aires was enticing and lured me in quickly. Some alluring aspects to Argentina were the mix of European and Latin American culture, together with the much-raved about aspects of the city itself (not to mention the rumors about how attractive the Argentine women were!). After lots of research, I decided to take
Spanish lessons
 with Apple Languages at their Plaza de Mayo school in the centre of Buenos Aires. My first day was like starting high school all over again. I was meeting so many people that I couldn't remember all of their names. Everyone was in the same situation as myself; excited to be in Buenos Aires and experiencing something new.
Read more...