My life changing time in Buenos Aires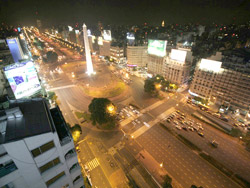 Thailand, Germany, and Australia are a few places that I have been but I knew the next adventure in my life would be somewhere in South America. I had a couple cities in mind but it only took me five minutes before I knew where I wanted to live. The culture and lifestyle of Buenos Aires was enticing and lured me in quickly. Some alluring aspects to Argentina were the mix of European and Latin American culture, together with the much-raved about aspects of the city itself (not to mention the rumors about how attractive the Argentine women were!).
After lots of research, I decided to take Spanish lessons with Apple Languages at their Plaza de Mayo school in the centre of Buenos Aires. My first day was like starting high school all over again. I was meeting so many people that I couldn't remember all of their names. Everyone was in the same situation as myself; excited to be in Buenos Aires and experiencing something new.
We would explore the city after class until our feet hurt and our stomachs craved for food. After which, we would go to restaurants in Palermo or San Telmo for an early dinner and a couple of beers. To say the least, our Spanish classes became a type of family, if only for a few weeks at a time.
I settled into an apartment in Palermo, just a stones throw away from the many restaurants and bars that are always filled on the weekends. Losing track of time was common when going out at night in Buenos Aires. One moment you are ordering your first Quilmes beer at the bar and the next moment its 4am and the bar is still teeming with life. I usually took time on the weekends to stray away from the beaten path and head towards parts of the city I had not yet seen. Riding my bike to the various parts of the city had my heart racing. I would advise riding your bike in the designated bike lanes; however, being the slightly adrenaline-addicted fool that I am, I took to the streets where the numerous motorcycles raced past you and the endless number of taxis slowed to look for passengers. But it was here, on the street, that I will remember Buenos Aires best. The large streets were usually bumper to bumper traffic, but take a left or a right and your likely on a more relaxed street where it was inevitable to escape the smell of fresh empanadas or freshly brewed espressos.
Overall, the school in Buenos Aires gave me the best option for learning Spanish and meeting friends. In the eight weeks that I spent with Apple Languages I went from knowing the basics of Spanish to being able to hold conversations in both the past and future tense. If I could change anything about my experience as a whole, I would only change the fact that I did not stay longer!
By Luke Offutt