Study Spanish in Buenos Aires (Recoleta)
Our School is located in Recoleta, a prosperous residential area of Buenos Aires. Students who learn Spanish at our Buenos Aires school can combine their Spanish course with a Tango dance course or with work placement in a company in Argentina.
Students can choose not only to learn Spanish at our Buenos Aires school, but also to combine their Spanish course in Buenos Aires with a Spanish course at our school in Chile.
Buenos Aires is a vibrant, cosmopolitan, city with a huge diversity of culture and history, an ideal place in which to learn Spanish. In Buenos Aires you can study Spanish at our school while you enjoy this unique, stylish city and get to meet the friendly Argentine locals.

Our school in Buenos Aires (Recoleta)
Our school is located in the chic district of Recoleta and occupies all three floors of a historic building. In addition to 20 classrooms, the school offers both free internet acess and wireless technology.

Photos
Courses in Buenos Aires (Recoleta)
You can learn Spanish on a 'Standard' Spanish course of 20 lessons/week, or on a 'Super-Intensive' course of 30 lessons/week, if you want to learn as much Spanish as you can during your stay in Buenos Aires. Our school in Buenos Aires also offers a 'Business Spanish' course, DELE Exam Preparation course and a 'Spanish for Lawyers' course. Each Spanish class is 55 minutes long and there is a maximum of just 6 students per class. This small group size naturally helps students learn the language more quickly. Free tutorials are available to students wanting extra practice.

Accommodation
Immerse yourself in the Spanish language by staying with a host family, where you can practice the Spanish that you learn on your course with native speakers. Alternatively, stay in a shared student apartment, all organised for you by our school in Buenos Aires.

Activities
Buenos Aires is known as the cultural capital of South America and our Buenos Aires school organises after class activities in the Buenos Aires area, including café visits, theatre trips, tango lessons and class trips to football matches. There are also excursions to other parts of Argentina. These activities ensure that students enjoy their time in Buenos Aires, as well as helping students to use out of class the Spanish that they learn on the course

How to get there
Our Spanish school in Buenos Aires can arrange airport transfers on arrival for all students booking accommodation.

---
Location of our school in Buenos Aires (Recoleta)
Average score for our school in Buenos Aires (Recoleta) based on 11 previous client reviews.
Student reviews & feedback
V. Fellowes
My teachers were great. I felt that by the end of my four weeks I had a decent grasp of the language and could make myself understood.
Course
Accommodation
School Staff
E. Hugger
The course was good and I learned a lot. My host family was really nice, they were friendly and helped me learn a lot of Spanish.
Course
Accommodation
School Staff
S. Tancred
The school was fantastic, as were the staff and course. The accommodation I had was also very good.
Course
Accommodation
School Staff
C. Longstaff
The school and the course was great, it was a very positive and fantastic experience.
Course
Accommodation
School Staff
Student stories on our blog
My life changing time in Buenos Aires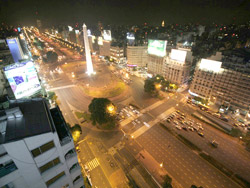 Thailand, Germany, and Australia are a few places that I have been but I knew the next adventure in my life would be somewhere in South America. I had a couple cities in mind but it only took me five minutes before I knew where I wanted to live. The culture and lifestyle of Buenos Aires was enticing and lured me in quickly. Some alluring aspects to Argentina were the mix of European and Latin American culture, together with the much-raved about aspects of the city itself (not to mention the rumors about how attractive the Argentine women were!). After lots of research, I decided to take
Spanish lessons
 with Apple Languages at their Plaza de Mayo school in the centre of Buenos Aires. My first day was like starting high school all over again. I was meeting so many people that I couldn't remember all of their names. Everyone was in the same situation as myself; excited to be in Buenos Aires and experiencing something new.
Read more...
Prices for Buenos Aires (Recoleta)
Choose your course below to view our prices in pounds sterling (GBP), US dollars (USD) or euros (EUR).